Our GLOSSYBOX Women In Business series continues! We've already brought you a great handful of incredible business women to read all about, and today we have another! To find out more about another woman who dreamed big, reached for the skies and set up her own business, read on…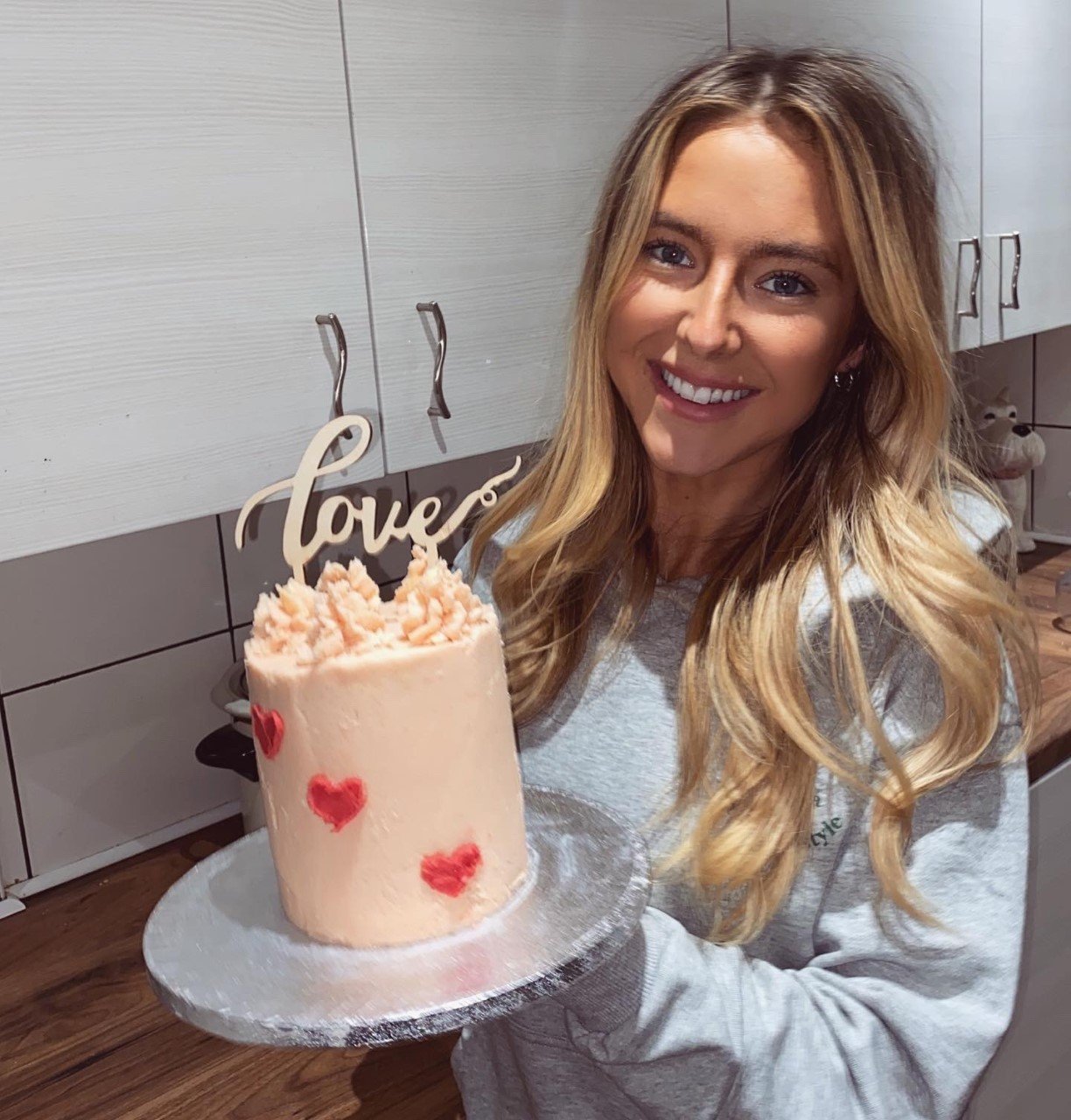 Manchester based Liv Boylan is a baker. And from the photos she posts on Liv B Bakes' instagram account, saying she's a skilled one would be an understatement! From delicately iced cupcakes to tiered showstoppers that take an army to finish – her skills are outstanding. Just scrolling through these posts made our stomach growl – but how did Liv B Bakes come about?
We spoke to Liv to find out…
Hey Liv! Let's start from the top… what first got you interested in baking?
Growing up, my uncle was a fantastic chef! He often cooked us Sunday dinner and we spent a lot of time in his kitchen. Pursuing his own interest in culinary skills, my uncle Mike took choux pastry and spun sugar courses and, following this, crafted a huge profiterole tower to celebrate my 13th birthday!
This is a memory I hold close to my heart and has had a huge impact on my interest in baking. Following this, I also took huge pride in making birthday cakes for all of the family, which is something I still love doing, even 10 years later.
Is baking a talent that comes naturally in your family then? Or was it something that's taken you time and practise to master?
Needless to say, 13-year-old me was not the most skilled. In fact, Betty Crocker's ready-mix boxes were my go-to! With that in mind, it definitely took me a while to develop any skills worth noting. And, although my skills have improved hugely in the last 12 months, I am still constantly learning!
Your cakes look incredible! How do you come up with such creative design ideas?
Often my customers will have an idea of what they want, but equally there are many who like to leave it up to me. And I love this as I have a real creative streak!
I am 100% guilty for being on my phone FAR too much, but it's where I get most of my inspiration from. Often, I will be scrolling through Instagram and see a post (not necessarily a cake-related one either) where there are colours which I just can't get enough of – and this is where my inspiration comes from!
Whilst I don't doubt my own creative capabilities, I always always always run my ideas by my big sister too, who will always give her honest opinion.
You must love getting creative with flavours too… Do you often play around with different combinations, or do you prefer sticking to classic flavours?
That's a tricky question as I think this really depends on what exactly I am baking. With smaller bakes such as brownies and cookies, I love exploring new flavours. And my followers love it when I do, too. Personally I am constantly trying out new flavours, incorporating different ones together into these kinds of bakes – which my family are always more than happy to taste test for me too!
For cupcakes and bigger celebration cakes though, I don't think you can beat a classic vanilla sponge! However, that's just my own personal opinion… I am absolutely MORE than willing to try any flavour a client wants. Additionally, I think if you're following a theme for a cake, it should taste as it looks. For example, if it's Kinder cupcakes I'm making, I don't think it'd be quite right if the inside wasn't Kinder flavoured, too.
Tough question – which are the most fun to work on – big showstoppers or more intricate cupcakes?
This is a really difficult question as different bakes are fun to work on for different reasons. The bigger celebration cakes allow my creative streak to shine through, while smaller bakes (such as brownies and blondies) allow me to try out new flavours. And tasting these is, of course, always fun!
However, if I had to choose, I'd probably say cupcakes are the most enjoyable to make. Decorating them is just so satisfying and also gives me an opportunity to play with new colours and piping patterns.
When you're making cakes for clients, what process do you typically take?
More often than not my clients will have an idea of what they want when they come to me. Saying that, if they have an exact idea of what they'd like, I use this as a starting point, as opposed to copying another cake exactly. That's simply not what I do and it also takes the enjoyment out of baking, as there's no creativity involved. I'd also be worried in case it didn't turn out exactly as it is in the picture! This is always communicated to the client at the time, so they aren't shocked when it isn't exactly the same.
From looking at your Instagram, you've created so many cakes! What's been your favourite project to work on so far?
Mother's Day weekend would have to be my favourite so far. There were so many different cakes and cupcakes going out the door and it was so nice to see the number of people who were using my cakes as a way of saying thank you to their mums.
I have to say though – even though it's not baking – that I'm hugely excited about taking part in GLOSSYBOX's 'Women in Business' series too – I can't wait for this to go live!
You've been really busy! What would you say is the rewarding part of running your own business?
The most rewarding thing is the sense of achievement you get, when I'm absolutely delighted with a cake and so is my client. Knowing that your creation is going to be a central part of their celebration is an amazing feeling!
In addition to running Liv B Bakes, I do still have a full-time job as well as being a competitive Irish dancer. As you can imagine, balancing the three of these as well as a social life is not easy! So again, it's hugely rewarding knowing that I am managing to balance all aspects of my life. It can be stressful, but it is 100% worth it!
I'm assuming things aren't always easy though…  Have there been any difficult baking tasks you've had to get your head around?
ALL. THE. TIME. Things go wrong more often than you'd think, which makes balancing all aspects of life that bit more challenging. It's fair to say that every aspect of baking can be difficult. Even the smallest change in temperature can have a huge impact on what you're doing, but what matters is how you manage and react to the mistakes. Baking forces you to use your initiative, and also teaches you lessons which you can apply further down the line. I am by no means an expert and am still learning so much all the time.
And finally, what advice would you give to others wanting to take their love of baking and turn it into a business?
A piece of advice I was once given was to 'do something you love', so I think you must firstly have a real passion and enjoyment for baking. As this will really help when the going gets tough.
Secondly, I would say don't put too much pressure on yourself; be well aware of what else you have going on, and only take on as much you can manage. Unfortunately, this might mean you have to turn clients away at times, but there are only so many hours in the day. I think now, more than ever, especially after the last 12 months, we realise that our well being is more important than anything else.
More From GLOSSYBOX Presents Women In Business
We've already interviewed so many incredible women as part of our GLOSSYBOX Women in Business series. Read more about the whole GLOSSYBOX Women In Business project in our story behind the campaign blog post. Or, have a read of all four of the other interviews that are already live!
Subscribe To GLOSSYBOX
Never miss out on any of the GLOSSYBOX fun by subscribing to become a Glossy today! You'll start receiving our monthly boxes packed full of beauty treats immediately, as well as plenty of other Glossy benefits. These include priority access to all Limited Editions, subscriber-exclusive discounts on these and on our GLOSSYBOX Skincare range and access into our Glossy Lounge!