A few months ago, we asked you what sort of content you wanted to see on the GLOSSYBOX blog and social channels. And we had so many responses and ideas! But something almost all of you wanted to see was women in business!
You asked for interviews, insights into their businesses, how they started, how they run day to day… so that's exactly what we're bringing you. Along with – of course – some exciting treats along the way too! 
What Is GLOSSYBOX 
Presents
 Women 
In
 Business?
GLOSSYBOX Presents Women In Business is all about celebrating successful women and showcasing the companies they've founded and run day to day! 
We'll be asking them all the questions you've ever wanted to ask a founder and CEO – where their initial ideas came from, how they got started, the ins and outs of everything behind the scenes. You name it, and we can ask them! 
We'll also be sharing snapshots into a day in their life; morning routines, creating content, managing orders, making products… whatever they do on a typical day, we'll be sharing with all Glossies too! 
And, because we're sure you're going to LOVE these businesses as much as we do (they're all sure to be Glossy faves very soon!), we'll be throwing in a few fantastic giveaway competitions too!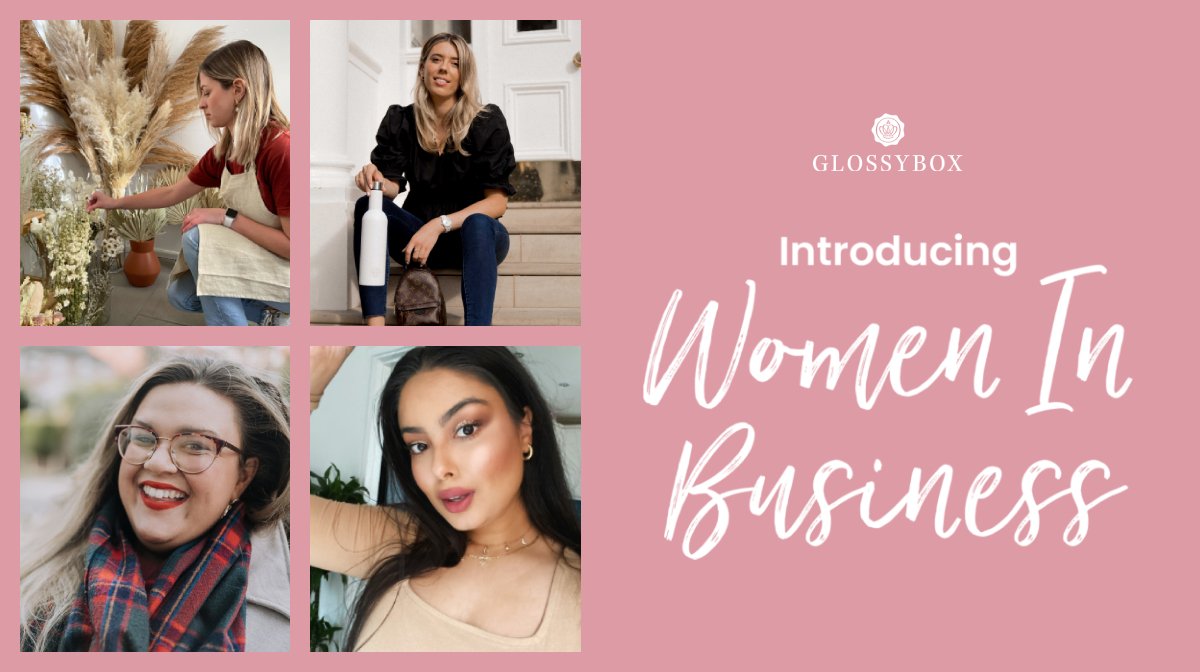 Which Incredible Women 
In
 Business Will Be Included?
We have some incredible women already lined up to be included in GLOSSYBOX Presents Women In Business!
Without giving too much away just yet, we've got florist Jenna, who creates gorgeous dried flower bouquets at Florist Rookie, Lucy who's love of a cold glass of rosé was the inspiration behind her business Partner In Wine, the very talented Myro Doodles, whose seriously stunning drawings are taking the North West by storm and Mehreen of bymehshake, whose jewellery designs are so gorgeous, we can't wait to get our hands on them for ourselves!
When Does GLOSSYBOX Presents Women 
In
 Business Begin?
We're so excited by this new feature on both our socials and our blog that we're getting stuck right in! We'll begin showcasing the incredible woman in business we've got lined up from next week! And there'll be someone new to find out all about every week after that!
Keep checking back on the GLOSSYBOX blog and social channels to ensure you don't miss out! 
Want 
To
 Get Invo
lved?
We're always looking to chat to new women and find out more about what they do! If you think yourself or someone you know would be great for this feature, why not get in touch? Send us a message via our socials and tell us why you think you'd be a great fit! 
Get More From GLOSSYBOX
Want to take full advantage of all the Glossy fun? Sign up to become a Glossy today! As a subscriber you'll receive our monthly boxes packed full of beauty treats, delivered straight to your front door. You'll also receive a whole host of Glossy benefits, including priority access, exclusive discounts and entry into our subscriber-only Glossy Lounge!