This month, we launched GLOSSYBOX Presents Women In Business! You wanted to read more about female business owners, so we've found some of our favourites and are sharing them with you over the next few weeks!
Last week, our first was Jenna Spavin owner of Florist Rookie, a floristry business specialising in dry blooms… (Not read this article yet? Check out our first Women In Business interview with Florist Rookie's Jenna now!). And now it's time for our second!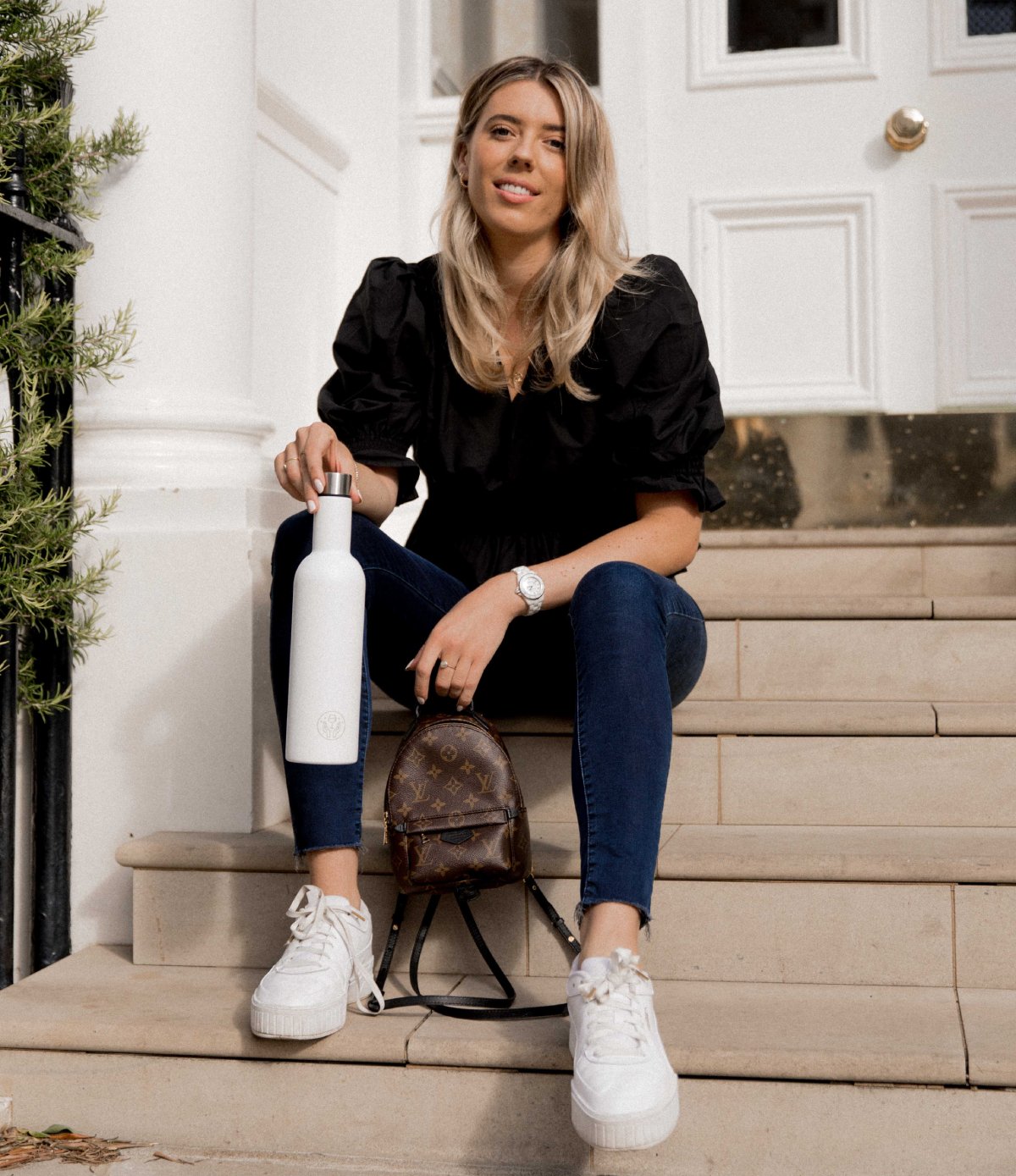 Back in the summer of 2020, Lucy Hitchcock found herself with a problem. The weather was beautifully warm and, unfortunately, her favourite bottle of rosé for a picnic with friends… well, that was going to end up warm too. But to every problem, there's always a solution. And for Lucy (and as it seems, many many others!) Partner In Wine was the answer.
Keeping your desired drink cold for 24 hours (or hot for 12 if that's your thing), a Partner In Wine bottle doesn't leak, is BPA free and, most importantly, it holds a full 750ml bottle of wine! We spoke to Lucy to find out more about this much-needed (and frankly genius in our opinion), handbag essential!
Lucy, start from the very beginning please. Where did the idea for Partner in Wine come from?
Last summer I was on my way to have a social distancing drink with my best friend. I took my favourite bottle of rosé out of the fridge and put it into the basket of my bike, only to realise that by the time I got to see my friend, my wine would no longer be cold.
I'm a wine enthusiast and was simply not willing to drink warm rosé. So, my mum handed me an insulated wine bag that she had… it solved the problem, but it was not cool. I debated pouring some of the rosé into my insulated water bottle – but firstly, it wasn't big enough to hold a whole bottle, and secondly, I thought it may also make my water taste like wine in future.
So, after doing some research, I felt it was my duty to help wine drinkers keep their wine cool on the go – and from that, Partner in Wine was born.
Amazing, personally we can't think of anything we need more! So, once you had the idea, how did it take to bring it to life?
I had the idea in May last year and had the product ready to launch in July! It was a mad two months turning it around. I found a factory willing to make the product and my brother, who has a product design degree – help with creating the final product.
I then sent out the bottles to family and friends and we got some really great feedback – no one could believe it hadn't been thought of before!
There was obviously a huge demand for this type of product last year when socialising outdoors was the only thing we were really able to do… Do you think, with everything slowly getting back to normal, this need will still be apparent in the months to come?
Of course! I think many people have a new found love for nature now, therefore socialising outdoors is sure to continue. Plus, there's always going to the beach, going on holiday, hen parties etc. People will always want a cold drink!
I'm also currently working on launching something else for Partner In Wine that I believe everyone needs – which I'm hoping to launch next summer!
How exciting! Launching a new product must be so much fun. Are there any other really rewarding parts of running Partner In Wine?
It's been really lovely to see people posting about Partner In Wine and loving their bottles and tumblers on social media. Especially when they're saying they've been to see someone who they've not been able to see in so long! Life hasn't been ideal for the last year, but it feels so nice to be a part of people's good memories during all of this.
It's also been really rewarding getting stuck into something new. I also run a marketing company called Sassy Digital, but with Partner In Wine I've been able to try something completely different. Many skills have overlapped between the businesses, and having the marketing knowledge I do has helped, but running a product business is very different to running a service one. Going back to basics, packaging and sending out orders for example, makes me really appreciate the hard work that goes into businesses from all areas.
If you had to choose, what would you say has been the most stand out moment for Partner In Wine so far?
My first stand out moment was when the TikTok video I created about how the brand first began went viral. While this was pretty amazing on its own, it brought with it so much more! I think the video currently has around 850k views, which in turn lead to a huge increase in sales. We sold out of everything!
What was truly amazing though, was that Selfridges actually found the brand from this coverage and reached out asking to stock Partner In Wine in their stores! When I first started out, this was the ultimate goal – and it's now happening!
What about at the other end of things; have there been many difficult tasks you've had to get your head around?
Logistical things like wholesale and pricing have been a little challenging. I'm quite creative and I know my strengths. But, I also know what I can do when I put my mind to it. You've just got to push through and learn new skills, and soon enough things get much easier.
It all sounds like it's been very worth it in the end! If anyone reading this interview believes they have an exciting new product idea, what advice would you give to them to help them turn it into reality?
Always Google. Do all the research you can and then go back and try and do more. Find manufacturers, negotiate on prices, get samples made, test the samples… Keep going until what you have is something you are truly proud of. Most importantly, don't settle for anything less than you would personally buy yourself!
More From GLOSSYBOX Presents Women In Business
Loved finding out more about Lucy and Partner In Wine? We have so many more women in business lined up over the coming weeks! Keep an eye on the GLOSSYBOX blog and our social channels for more!
Can't wait? Make sure you've read our first interview with Jenna from Florist Rookie and found out all there is to know about the GLOSSYBOX Women In Business project in our story behind the campaign blog post too!
Subscribe To GLOSSYBOX
Never miss out on any of the GLOSSYBOX fun by subscribing to become a Glossy today! You'll start receiving our monthly boxes packed full of beauty treats immediately, as well as plenty of other Glossy benefits. These include priority access to all Limited Editions, subscriber-exclusive discounts on these and on our GLOSSYBOX Skincare range and access into our Glossy Lounge!