We're embracing high-end beauty trends this month! From mineral makeup to Korean Beauty and sustainable skincare, our 'Trending Beauty' edit features all the products you need to stay en Vogue.
This May, our box is filled with 5 full-size products, including makeup must-haves, front-running skincare and award-winning nail care.
What's In Our 'Trending Beauty' Edit?
Stay A La Mode With Chiselled Cheeks And Glowing Skin
The first sneak peeks from our 'Trending Beauty' edit are two makeup palettes by Barry M. You'll either receive a Chisel Cheeks Contour Cream Kit or a Cosmic Lights Highlighting Palette. Use the first to subtly define your features by seamlessly blending lighter and darker shades, or the second to build an on-trend, dewy glow.
Which will you receive? Find out more about both products here.
Your Second Sneak Peek: A World First Serum 
You may also be treated to an innovative new serum that is at the forefront of an up-and-coming beauty trend! If you're a big fan of clay, charcoal, sheet or peel off masks, you're going to love this skincare product. It's the first serum in the world specifically designed to be used after a face mask. Keep on eye on the blog for the full reveal.
Skincare Innovations
We love introducing you to skincare innovations from around the world! Our 'Trending Beauty' edit also includes the latest trend in masking: a DIY rubbery modelling mask that has taken YouTube by storm. We can't wait for you to try one of the two masks we have for your…
You'll have to wait until your box arrives to discover the other two products in your GLOSSYBOX. In the meantime…
Here 5 Other Exciting Things Happening This Month
1. Golden Tickets: Win A Remington Curl & Straight Confidence 2-in-1 Straightener
We've partnered with Remington this month to give you the chance to win their brand new styling tool, the Curl & Straight Confidence 2-in-1 Straightener. We've hidden 50 golden tickets in our boxes. If you find one, you're one of our lucky winners! Don't forget to check your boxes when they land!
I'll also be sharing three tutorials that explain how to create three different looks using just this one tool!
2. All The Beauty Trends You Need To Know About
From dermaplaning to microblading and from the trending hair colours on Instagram to the brands that are making makeup more inclusive, I'll be giving you the lowdown on all the trends you need to know about. Check out the blog throughout the month for updates!
3. The GLOSSY Lounge Is Here
We've got some incredible offers for you in the GLOSSY Lounge this month from top brands like BeautyPro, Slip, MyProtein and more!
On the 15th of May we'll be introducing a brand new selection of exclusive deals from must-have beauty, fashion and lifestyle brands. Stay tuned!
To enjoy the VIP experience, simply log into your subscriber account and shop the offers.
4. Our Facebook Live
It's such a pleasure interacting with you Glossies during our Facebook Lives each month. We love being able to answer your product-related questions and share all our insider tips and tricks. In April, over 162 thousand beauty lovers joined us!
This month, Kit and Deepa will be hosting our live unboxing on Monday, 20th of May at 1pm. They'll give you the lowdown on all the products in our 'Trending Beauty' edit. Plus, they'll be giving you the chance to win an amazing bundle of prizes. Don't forget to tune in.
5. Download This Gorgeous Phone Wallpaper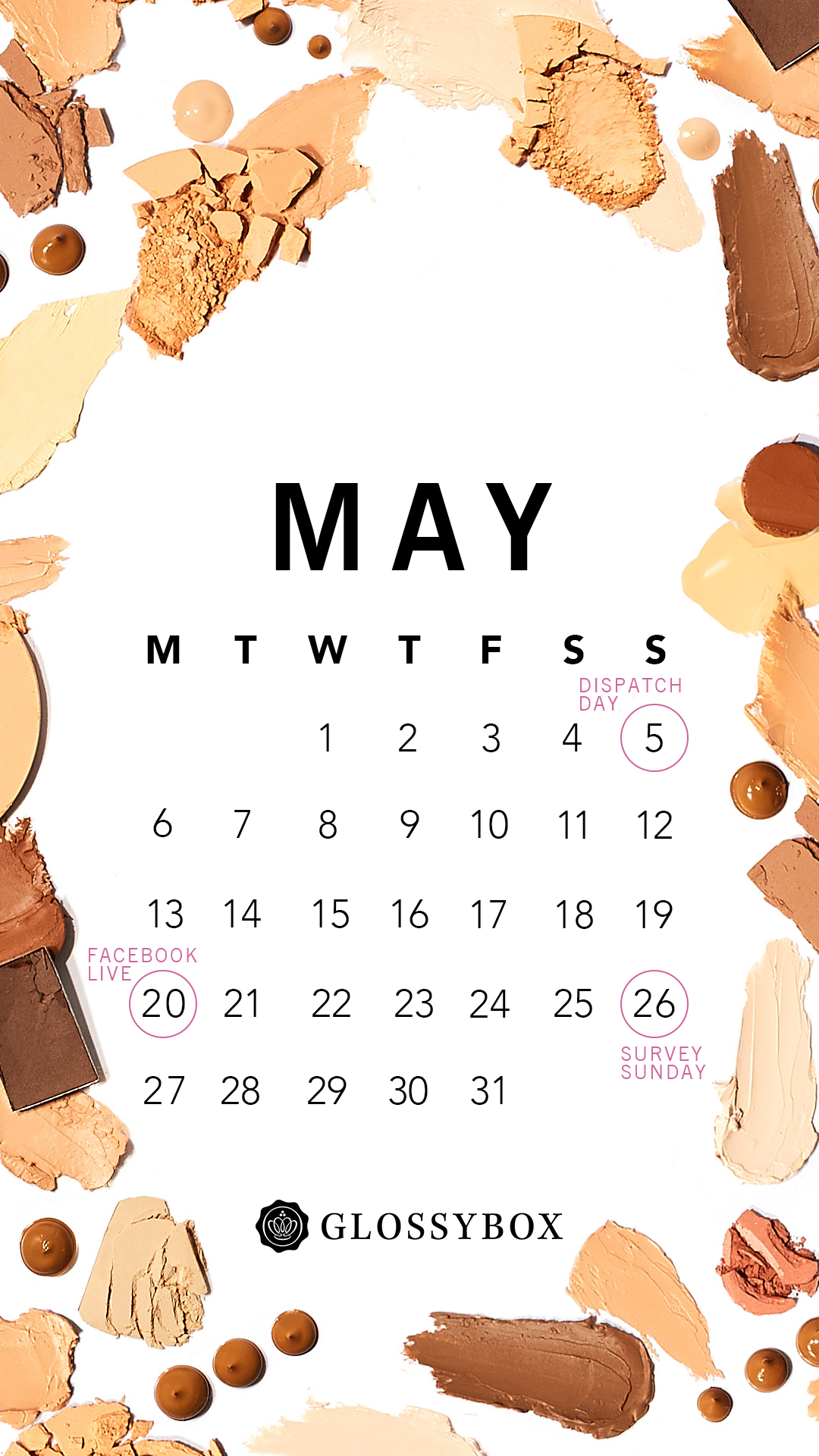 If you're on a mobile phone, just press down on the image until the options menu pops-up and select 'download image'. If you're on a computer, simply right-click on the image and select 'save image as' to download this gorgeous calendar.
Elle's Good Vibes: Keeping You On Trend
Hi Glossies! This month I'll be sharing all the trends you need to know about. From the best mineral makeup out there, to sustainable skincare brands that are changing the game and the best value-for-money makeup available on the high street, I'll be sharing it all. Keep an eye on the Beauty Unboxed blog for more information. #stayGLOSSY
Join The Glossy Family
Our 'Trending Beauty' edit is filled with 5 full-size products, including makeup, skincare and nail care that will ensure you stay a la mode. Don't miss out. Subscribe now!