We've recently revealed that inside the Vegan Limited Box is the legendary Kat Von D Tattoo Liner and the miracle working Head & Hair Heal Masque from Maria Nila. We now have another sneak peek treat for you… Inside you will find a full-size vegan and cruelty-free Lip Fudge Plumping Lip Conditioner in Rosewood from Tropic Skincare, £12. 
This lip fudge is giving us serious tropical vibes! Bursting with nutritious, exotic ingredients, it's 100% naturally derived and does not contain harmful chemicals, which is always reassuring to hear. A handy handbag essential, the mango wax and vitamins help to plump, smooth fine lines, repair and protect your lips throughout the day!
The Glossy Verdict 
The texture is velvety and smooth to apply with your fingertips. I keep this on my desk and apply it in the morning and afternoon and it's a quick way to add a hint of glossy pink to my lips while keeping my lips hydrated and smooth. It's packed with 26 lip-loving plant extracts that help to repair dry, chapped lips.
It has staying power too – I only need to re-apply this twice a day for lusciously hydrated lips. I also love the scents of mint and vanilla because it's both soothing yet zingy!
The tint is gorgeous too – when applied it's not as dark as it looks in the pot. Check out my swatch below.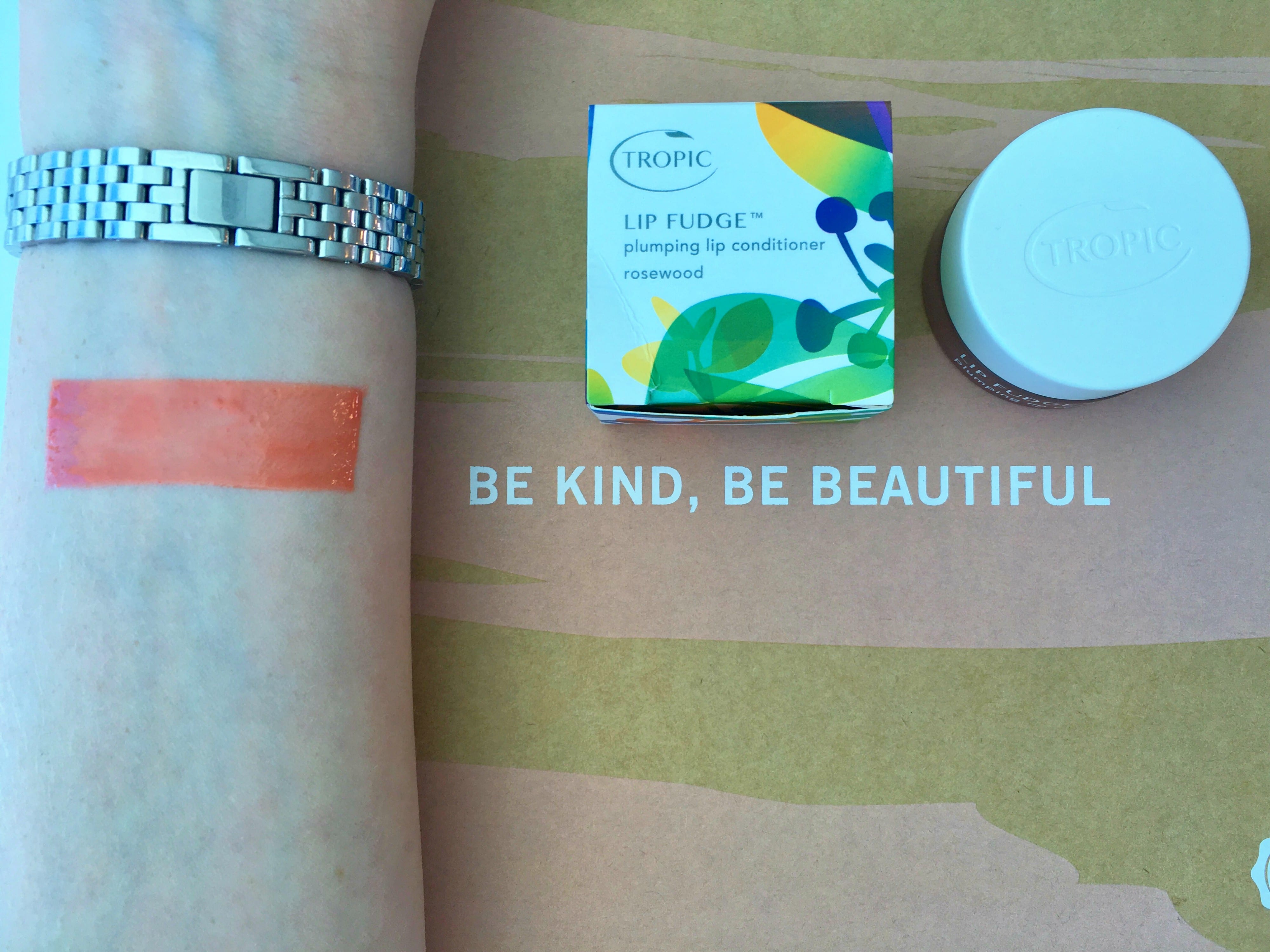 The Tropic Skincare Story 
There is an incredible businesswoman behind Tropic Skincare, Susie Ma. Susie began making skincare products in her kitchen at home from the age of 15. Susie started to sell her homemade, natural body scrub at Greenwich market and it's still their bestseller today. After graduating and while working as a sales trader at Citigroup, Susie was selected to be on the 2011 series of The Apprentice just age 21.
Today, Susie continues her mission to produce pure, honest and effective products, free from damaging chemicals, just packed with nutritious ingredients.
All Tropic products are: 
All 10 products inside the Vegan Limited Edition box are vegan friendly and cruelty-free. This lip conditioner is also 100% naturally derived, which is amazing to hear.
✔100% Cruelty-free
✔100% Vegan
✔100% Naturally derived
✔Free from harmful chemicals, parabens, gluten, petrochemicals, phthalates, microbeads and mineral oils to name a few
The Tropic Skincare Range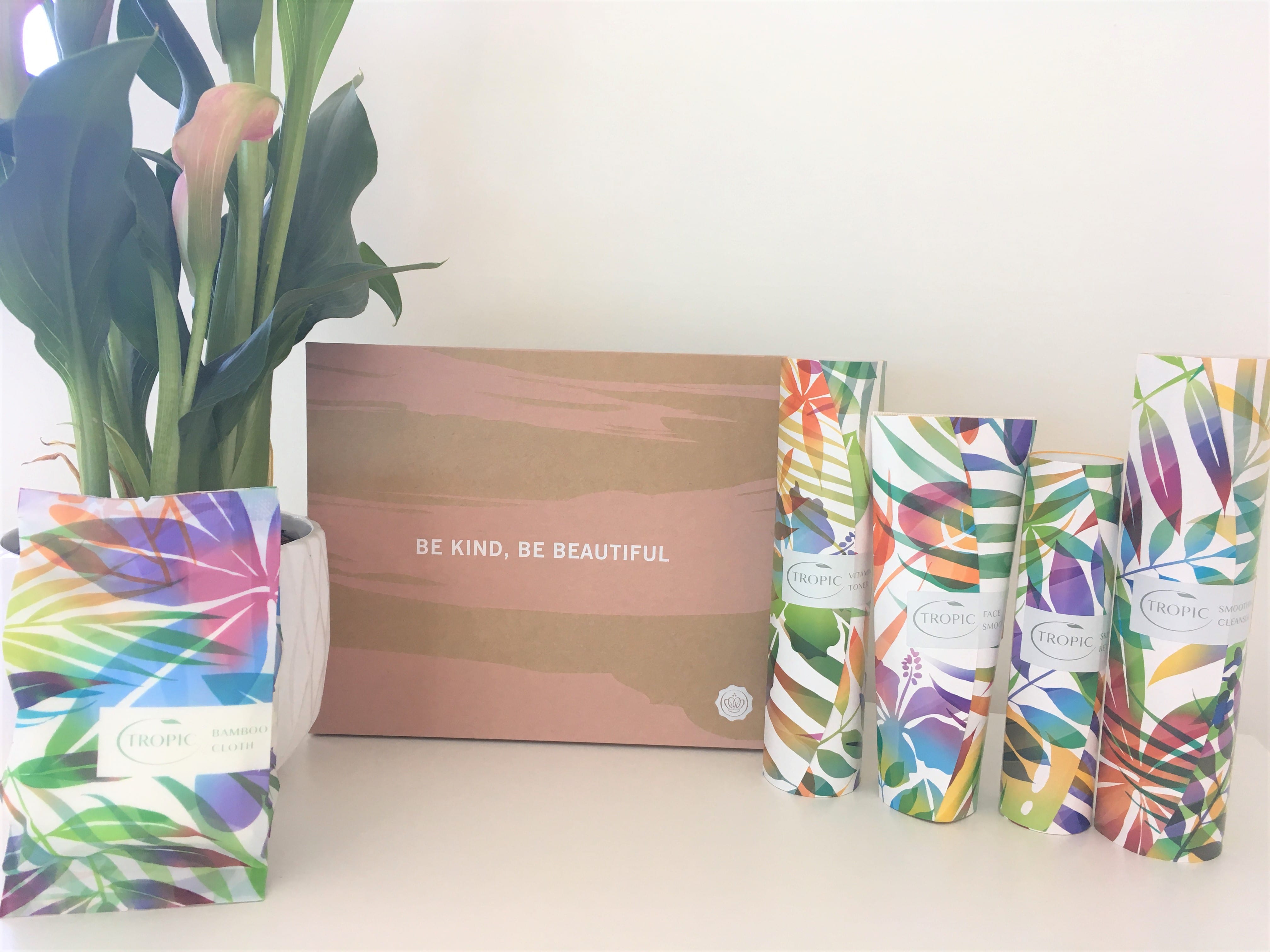 I also tried some of the bestselling products from their range! I love to do every step of the Tropic skincare regime for a treat and when I have a bit more time.
The award winning Smoothing Cleanser Complexion Purifier and Bamboo Cloth combination has completely changed the way I remove my makeup. With a luxurious blend of uplifting eucalyptus, golden jojoba and avocado oils, this refreshing cream cleanser effortlessly melts away your makeup and impurities to leave your skin feeling unbelievably soft and clean! You just apply 2 pumps into your fingertips and massage it over your face. After rinsing, apply another pump and massage again before wiping your face with your hot bamboo cloth. The whole process is incredible therapeutic and effective.
Once or twice a week, I then use the Face Smooth Brightening Polish, which is up there with my favourite exfoliators. It's rich in antioxidants and the smell is absolutely gorgeous!
To reduce the appearance of pores you can then use the Vitamin Toner Pore Refining Mist, which is very refreshing! I then apply the Skin Revive Nourishing Cream Concentrate, which has a very premium feel and aromatic scent. Packed with 20 different skin-loving fruit, flower and seed extracts, this daily moisturiser hydrates, protects and nourishes your skin for a healthy and more radiant complexion!
The Glossy Verdict 
I really recommend the Tropic Skincare's natural range and I admire their ethos. Not only are Tropic products incredible to use, they top it off by being natural, vegan and cruelty-free. More brands should follow the way!
Buy The Vegan Limited Edition GLOSSYBOX
Don's miss out on your chance to get your hands on the Lip Fudge Plumping Lip Conditioner by buying the Vegan Limited Edition GLOSSYBOX now! It's just £25 for subscribers and £30 f0r non-subscribers!