Hailey Baldwin rocked it recently at the Met Gala, it was all the rage at Coachella 2018 and now GLOSSYBOX's very own Lou now joins the pastel pink hair gang. As you can see, it looks amazing!
We can't get enough of the Maria Nila haircare duo in your Daydreamer box, so we used their colour refresh range to get the look. I caught up with Lou to see how she got on and gathered some tips for you GLOSSIES…
How did you apply the Maria Nila Colour Refresh?
I already have ombré hair after having the ends of my hair lightened so I went for a pink dip dye look. It was so simple…
I washed my hair with shampoo and gently towel dried it
I pumped some of the Pink Pop conditioning colour into a small bowl and then pumped twice as much of the White Mix and mixed this together
I then separated my hair into small sections
As I'm going for the dip dye look, I applied the mixture from the mid lengths to the ends of my hair
I then massaged the colour into the hair – wearing gloves (which handily come with the colour)
I left the colour to process for 10 minutes.
I hopped back into the shower, rinsed my hair and applied some conditioner to the lengths
Afterwards my hair felt silky and smelt amazing!
The results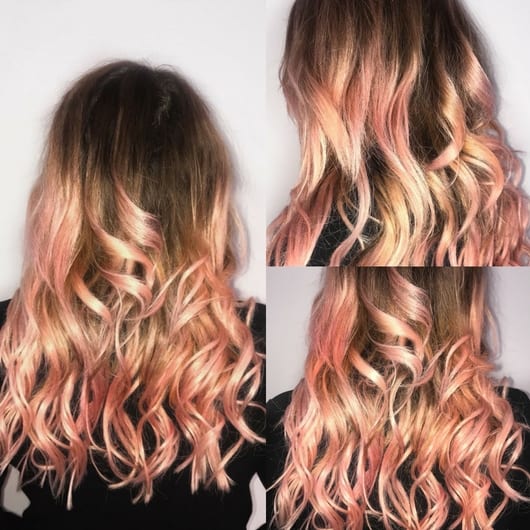 Can you choose a different colour?
Maria Nila Colour Refresh comes in so many gorgeous shades including Pearl Silver, Vivid Violet, Azure and Pink Pop. They can be applied alone or with other shades in the range to create a customised look!
Is it bad for my hair?
No, this is a non-permanent formula enriched with argan oil so it's more of a conditioning mask than a colourant. It's free from sulphates and parabens and it's vegan too, so you can top up your colour as often as you like, guilt-free.
Have you got words of advice for GLOSSIES?
It's relatively quick and easy to do compared with traditional hair dye and the colours are gorgeous too. I would like to try it again once this colour fades, maybe a different colour like 'Azure'.

Be brave, it's won't last forever (4-10 washes in fact) so have a bit of fun and go for it
Inspired to dye your hair a cute pastel colour? We'd love to see the results! Tag us in your pics using #glossyboxuk