This 2022, our Flat Lay Co. X GLOSSYBOX travel bag is filled with 12 summer must have's that'll all be perfect additions to your holiday!   
Worth over £125, our Flat Lay Co. GLOSSYBOX Limited Edition is almost here! Featuring six full size and six deluxe mini products carefully picked to enhance your summer experience. All housed in our first ever collaboration bag with Flay Lay Co., worth £19.99, where you can expect to find cosmetics, skin and haircare as well as a gorgeous fragrance!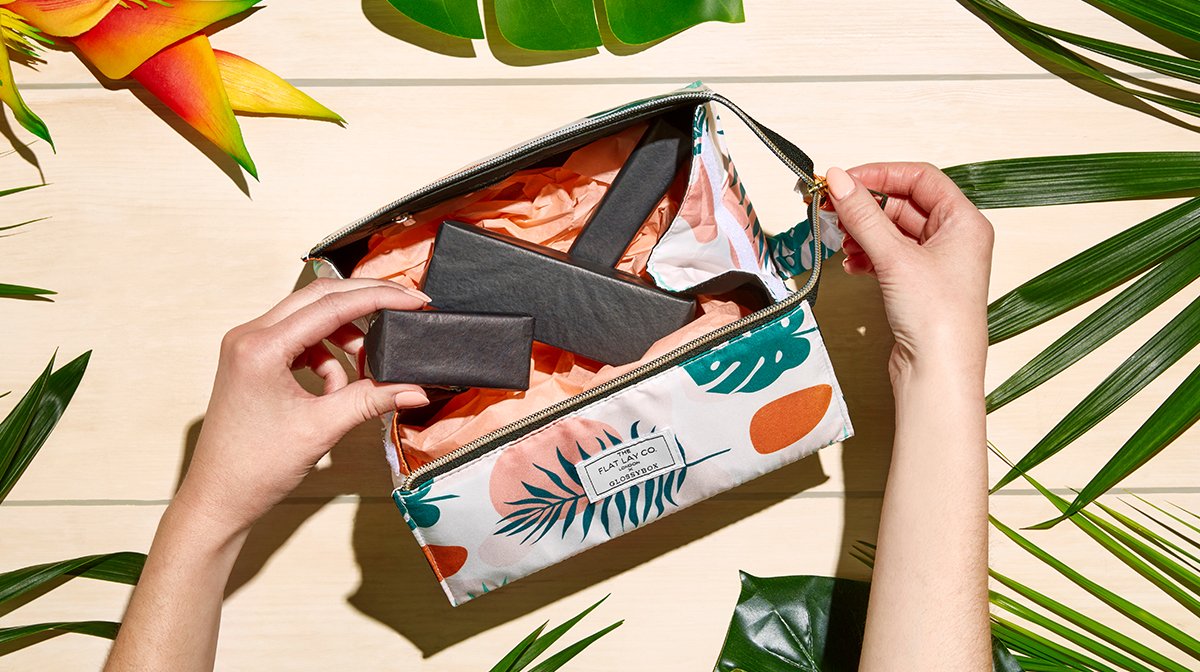 What's Inside Our Flat Lay Co. X GLOSSYBOX Limited Edition?  
---
I know your dying to find out what's inside our Flat Lay Co. X GLOSSYBOX Limited Edition bag, so keep reading to find out!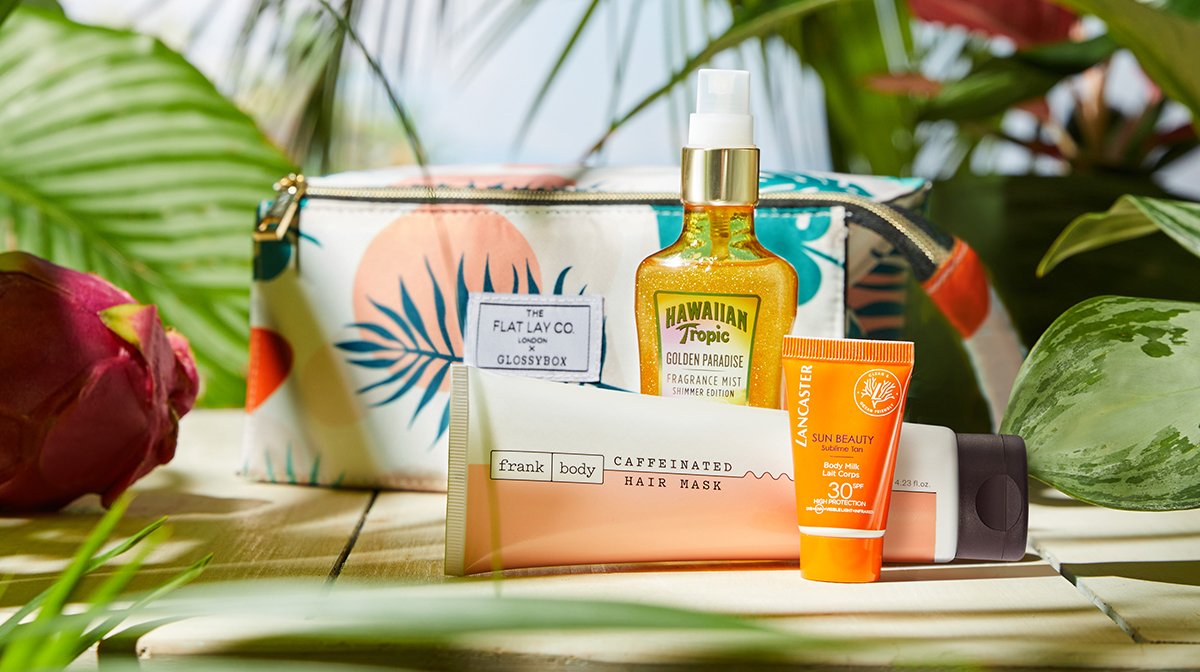 Lancaster – SPF30 Sun Beauty Body Milk 
Discover our most advanced sun protection with Sun Beauty Body Milk SPF30. Targets 100% of the sun spectrum in a clean and ocean friendly formula. Ultra-lightweight, non-greasy and immediately invisible on skin. 
Deluxe mini 15ml worth £2.40. Full size 175ml RRP £28* 
Hawaiian Tropic – Golden Paradise Shimmer Mist 
A lightly scented Fragrance Mist infused with warm sand, creamy coconut and sparkling shimmer, for your perfect summer party. From glistening sand to warm sultry skin, the irresistible signature scent of Hawaiian Tropic exudes a beachy glow from head to toe. 
Deluxe mini 100ml worth £6. Full size 250ml RRP £10* 
Frank Body – Caffeine Hair Mask 
Smoother, stronger, longer locks? Hair. We. Go. Lightweight yet deeply-hydrating, my Caffeinated Hair Mask is the secret to head-turning hair flips. A blend of strengthening keratin, scalp-soothing niacinamide and moisturising comfrey root nourish all hair types and is especially helpful for babes with curly or dry hair. 
RRP £12.95*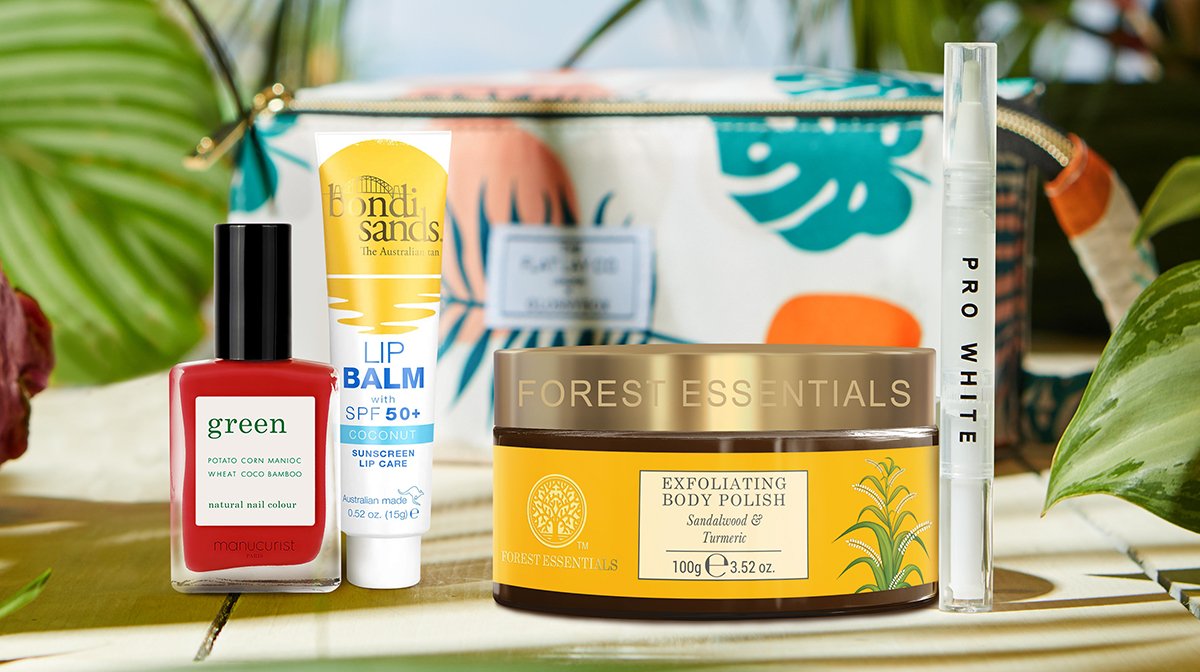 Pro White Teeth Kits – Teeth Whitening Pen  
Call this the teeth whitening pen 2.0! Formulated with the latest PAP-X formula, this pen retains all the same benefits as this brand's original pen but with a formula that works faster and delivers better results! 
RRP £15* 
Forest Essentials – Exfoliating Body Polish Sandalwood and Turmeric 
A gently exfoliating body polish that uses raw cane sugar crystals to scrub the skin, leaving it smooth and buffed with a luminous finish. It contains nutritious, cold-pressed oils along with sandalwood and fresh turmeric to add a glow and a delicate fragrance to the skin. 
Deluxe mini 100g worth £16. Full size 200g RRP £32* 
Bondi Sands – Coconut SPF 50 Lip Balm 
Enjoy a sun-soaked day the Bondi Sands way. Hydrate and soothe dry lips with this nourishing Bondi Sands SPF50+ Lip Balm. 
RRP £4.99* 
Mancurist – Nail Colour Terracotta 
This GREEN range of polish contains up to 84% natural ingredients. Potato, corn, cassava and cotton: nothing's too good for your nails! This terracotta shade is gorgeous too – and will coat your nails with a vibrant and warm scorched red earth tone. 
RRP £14*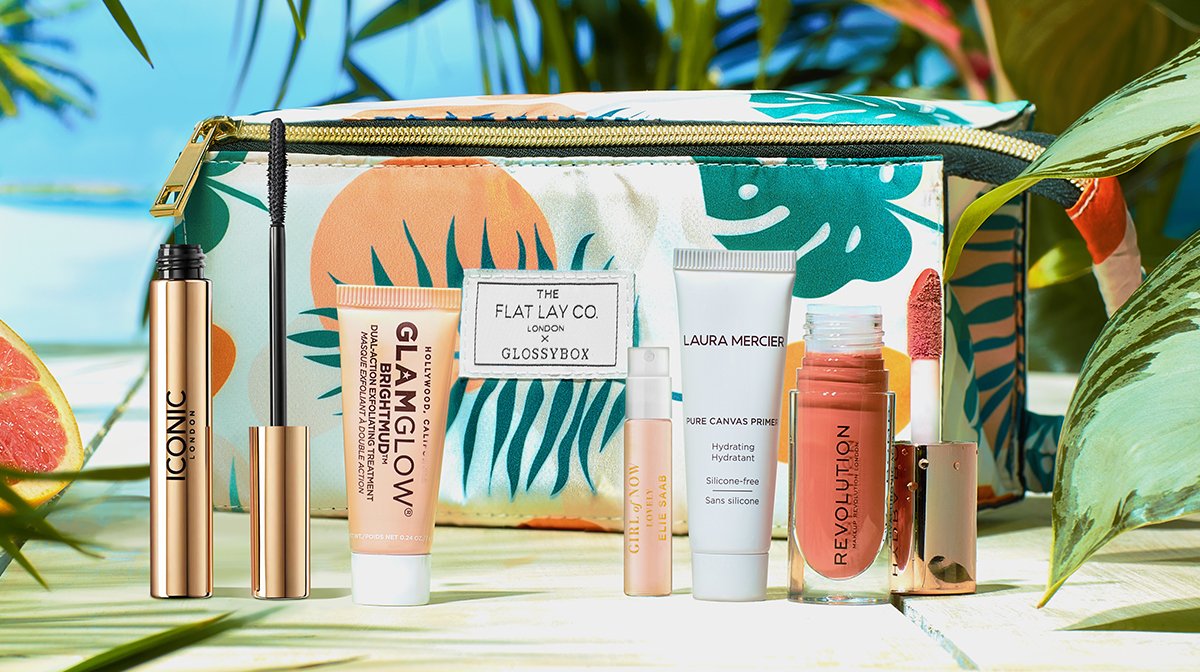 Laura Mercier – Pure Canvas Primer Hydrating 
Hydrate and perfect the complexion with this Laura Mercier Pure Canvas Primer Hydrating; a replenishing formula that provides rich moisturise and helps to create a flawless base for makeup. 
Deluxe mini 10ml worth £6.40. Full size 50ml RRP £34* 
Glamglow – Brightmud Exfoliating Mask 
Defeat dull skin in 20 minutes. BRIGHTMUD™ is a dual-action exfoliating mask treatment working to both chemically and physically buff away unwanted dead skin cells with lactic acid (AHA), salicylic acid (BHA) and microfine pumice. 
Deluxe mini 7g worth £4.85. Full size 65g RRP £45* 
ICONIC London – Triple Threat Mascara  
An ultra-black, stunning, weightless formula that volumises, lengthens and lifts lashes all day and well into the night for a dramatic fluttery look. 
RRP £20 
Revolution Beauty – Hydrate Bomb Gloss Hydr8 
Hydrate and plump your lips with Revolution Hydra Bomb. A high-shine and non-sticky lip gloss formulated with hyaluronic and peptides to hydrate lips and slightly plump, for a fuller-looking appearance and glossy finish. 
RRP £6* 
Elie Saab – Gril of Now Lovely  
In this fragrance, experience a duo of sparkling mandarin and juicy pear that is lifted by a delicious blackcurrant buds absolute. This bright opening is enlightened by an exclusive accord of orange flower and almond associated with the solar Frangipani flower. This floral alchemy is softened by the divine sensuality of Cashmeran, magnified by the addiction of Tonka bean and Patchouli heart for an unforgettable trail. 
Deluxe mini 1.5ml worth £1.50. Full size 50ml RRP £66*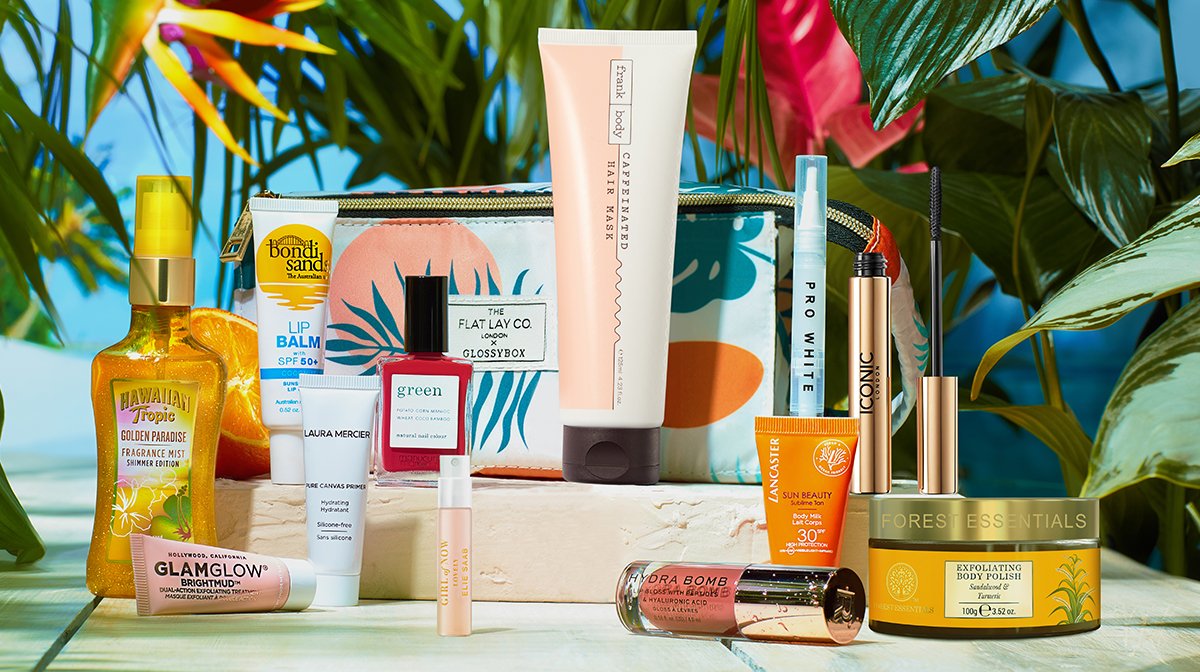 How To Purchase Your Very Own Flat Lay Co. X GLOSSYBOX Limited Edition 
---
Our 2022 Flat Lay Co. X GLOSSYBOX Limited Edition will go on sale Thursday 30th June, only 10 days but who's counting (me!). If you're a subscriber you can purchase yours at 9am for only £30! That's a bargain, we know! Non subscriber can get theirs from 12pm the same day and for them it'll cost £40.   
Subscribe To GLOSSYBOX To Get Yours First (And For Less)! 
---
It's not too late to subscribe! Become a GLOSSYBOX subscriber today to get priority access to this Limited Edition bag and your £10 discount! Our Limited Editions sell out fast – they always do – therefore, being a subscriber ensures you get your chance to purchase first! 
Don't forget, as an avid blog reader, if you become a Glossy today you can get your first box for only £11, including delivery! Just use code 'GLOSSYBLOG' at checkout!