From shaving to skincare, hair to dental hygiene, our GLOSSYBOX Grooming Kit will tick all of his beauty regime boxes!  
But who is this Limited Edition for? Launching in plenty of time of Father's Day 2021, this edit of grooming game-changers is perfect for your Dad. He's sure to love this thoughtful gift when he unwraps it (on June 20th, don't forget!). However, it's also a fabulous find for your husband, boyfriend, brother or male friend – for a birthday, other special occasion or just to show how much you care! 
Whoever is the recipient though, inside he'll find plenty of essentials that he'll adore – whether they fit harmoniously into his current routine or you're introducing him to something brand new.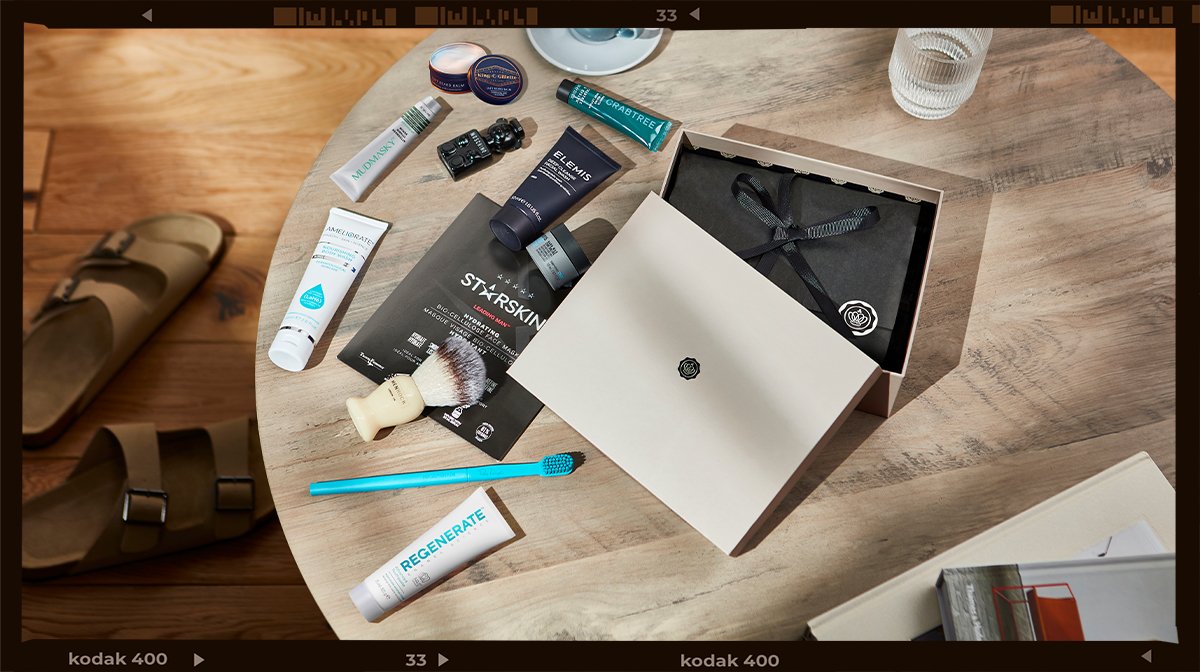 What's Inside Our Grooming Kit Limited Edition?
In case you've missed us sharing many, many updates about our GLOSSYBOX Grooming Kit, listen up! This Limited Edition features 11 products – there'll be five full size products and six deluxe minis – worth over £115! This edit really does have everything in it to cover all his grooming needs.
We've already revealed the full line up in our product reveal blogs. Not seen them yet? Have a look at them all via the links below! 
However, if you'd prefer a quick overview of all the products in one place, read on…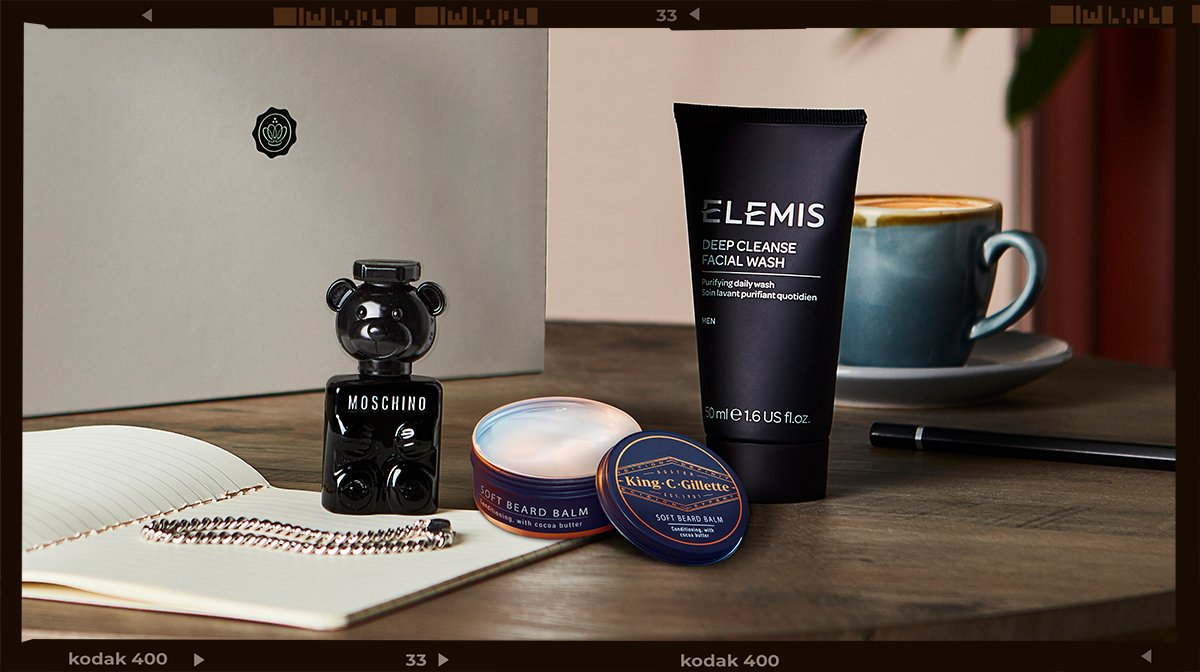 Elemis – Deep Cleanse Facial Wash
Help him upgrade his grooming routine with this fast-acting daily cleanser. Specially formulated for men, this invigorating cleanser leaves skin feeling deeply clean, ultra-refreshed and completely revived. A combination of English oak bark, spearmint and peppermint help to deeply purify the skin and remove impurities.
Deluxe mini 50ml worth £9.50, full size 150ml RRP £25*
Moschino – Toy Boy Eau de Parfum
Daring and playful, the 'Toy Boy' Eau de Parfum encapsulates the bold nature of Moschino. A floral, fruity blend, with a spicy heart and a woody edge, this cologne entices excitement with its seductive accord of notes including Italian bergamot, clove, magnolia, vetiver and amber. Oh, and with a seductiveness women love too, you can think of this as a tester you can borrow too!
Deluxe mini 4ml worth £7, full size 50ml RRP £65*
Gillette – King. C Gillette Beard Balm
Want to see his beard beautifully groomed? Well he can condition his beard, tackle stray hairs and practise some well-deserved self-care with this beard balm! Featuring argan oil and cocoa butter, this creamy nourishing formula is highly moisturising. And whether he uses it as a leave-in conditioner or as a wash-off mask, it'll leave both his beard and his skin feeling wonderfully soft and smooth.
RRP £10*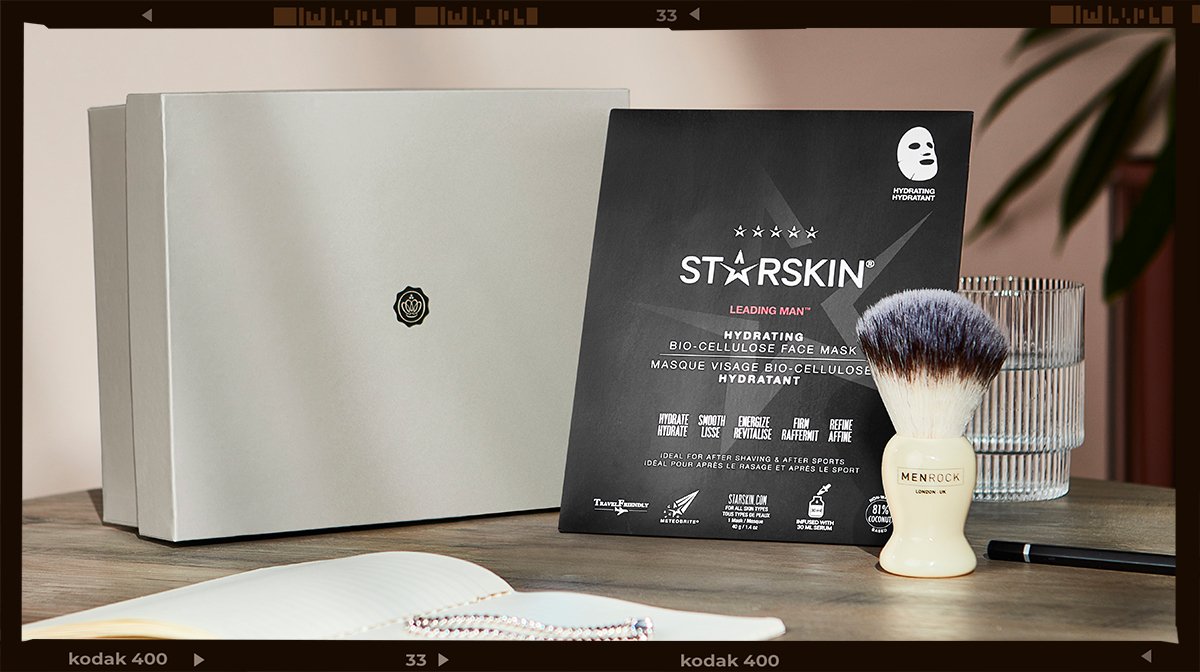 Men Rock – Synthetic Shaving Brush
Does he prefer a wet shave? Or would you perhaps like to see him completely clean shaven? Well wet shavers everywhere need to experience the smooth outcome of a traditional close shave with this must-have brush. Mixing hot water and shave cream into a thick lather, this brush allows for a much more comfortable shave. It also helps remove any unwanted dead skin!
RRP £14.50*
Starskin – Leading Man
Treat him to some pampering me-time with the first Hydrating Bio‐Cellulose sheet face mask specifically created for men's skin… because dry, rough, irritated skin should no longer be endured. As well as hydrating thoroughly, this mask also visibly reduces redness and enlarged pores. His skin will be awakened and left feeling refined, energised and refreshed!
RRP £9*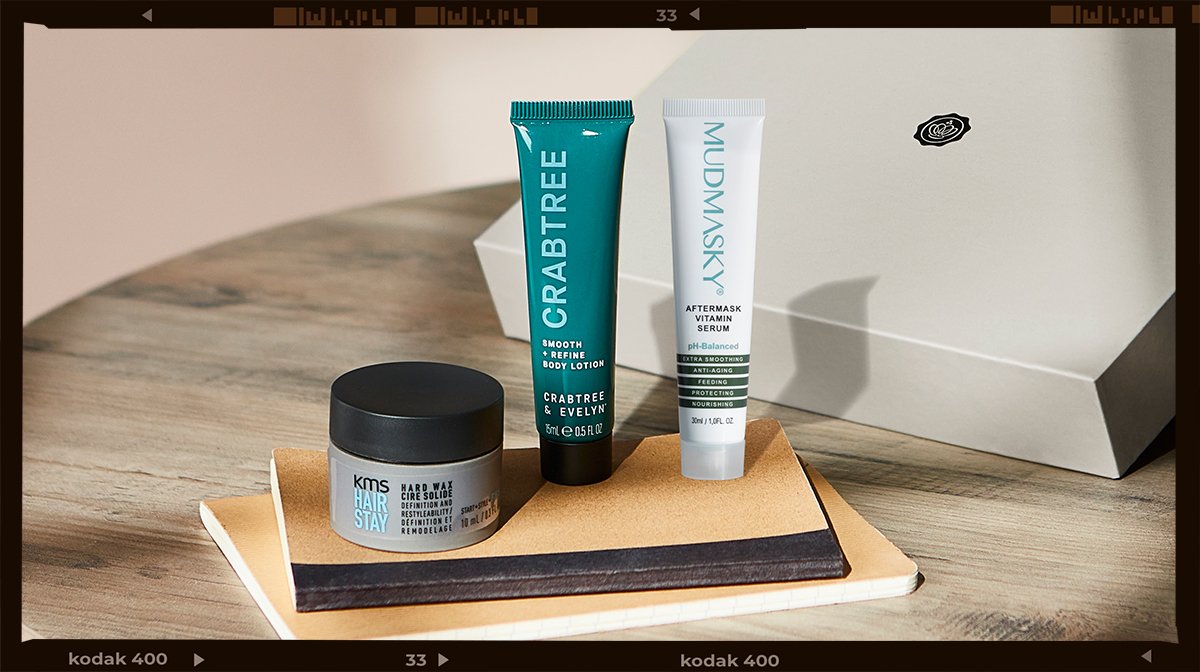 Crabtree & Evelyn – Smooth + Refine Body Lotion
Help him keep his skin glowing from dawn to dusk with this unique lotion. It has the power to deeply moisturise and gently exfoliate his body in one step! Packing in hydration, this formula is refreshing, fast-absorbing and moisturising thanks to a blend of soothing blackcurrant oil, apple fruit extract, and vitamin E.
Deluxe mini 15ml worth £4, full size 250ml RRP £19.50*
KMS – Hairstay Hard Wax
Does he like to style his hair into a textured look that gets him noticed? This wax is completely pliable, meaning he can redefine his look over and over again, without a greasy feel to his hair. Its dry consistency also allows for a natural looking finish too!
Deluxe mini 10ml worth £5, full size 50ml RRP £20*
Mudmasky – Aftermask Vitamin Serum
Aid him in taking his skincare routine to the next level with this serum! Featuring a blend of key ingredients such as brown seaweed, coconut oil, red algae and sea kale,vitamin serum is all he needs for super smooth skin. It has also been cleverly created to protect, nourish and reduce signs of ageing. We agree, it's seriously clever skincare!
RRP £43*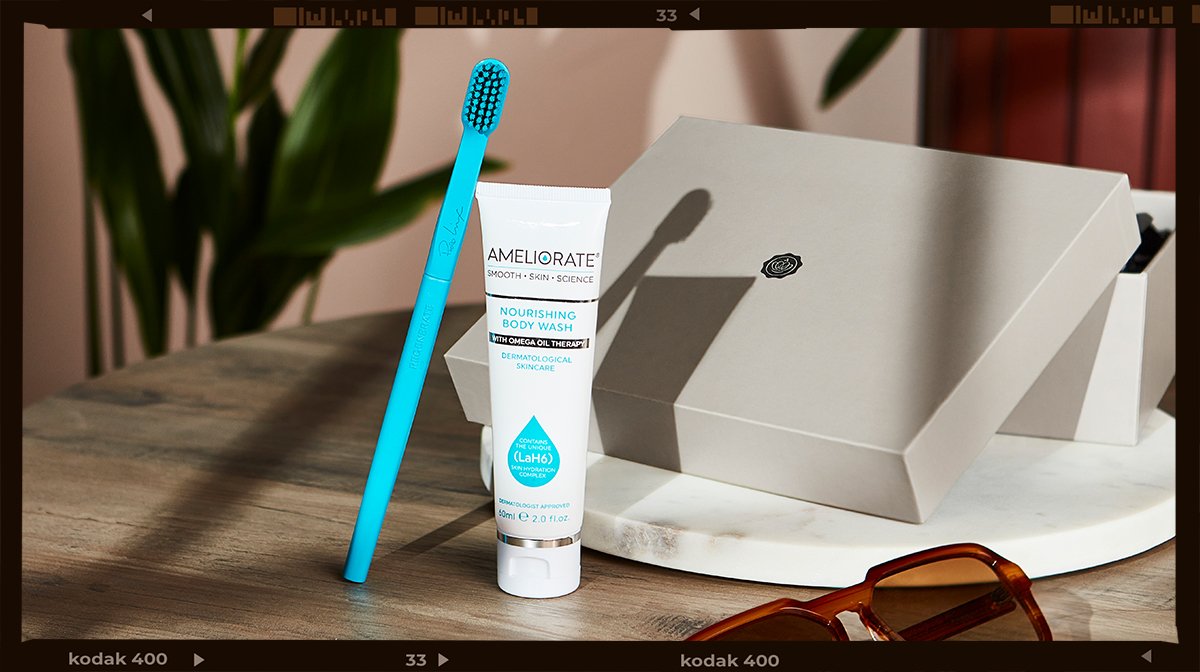 Regenerate – Toothbrush
Give him something to smile about! The ultimate combination of substance and style, the Regenerate™ Toothbrush has 5904 ultra‐thin, ultra‐soft filaments for advanced enamel care. This means the pearly whites he's been dreaming of can so easily become his reality!
RRP £8*
Regenerate – Advanced Toothpaste
He won't be able to use his Regenerate Toothbrush to get a gleaming smile without toothpaste, will he! Powered by the exclusive and clinically proven NR‐5™ technology, this Advanced Toothpaste is able to regenerate tooth enamel mineral and reverse early enamel erosion. He soon won't be able to hide that smile of his!
Deluxe mini 15ml worth £3.50, full size 75ml RRP £10*
Ameliorate – Nourishing Body Wash
Gently cleansing his skin without drying it out, he'll love this body wash! Containing natural omega oils from Starflower and Camelina and Ameliorate's unique LaH6 Skin Hydration Complex, his skin will be left feeling softer, smooth and comfortable. Used regularly, this rich and creamy pH balanced product will also replenish his skin's natural protective barrier.
Deluxe mini 60ml worth £6, full size 200ml RRP £12*
*RRP relates to the full-size product available for purchase as advised by the brand. Prices may vary due to exchange rates. All prices are correct at time of launch.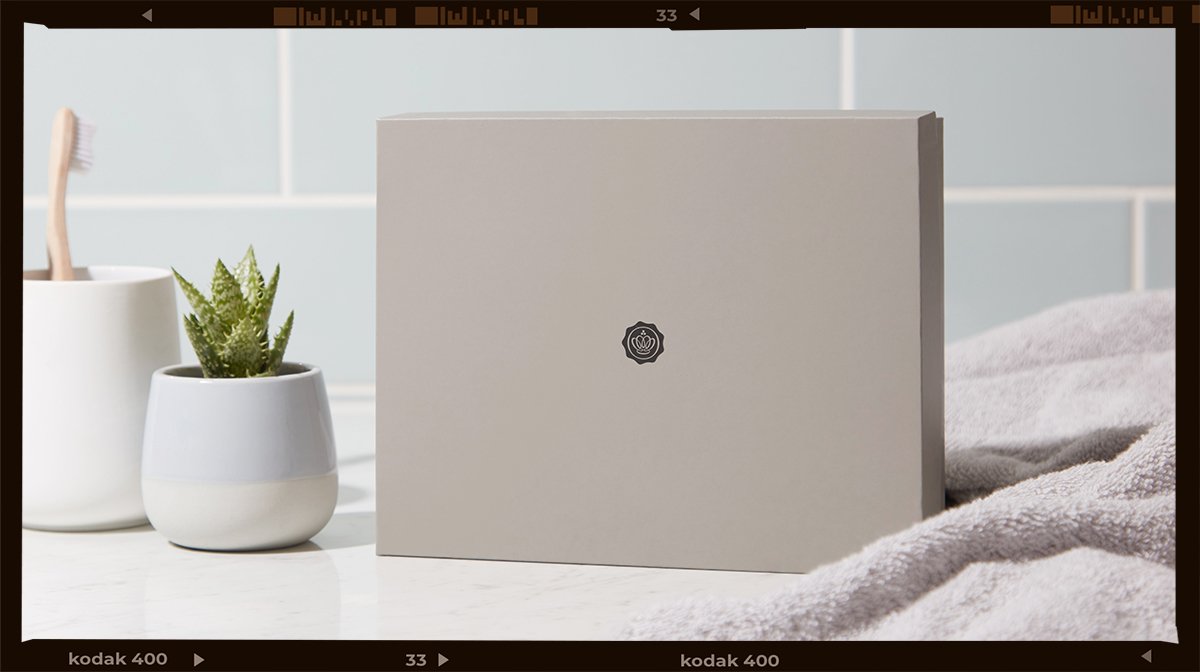 How 
And
 When You
 Purchase Your Grooming Kit
Our June 2021 GLOSSYBOX Grooming Kit Limited Edition goes on sale on Wednesday 9th June. Subscribers can get theirs at 9am for only £25. While non-subscribers can buy theirs for £30 from 12pm! 
Subscribe To GLOSSYBOX!
To not miss out on getting your GLOSSYBOX Grooming Kit, subscribe to GLOSSYBOX today! You'll get £5 off our box as well as the opportunity to purchase yours three hours before this edit goes on general sale! 
Of course, you'll also start receiving our monthly boxes immediately, which are always jam-packed with five beauty must-haves! As a GLOSSYBOX subscriber, you'll also get to take advantage of a whole host of Glossy benefits including a 25% discount on GLOSSYBOX Skincare and access to our subscriber-exclusive Glossy Lounge.