Glossies, we know you love trying out the brands your favourite celebrities are always raving about for yourself – and boy do we have a big name for you this month! 
Best known for its iconic, playful red carpet clutches, Kim K and the rest of the Kardashian clan (plus so many other celebs!) can't seem to get enough of beautifully bold bag brand Judith Leiber.
Never cutting corners when it comes to luxury accessories, this fashion powerhouse has been designing signature crystal encrusted evening bags for over 50 years – and has now launched its very own take on fragrance, that you get to try in your September edit!
The Judith Leiber Scent!
So, what is this new Judith Leiber More Is MORE! scent and what makes it so special? Listen up, as we've got a truly unique take on fragrance to share.
Inside your September 'Pure Relaxation' GLOSSYBOX, you'll already know your extra treat is three mini Judith Leiber fragrances. But what exactly are these three fragrances and what notes are they created with?
1. More GOURMAND!
For a delicious first impression, spritz 1. More Gourmand! Concocted with edible notes, this fragrance opens with blackcurrant absolute and mandarin, while rich gingerbread and rose petals create a sensual heart, which should last 12 hours on the skin. To carry these gourmand, edible notes long into the night, there are also strong notes of vanilla and cashmere woods! Warning: You'll smell good enough to eat!
2. More ZEST!
Zest it up with 2. More Zest! Sparkling with fizz, this fragrance opens with thirst quenching grapefruit, fresh lemongrass and sunny green bergamot. After this citrus explosion settles, you should smell orris (the root of the Iris flower), and peony. Notes of sandalwood and cedarwood will also melt into your skin and last into the night.
3. More FLORAL!
Glow up your fragrance collection with the ultimate in indulgent scents 3. More Floral!; the white floral. At first, you'll smell fresh pink pepper and mandarin, which then gives way to a magnificent bloom of flowers. Ylang Ylang and Orchid carry the heart of this composition, while coconut wood adds creaminess and patchouli gives strength, which helps the floral notes really last. 
But what makes these scents so different to any others is that not only can they be worn alone, they can also be mixed together to create seven – yes SEVEN! – fragrance possibilities.
Swap Between Fragrances Or Mix On The Spot!
As mentioned, More Is MORE! offers seven scents in one. But if you want to make wearing these scents even simpler, you're going to want to check out the brand's one-of-a-kind mixing bottle! 
This first of its kind bottle allows you to switch between fragrances and mix on the spot – wherever you may be. Simply swipe on and off the bottle's three sliders to select your mix, spray your chosen combination and go! And then, when you want to try a new custom combination, just reset the sliders and you're good to go again! 
And, once you have your bottle, it's super easy to buy fragrance refills too!
More Is MORE! Is For Him
Too…
While the More Is MORE! sample in your September is the 'for Her' version, the man in your life doesn't have to miss out. Why? Because there's a 'for Him' selection of scents too, which work in exactly the same way…
1. More Spices!
If you need a bit of spice in your life, hit 1. More Spices! This scent is all about the contrast of spices. At first, you'll smell rich saffron and crisp lemon essence. Intense cold bursts of ginger and lavender quickly follow, contrasted with warm, sweeter, more indulgent notes of vanilla and amber. Heady vetiver finishes off the fragrance, which will last with intensity all day.
2. More MARINE!
The clue is in the name – 2. More Marine! is all about the freshness of the ocean. Marine accord brings an intense clean splash, which you should smell alongside black pepper. The aquatic nature of this fragrance is balanced by fresh green apples and cedarwood. Rich patchouli (a woody-earthy green leaf) and amber round out the scent, giving strength and depth to the composition, which together carry the marine notes to last all day. This is the ultimate masculine scent.
3. More Leather!
This scent is the most intense scent of the More is MORE! collection. Starting with a dash of lemon and black pepper, it is quickly eclipsed by a heady, deep, dark leather accord. This is complimented by complex notes of patchouli (a woody-earthy green leaf) and cashmere wood that will last over 12 hours. 
Get Your Own Mixer Bottle With A Glossy Discount!
Love the Judith Leiber More is MORE! Fragrance in your September box? Want to purchase them again along with the brand's incredibly clever mixing bottle too? (Or perhaps you want to treat the special man in your life to the 'for Him' version?)…
Well, as a loyal Glossy you can do exactly that and with an exclusive discount! 
Get 25% off your first purchase of either More is MORE! fragrance for Her or for Him with code GLOSSY21*. This offer can only be redeemed on the official Judith Leiber More is MORE! website, so be sure to head there to get yours immediately! It may be a little way off but we think it would make the perfect present for either yourself, a friend or family member this festive season! 
*Terms and conditions: Offer ends 15 December 2021. Only valid on the purchase of the 75ml female or male Eau de Parfum. Offer limited to a maximum of four purchases per household. Cannot be used in conjunction with another offer. 
Want to save EVEN more! There's an even bigger Judith Leiber More is MORE! Offer exclusive for Glossy subscribers in the Glossy Lounge. Sign into your account now to find out more!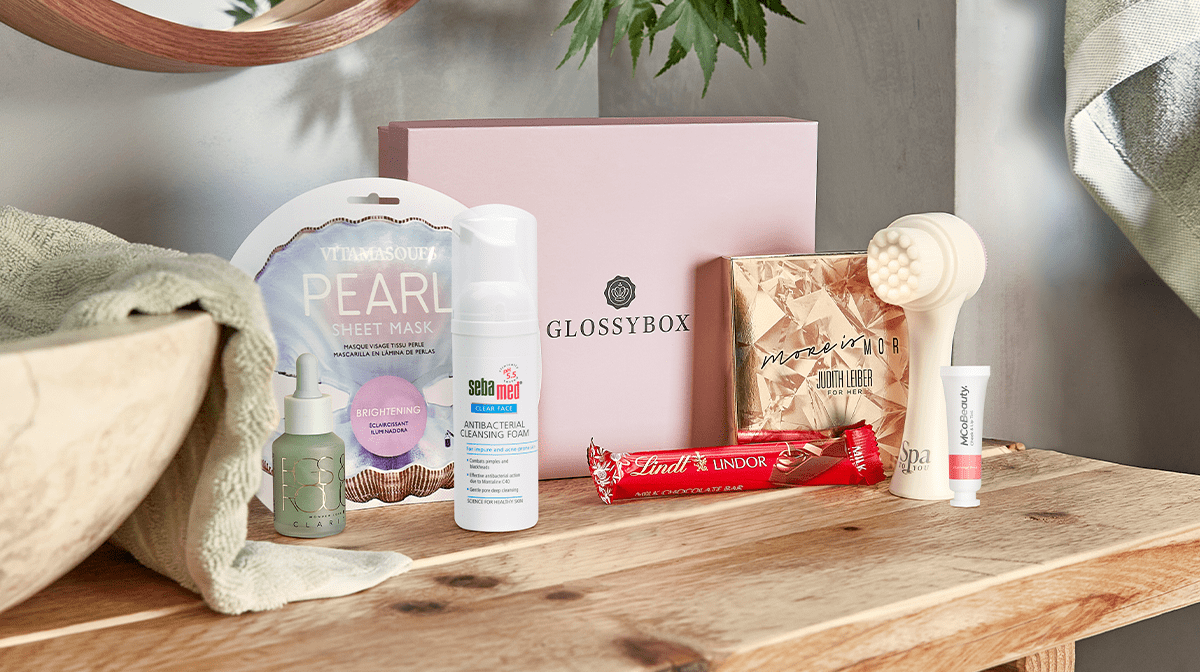 Subscribe To GLOSSYBOX
To receive your very own September 'Pure Relaxation' GLOSSYBOX, which includes a sample of the three newly launched Judith Leiber fragrances, subscribe today!
As a Glossy, you'll not only receive our monthly boxes filled with five fab beauty products though… there are also plenty of other benefits too! Glossy Credit, access to the Glossy Lounge and discounts on our Limited Editions and the GLOSSYBOX Skincare range… the list goes on and on!