We couldn't celebrate our birthday without giving you the tools to achieve the ultimate party look! That's why you'll all receive a Brushworks makeup sponge that allows you to flawlessly apply and blend your base makeup.  
Not sure how to use a makeup sponge? Here's everything you need to know:   
How To Use Your 
Makeup 
Sponge
The great thing about the Brushworks HD Wonder Complexion Sponge (on top of the fact that it is latex-free, cruelty-free and vegan) is that it can be used in so many different ways. Boasting a rounded side, flat side and pointed tip, you can use it to apply all your base makeup. 
Applying 
Liquid 
Foundation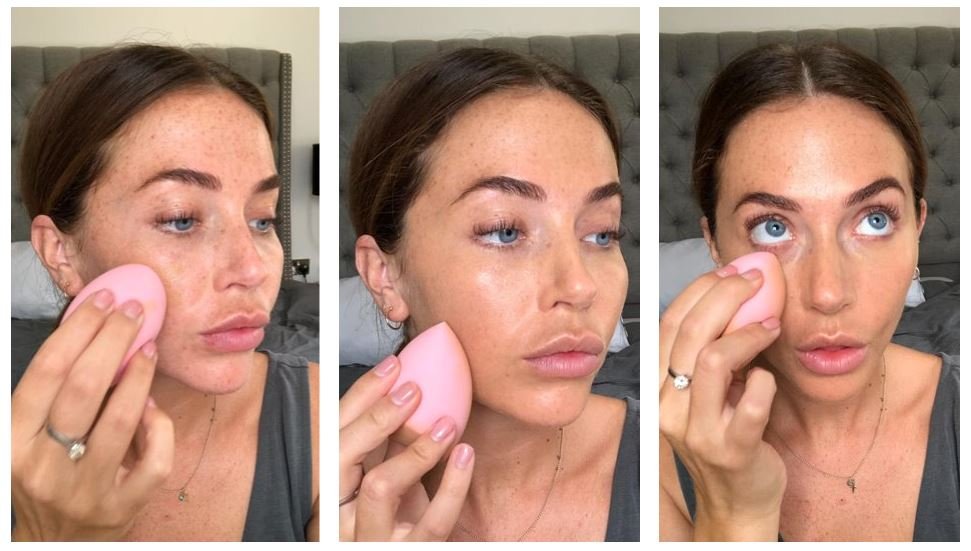 If you're using a liquid foundation (which, let's face it, most of us are), you first need to wet your sponge, then squeeze out any excess water. This will plump the sponge, prevent it from absorbing your makeup and help to create a smoother finish.  
Apply two squirts of foundation 

on

to the back of your hand, then dip the sponge into the product. 

 

Use the flat side to cover wide areas like your cheeks and forehead, then blend the 

foundation 

in using the rounded side. 

 

To reach smaller areas (say under your eyes or around your nose), you should use the pointed tip to apply it more prec

isely. 

 
Don't forget to take your time and carefully blend everything in to create that seamless, glowing finish. 
Blending Concealer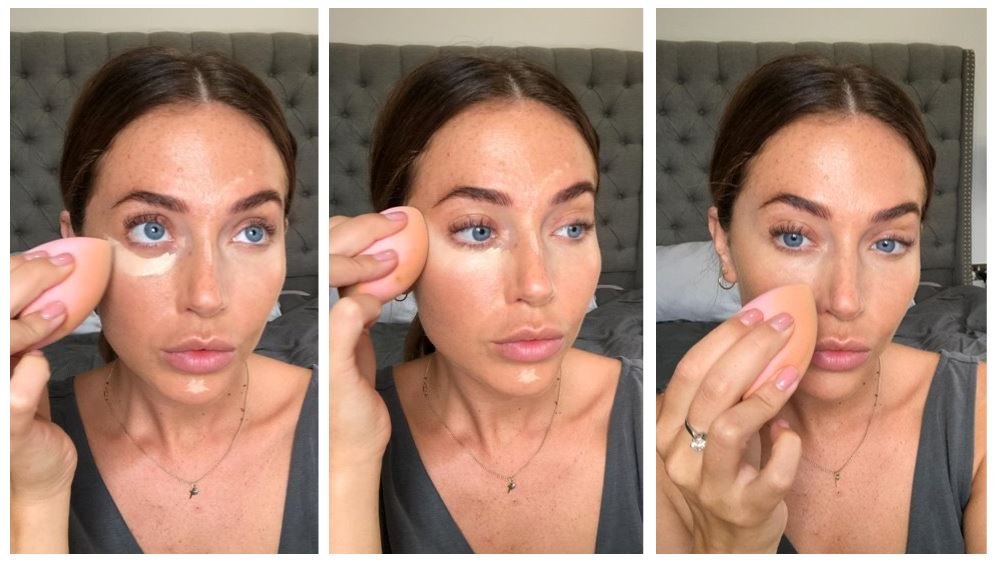 Makeup sponges are great for applying concealer too. Again, you'll need to start with a dampened sponge, then: 
Use the applicator wand to apply your concealer onto the areas you want to cover

 or brighten (

over dark circles, acne scars, redness or blemishes).

 

U

se the pointed tip to

 pat and

blend it in.

 
Contour
ing
And Highlight
ing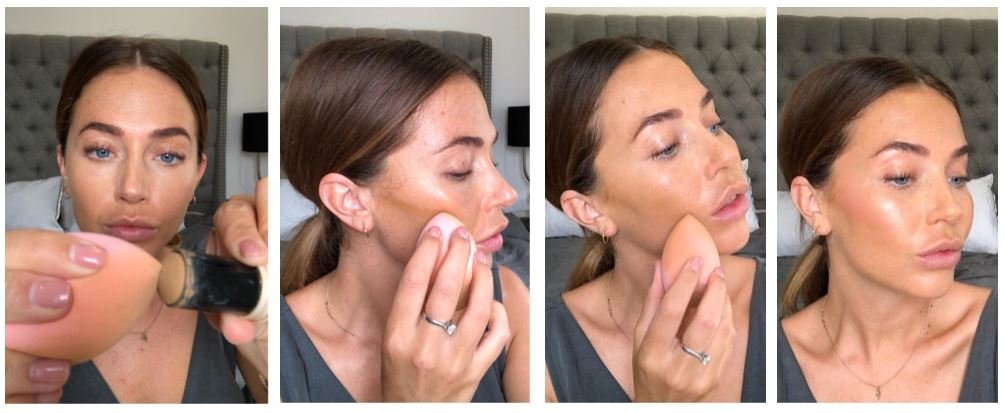 Did you know that you can also use a makeup sponge to apply powders? In this case, you'll need to keep your sponge dry.  
Use the

 pointed tip to sweep your bronzer onto the areas of your face you want to accentuate

 (t

hink cheekbones, hairline, jawline

 and the sides of your nose

).

 

Then

, use the rounded side to pat and blend the powder into your skin. 

Remember, y

ou want to create a soft contour. 

 

You can then repeat the process with your highlighter, applying your powder to the highpoints of your face (think cheekbones, brow bone, Cupid's bow and the tip of your nose) and gently blend them in. 

 
Insider Tip: For a rosy finish, you can also use the rounded side of your makeup sponge to gently pat and blend blush onto your cheeks. Whilst a cream blush or lip tint would work best, powders do the trick too. 
How To Clean Your Makeup Sponge
If you treat your Brushworks HD Wonder Complexion Sponge right, it can last you from 3 to 6 months. So, here are a few best-practice cleaning tips to make yours last: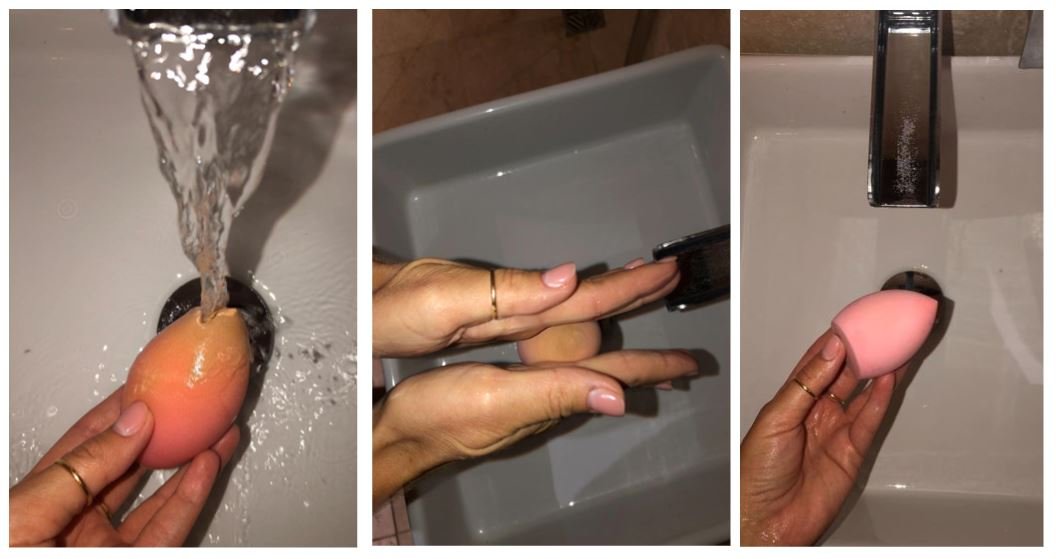 Hold the makeup sponge under warm running water and continuously squeeze it so that it absorbs the 

water. 

 

Th

en, squeeze soap into the palm of your hands and rub your palms together to create a lather. 

 

Place the sponge into the palm

s

 of your hand

s

, then roll it between them. Make sure that you don't use your fingers or nails as this can cause tears in the sponge. 

 

After a few minutes, or when the sponge starts to look clean, place it under warm running water again. Fill up the sponge, then squeeze out the soap and excess water. 

 

You can then dry it with a towel

 before

 

leaving

 it to 

fully

 air

 

dry on a clean surface. 

 
Trust us, you're going to love this makeup sponge!
Related: Clean Your Makeup Brushes Like A Pro
About Brushworks
Founded in 2015, Brushworks is an all‐encompassing beauty brand. We love them because their products are not only high quality and affordable, but vegan, cruelty-free and PETA accredited too. You can explore their full range of makeup, brushes and hair products on the Brushworks website.
You might also be interested to learn that Brushworks is currently in the first phase of its plastic reduction initiative. Since January 2020, they have reduced their plastic usage across 45 different products, swapping out plastic outer packaging for a carton board. This change alone has saved 15.8 tonnes of plastic. Next, they plan on replacing all recycled plastic Vac trays and instead hold the products with cardboard. It's such an incredible achievement and we can't wait to see their plastic-free gift sets come Christmas!
Subscribe To GLOSSYBOX
Unfortunately, you can't order the 'Birthday' GLOSSYBOX as we are now sold out. However, you can still join the family and discover an unrivaled variety of makeup and skincare in September. Plus, you'll get 20% off the newly-launched GLOSSYBOX Skincare range. What are you waiting for, subscribe now!