Like we said in our June 'Dreaming Of Paradise' Story Behind The Box blog, if getting glowing skin is our number #1 focus this summer, you're going to love our first sneak peek! 
From Nip + Fab, this Vitamin C Scrub Fix is worth £12.95 and is sure to become your summer skin go-to (which you'll love using alongside the other four products in this month's box which together are worth over £50!).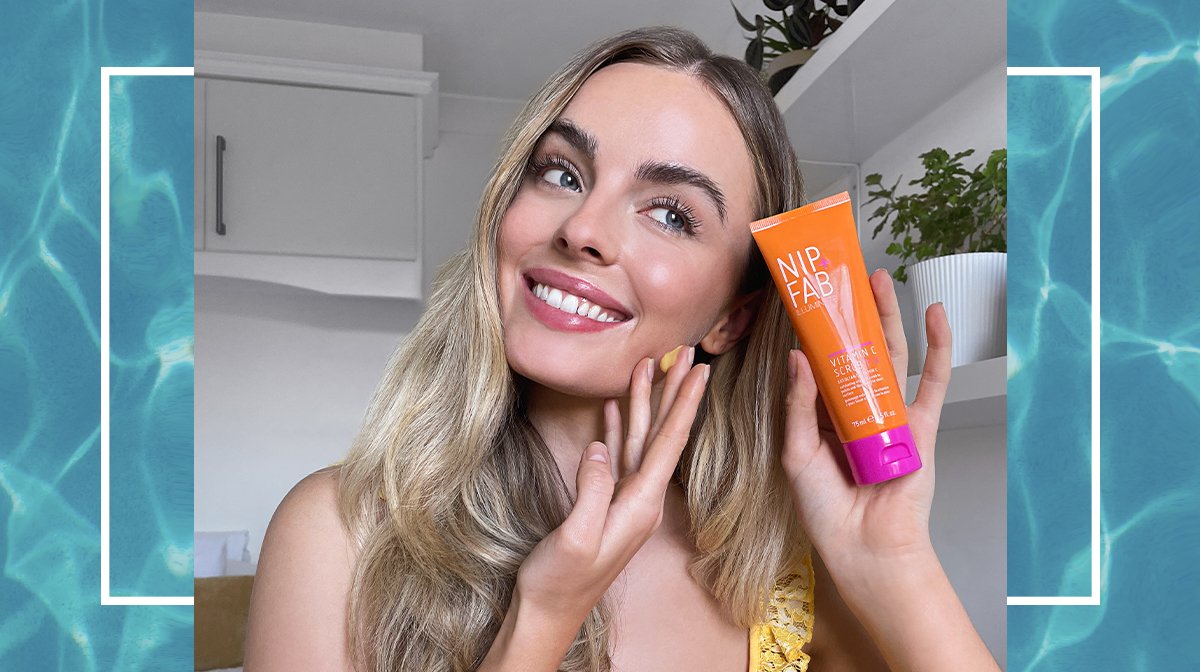 The Only Scrub For Perfect Summer Skin
We all want skin that's energised and illuminated – all year round, but especially in the summer when warm days have us wanting to strip back our makeup looks. Infused with key ingredients including vitamin C, coffee seed extract and coconut oil, this scrub will effectively cleanse, nourish and renew your skin, leaving it looking bright and feeling refreshed.
Key Ingredients In This Nip + Fab Scrub
Coconut Oil: 

Nourishes and softens the skin

 

Coffee Seed Extract: 

Known to energises and invigorates the skin

 
And the key ingredient: 
Vitamin C…

Has so many skincare benefits your complexion will love!
Why Is Vitamin C So Great For Skin?
Vitamin C is said to be one of the best anti-ageing ingredients out there – and the key to maintaining smooth, even and glowy skin. And while you'll likely be getting vitamin C through your diet, the easiest way to ensure you reap its skincare benefits, is to find products that'll work their magic directly where you want them to.
Six Reasons To Add Vitamin C To Your Skincare Routine
Helps protect against sun damage – antioxidants in this vitamin help defend against the damage that UV light can cause.
Lightens dark spots and brightens – vitamin C inhibits your skin's melanin production (which is what causes skin discoloration) and can therefore help lighten or even prevent dark spots from forming in the first place.
Reduces the appearance of wrinkles – it's been known that this ingredient can smooth out the appearance of wrinkles when used for around 12 weeks.
Boosts collagen – It encourages new collagen to be produced, whilst also helping maintain the collagen your skin already has,  protecting this precious protein from damage. Increased collagen also results in improved skin elasticity and firmness!
Promotes healing – Vitamin C is known to help wounds heal more quickly, meaning it's a great ingredient for those with blemishes and scarring to add to their routines.
Helps hydrate – It decreases transepidermal water loss, allowing your skin to better retain moisture and therefore stay hydrated.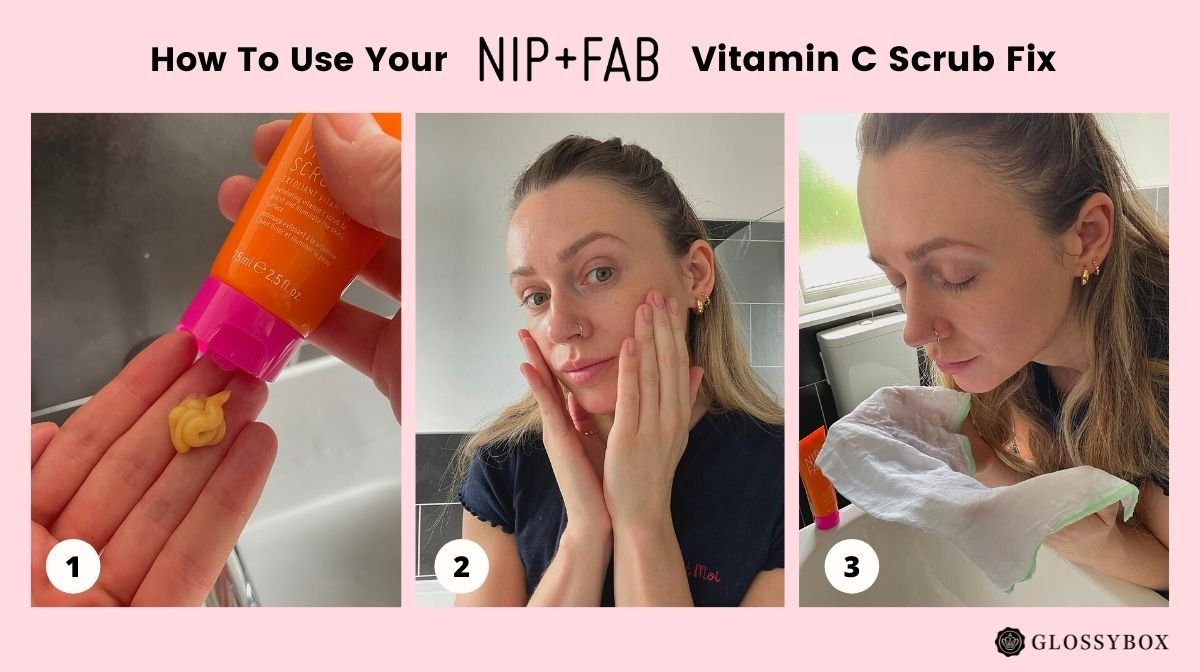 How To Use Your Vitamin C Scrub For Best Results
This scrub couldn't be easier to use. Simply take a small amount of the product, massage it gently into damp skin, avoiding your delicate under eye area. Then, after around 30 seconds, rinse the scrub off with warm water.
What Else Is In Our June GLOSSYBOX?
Featuring all you need to take you from pool to party, beach to bar or park to pub – whatever your dream summer involves, we're here to ensure you're well prepared… And, as well as this Vitamin C Scrub from Nip + Fab, our June 'Dreaming Of Paradise' GLOSSYBOX includes four other incredible beauty buys.
Reminiscent of freshly cut meadow grass, the scent of our second sneak peek is as dreamy as it gets. Want to find out more? Read our second sneak peek Mitchell & Peach blog now! Or, if you want to see our full line up, check back on the GLOSSYBOX blog on the 14th to read our full reveal!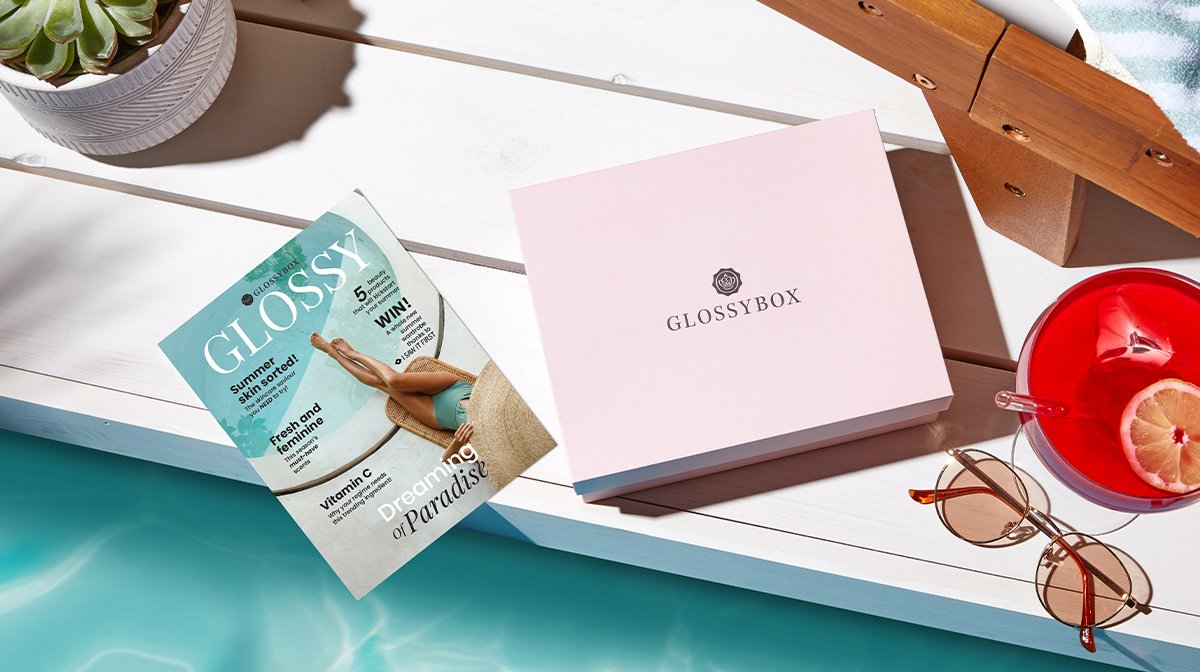 Subscribe Now To Get Your June 'Dreaming Of Paradise' GLOSSYBOX! 
You won't want to miss out on our June 'Dreaming Of Paradise' GLOSSYBOX, so subscribe today! As a Glossy you'll not only receive our first sneak peek product from Nip + Fab but also four other glorious products that you'll love! Oh, and don't forget about all the other Glossy benefits, like Glossy Credit, access to the Glossy Lounge and discounts on our Limited Editions and the GLOSSYBOX Skincare range!  
Don't forget, as an avid blog reader, if you become a Glossy today you can get your first box for only £11, including delivery! Just use code 'GLOSSYBLOG' at checkout!