Reading through your comments on social, I've noticed that a lot of you Glossies seem unsure about how to use your Barry M contouring palette. This tutorial might help. If you think that you're 'just too old' to contour though, think again!
Contouring can really enhance mature skin, diminishing the bags under your eyes, improving frown lines, reducing the indentation lines either side of your mouth, and lifting your cheekbones and jawline. 
Achieve a brighter, younger-looking complexion with this six step guide.
1. Use Contour Not Concealer To Hide Dark Circles
To hide dark circles under your eyes, you probably apply concealer directly below the eye. Though this does cover bags, if you have more mature skin, your concealer will settle into the fine lines and wrinkles around your eyes and make you look older. The same is true of crow's feet. Instead, you should be contouring!
Using a light shade (either hue 1 or 2 of your Barry M palette) and draw a line from the inner corner of your eye down the tear trough up to your cheek. Then, draw a sidelong v-shape starting at the tip of your brow, going out to the corner of your eye, and back in below your eye.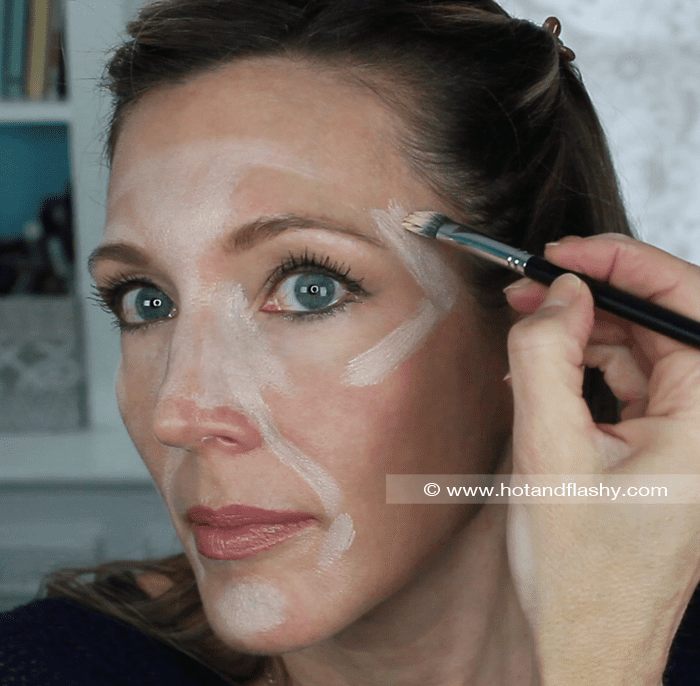 Contouring this area lifts your cheekbones, hides the bag under your eyes and reduces that sunken appearance that naturally comes with age.
2. Contouring Reduces Frown Lines And Indentations Around The Mouth
More mature skin also tends to sag slightly around the mouth (too many years of laughing and smiling), while creasing across the forehead and just above the eyebrows. Contouring can remedy this too!
Still using a light shade, draw along the deepest part of the fold around your mouth, tracing it from your nose to the corner of your pout and down to your chin. Then apply your contour above your eyebrows and along the middle of your forehead to cover those frown lines.
3. Use A Light Shade On Your Temples
You should avoid applying a darker shade of contour to your temples, as more mature skin tends to become sunken in that area. Instead, use a light shade (again, hue 1 or 2) to add volume and lift your face.
This won't be what your teenage daughter does, but it will do wonders for your older skin!
4. A Dark Shade Will Lift Your Jawline 
Now that you've contoured using a light shade, it's time to switch to a darker hue and accentuate your features. Choose the colour from your Barry M palette that is two or three shades darker than your foundation (4 is best for light to medium skin).
Start by drawing a line along your jawline, working from ear to ear. If your skin sags in certain areas, though, try not to follow that curve or indent. Instead, draw slightly above it, keeping the line that you're painting straight.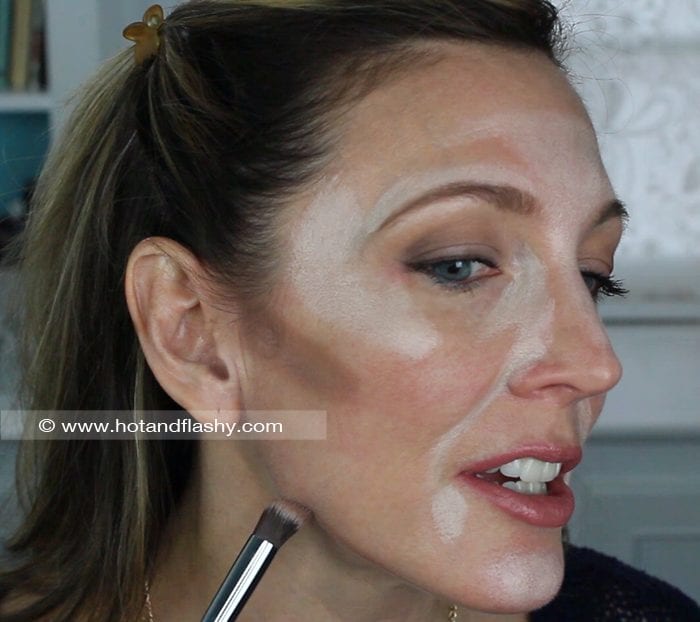 When blended, it will lift that sagging skin, leaving you with a firmer-looking jawline.
5. …And Create A Slimmer-Looking Face
You can also add definition to your face by drawing a line from the top of your earlobe to the corner of your mouth, stopping half way down. This will accentuate your cheekbones. Consider applying your darker shade down the bridge of your nose and along your hairline too. It'll make your face look slimmer.
6. How To Blend Your Contouring
Admittedly, all the white and brown stripes look quite scary at this point, but you just need to blend them in. Start by blending the paler areas in small, circular motions (a contour brush or small foundation brush will work best), then do the same over the darker areas. A younger, brighter and more defined complexion awaits!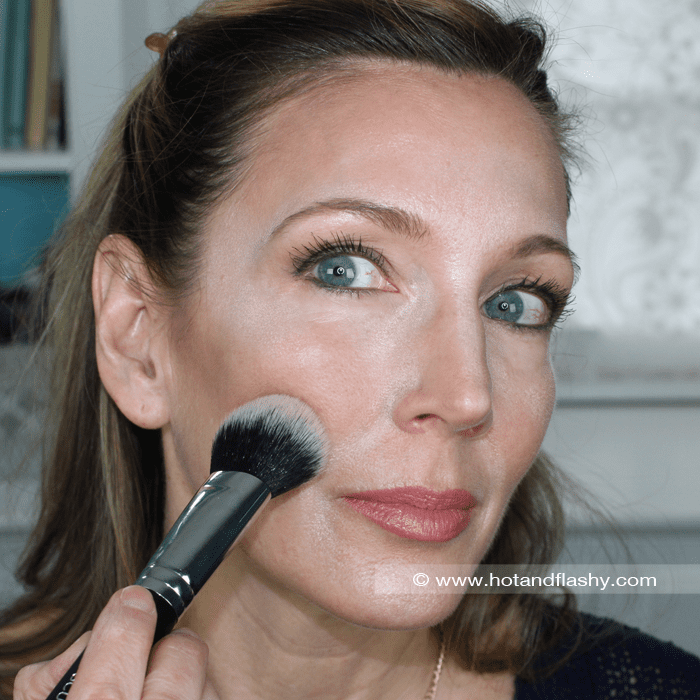 The Finished Look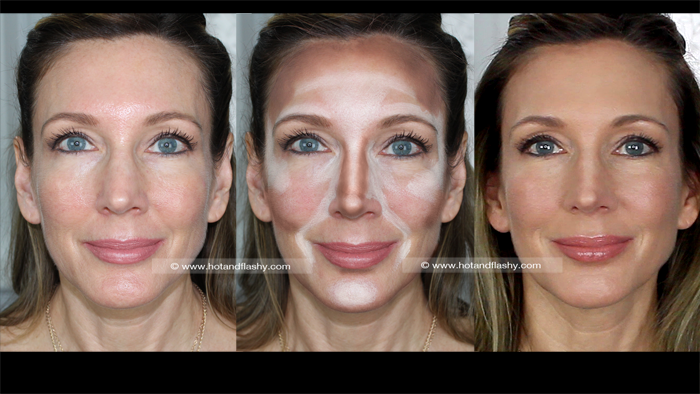 Hopefully this tutorial has given you the confidence to give contouring a go! Let me know how you get on on our social channels!
All images were provided by Angie, anti-ageing and beauty blogger of hotandflashy.com. You can check out her full blog here.
Join The Glossy Family
Our 'Trending Beauty' edit is filled with 5 full-size products, including makeup, skincare and nail care that will ensure you stay en Vogue. Don't miss out. Subscribe now!