Listen up Glossies. I've just found your new skincare saviour! Upon the recommendation of a fellow Glossy team member, I recently started using Ameliorate products to cure my dry and itchy skin. One month in and my body is back to its old healthy-looking self. If you're struggling with dry skin too or have Keratosis Pilaris, you're in luck! Head to the GLOSSY Lounge to receive an exclusive 15% discount on all of their products!
Ameliorate helps fight Keratosis Pilaris
Ameliorate was initially created to cure Keratosis Pilaris. Ignore the scientific name Glossies, it's actually an incredibly common skin condition (often referred to as 'chicken skin').
In fact, chances are that two in every five Glossies reading this post have it! Don't worry though, it's completely harmless and painless. It can just cause slightly rough small red bumps to appear on the back of your arm, the front of your thighs, as well as your buttock, lower back and chest. You may not even have realised this condition has a name.
Why Ameliorate Is The Solution
Luckily for you, Ameliorate founder Annette struggled with the condition and decided to create an innovative and effective skincare product that would cure her Keratosis Pilaris. Working with leading UK skincare manufacturers, she created the UK's first dermatological skincare brand that is proven to help rough, dry, bumpy skin.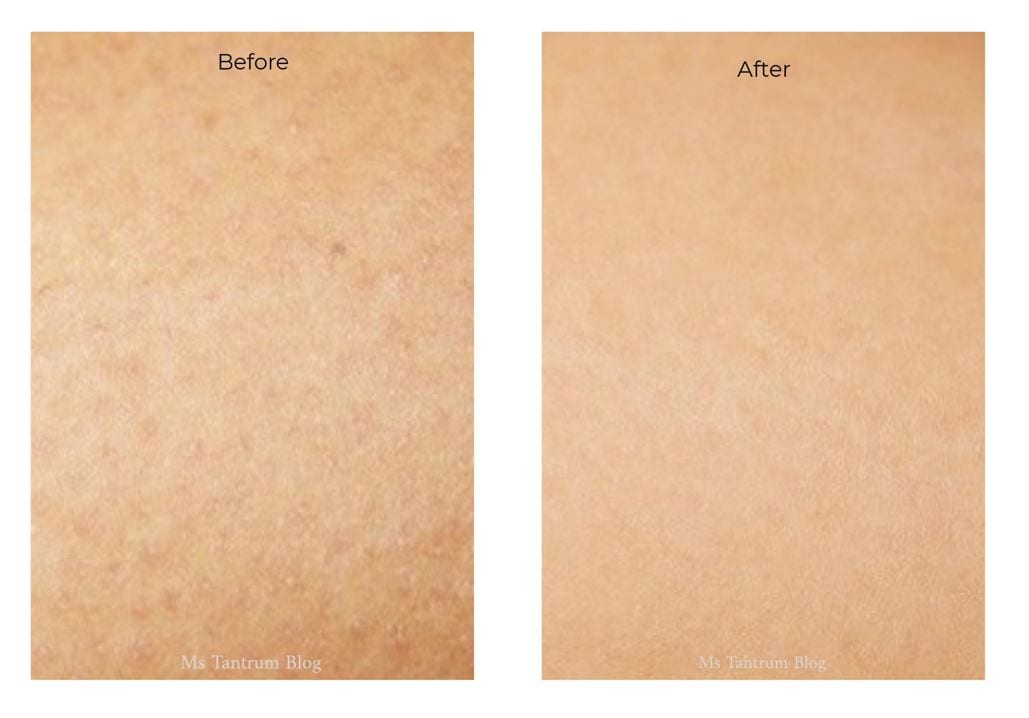 Ameliorate Benefits All Skin Types
Even if you don't suffer from Keratosis Pilaris, Ameliorate will help you achieve softer, smoother, and healthier-looking skin. I was desperately looking for a product to salvage my dry skin (too much time spent in the pool!). Luckily, I found these three miracles…
I don't suffer from Keratosis Pilaris, but I do struggle with very dry skin, particularly on my legs. I've tried pretty much every product under the sun, but nothing has been quite as effective as this body lotion. Tight and flaking skin is now a thing of the past!
The secret ingredient? Their oat-based nourishing LaH6 Skin Hydration Complex that intensely moisturises skin for up to 12 hours.
Insider Tip: It takes a few minutes for this lotion to absorb into your skin, so I dry my hair and do my makeup before putting my trousers on. It just gives the lotion that extra bit of time to soak in.