Let this month take an edge, as you rock and roll into November with an added touch of glam! This product selection will release your fiery side and your inner rock chic, as you dance under the party lights. Our favourite brands from Doctors Formula to Nip and Fab and Spectrum will no doubt get you oozing with confidence whilst upgrading your beauty bag. This box definitely brings variety from haircare to eye products and brushes and will have you looking selfie ready for the festive season ahead! You're just a moment away from the rock and glam you always wanted. 
Rock and roll into November, break the rules and lose your inhibitions as you take centre stage this party season! Loaded with 5 incredible products, your beauty look will feel effortless!  
November Edit  
---
This month, add a pop of rock to your beauty regimes with five new products, that will transform your appearance. Have beautifully blended eyes and exfoliated skin with the Spectrum Eye Brush and Nip and Fab's Salicylic Scrub.  
Spectrum Eye Brush  
---
A fluffy soft bristled eyeshadow brush is every makeup bag's essential. Spectrum have got you covered when it comes to making those eyes stand out and ensuring a seamless and flawless finish to your eyeshadow. This brush will elevate your eye makeup game in seconds and will be perfect for adding colour depth to your Rock n' Glam looks.  
Nip and Fab – Salicylic Scrub 
---
Deeply exfoliate your skin and banish congested pores, dirt and oil with Nip and Fab's Salicylic Scrub. Offering both manual and chemical exfoliation, this product contains Salicylic Acid to break down oil and clear blockages as well as Volcanic Rock Scrub to exfoliate any dead skin. You'll be entering December blemish free with a clear complexion, ready for Christmas!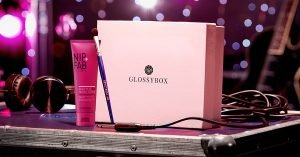 Left feeling tempted and can't wait to find out more? Watch this space to see what will be revealed in our upcoming November edition! 
Become A Subscriber 
---
Subscribe now to receive your 'Rock n' Glam' GLOSSYBOX. 
Once signed up, you'll not only start receiving our monthly boxes, you'll also get plenty of other benefits too. Glossy Credit, access to the Glossy Lounge and discounts on our Limited Editions and the GLOSSYBOX Skincare range… there's so much to take advantage of!