If you have read our Gen G Story Behind the Box blog, you'll know that if you lift the lid of our May Generation GLOSSYBOX Limited Edition, you will find some special treats! 
Inside, you'll find beauty collection must-haves that we have been dying to share with all of the teenage beauty gurus that we call our Generation Glossies! 
Worth over £85, we have seven full-size products and three deluxe minis, plus one very special extra treat. Including big-name brands such as Frank Body, Hawaiian Tropic and INC.redible Cosmetics! 
Generation GLOSSYBOX Full Reveal
Want a peak into what exactly in this edit? Keep reading to find out…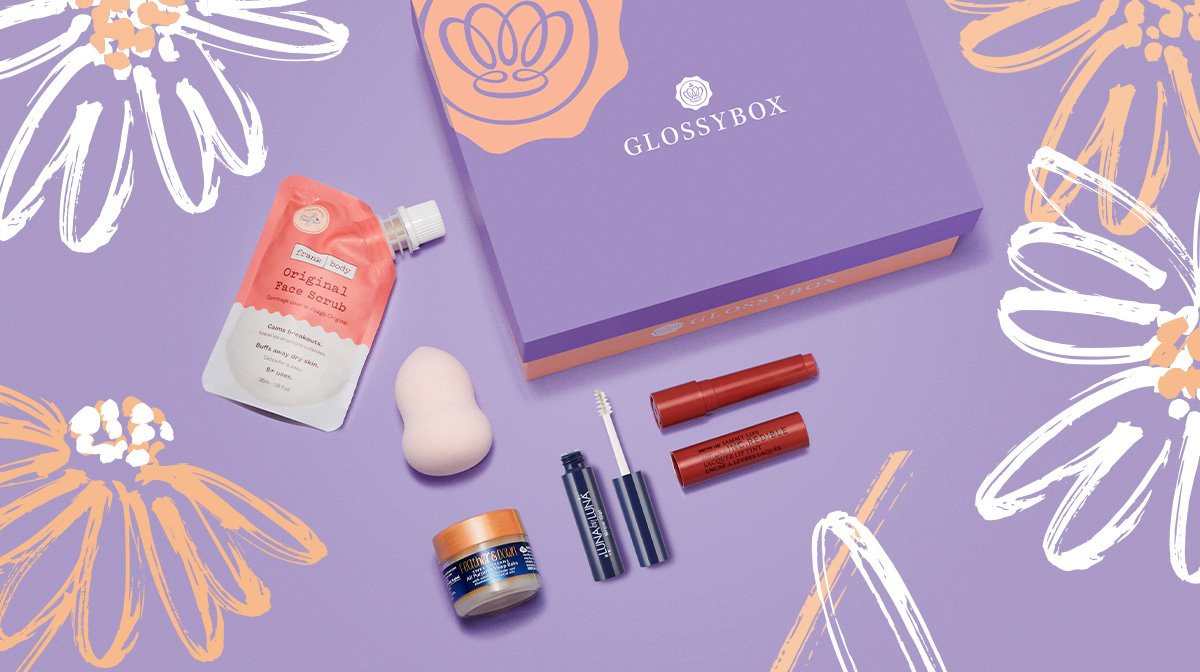 Frank Body Face Scrub or Glow Mask – Lucky Dip!
Who doesn't love a Frank Body skincare saviour? Well good news! In this edit, there are two must-tries on offer… You'll either receive the brands highly loved caffeinated face scrub, which is designed to clear pores, buff away dry skin and impurities that cause breakouts all while nourishing the skin. Or Frank Body's ultra-hydrating Glow Mask with shea and cocoa butter that is made to reduce puffiness and get you glowing ready for the days and nights ahead. 
Glow Mask: RRP £15.95* 
Face Scrub: Deluxe mini 25ml worth £4.95. Full Size 125ml RRP £15.95* 
INC.redible Cosmetics Jammy Lips – Fruity Feels
Perfect your pout and coat your lips in a sheer blanket of pigment in a fresh juicy pink color with the INC.redible Jammy Lips Lacquer Lip Tint. A lighter alternative to full coverage lipstick, this tinted balm is enriched with vitamin E to act as a protective shield to prevent lips from chapping. 
RRP £12* 
Feather & Down Sweet Dream All Purpose Sleep Balm
With a blend of moisturising vitamin E and relaxing essential oils such as calming lavender and chamomile, this balm creates a calming fragrance that you can apply to your pulse points (wrist, temples and neck). Why? To help you ease your mind and encourage a restful night's sleep.  
RRP £7* 
Luna By Luna Clear Brow Gel
Never neglect your brows! This clear brush on gel attaches to your hairs to aid in creating beautiful eyebrows. This fiber brow gel builds, sets and defines brows easily. Just use short upward strokes in the direction of hair growth to shape. 
RRP £12* 
Karina Beauty Blender Sponge
Because Glossies always need a beauty blender, we bring you a gorgeous Glossy pink beauty sponge that is perfect for applying foundation, concealer, liquid blush, bronzer and highlight. Getting into hard-to-reach areas with ease, it'll blend makeup to perfection. It really is a staple product in any beauty lover's makeup bag!  
RRP £8.50*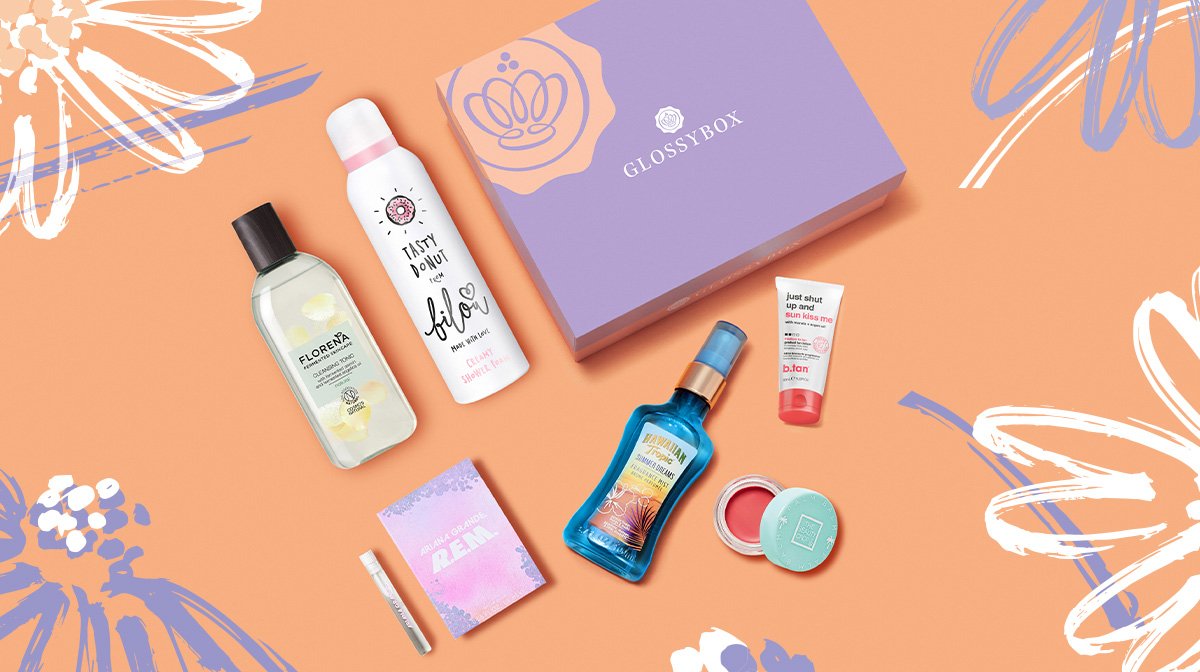 Hawaiian Tropic Summer Dreams Fragrance Mist
Embrace the summer tropics with this lightly scented fragrance mist; the perfect escape starts now. Just spray on to your skin for an exhilarating exotic scent infused with passion flower, mango and musks that'll have you dreaming of the warmer weather. Better yet, it lasts from dusk till dawn. 
Deluxe mini 100ml worth £6. Full Size 250ml RRP £10* 
FLORENA Milky Cleanser or Cleansing Tonic – Lucky Dip!
We all know cleansing is essential, and we've got two skincare saviors from Florena on offer… You will either receive the Milky Cleanser, a natural cleansing milk enriched with fermented Jasmin and fermented Angelica Oil that cleanses and hydrates while removing makeup and impurities. Or the Cleansing Tonic, which includes the same jasmin and angelica oil, and is kind to skin and will leave it feeling supple and soft to the touch. 
RRP £14.99* 
The Beauty Crop Palm Balm
Enhance your cheeks, lips and eyelids with a fresh tropical glow and flush of color with this multi-use palm balm. Formulated with 90% natural plant-based oils including coconut and apricot kernel oil, this balm will seamlessly nourish, condition and hydrate the skin. All while bestowing the most gorgeous vacation glow. 
RRP £7* 
b.tan just shut up and sun kiss me gradual tan lotion
Embrace glorious golden skin with this daily moisturiser meets lightweight gradual tan. With key ingredients such as marula and argan oil to help keep skin super hydrated while allowing you to develop a medium to tan bronzed glow. Better yet, this is vegan and 100% cruelty free too! 
Deluxe mini 30ml worth £7.95. Full size 236ml RRP £12.99* 
Bilou Shower Foam – Lucky Dip!
Upgrade your shower experience with a luxurious shower foam from Bilou. We have multiple deliciously scented options up for grabs including Coco Cocktail, Tasty Donut, Pink Melon and Fizzy Berry. All of which have their own skin loving benefits! Which one will you receive?  
RRP £3.99* 
Ariana Grande R.E.M By Ariana Grande – Extra Treat!
An intergalactic dream of femininity and power, R.E.M draws you in with a cosmic blend of juicy fig and warm salted caramel. Lavender essence takes you to new dreamy heights while sparkling pear blossoms explode like a supernova in the night sky too! 
Full Size 30ml RRP £27, 50ml RRP £35, 100ml RRP £45* 
Where Can You Buy Your Generation GLOSSYBOX Limited Edition?
This latest Generation GLOSSYBOX edit goes on sale Friday 27th May! Glossies can purchase their Limited Edition when priority access starts at 9am. Not a subscriber? You'll be able to buy yours when this edit goes on general sale at 12pm! 
How Much Will This Generation GLOSSYBOX Limited Edition Cost?
Glossy subscribers will be able to purchase their Limited Edition for only £15 with their subscriber exclusive discount. Not a subscriber? You'll be able to buy yours for £20! 
Subscribe To GLOSSYBOX
Sign up to GLOSSYBOX today and you'll get your hands on our May Generation GLOSSYBOX Limited Edition for £5 less! And you'll get it three hours earlier too!  
And these benefits will be the same when any other of our fabulous beauty Limited Editions launch too. Plus, don't forget you'll receive your very own monthly GLOSSYBOX straight to your door as well.