By now, we all will have heard of double cleansing and how it is has become skincare's newest trend. Because, sometimes, it's difficult to even have the energy to clean your face once (especially after a late night and a few cocktails!).
If you prefer a quick skincare routine, double cleansing may seem like a bit too much hard work. But it's important to remember that a quality night cream or serum won't do its thing if it's sat on top of old makeup that you missed removing when you quickly cleaned your face with a wipe!
But what is double cleansing? Why should you add it to your skincare routine? And is it really worth it? Let's find out…
What Is Double Cleansing?
To put it simply, double cleansing involves using two different types of cleansers, one right after the other. The process involves washing your face, starting with an oil-based cleanser, and then following this with a water-based cleanser. The first cleanser draws out oil-based impurities – such as SPF, makeup and pollutants – while the second cleanser gets rid of water-based debris, such as sweat and dirt.
Who Needs To Double Cleanse?
Not everyone needs to double cleanse. If you wear minimal makeup and your skin is happy, a one-step routine will be enough to keep your skin cleansed and refreshed. However, if you are looking for a more thorough cleansing method, double cleansing is definitely the one for you. It's especially beneficial for those who have oily skin and find they have a lot of sebum build-up.

What Are The Benefits Of Double Cleansing?
Skincare products will absorb into the skin bette

r – Your pores are clean and better prepared to draw in your serums and moisturisers which means your skincare routine will be more effective and you will see better results.

Fewer impurities and breakouts – It prevents sebum buildup and bacteria, which can help reduce breakouts and acne-related flare-ups.
Easier makeup application – If your skin has fewer breakouts and there are fewer bacteria on your skin, your makeup will apply much better.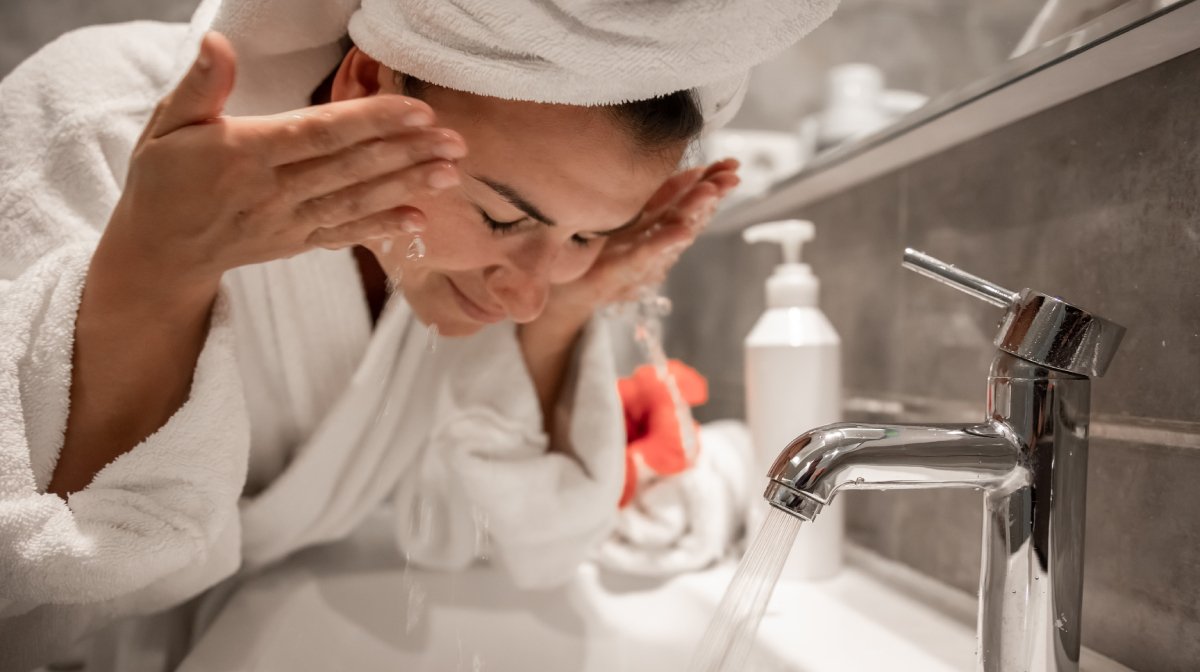 Double Cleansing Step By Step
Before we share our favourite cleansers with you, let's discuss the double cleansing process…
Cleanser #1
As mentioned above, the first step of double cleansing involves a cleansing oil, balm or micellar water. These break down the dirt, makeup and excess sebum and lift them all off your skin once you wash your face.
Cleanser #2
Now that you've removed your makeup, you can move on to the second cleanser which will be a water-based one. This step cleans your skin deeper; removing residues from the oil-based cleaners as well any more impurities. Make sure you thoroughly massage it into the skin and rinse it off with lukewarm water too.
Our Top Cleansers For Double Cleansing
£8.00 Buy now

with GLOSSYBOX Beauty Unboxed

Experience an ultra-gentle, effective cleanse with this CeraVe Micellar Cleansing Water. Developed with dermatologists and suitable for all skin types, including sensitive, this facial cleanser is designed to sweep away impurities, pollution and makeup while respecting the skin's natural barrier. It's a winner in our books!

Buy now with free delivery
Subscribe to GLOSSYBOX
You can buy any of these cleansing products and more by using your well-earned Glossy Credit. And how do you earn this? By being a Glossy and referring your friends, reviewing products and filling out our surveys. Want to start earning Glossy Credit? Subscribe to GLOSSYBOX today. Not only will you earn credit, but you'll also receive our beauty boxes straight to your door every month full of surprises!