December 1st has finally arrived and that can mean only one thing: you can now open the first box from your GLOSSYBOX Advent Calendar. Are you excited? You should be because (spoiler alert!) there's a NYX Ultimate Shadow Palette nestled within.
Your New NYX Ultimate Shadow Palette
We know how much you all love a good NYX palette. That's why we thought we'd kick off the countdown to Christmas with one of the best products NYX has to offer: their Warm Neutrals Ultimate Shadow Palette.
Featuring 16 warm hues with satin, shimmery and metallic finishes, this palette really packs a punch. Each shade boasts a rich and creamy formula that is highly-pigmented and offers some serious colour pay-off. While you could use the first two rows to create a subtle, pinky-silver eye look, I love the warm and wintery tones of the bottom two rows.
So, with that in mind, here's a step-by-step guide to creating a warm smokey eye using your NYX Ultimate Shadow Palette…
A Warm Brown Smokey Eye Tutorial
Insider Tip: To prevent any fallout from spoiling your foundation, I'd recommend creating your eye look before doing your base.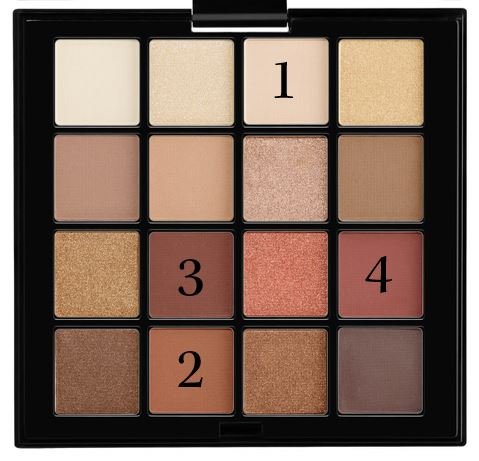 Step 1: Apply concealer to your whole eye area, working across the lid and up to your eyebrow arch. Don't forget to conceal under your eyes too.
Step 2: Using a large fluffy blending brush, sweep the light pink shade (1) over your whole lid to set your concealer and add a subtle touch of colour.

Step 3: With a ­slightly smaller fluffy brush, apply the orangey-red hue (2) across your lid, working from the socket and gently buffing it out.
Step 4: Use a flat eyeshadow brush to pack the dark reddish-brown colour (3) onto the outer third of your eyelid. Then, using a small and fluffy blending brush, buff it inwards.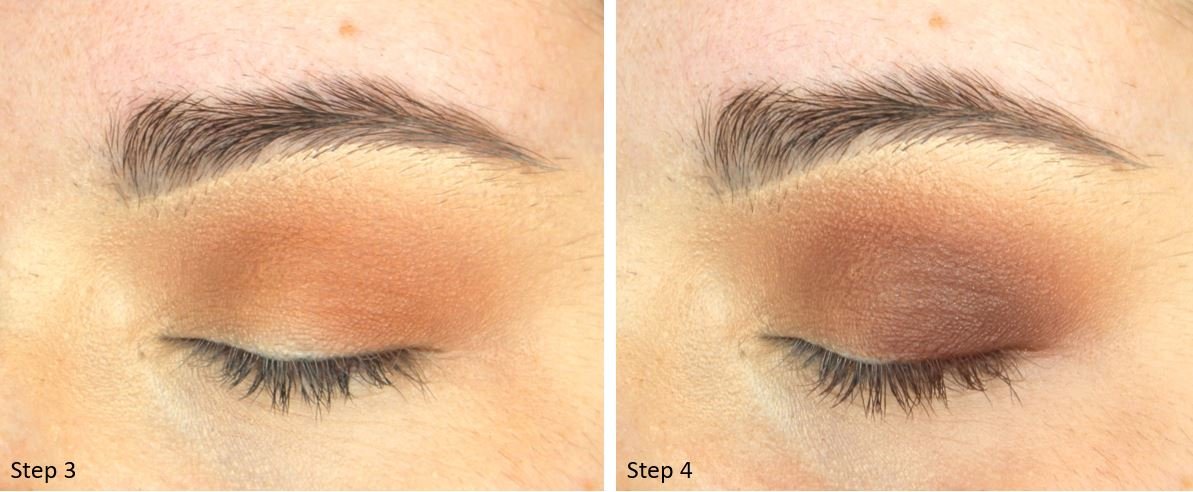 Step 5: Use a flat eyeshadow brush to pack the deep red hue (4) across the first two-thirds of your lid. Then, using a small and fluffy blending brush, buff it out towards the remaining third.
Step 6: Apply the dark reddish-brown (3) and deep red hues (4) to your lower lash line, then gently blend them together with the orangey-red shade (2).

Step 7: Apply a brown eyeliner to your lower waterline and add a few coats of mascara to finish off the look. We used MAC's Stubborn Brown eyeliner and the Manna Kadar mascara from our July 'Holiday Haul' edit.
Step 8: Admire the finished look!

Follow the seven simple steps above and you'll have a warm smokey eye in no time. Of course, you can create so many other looks using your NYX Ultimate Shadow Palette. Don't forget to share your designs with us on our social channels.
More Advent Tutorials To Come
While you can follow our daily advent reveals on our social channels, I'll also be providing tutorials and insider tips for many of the products nestled in your GLOSSYBOX Advent Calendar. Stay tuned, there's a new one coming your way on the 4th of December!
Subscribe to GLOSSYBOX
Disappointed to have missed out on the GLOSSYBOX Advent Calendar? Don't worry! You can subscribe now to receive our monthly edition instead.
Filled with glittery eyeshadow, shimmery powder and more, our 'Merry Metallics' GLOSSYBOX will have you twinkling from head to toe. What are you waiting for? Subscribe to GLOSSYBOX now!