In case you missed it, September at Glossy HQ is all about taking time out to relax and unwind. Because we all need a little pampering once in a while! 
So, to help you enjoy the me-time you deserve, we've curated our September 'Pure Relaxation' GLOSSYBOX. Featuring five pampering products – from rich, sensual skincare to sumptuous fragrances – this edit is worth over £75! 
And we think you, and your skin, are going to love our second sneak peek. From vegan and cruelty-free skincare brand Figs & Rouge, open your box and you'll find a skin-loving serum we can't wait for you to try…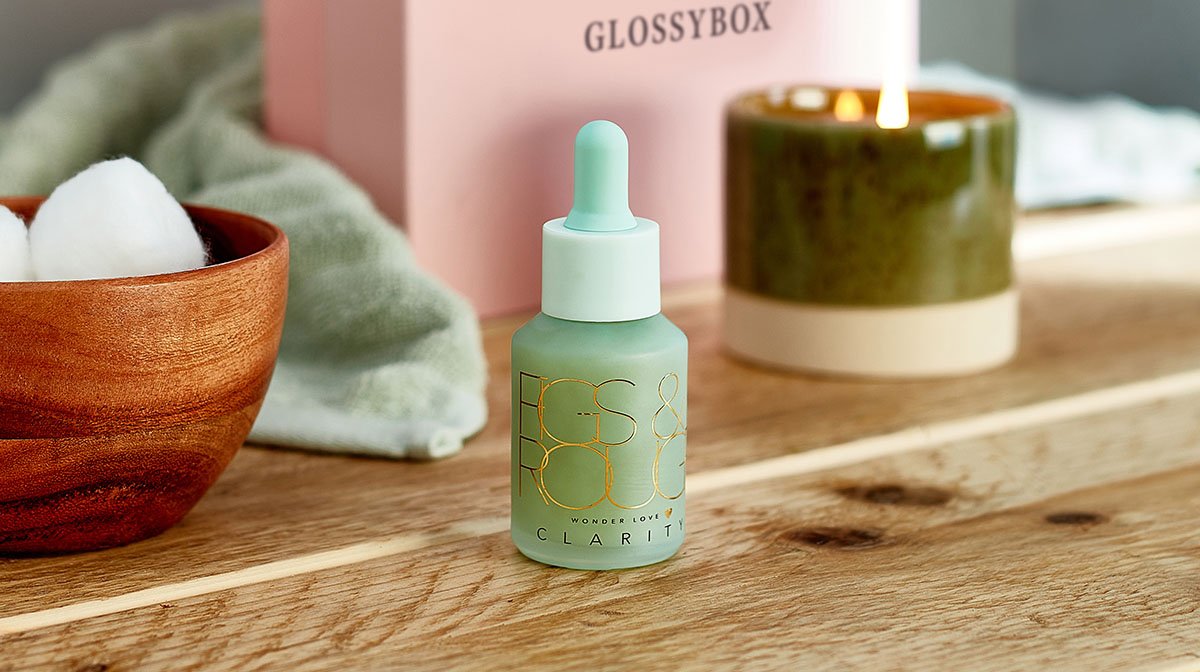 Skin Clarifying And Radiance Inducing…
Figs & Rouge is already one of our go-to brands for dreamy skincare serums and creams, and our second sneak peek might be one of favourites! 
To help you to uncover your skin's natural clarity, we love these Wonder Love Clarity Skin Perfecting Serum Drops! Made using a radiance inducing and pore refining formula, these drops very gently exfoliate and unclog pores, to ensure your complexion is clear and free of breakouts and blackheads! 
Worth an amazing £42, these serum drops will be one of the best additions you've made to your routine in a long while… Your skin will have never felt so soft and refreshed! 
Four Reasons This Clarity Skin Perfecting Serum Is So Great!
There are four main reasons we love this serum so much… 
Glowing: As mentioned, this radiance inducing and skin refining formula gently exfoliates pores to rid them of dirt and excess oils! 
Revitalising: Your complexion is sure to be reinvigorated, looking and feeling clearer than ever before. 
Smoothing: This product's ability to smooth uneven and bumpy skin is incredible. Dry and built up surface skin cells are reduced to leave your complexion feeling refreshed! 
Hydrating: Enriched with essential vitamins, hyaluronic acid, aloe and algae, this clarifying serum helps lock in moisture whilst also providing skin boosting, 'Wonder Loving' anti – inflammatory properties! 
How To Use Your Figs & Rouge Serum Drops
Use these serum drops either morning or night! Apply three to six drops onto clean, freshly cleansed skin, focusing on your T-Zone! Blend in with your fingertips and wait for the serum to dry fully before moving onto the next step in your skincare regime!
What Else Is In Our September 'Pure Relaxation' GLOSSYBOX?
Our 'Pure Relaxation' GLOSSYBOX features five perfectly themed products, that are perfect for helping you relax and unwind! Alongside this sneak peek from Figs & Rouge, you'll also find your new cleansing BFF – the Spa To You Facial Cleansing Brush. 
Want to know more about this handy skincare tool and how to get the most out of it? Have a read of our first 'Pure Relaxtion' sneak peek blog now! 
To learn what other three products you can expect to find beneath the lid of our September edit, visit the GLOSSYBOX blog in a couple of weeks too, to read our full reveal! 
In the meantime however, make sure you've read our September 'Pure Relaxation' Story Behind The Box blog too! It includes all you need to know about our September theme, as well as all the exciting plans we have instore this month! 
Subscribe Now To Get Your September Edit!    
Subscribe to GLOSSYBOX today! Why? To receive your very own September 'Pure Relaxation' edit, featuring five pampering products you truly deserve! Plus, you'll get plenty of other Glossy benefits too including Glossy Credit, access to the Glossy Lounge and discounts on our Limited Editions! 
BUT, there's an even bigger reason to make sure you're subscribed ASAP! Glossies will get priority access and an exclusive discount on our 2021 GLOSSYBOX Advent Calendar – and this goes on sale to Glossies in a matter of days now! It's sure to sell out, so ensure you're subscribed and ready to purchase yours before it's too late! 
Don't forget, as an avid blog reader, you can get your first box for only £11, including delivery! Just use code 'GLOSSYBLOG' at checkout!