Inside our gorgeous special design 'Beauty Treasures' box you'll discover five hidden gems worth over £50! With at least four of these products full sized too, this month's GLOSSYBOX really is a treasure trove you'll absolutely love! 
From scents that'll refresh and uplift to makeup that'll allow you to shimmer like gold, your search for summer's biggest must-haves is over!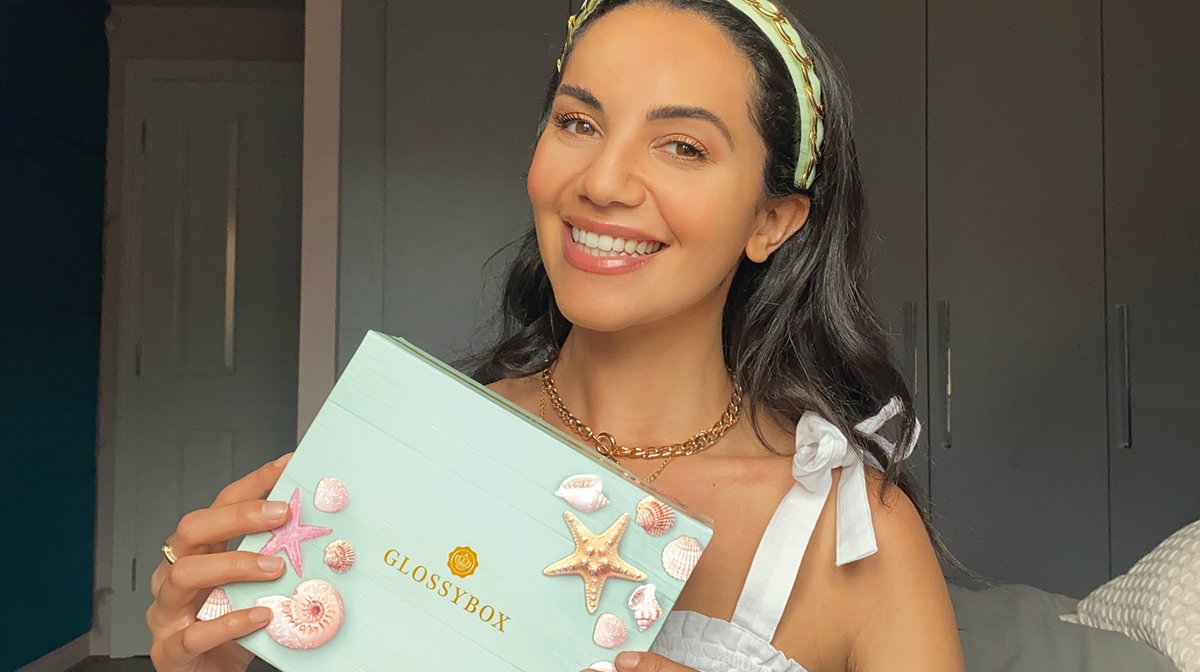 What's Inside Our 'Beauty Treasures' GLOSSYBOX?
We've already revealed our July 'Beauty Treasures' sneak peeks, which means you already know what two of this month's line-up will be! There was the KNDR Kind Bronzer and the Aurikah Body Fragrance Mist. But if you want to know what else you'll find inside this edit, read on… 
Every Glossy will get the first four products listed below, and then one of the following five others, all based on your Beauty Profile!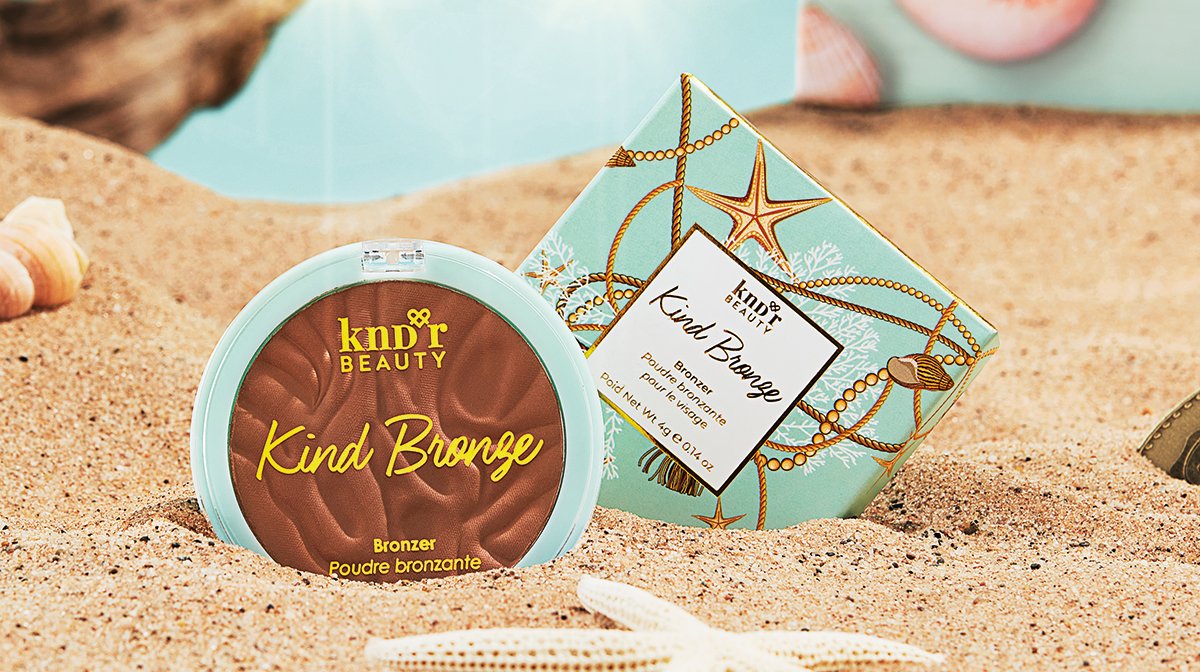 KNDR Kind Bronze
We LOVE this bronzer – and it's special design packaging that matches our 'Beauty Treasures theme perfectly (thanks Team Glossy!).  
As well as giving you a perfect, sun kissed glow is this KNDR Kind Bronzer. Buildable, creamy and ultra-soft , this bronzer has been created with a blend of nutrient-rich plant-based butters to condition your skin too! Worth £14, simply sweep this bronzer across your face (with your fave brush) where the sun would naturally hit for an illuminating lift. 
Want to know exactly how to use this product like a pro? Have a read of our KNDR Kind Bronzer sneak peek right now.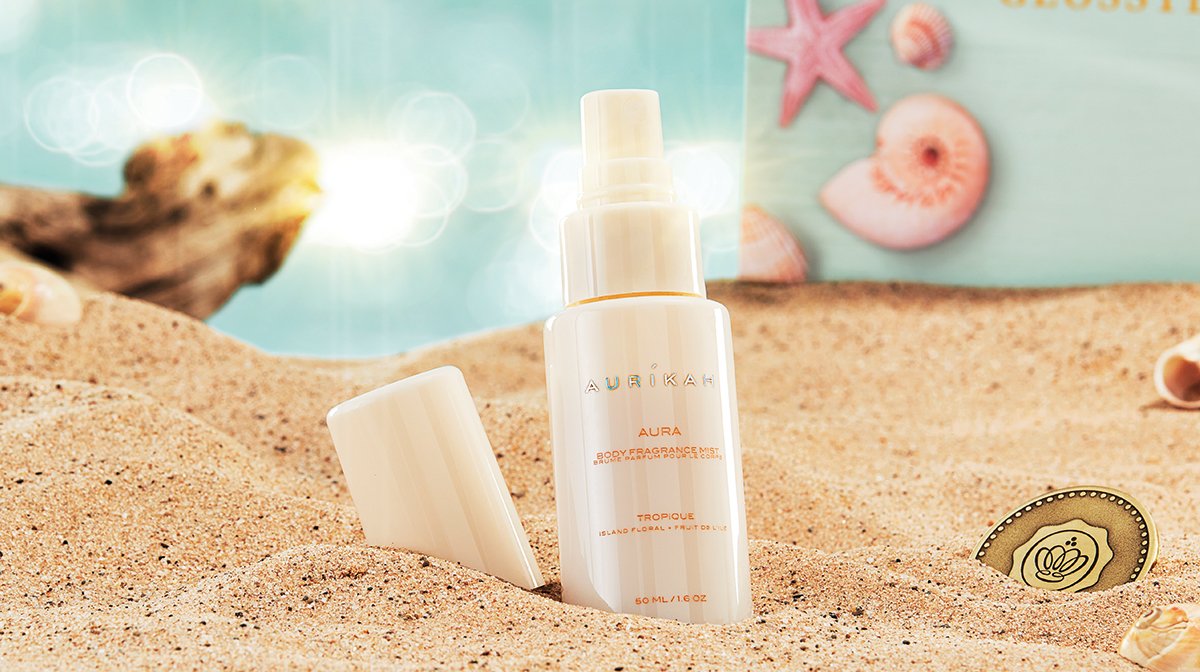 Aurikah Aura Body Fragrance Mist – Tropique
Want to be whisked away to a tropical land the other side of the globe? With this Aura Body Frgrance Mist from Aurikah you can! A lot easier and cheaper than finding the airfare to a Caribbean paradise, this mist is worth £20 and is a true island escape in a bottle! 
Captivating island florals and warm rays of light, this Tropique mist allows you to add a luxurious scent that embodies the feeling of laying in the sun, surrounded by sand and sea onto your skin. And what's even better, this fragrance will also leave your skin feeling super soft too. 
For more on this fabulous body mist that you definitely need to try this summer, have a read of our Aurikah second sneak peek blog!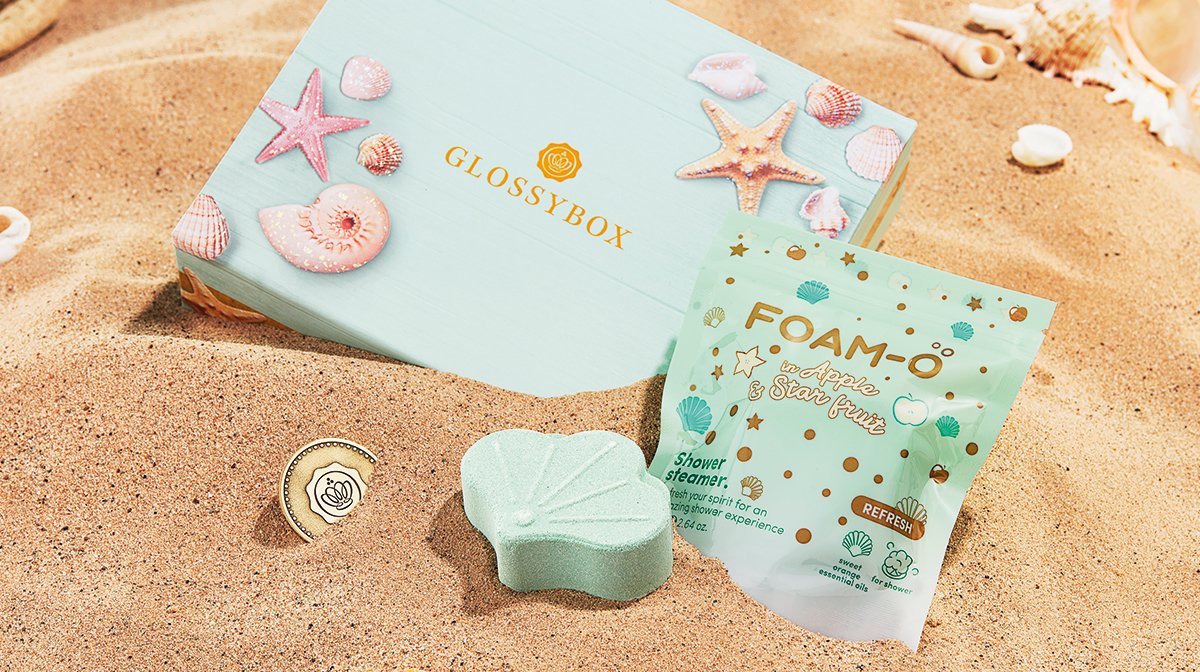 Bubble T Cosmetics Foamo Shower Steamer Shel
l
We've all used a bath bomb before, but have you ever tried a shower steamer? Well now you can… 
Refresh your senses while you wash, with this Foamo apple and starfruit shower steamer. Essentially a bath bomb for your shower, place this shell in the floor whilst you're under the water and wait for the humidity to hit! Your shell will fizzle by your feet, releasing an amazing aroma of sweet orange essential oils into the air.
Worth £3.99, it's a perfect product to help you relax and unwind – especially if you don't have the time for a long soak in the tub!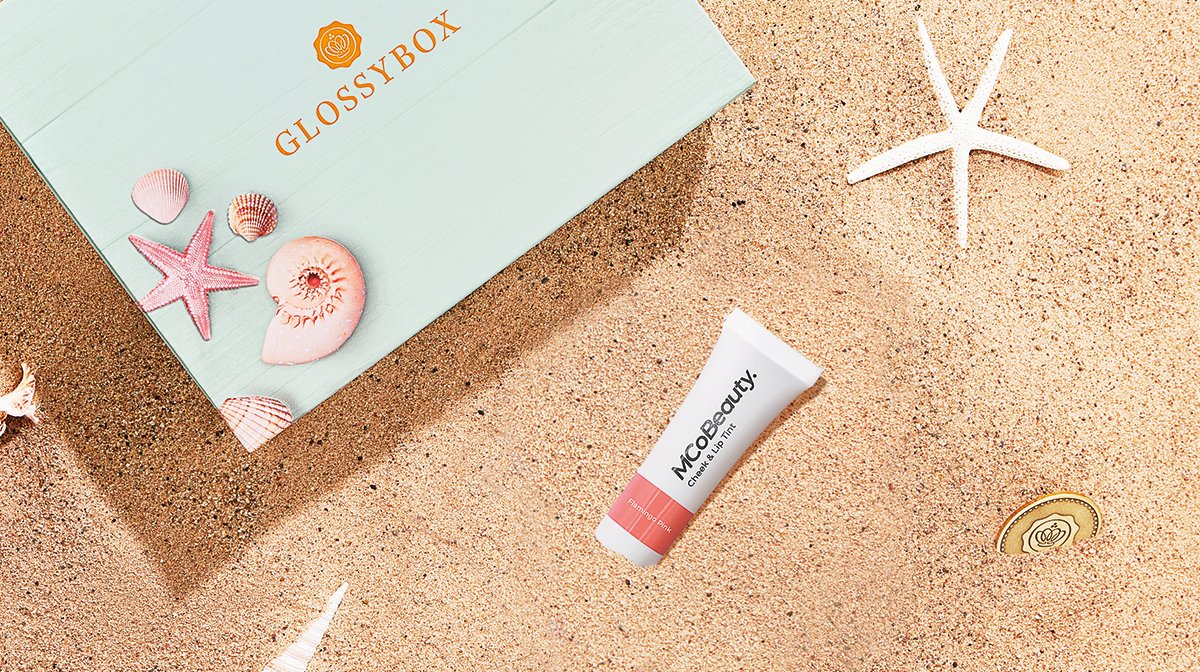 MCoBeauty Cheek & Lip Tint
At Glossy HQ, we can't get enough of multipurpose products – and the MCoBeauty Cheek & Lip Tint is one of the many we adore. 
Discover double duty beauty with this tint that's stunning when used to create both a perfectly pink pout and rosy flushed cheeks! Perfectly blurring the lines between a dewy gloss and a pigmented stain, this £12 product is an inexpensive essential in your beauty bag – we all know a two-in-one is ideal for when we're travelling or on the go as well! Delicately blend it in with your fingertips to give your cheeks a youthful luminous flush and your lips a natural pop of buildable colour. 
We're not done yet! Your fifth product will be one of the below five fabulous must-haves…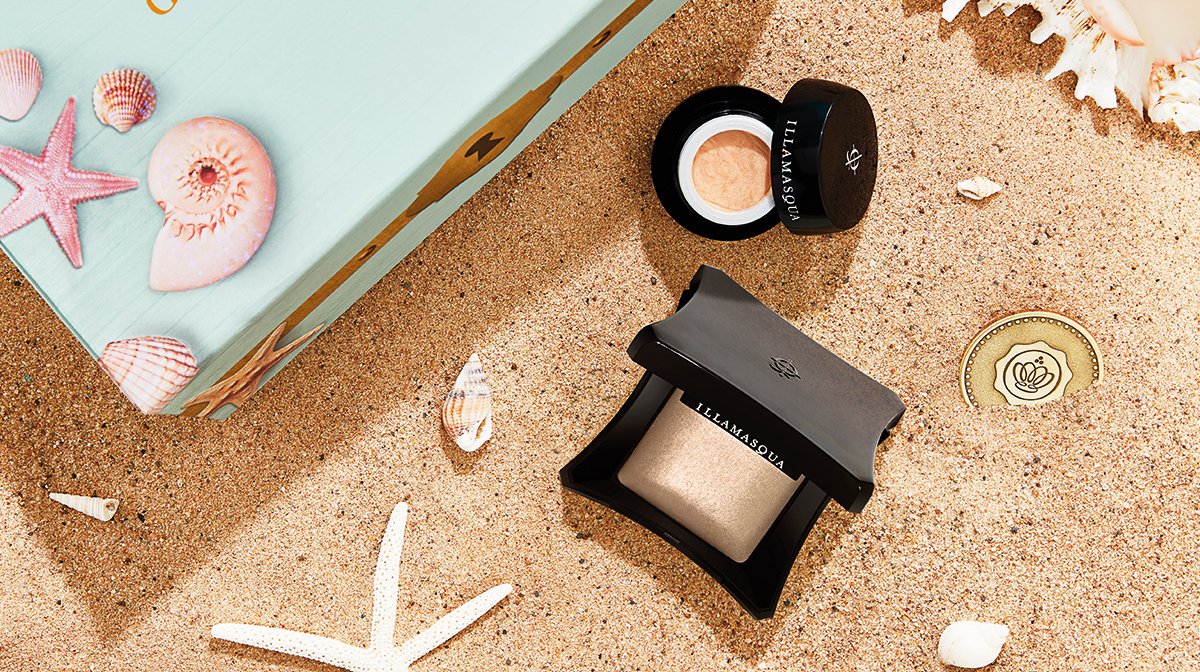 Illamasqua Beyond Powder – OMG
Summer couldn't be a more perfect time to try out a new highlighter, we are currently loving this Illamasqua Beyond Powder in shade OMG. 
Subtly adding a warm hue to your complexion, this highlighting powder is a dream – and worth an amazing £34! Whether you want to achieve an all-over illuminating finish or simply highlight certain points of your face, this product ensures you'll end up with a natural, radiant glow. 
Buff this Beyond Powder (either wet or dry, you choose!) onto the high points of your face, for long lasting results! Why not also try applying it using a small eyeshadow brush for precision targeted shimmer! 
Illamasqua Hydra Veil Primer
Part hydrator, part primer, the Illamasqua Hydra Veil Primer will instantly hydrate and smooth your skin through its self-levelling, futuristic clear gel.
Key ingredients microalgae, vitamin C and B3 all work together to help maintain your skin's hydration levels to create a healthy looking, balanced finish for your complexion. Plant extracts in this primer (which is worth £34), also provide a calming and refreshing feeling, leaving skin fully prepped to apply your chosen foundation. 
Our top tip for using this primer? Focus your application on your T-zone area, then blend out across the rest of your face. 
Illamasqua Masquara Raven
Accentuate your eyes with the Illamasqua Masquara Raven mascara. This amplifying black mascara has been cleverly designed to thicken, lengthen and volumise your lashes. Its intense formula also delivers ultimate impact and definition, which is perfect for when you want to party the night away – bring on July 19th! Capturing every lash from the root, you're guaranteed bigger, bolder lashes! 
Inside your box you'll find a deluxe mini sized Illamasqua Masquara Raven (4ml), worth £12. A full size (10ml) version of this mascara has an RRP of £15*. 
Eyeko Yoga Waterproof Mascara
This Eyeko Yoga Waterproof Mascara is like a savasana for your lashes! Its unique lotus flower inspired brush extends, lifts and curls your lashes for increased flexibility. All while its vegan formula helps to condition and enhance your natural eyelashes! With super-staying power, your mascara is going nowhere – whether you're practicing sun salutations or going for brunch. And, as it's waterproof, it's ideal for taking to the pool (if we ever get away!), the beach and even the gym! 
Inside your box you'll find a deluxe mini sized Eyeko Yoga Waterproof Mascara (4ml), worth £10. A full size (8ml) version of this mascara has an RRP of £19*. 
Daily Concepts Daily Reusable Rounds
Did you know you can minimise your eco footprint whilst still staying on top of your much-loved beauty regime? If you're looking for a more environmentally friendly way to remove your makeup at the end of the day, these Daily Concepts Daily Reusable Rounds are the perfect solution. 
Worth £6.80, these two pads are ideal for all face cleansing and makeup removal needs and ensure there is no longer any need for disposable cotton pads! Simply pair with your preferred facial cleanser for extra clean results!
SportFX Wipe The Day Away Makeup Remover Wipes
Makeup wipes can be seriously handy! Whether it's to remove your full face after a long day, or to freshen up whilst you're out and about. These SportFX face wipes are great too – drenched in micellar water they gently cleanse your complexion, whilst the accompanying eye wipe is rich in olive oil to remove any traces of waterproof makeup. Soothing aloe vera in these wipes (which retail at £2.99) also reduces redness while added vitamins and antioxidants nourish your skin to leave it blemish free.
*RRP relates to the full-size product available for purchase as advised by the brand. Prices may vary due to exchange rates. All prices are correct at time of launch.
Extra Treats!
Because we love bringing you plenty of surprises, you'll also find an extra treat from either Belvita or Wrigleys in your July 'Beauty Treasures' GLOSSYBOX! Hidden away in this gorgeous treasure chest inspired box, get digging to find yours!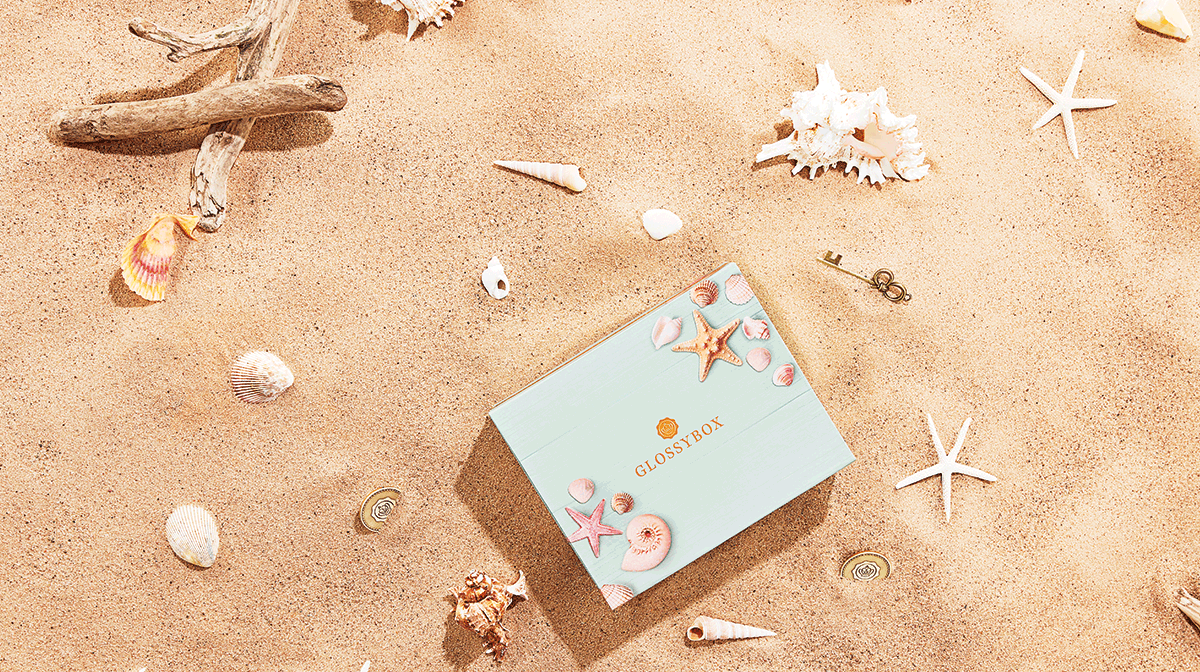 Subscribe Now To Get Your July 'Beauty Treasures' GLOSSYBOX!
Sign up to GLOSSYBOX today to get your hands on your very own 'Beauty Treasures' GLOSSYBOX edit! As a Glossy you'll five beauty products straight to your door every month, you'll also get a whole range of other Glossy benefits… These include Glossy Credit, access to the Glossy Lounge and discounts on our Limited Editions and the GLOSSYBOX Skincare range!   
Don't forget, as an avid blog reader, if you become a Glossy today you can get your first box for only £11, including delivery! Just use code 'GLOSSYBLOG' at checkout!