We've got another Easter Egg Limited Edition sneak peek for you! Because there's still a load of excitement inside this 'box' to reveal… 
Worth over £80, this our GLOSSYBOX Easter Egg features 10 amazing skin, hair and makeup treats. These products – three full sizes products and seven deluxe minis to be precise – are from some of the industry's biggest brands too.  
Oh, and of course, there's two special design Easter Eggs to choose from when you order yours – either pink and speckled or gorgeous rose gold!
Cleanse 
And
 Purify Your Locks
It's time to treat your locks how they really deserve to be treated – with care and undivided attention. So, why not detox your hair with this cleansing, purifying and soothing shampoo treatment? From Christophe Robin, this Cleansing Purifying Scrub With Sea Salt is perfect for sensitive or oily scalps. 
How Does This Hair Scrub Work?
Formulated with Sea Salt and Sweet Almond Oil, this purifying scrub soothes the scalp, refreshes the hair and restores optimal hydration levels to your tresses – all thanks to sea salt, which is an effective natural exfoliator that removes impurities and restores balance. 
The grains of sea salt stimulate microcirculation in the scalp, supplying the maximum amount of nutrients possible to the hair and providing a non-abrasive exfoliation. Within 24 hours of using, your scalp's health and hydration is restored and any irritation is reduced. Your scalp will feel comfortable and soothed, and your hair will look and feel gorgeously shiny and clean.
How 
To
 Use This Cleansing 
Scrub
Christophe Robin Cleansing Purifying Scrub with Sea Salt is quick and easy to apply to your hair whilst in the bath or shower, and there's no leave-in time needed at all.
Depending on your hair's thickness, we suggest you add it into your haircare routine once or twice a week. When used as a shampoo, simply apply a small amount to wet hair and delicately massage into your scalp, concentrating on the nape of the neck. Add a small amount of water, lather more, then rinse thoroughly. 
Who Is Christophe Robin?
A haircare brand that centres the importance of revealing beauty through enhancing your natural qualities, Christophe Robin has grown to become a household name. Established in Paris in 1999 by its namesake, celebrity colourist Christophe Robin, the brand aims to emphasise a woman's natural beauty by nourishing the hair, maintaining scalp health and protecting colour.
A Haircare Triple Threat
As a daily conditioner, intense hydrating hair mask and a detangling leave-in treatment, Wander Beauty's Mini Scenic Route Hair Treatment is a triple threat. Formulated with a combination of grape seed and coconut oil, this miracle working product leaves hair feeling silky smooth and frizz-free. 
Key Ingredients 
In
 This Hair Treatment
Bilberry Fruit Extract – 

Provides antioxidant benefits t

hat

 soothe and help shield

 your

 scalp from free radical damage

 

Coconut Oil – 

Moisturi

se

s scalp, adds 

lustre

 and shine

 

Grape Seed Oil – 

Works as a natural sealant to keep moisture in the hair follicle

 

Lavender Oil – 

Naturally antimicrobial 

with

 calming propertie

s
How 
To
 Use Wander Beauty's M
ini Scenic Route Hair Treatment
As a conditioner – After using shampoo, smooth an even layer onto hair and rinse with warm water after 3 to 5 minutes.

 

As a hair mask – 

Leave in hair for 20 minutes and rinse with warm water.

 

As a leave-in treatment – 

Apply a small amount onto fingertips and comb through wet or dry hair.
About Wander Beauty
Wander Beauty founders Divya Gugnani and Lindsay Ellingson believe that you're busier than ever and therefore think that your beauty essentials should work as hard as you do. As a result, they've create numerous multitasking miracles that are enriched with clean, globally sourced, skin-loving ingredients that work with your skin, not against it.
What Else Is 
In
 Our Easter Egg Limited Edition?
There are only two more products in our Easter Egg Limited Edition that we haven't yet revealed – can you believe it! Have you read over all our other product reveal for this 'box'? Make sure you do; you don't want to miss out on knowing all about everything you can expect to find inside. Have a click of the links below and get up to date… 
Our final product reveal blog post will be here in a couple of days, so make sure you check back on our blog and social channels to find out more!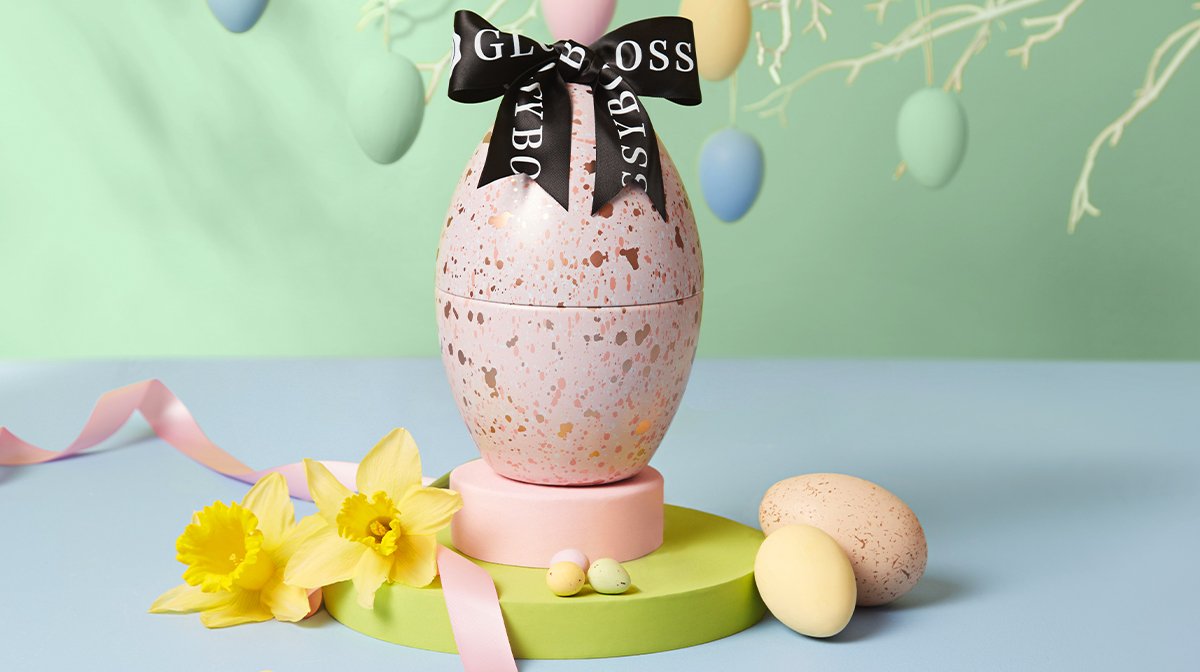 Win With Our Golden Ticket Competition!
Don't forget about our Easter Egg Limited Edition Golden Ticket Competition! Hidden away inside 50 of our Easter Eggs will be a golden ticket that, if found, wins the owner £100 to spend at Pandora, as well as £50 to spend on lookfantastic! Will you be one of the 50 lucky Glossies to win?
Subscribe To GLOSSYBOX
As a Glossy, you'll save £5 on our Easter Egg Limited Edition! Sign up today to start receiving your monthly boxes and to gain your exclusive, subscriber-only discount. Once signed up you'll also be able to purchase your Limited Edition before it goes on general sale. Priority access for all Glossies means that you'll never miss out on getting the boxes you really want to get your hands on!