Want to earn Glossy Credit to spend on all sorts of beauty treats, including Limited Edition boxes, GLOSSYBOX Skincare and on hundreds of brands on lookfantastic. Then make sure you're completing your surveys! 
If you're not filling them out, you're missing out on one of the biggest and best benefits there are to being a Glossy! 
How 
To
 Fill 
In
 Your GLOSSYBOX Surveys
Not sure where your surveys are or how to fill them in? Follow these simple steps… 
Log into your GLOSSYBOX account.
Click 'View All' under surveys.

Scroll down to see your 'available surveys'. 

Click 'Take Survey' on any of the surveys you have waiting to be filled in.
Answer all questions in the survey, and click 'Submit' once you are done.

Click 'return to survey' to go back to your remaining surveys and complete more!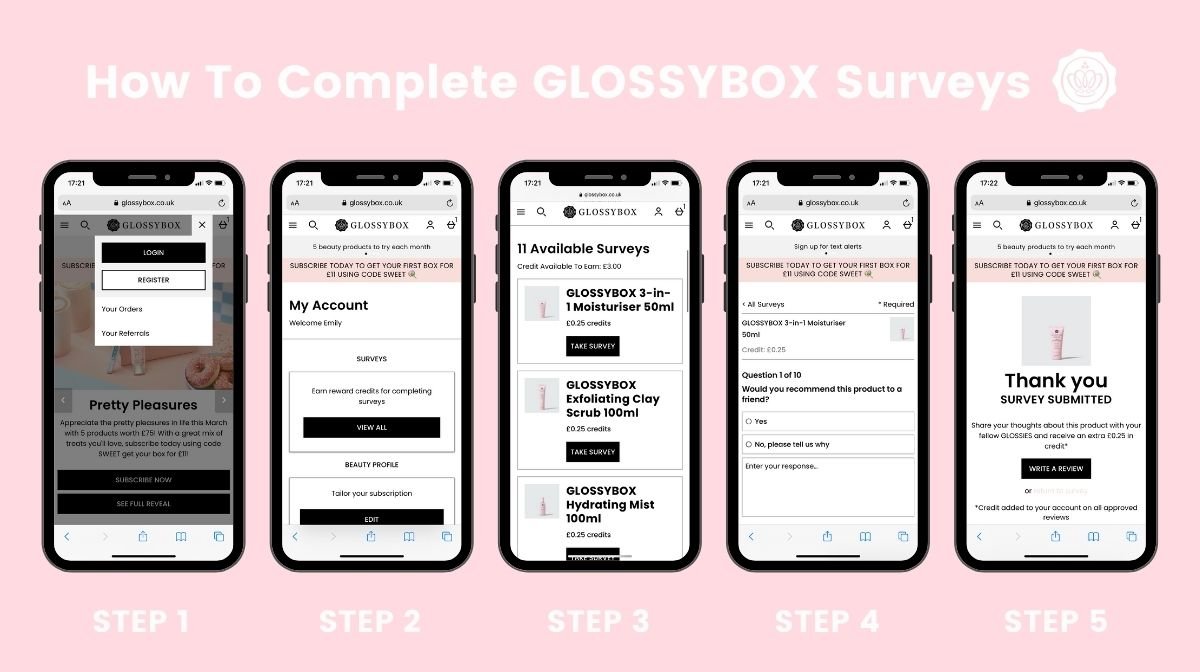 How Much Can You Earn Filling Out GLOSSYBOX Surveys?
So, how much can you can earn from filling in your surveys? Depending on what's inside, you can earn between £1.50 and £2.25 for filling out the surveys for your monthly box! Which, over a 12-month subscription, would earn you up to £27! 
Bought yourself a Limited Edition recently? Fill in the survey in your account and you could earn up to £5.50! And this credit will be sitting in your account, just waiting to be earned! 
Want to earn even more? You can also gain Glossy Credit by clicking 'Leave A Review' after you've finished filling out any survey. Sharing your opinion on products you've received with get you another 25p! 
All this credit quickly adds up and can be put towards buying so many different things! Maybe you like the look of one of our upcoming Limited Editions, you need to stock up on your new favourite GLOSSYBOX Skincare product or there's something new you're dying to try on lookfantastic... whatever it is you want to spend your credit on, get saving it now! 
How 
To
 Spend Glossy Credit On 
lookfantastic
Want to spend your credit on lookfantastic? It's really easy to link your accounts and get spending. Have a read of our 'How To Spend Your Glossy Credit On lookfantastic' blog post for a step-by-step guide to getting started. 
Subscribe To GLOSSYBOX
You can't fill in surveys or earn Glossy Credit unless you're a subscriber! So, subscribe today! Each month we'll deliver five incredible beauty products straight to your door. It's the perfectly monthly pick-me-up. There's also loads of other benefits to being a Glossy, including priority access and exclusive discounts on our Limited Edition boxes and the GLOSSYBOX Skincare range!