You'll feel out of this world with our Black Friday Limited Edition! 
With hair, makeup and skincare inside, trust us when we say we've thought of it all – and that we're bringing the best Black Friday bargain to you possible.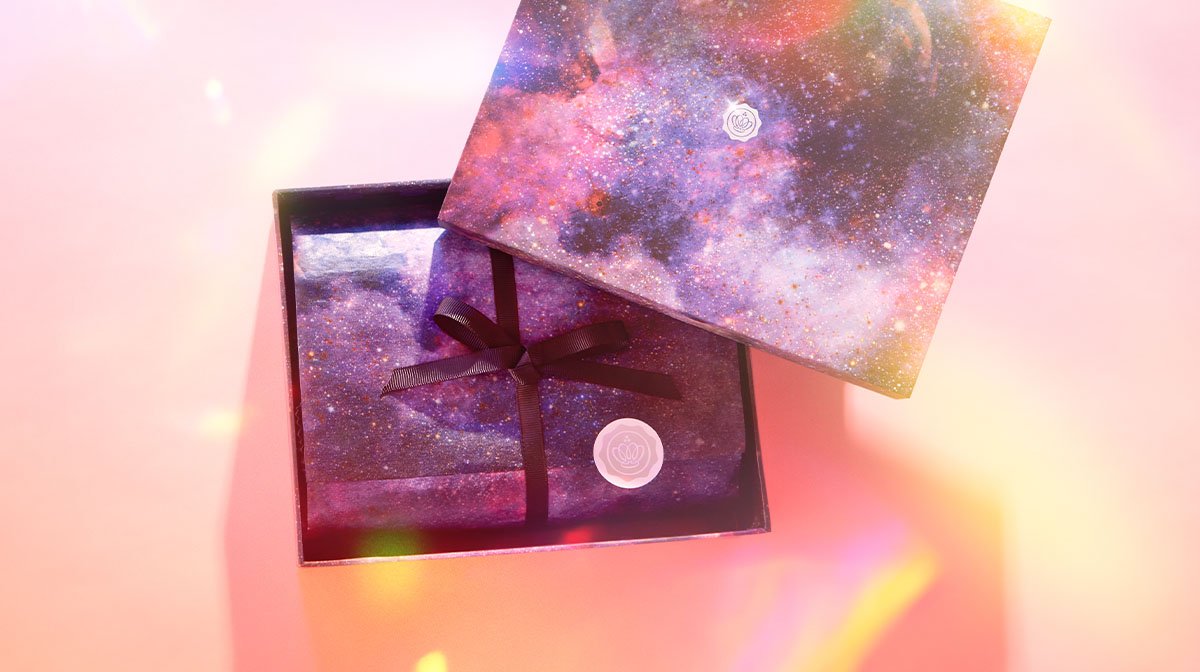 What's Inside 
The
 GLOSSYBOX 
Black Friday Limited Edition?
Featuring ten beauty essentials, this Limited Edition GLOSSYBOX is packed with products you're soon going to wonder how you lived without. Worth over £115, inside this box you'll find eight full-sized products and two deluxe minis! 
Invisibobble Original Hair Tie – Crystal Clear
Boasting a unique spiral shape, this innovative hair tie allows you to keep your tresses off your face, without leaving any kinks that might ruin your hair later on. This knight in spiral armour also puts an end to horrid headaches caused by tight hair ties, as well as nightmare tangles! There's no simpler way to style your locks in comfort.
RRP £4.99*
Emite Rose Gold Eyelash Curler
Ergonomically designed and aesthetically pleasing, this  beautiful rose gold eyelash curler is comfortable to grip and easy to work with. Its curled design is adapted to suit all varieties of eye shapes, while minimising the risk of touching already applied surrounding makeup.
Rounded silicone rubber pads also provide an even amount of pressure to lashes, guaranteeing a curl that'll last.
RRP £20*
Bang Beauty Warm Neutral Eyeshadow Palette
Containing both shimmer and matte shades, this might be one of the most versatile palettes we've seen. This warm neutral palette will allow you to create endless looks, whether you're going for a light every-day look or a darker smokey eye at night.
RRP £35*
Bodyography Pro Makeup Brush Cleanser
Make cleaning your makeup brushes quick and easy with this Pro Makeup Brush Cleanser. Made from natural orange peel and gentle dirt dissolving ingredients, this essential brush cleaning product is safe for all brush hair types and will get the job done with ease, while simultaneously satisfying your senses.
Deluxe mini 57ml worth £5.50, Full size 114ml RRP £14.69*
NUDESTIX Cream Lip + Cheek Pencil
A multi-purpose makeup pencil is a cult favourite in the beauty world. And this creamy crayon can create both a soft pop of colour on your cheeks and a totally natural tint on your lips. Moisturising ingredients including vitamin E and shea butter make this product super soft and allow for smooth blendability.
RRP £20*
Luxie 524 Small Duo Fibre Brush
This Luxie signature brush features premium soft, synthetic bristles and a chic rose gold and pink handle. This means it's not only a functional tool, but a beautiful addition to your makeup bag too! Use this smaller duo fibre brush to apply cream, liquid or powder blush and/or bronzer for a soft, diffused look.
RRP £20*
Tony Moly I'm Acerola Mask Sheet
Revitalise your skin with the magical benefits of this exotic cherry mask. Packed with vitamins and antioxidants, acerola extract works to reduce inflammation, while skin conditioning ingredients also protect your skin and provide a hydration boost. Apply the mask onto a clean, dry face and leave on for 20-30 minutes. When removed, pat any excess essence into your skin until fully absorbed.
RRP £5*
Pitt Balm Grapefruit Organic Deodorant
Natural and organic, this deodorant is for everyone. Vegan and cruelty-free too, just six ingredients make up the moisturising, non-stain formula. Highly concentrated, just a pea sized amount of this plastic-free product under each arm is enough to keep you feeling fresh from morning to night. And what's even better, one pot will last you between four to six weeks too!
RRP £4.99*
Barry M Cosmetics False Lashes
Perfect for babes striving for mega volume, these Barry M lashes are guaranteed to get attention! Whichever of the three gorgeous designs you receive – Vegas Vibes, Dubai Doll or Havana Honey – they'll blend effortlessly into your natural lashes. Treat them with extra TLC, and they'll keep on delivering you extra drama again and again too!
RRP £4.99*
Philip Kingsley Rose & Lychee 
This product boasts seven incredible hair benefits in one! Elasticizer delivers a rush of moisture to the hair to help reduce breakage and restore strength, meaning split ends become a thing of the past! It also has the power to add shine, reduce frizz and so much more. The Elasticizer really is the at-home hair repair treatment you've been searching for!
Deluxe mini 40ml worth £9.06, full size 150ml RRP £34*
*All prices refer to the RRP of the full-size product available to purchase as advised by the brand.       
Give GLOSSYBOX As A Gift
If you know someone who would LOVE GLOSSYBOX as much as we do, why not treat them to a Glossy gift?   
A GLOSSYBOX gift voucher (for 1, 3, 6 or 12-months!) is the perfect present, and gives the recipient full access to everything Glossy. This not only means they'll get a monthly box (or many) delivered straight to their door, they'll also get full access to the Glossy Lounge and exclusive discounts on the GLOSSYBOX Skincare range!   
If your loved one adores skincare, the GLOSSYBOX Skincare Christmas Gifting Set is another ideal present for them to unwrap on 25th December. Worth over £57, this skincare set features three incredible products from the GLOSSYBOX Skincare range – 3-in-1 Moisturiser, Eye Boost Cream and Daily Micellar Gel Cleanser. And all this comes packaged in a beautiful festive sleeve for only £25 (or £20 if you're a subscriber!).   
You can read more about the GLOSSYBOX gift voucher and our GLOSSYBOX Skincare Christmas Gifting Set on our blog!  
Subscribe To GLOSSYBOX
Subscribe today to become part of the Glossy family! On top of receiving our incredible monthly boxes straight to your door, as a Glossy you'll also benefit from priority access and exclusive discounts on all of our Limited Edition boxes, and the GLOSSYBOX Skincare range!