It wouldn't be a Glossy birthday without Huda Beauty! Last year, we introduced you to their incredible collection of iridescent Lip Strobes and this year we've got another fabulous product waiting for you… the Demi Matte Cream Lipstick! 
Please note: The August 'Birthday' GLOSSYBOX has now sold out. You will only receive this box if you were a GLOSSYBOX subscriber before 12pm-noon on July 21st. 
Your 
Demi Matte Cream Lipstick Awaits!
Huda Beauty have launched countless lipsticks that we love, but I think their Demi Matte might just top them all…
This creamy lippy boasts a luscious, highly-pigmented formula that glides effortlessly onto your lips, adding an intense shot of colour to your pout. It then dries to a satin finish, creating a sheen on your lips that enhances their natural shape. Whilst there are so many reasons to rave about this lipstick, my favourite thing has to be how comfortable it is to wear and how long it lasts without drying out your pout. Trust me, you're going to love it!  
It Has A Plumping 
And
 Hydrating Effect Too
Did you know that the Demi Matte lipsticks are formulated with just a touch of menthol? That's why you'll feel a slight tingling sensation and cooling effect when you apply it. It is also enriched with a trademarked Maxi-lip complex which stimulates collagen and keeps your lips hydrated. Together, these two ingredients leave your lips looking visibly plumper and feeling noticeably comforted. 
The Demi Matte lipsticks are super-luscious, super-comfortable colours that totally change your mood, with about zero effort.
@Huda Kattan 
Which Shade Will You Receive? 
This creamy lippy comes in so many shades that we couldn't choose a favourite! So, we've decided to include ten hues that we know you'll love. From nudes and browns to pinks and berries, there is an amazing selection waiting for you!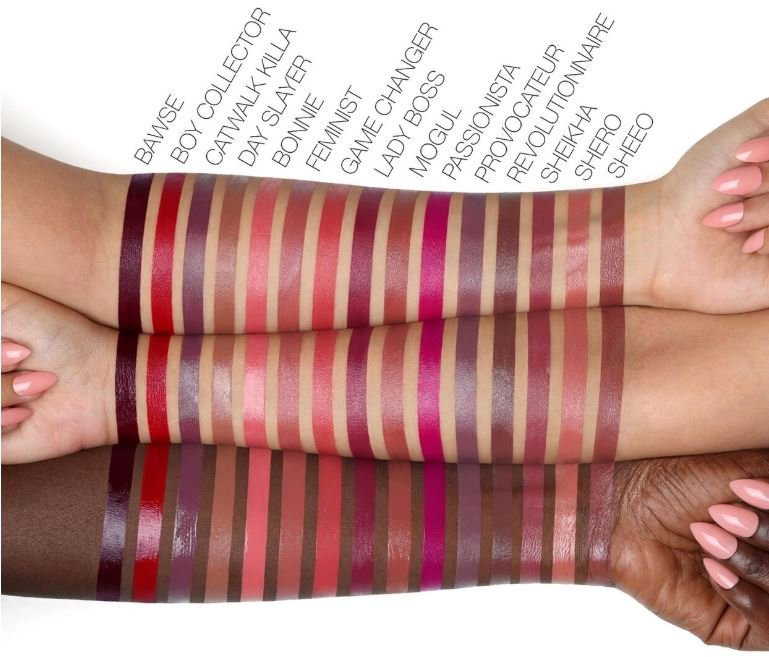 How To Apply Your 
Lippy
As with every Huda Beauty product, there's a specific way that Huda Kattan planned for this lipstick to be worn. So, with that in mind, here are her top tips: 
Use a lip pencil that is the same or slighter darker than your lipstick to line your lips. Focus on the outer corners of your lips and fade towa

rds the centre. 

 

Apply a thin layer of Demi Matte Cream Lipstick to the

centre

 of your lips, then rub your lips together to evenly spread the lipstick over your pout. 

 

To achieve a stained effect, you can then blot your lips with a tissue.

 This will mute the natural shine of the lipstick and create a more matte effect.

 
We hope that you're excited to try yours! 
The August 'Birthday' GLOSSYBOX Is Sold Out 
Unfortunately, you can't order the 'Birthday' GLOSSYBOX as we are now sold out. However, you can still join the family and discover an unrivalled variety of makeup and skincare in September.