Get ready Glossies, because it's your time to shine! Your March 'All Eyes On Me' box includes five fabulous products with which to create show-stopping looks that are guaranteed to turn some heads. Among them will be a Sleek highlighter palette.
Which Sleek Highlighter Palette Will You Receive?
That's right! This month, you'll either be treated to a versatile face and body highlighting palette or Sleek's first-ever all powder highlighting palette….
The Solstice Palette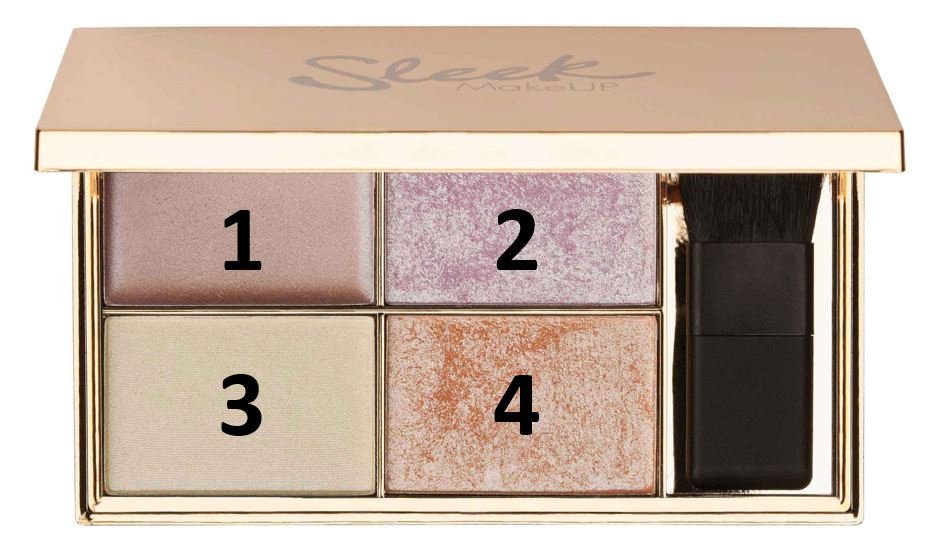 Featuring a silky shimmer powder, a luxurious cream formula and two lightweight baked powders, this palette adds a luminous sheen to your skin. While you should feel free to experiment with your palette and use the different shades as you see fit, here are a few suggestions:
Apply Shade 2 to your cheekbones and the inner corners of your eyes. Its highly-pigmented, light lilac hue and baked powder texture creates a strong highlight that brightens your face without accentuating your pores.
Sweep a touch of Shade 4 onto your brow bones. Its soft, peachy colour has a warming effect and accentuates the elegant shape of your brows.
Delicately apply Shade 3 along the bridge of your nose. Boasting a neutral, pastel yellow hue, it will soften your features and catch the light beautifully.
Dab a touch of Shade 1 onto your Cupid's bow, then set it with a touch of Shade 3. It will keep the highlighter in place all day long and make your lips look fuller.
Did you know that you can also apply highlighter to your body? Using a powder brush, sweep the colour that best matches your skin tone across your décolletage (along your clavicle bones looks most elegant), on your shoulders or even down the centre of your arms. Trust me, you'll be gleaming from head to toe.
The Copperplate Palette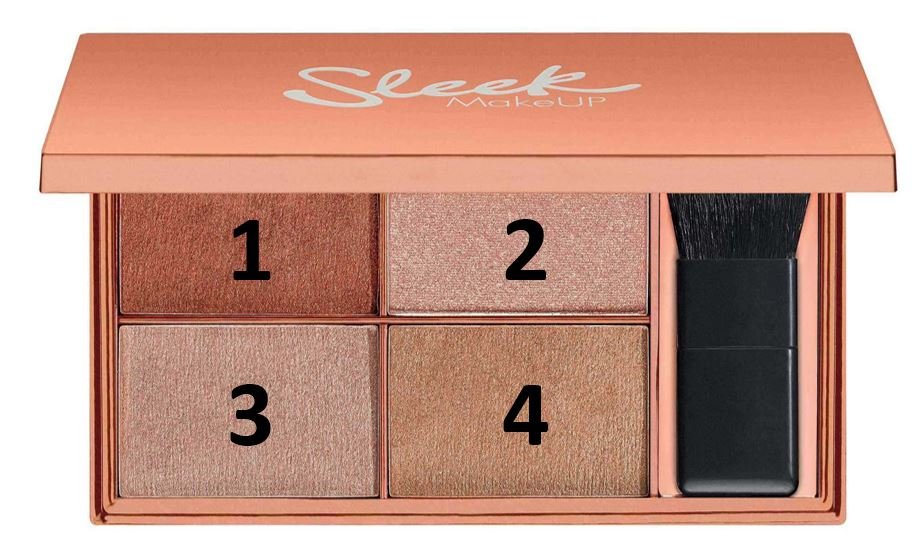 Filled with gold and copper-toned powders, this Sleek highlighter palette will not only give your skin a dewy glow, but add warmth to it too. Again, see which powders work best for you, but I'd recommend using the palette as below:
Using a small highlighter brush, apply a touch of Shade 2 onto your cheekbones and the inner corners of your eyes. Its soft, metallic rose hue boasts gold undertones that create an eye-catching luminous glow. Plus, it will give your cheeks a rosy finish.
Gently pat Shade 3 onto your Cupid's bow and along the bridge of your nose using your finger. As the light natural catches these areas, it will give off a subtle and elegant sheen.
Apply a touch of Shade 4 to your brow bones to accentuate your brow arch to finish off the look.
While Shade 1 only works as a highlighter for medium to dark skin tones, if you have light skin, you can apply it as eyeshadow to create a gorgeous eye look. Feel free to apply these powders to your décolletage and shoulders too, or mix a few pigments into your body lotion and apply freely onto your body for an all-over glow.
Whichever palette you receive, you'll definitely be able to achieve a radiant glow that will earn you endless compliments!
Subscribe To GLOSSYBOX
The March 'All Eyes On Me' GLOSSYBOX has now sold out. Subscribe today to receive your mystery box!