Who says that February has to be about your other half? At GLOSSYBOX, we believe in showing all the people we care about a lot of love – and that, of course, includes our best girlfriends. So why not celebrate your friendships and treat them with some Galentine's gifts? It's the perfect way of thanking them for always being there!
If you're on the hunt for Galentine's gifts, you can't go wrong with Glossier's special Valentine's bundle. Featuring their iconic lip gloss, pro tip brush point liquid eyeliner and a full-size you eau de parfum, it is guaranteed to please.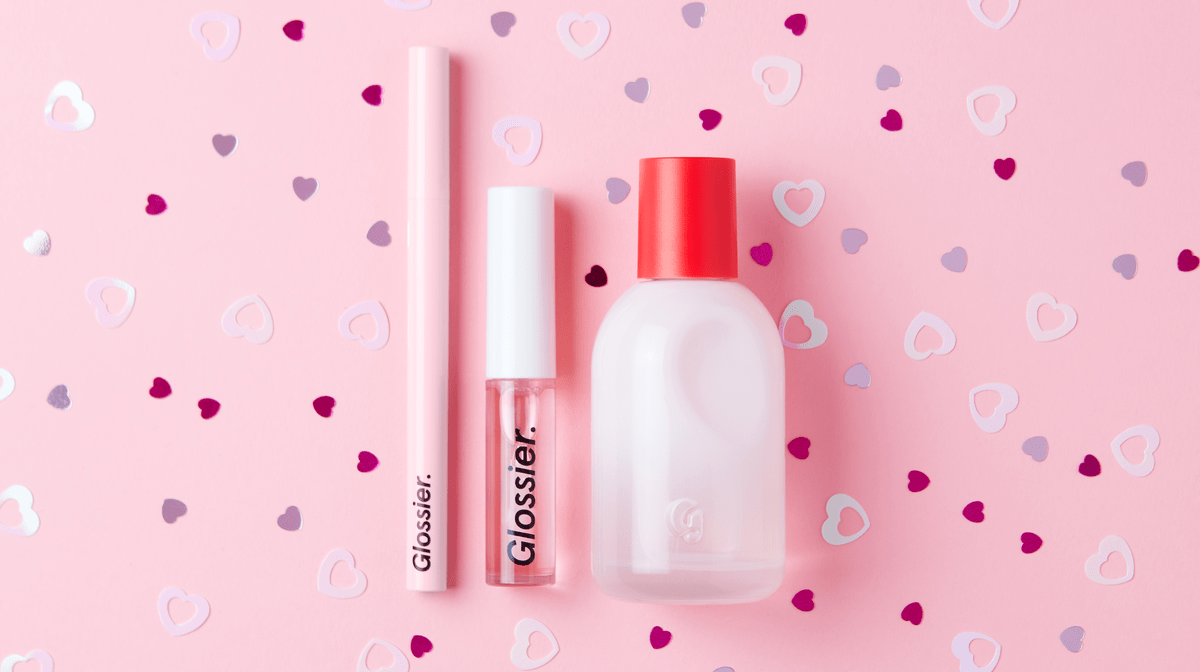 About the lip gloss: Forget the sticky lip glosses from the 90s that made your hair cling to your lips, this gloss is seriously comfortable to wear. Its thick formula is infused with vitamin E and jojoba oil, both of which leave your lips feeling soft and moisturised. You just sweep the clear, transparent formula onto your pout and it will give it a shiny, glass-like finish that lasts for hours. Better yet, you can choose between a clear, red or holographic shade.
About the pro tip brush point liquid eyeliner: This eyeliner is every makeup lover's dream. Pairing a highly-pigmented, quick-drying and smudge-proof formula with a flexible brush tip, it allows you to create a smooth-looking, flawless winged eye every time. Sweep it along your lash line and it will stay put for up to 12 hours!
About the Glossier you eau de parfum: Who would have thought that a perfume could adapt to your skin? You boasts warm base notes of musk, ambrette and ambrox with earthy top notes of iris root and spicy pink pepper that smell slightly different on everyone. The result? A clean, fresh scent that is unique to whoever is wearing it.
Trust me, she's going to love these three makeup bag essentials. Plus, she can flaunt them all year round and constantly be reminded of how much you value her friendship. Gift-wise, it doesn't get much better than that!

Your gal deserves only the best, so I've scoured Dorothy Perkins' fabulous range of accessories to find the perfect Galentine's gifts. Here are just three I love (all for £12 or less) that she'll love too!
Coral Zip Top Cross Body Bag: They say diamonds are a girl's best friend, but we all know it's a great new bag. So why not spoil your bestie with some new arm candy? I mean, every girl loves a good handbag – especially when it's a convenient cross body one in a gorgeous coral colour. Plus, this bag is big enough for everyday use, but also elegant enough for a night look. Ideal, right?
Hot Pink Satin Knot Headband: Whether it's a headband, hair slide or simply a scrunchie, hair accessories are the perfect treat for your BFF. Personally, I'm obsessed with this sassy headband. A bold, vibrant colour and a stylish statement knot? Yes please!
Yellow Large Pocket Front Purse: An elegant new purse is another great choice! While Dorothy Perkins sell a wide range of sizes and styles, I've got a soft spot for this stunning yellow one. Simple yet sophisticated, your bestie will love it.
Take your pick from the above or check out Dorothy Perkins' website for more ideas.
I might be a little biased, but you have to admit that a GLOSSYBOX Gift Voucher is a great Galentine's gift! It will not only be a monthly reminder of how much you value your friendship, but you could even share the products and have fun, pamper nights together.