If you're tired of spending loads of money on Halloween costumes your kid will only wear once, then keep reading! I've found 4 DIY Halloween costumes that you can make yourself without breaking the bank. Better yet, most of the things you'll need will probably already be hanging up in your child's wardrobe!
4 DIY Halloween Costumes
1. A Scary Spider
You will need:
A long-sleeved black t-shirt
A black pair of trousers
2 pairs of black tights
Newspaper
Step 1: Stuff both pairs of tights with newspaper until they start to resemble arms.
Step 2: Sew or hot glue the crotch area of both pairs of tights onto the back of the t-shirt, so that two 'spider legs' hang on either side. I'd attach the first pair across the middle of the t-shirt, then the second pair across the lower end of the t-shirt.
Step 3: Use yarn or ribbon to attach the tight legs together, then, on either side, attach the top leg to the sleeve of the t-shirt.
Step 4: Now all your child has to do is slip on a pair of black trousers, the spider top, some black shoes, black mittens and they're good to go!
2. Woody From Toy Story
With the recent release of Toy Story 4, who wouldn't want to dress up like Woody?
You will need:
Knee-high white socks
Denim trousers or a skirt
A yellow t-shirt or a yellow chequered shirt
A brown belt
A red neck scarf or a square napkin folded in half
A sleeveless white t-shirt
Step 1: Cut a v-shape into the neckline of the white t-shirt. Then, from the tip of the v-neck, cut the t-shirt down the middle. The t-shirt should now look like a waistcoat.
Step 2: Using a black fabric marker pen, draw cow patches onto the waistcoat.
Step 3: Dress your child in the white socks, denim bottoms, brown belt and yellow top. Then have them put on their new waistcoat and tie the scarf around their neck so that it forms a forward-facing triangle. Ideally, they'd have a cowboy hat too!
3. A Witch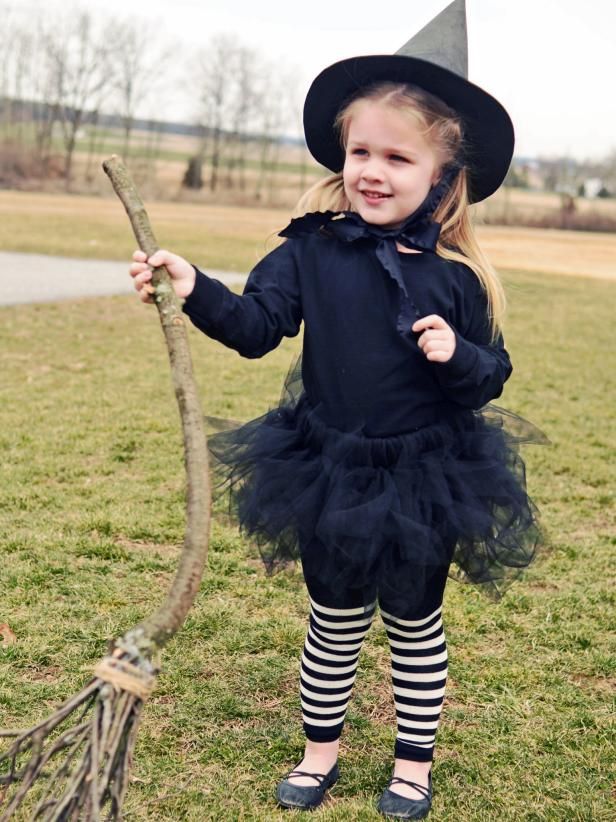 This has to be one of my favourite DIY Halloween costumes ever! It's easy to make, looks great and is so Halloweeny. A true classic!
You will need:
A large piece of black cardboard and some black string (and some glittery stars for decorations)
Black and white strippy tights
A black or purple tutu
A long-sleeved black top
some black boots
Step 1: Measure the size of the top of your child's head. Then, draw a large circle onto your piece of cardboard, ensuring its diameters is the same measurement as your child's head.
Step 2: Cut out the circle shape, then cut the circle in half. You can then roll your half-circle into a cone shape and staple it in place.
Step 3: Puncture two holes into either side of the cylinder and add some string to keep it secured. You can then decorate it with glittery stars too.
Step 4: Have your child get dressed in their tights, tutu, black top and boots. Secure their witch hat using the black elastic, then do their makeup. A touch of dark purple lipstick and some eyeliner will do the trick nicely!
4. DIY Clown Costume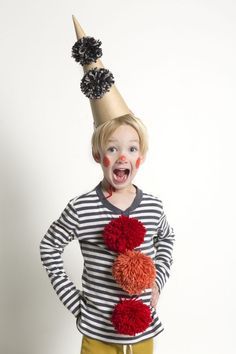 I'll admit that I'm terrified of clowns and the newly-released IT Chapter Two seriously has me spooked. I guess that's why everyone thinks that they're such good DIY Halloween costumes.
You'll need:
A white top
Some colourful fabric pens
A colourful bow tie
An oversized pair of trousers (borrowed from dad?), preferably coloured
A pair of breeches or colourful ribbon
Two colourful helium balloons and some string
Optional: a colourful wig.
Step 1: Have your child draw three large pompoms down the front of the white t-shirt, then let them go wild adding patterns, splotches and zigzags too. The more colour, the better!
Step 2: Dress your child in the white top and oversized trousers, securing them with britches. You can then add the bow tie too.
Step 3: Because wearing oversized shoes can be a bit dangerous, why not tie a helium balloon around each of their shoes? It will create a goofy, clown-like look.
Step 4: Place the colourful wig on their head (alternatively, a hat covered in dyed cotton wool balls would work too) and do their makeup. You can find a tutorial for that on YouTube.
And there you have it, four DIY Halloween costumes for kids. I hope you have fun making them! Don't forget to share your pictures with us on social media using #glossyboxuk. We'd love to see them!
Join The GLOSSY Family
Now that your kids are dressed and ready to play some tricks, it's time for you to treat yourself! Subscribe to GLOSSYBOX and receive 5 beauty products delivered straight to your door. Order yours now!