This is the story behind the 2019 Advent Calendar. Please read the story behind our 2020 Advent Calendar for this year's Christmas fun! Or, if you want to know exactly what products are in this year's calendar, you can read our 2020 Advent Calendar full product list.
—
Our Advent Calendar is now sold out! Don't worry though, you can still subscribe to GLOSSYBOX and receive our monthly box filled with 5 incredible products! You'll also have priority access to our Limited Editions – who knows what else is coming your way this Christmas?
The Story Behind The GLOSSYBOX Advent Calendar
It's the season to be happy, beautiful, strong, loving, confident, healthy, hopeful… Yes, it's the season to be Glossy!
The GLOSSYBOX Advent Calendar 2019 includes all the perfumes, makeup, skincare and haircare you need to feel special this Christmas. Trust me, it's even better than last year's!
Excited to find out more? Here's everything you need to know…
Spoiler! Here's What To Expect From The GLOSSYBOX Advent Calendar 2019
Inside the GLOSSYBOX Advent Calendar are 25 must-have beauty products just waiting to be unwrapped!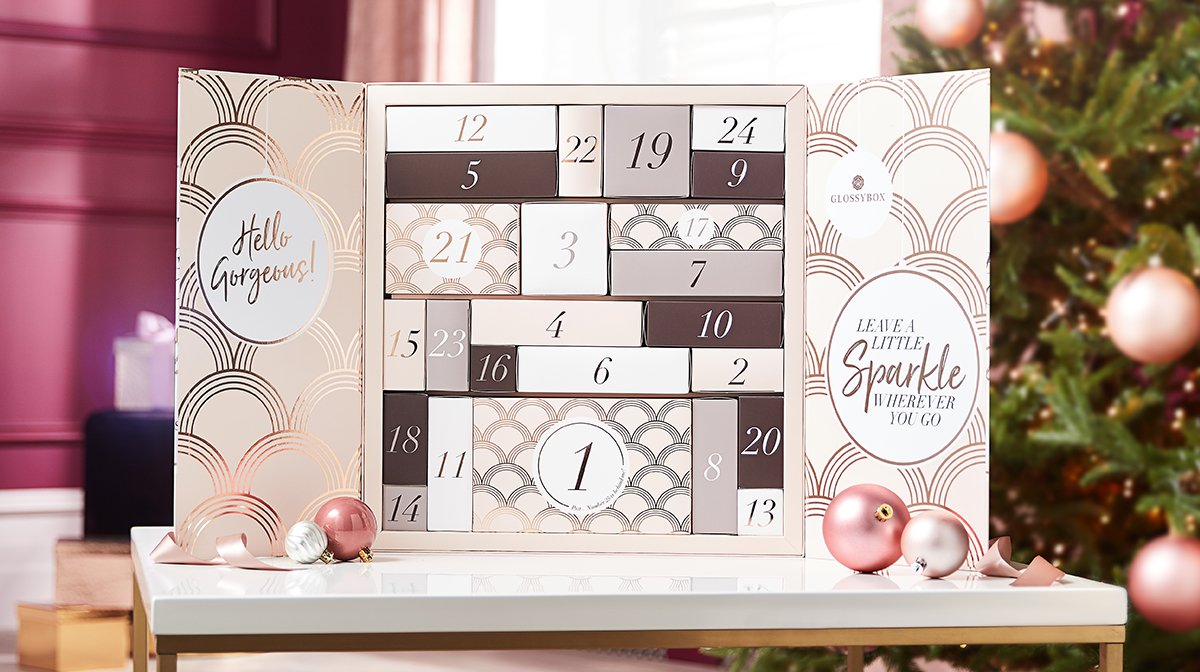 From old favourites to new discoveries, this extra special Limited Edition includes incredible brands like Chloé, Dermalogica, NYX and Tarte. Better yet, it includes 15 full-size products and is worth over £370!
How Can I Buy My Advent Calendar Now At A Discounted Price?
GLOSSYBOX subscribers can buy their GLOSSYBOX Advent Calendar from Friday 6th of September at 12pm-lunchtime (yes, that's today!) for the exclusive price of £70/80€!
If you're already a GLOSSYBOX subscriber, all you need to do is:
Log into your GLOSSYBOX account
Add the advent calendar to your basket
Go to checkout – your exclusive £10 discount will automatically be applied at checkout!
Wait for your beautiful advent calendar to arrive!
If you aren't a Glossy yet, subscribe now! You'll not only have priority access to buy the Advent Calendar for just £70/80€, but you'll also receive our September Delicious Beauty edit!
We're expecting this Advent Calendar to sell out fast – you don't want to leave it to chance!
When Will The GLOSSYBOX Advent Calendar 2019 Go On General Sale?
Beauty lovers who aren't GLOSSYBOX subscribers will have to wait until 12pm lunchtime on Friday 27th of September to purchase their Advent Calendar.
How Much Does The GLOSSYBOX Advent Calendar 2019 Cost?
GLOSSYBOX subscribers can get their advent calendar for just £70/80€!* Treat yourself or someone special today.
Join The Glossy Family
To order your October edit, have priority access to buy our Advent Calendar and receive an exclusive discount, subscribe to GLOSSYBOX now!