Listen up Glossies, because I've just tested out the latest technological development that is going to save your skin! La Roche Posay have just developed the My Skin Track UV, a UV sensor that tracks your exposure to UVA and UVB rays. Sun damage is about to be a thing of the past!
About The My Skin Track UV
So, first things first, what is this new technology? Battery-free, the My Skin Track UV is a small sensor that clips onto your clothes to track your exposure to UV rays. It also measures the pollution, pollen and humidity levels that are damaging your skin every day.
By increasing your awareness of all the environmental factors that are affecting your skin, it gives you the power to prevent both sun and free radical damage before it actually happens.
How It Works
For the sensor to work, you need a phone that has an NFC scanner. This is the component on your phone that allows you to make contactless payments. If you have an iPhone 7 or above or a post-2015 Android, your phone should be compatible.
You can then download the My Skin Track UV app and follow the set-up steps. It will ask you to name your device, select whereabouts on your body you will wear the sensor, and fill in your beauty profile. You'll also need to give the app permission to use your location (this will allow it to determine the pollen-count and air quality in your area). Finally, you should sync the sensor with your phone.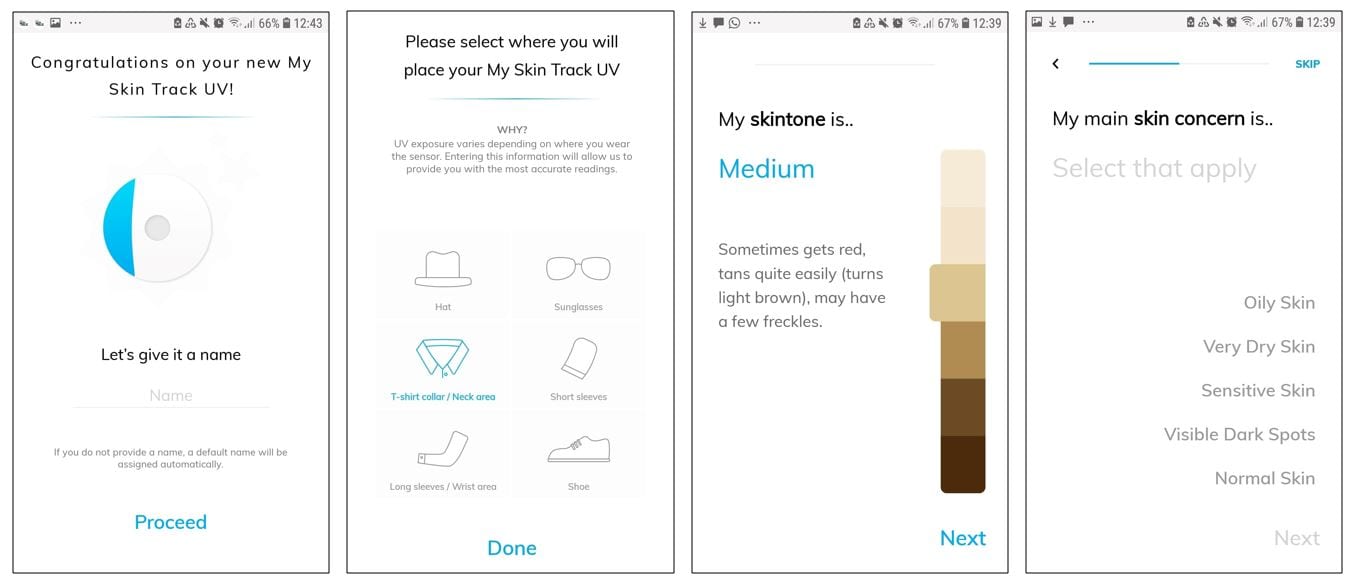 You'll need to sync the sensor morning and night when at work, or every few hours when you're out and about. The homepage will then update your UV index, UV exposure, as well as the temperature, humidity level and air quality level.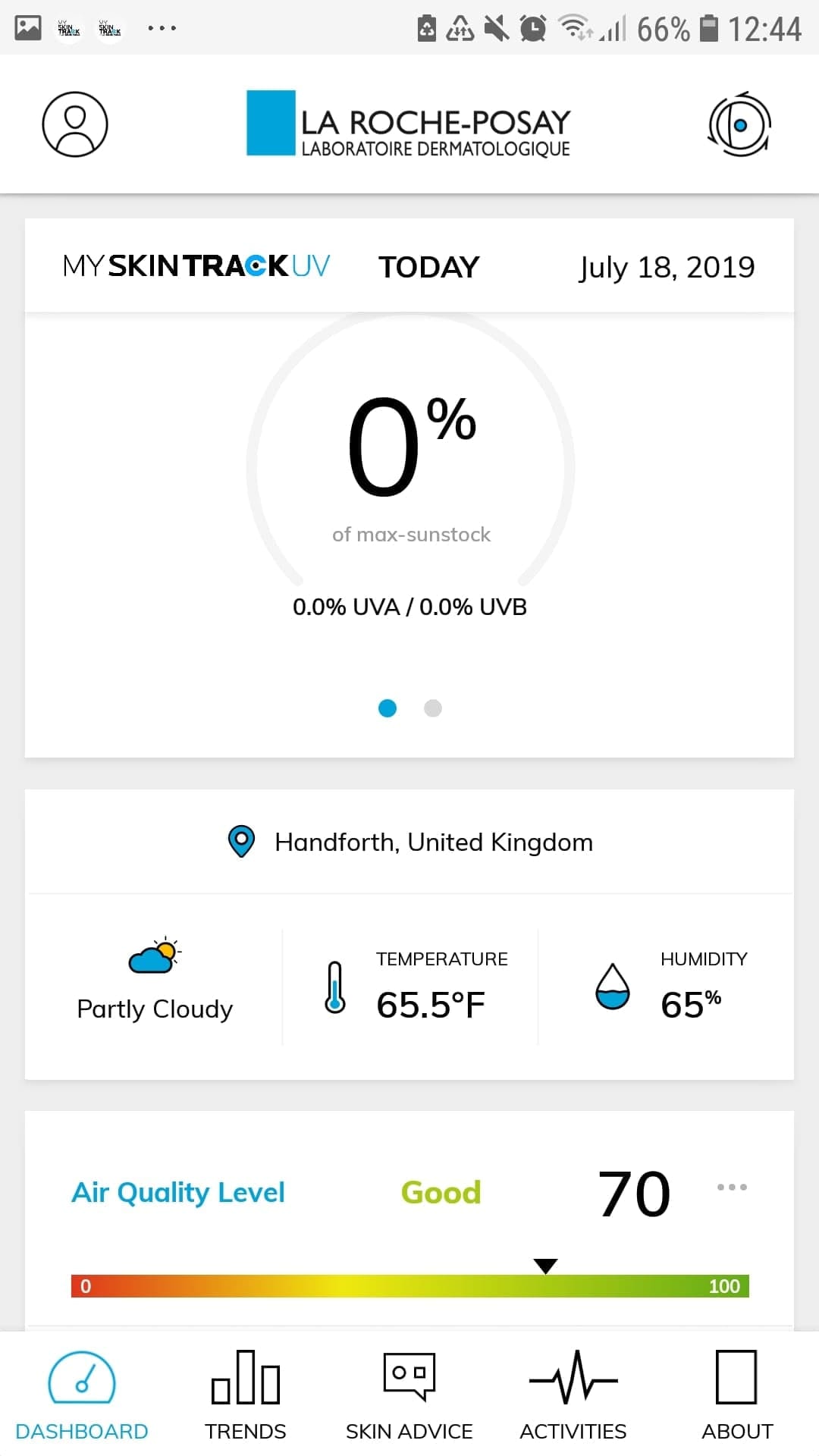 My Experience Using The My Skin Track UV
I decided to wear the sensor on a necklace so that it would get more or less the same exposure as my face. I synced the sensor with my phone first thing in the morning. The homepage showed the air quality level was at 65, while my UV exposure was, of course, at 0%.
At 7:30, I made the 10-minute walk from my house to the train station. Typical Manchester weather, it was cloudy and overcast but relatively warm.
At 8 o'clock, sat at my desk, I synced the sensor again. My sunstock level had hit 8% already. While sunstock levels aren't considered dangerous unless they hit 75% or above, I still can't believe how little exposure it took for that number to climb so quickly.
At work, I sit by a large window, but rarely think about the effects this could have on my skin. At lunchtime, I synced the sensor with my app again. Despite the fact that I have been sat inside all morning, and it wasn't even sunny outside, my UV exposure levels had reached 22%. I checked the 'trends' graph and noticed that my exposure had gradually increased all morning – it must have been the rays coming through the windows!
My UV exposure levels increased just because I was sat by a window!
Most worryingly though, was the percentage of UVA rays. This was at 15%. While most windows filter UVB rays, UVAs can still get through. These are the rays that cause long-term damage and affect the deeper layers of your skin – eek!
The afternoon was spent much the same way, sat at my desk. I then hopped onto the train home and walked back to my house. By this time, it was sunny outside, so I gently strolled home. I then synced my tracker again. This time my sunstock level had hit 56%. I'll admit it, I was baffled. I'd essentially spent roughly 30 minutes outside, and only 15 or so in the sun. The rest of my day so far had been spent inside.
By the time I had been to running club that evening and had spent about an hour and a half outside in the sun, my sunstock level had risen to 111%. Good thing I had SPF on!
For the rest of the evening, that number didn't change as I stayed indoors and chilled in my living room with the curtains drawn and the lights low (a little ambience, anyone?).
What I Learnt
The My Skin Track UV has essentially confirmed everything that dermatologists and skin experts are saying: even if it isn't sunny outside your skin is still vulnerable to UV rays. In fact, did you know that 80% of UV rays can cut through clouds?
Bottom line? You really do need to use an SPF every day!
Even if a 75% sunstock level is your recommended maximum daily allowance, getting any unprotected exposure to UV rays is never good. Protect your skin, Glossies, you'll thank me later down the line! In fact, check out this blog to find the SPF that suits you.
Join The Glossy Family
Our 'Holiday Haul' has all your holiday beauty needs covered. It features five travel-size products, including makeup, tanning skincare and multipurpose haircare. Don't miss out. Subscribe now!