Hoppy Easter Glossies! If you're looking for something fun to do this weekend with the kids, or you just enjoy baking, why not try these Easter baking recipes? All of these cracking treats are egg-ceedingly tasty…
Eggs-traordinary Easter Egg Nests
Easy and fun for kids to make, this is one of my favourite Easter baking recipes from my childhood. These chocolatey delights are always a big hit.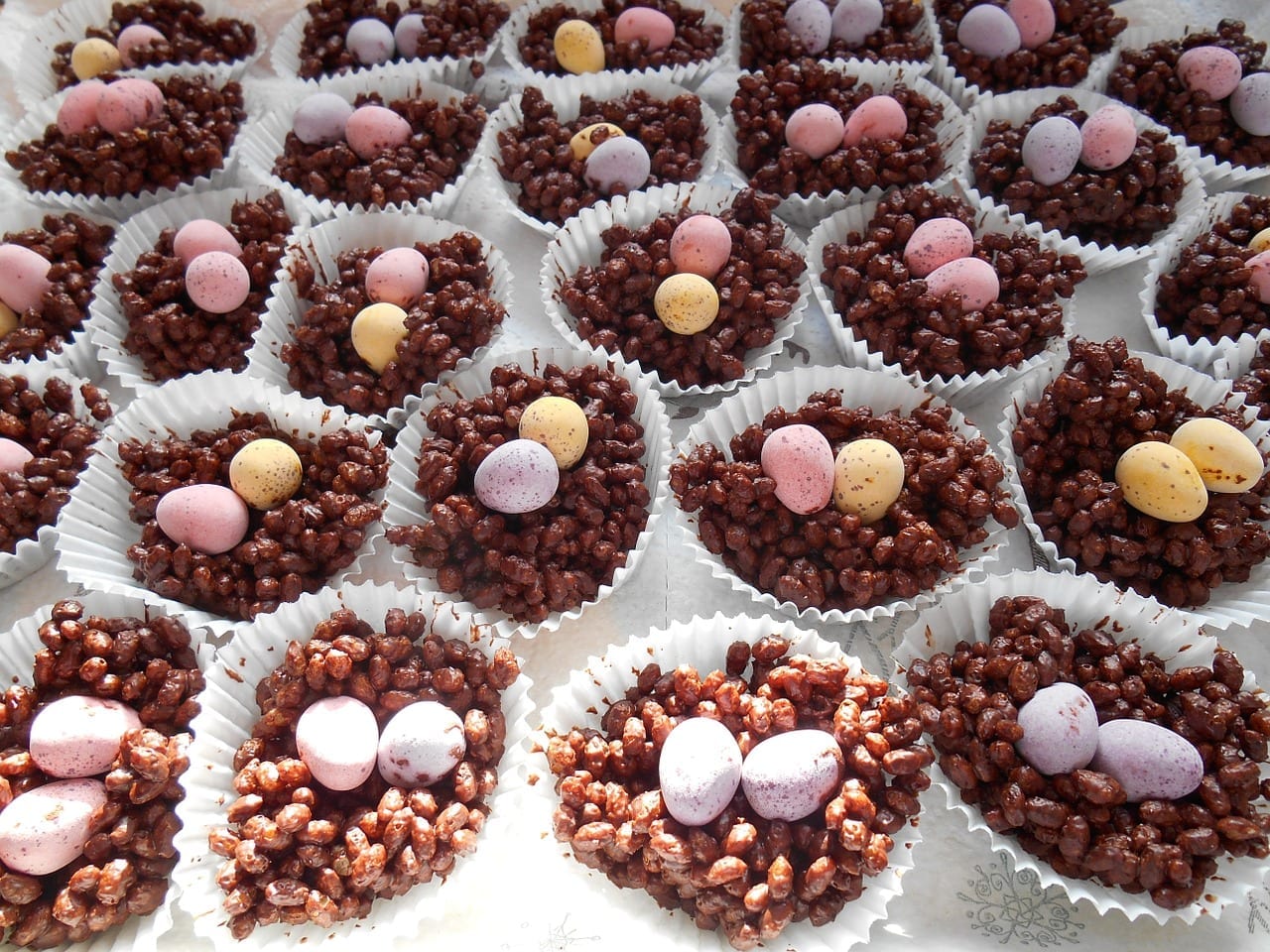 You'll need:
225g of milk chocolate, broken into pieces
2 tbsp of golden syrup
50g of butter
75g of rice krispies or cornflakes, your choice
36 mini chocolate eggs
Step 1: Start by lining a tray or cake tin with 12 cupcake cases.
Step 2: Melt the chocolate and butter, then stir in the golden syrup until the mixture is smooth (you can do this in a bowl over a pan of simmering water, but I tend to do it slowly in the microwave on a low heat).
Step 3: Pour your chosen cereal into the chocolate mixture and stir until all the flakes are coated.
Step 4: Spoon the mixture into the cupcake cases, then press 2 mini eggs into the centre of each nest.
Step 5: Leave the nests to chill in the fridge and let them set. This will take about an hour.
And voila, quick and simple!
Eggs-quisite Carrot Cake Muffins
Another classic Easter baking recipe, Carrot Cake Muffins look good and taste even better!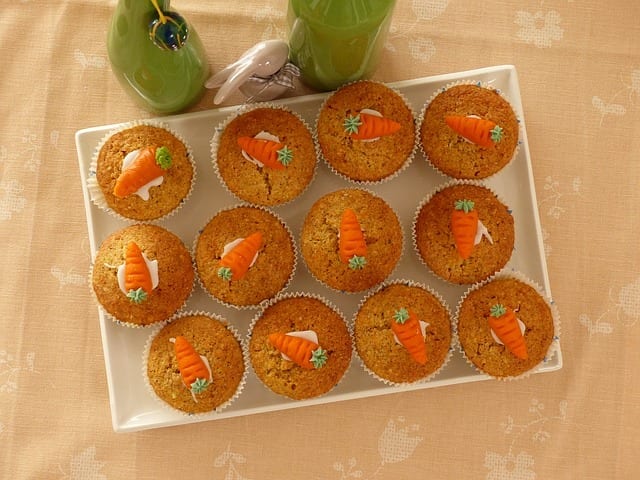 You'll need:
100g of self-raising flour
100g of brown sugar
5 tbsp of sunflower oil
2 eggs
150g of carrots, grated
100g of dried raisins
½ tsp of ground cinnamon
100g of icing sugar
Edible Easter cake decorations (carrots work best)
Step 1: Preheat the oven to 190 degrees and line a baking tray with muffin cases.
Step 2: Start by beating the eggs, sugar and oil together.
Step 3: Sieve in the flour, then add the grated carrots, dried raisins and cinnamon, and mix together. The batter should be quite thick and slightly sticky.
Step 4: Spoon the mixture into the muffin cases and bake for 15 to 20 minutes. When they're ready, they should be firm to the touch and golden brown on top.
Step 5: Once the muffins have cooled, you can decorate them. Make your icing by slowly spooning water into 100g of icing sugar and stirring until runny. Then, spoon a small amount of icing sugar onto your muffin and secure your carrot decoration on top.
Adorable and delicious!
Egg-ceptionally Tasty Hot Cross Buns
It wouldn't be Easter without these traditional Easter treats. Best served hot, nothing compares to a homemade hot cross bun!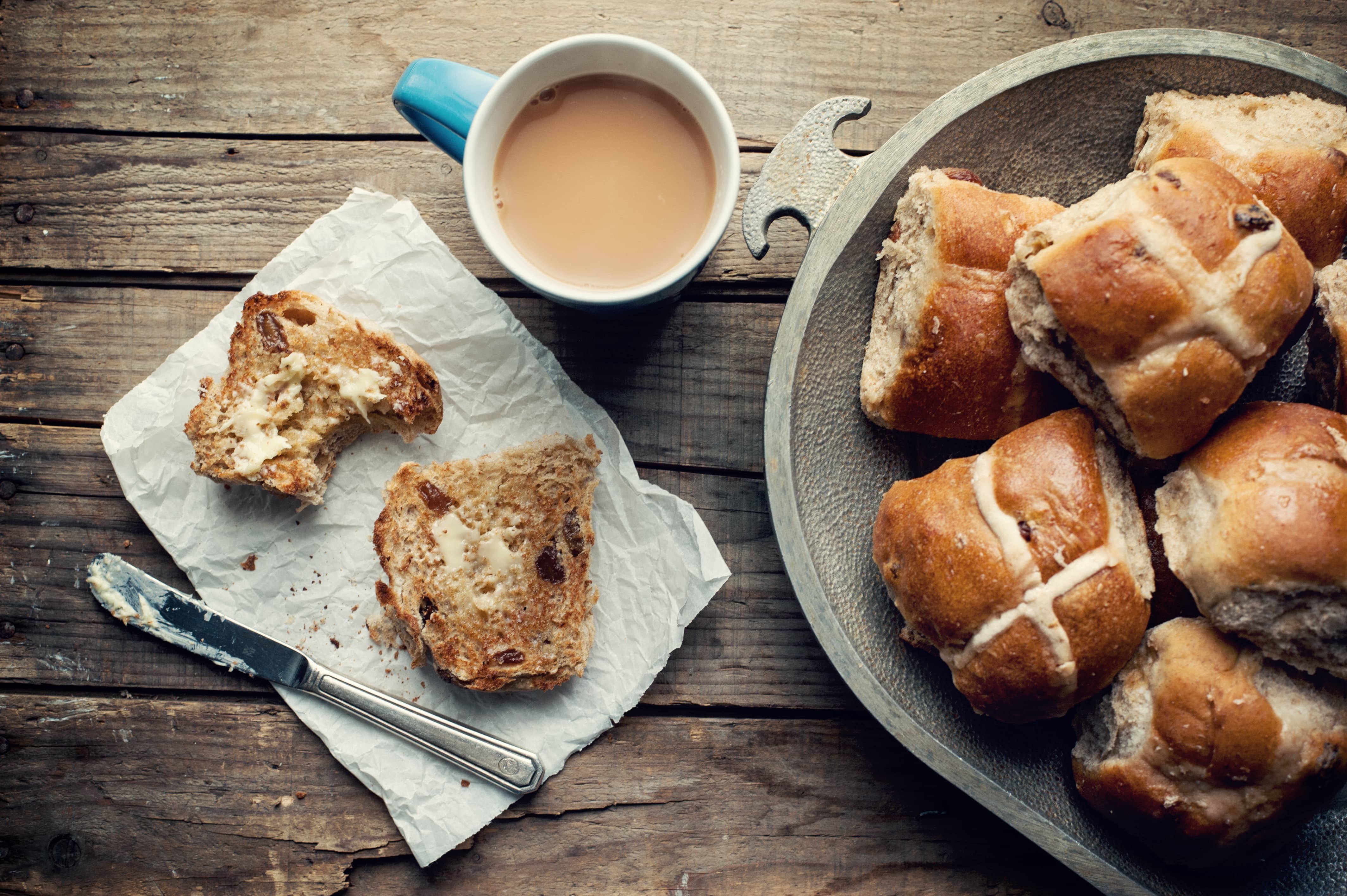 You'll need:
500g of bread flour
½ tsp of salt
A small packet of dried yeast
50g of caster sugar
50g of butter
200ml of milk
2 eggs
200g of mixed dried fruit
3 tsp of mixed spice
Honey or golden syrup, for glazing
Step 1: Mix the flour, salt, spice and sugar together.
Step 2: Use your hands to rub the butter into the flour mix, then stir in the dried fruit and yeast.
Step 3: Warm the milk slightly (it should be hot, but not boiling) then beat it together with the eggs. Pour the milk-egg mixture into the flour mixture. Stir all the ingredients together to create a moist dough, then leave it to rest for 5 minutes.
Step 4: Take the dough out of the bowl and place onto a floured surface. You should then cut the dough into 8 equal pieces, and shape them into buns.
Step 5: Place the buns onto a baking sheet, cover with cling film and leave them to prove in a warm room for about an hour.
Step 6: When the dough has risen, preheat the oven to 220 degrees (fan) or 200 degrees (gas).
Step 7: Before baking, you'll need to decorate the buns with their crosses. Mix 3 tablespoons of flour with 2 tablespoons of water to create a paste, then pipe the paste into a cross shape on top of each bun.
Step 8: Bake the buns for 12 to 15 minutes until risen and golden. Once cooled, brush the top with honey or golden syrup.
You can enjoy these fresh, or have them toasted with melted butter. Delicious!
Cracking Easter Biscuits
If you prefer biscuits over cakes, then this Easter baking recipe is for you!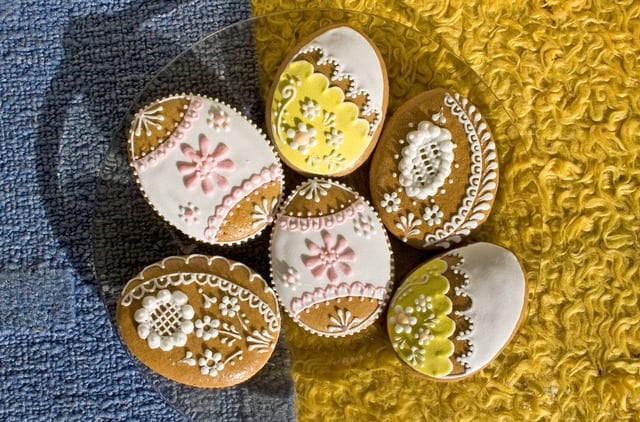 You'll need:
400g of plain flour
150g of caster sugar
200g of softened butter
2 large eggs
1 tsp of ground cinnamon
1 tsp of mixed spice
4 tbsp of milk
250g of icing sugar and 2 tsp of lemon juice, for the icing
Step 1: Preheat the oven to 180 degrees, then lightly grease two baking trays lined with baking paper.
Step 2: Mix the butter and sugar together, then beat in the egg yolk. Sieve the flour and spices into the mixture, then gradually add the milk until the dough is soft. Mix.
Step 3: Take the dough out of the bowl and place on a lightly floured work surface. Knead the mixture lightly, then roll it out to a pound coin thickness. Using a biscuit cutter of your choice (bunnies, chicks or Easter eggs all work), cut out as many biscuits as you can.
Step 4: Place the biscuits on the baking trays and bake for 10 to 15 minutes, then leave to cool.
Step 5: While the biscuits cool, make the icing. Mix the icing sugar with the lemon juice, then gradually add about 2 tablespoons of water into the icing until it's stiff but smooth.
Step 6: Spoon the icing into a piping bag and decorate your biscuits. You can even add a little food dye to the icing to give your biscuits some colour.
Step 7: Leave to set, then enjoy with a hot cup of tea.
And that's all yolks! I carrot wait for you to try these Easter baking recipes! Let me know which one was your favourite on our social channels, and don't forget to share your pictures with us @glossyboxuk!
P.S. Sorry for all the puns, I couldn't resist.
Subscribe To GLOSSYBOX
Fancy an Easter treat? Subscribe to GLOSSYBOX now to receive a mystery box filled with 5 incredible beauty products!