Have you heard? This month, we've partnered with beloved tea, coffee and hot chocolate brand Whittard to indulge your dark side this October. You'll not only find an extra tasty treat inside your box, but we're giving you the chance to win a a year's supply of hot chocolate!
Enter Our Competition
Included in the prize are 12 mouth-watering flavours to suit every mood. We're talking Salted Caramel, Orange, Rocky Road and Peanut Butter, all the way to Strawberry, Raspberry Ripple and Mint. Not to mention the Luxury hot chocolate, Luxury White hot chocolate and Mocha flavours.
If you want to win a year's worth of hot chocolate and a year's GLOSSYBOX subscription, simply enter the competition below. Good luck!
THIS COMPETITION HAS NOW CLOSED
An Extra Treat In Your Box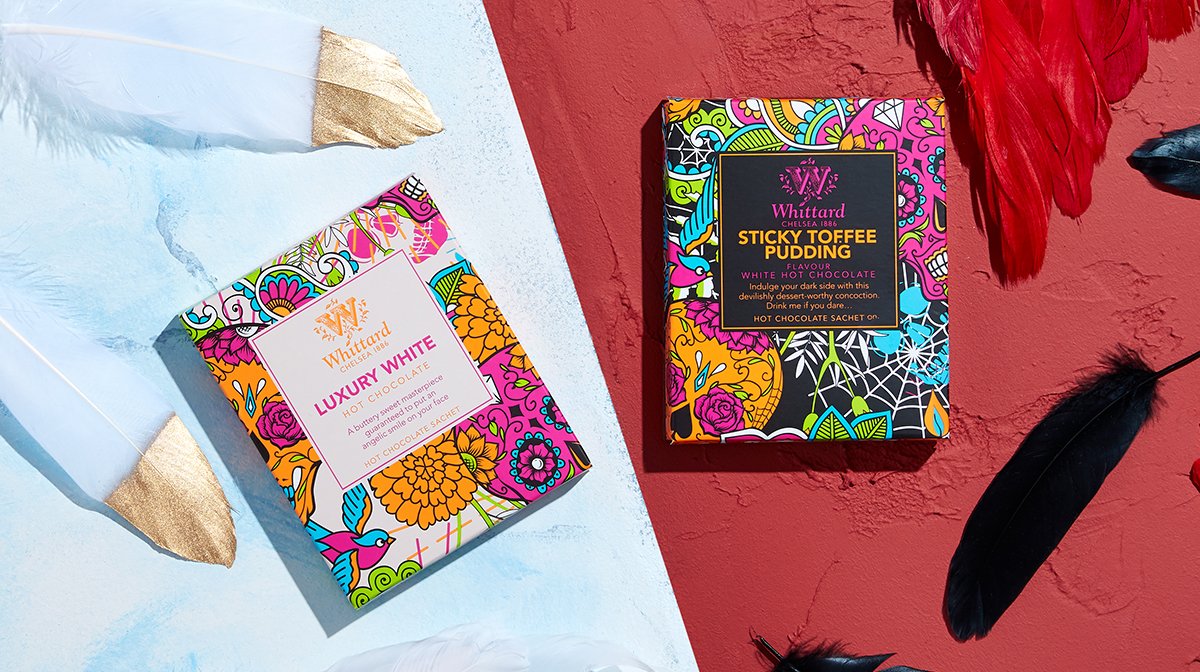 Just in case you needed another reason to love your GLOSSYBOX this month, you'll be pleased to know that we've added an extra tasty treat from Whittard inside. That's right! This month, you'll receive a delicious white hot chocolate!
Either a dessert-worthy sticky toffee pudding-inspired white hot chocolate
Or a luxury white hot chocolate brimming with buttery sweetness
Which one will you receive?
Whittard's Christmas Range
It just keeps getting better Glossies! Whittard's new Christmas collection is now available to buy from their website.
♥ Secret Santa Gift Ideas
Finding a secret santa gift that appeals to everyone can be hard (particularly if you're on a set budget of £10 or less). Luckily, Whittard's mini caddies are a great choice (and they only cost £8)!
Opt for their:
Alternatively, Whittard also sell 3 biscuit tins costing between £8 and £16:
♥ Tree Hangers And Stocking Fillers
Putting up and decorating the Christmas tree has to be my favourite thing about the festive season. If you're tired of traditional decorations or want to adorn your tree with a mouth-watering treat, you should explore Whittard's Christmas bauble range.
Choose between a:
Retailing at just £7, they make great tree decorations and stocking fillers!
♥ Gifts For Tea Lovers
If you have any friends or family who are obsessed with tea (I mean, who isn't?), then Whittard also have a couple of items that would make terrific gifts!
A Winter's Tale Of Tea: Filled with 6 different blends, this tea-riffic (sorry, I couldn't resist!) box is the perfect way to sample a range of new flavours

. It includes Cranberry & Raspberry, White Chocolate, Chelsea Breakfast, Mulled Wine, Shanghai Chai and Pumpkin Spice. You can get yours for £25

here

.

A Feast Of Tea: Alternatively, their Christmas collection also includes a display box filled with 8 kinds of tea (with 5 tea bags of each). Among them is English Rose, Marrakech Mint, Christmas Tea and Mango & Bergamot. The perfect accompaniments for mince pies, you can buy yours for £18 here

.
Now that you've got all of your Christmas presents sorted, don't forget to enter the GLOSSYBOX X Whittard competition at the top of the page. The competition closes on the 31st of October!
Subscribe To GLOSSYBOX
To enjoy an indulgent chocolatey treat from Whittard, as well as five must-have beauty products, subscribe to GLOSSYBOX and order our 'Angel or Devil' edition now!