October is just around the corner, which means embracing our new Hidden Places edit! It's time to embrace the cozy season with a fresh and fabulous look whilst finding undiscovered beauty secrets with the products inside this month's special design box. Hidden Places is your passport to the world of beauty upgrades, with everything you need to create fantasy this October. Get ready to elevate your beauty routine and unlock the secrets of radiant fall beauty, featuring renowned brands like Pixi and Revolution! 
---
Pixi  
A brand that's all about celebrating your unique beauty and enhancing what's already stunning about you. Their mission is simple: to make you look like the best version of yourself! With a commitment to youth-enhancing, multipurpose products, Pixi is here to help you shine brighter. 
Pixi – Brow Tamer 
The Pixi Brow Tamer is your go-to solution for those brow-perfecting moments. This long-wear brow beautifier is the ultimate finishing touch to elevate any brow look. It defines and shapes your brows instantly, giving you that polished, put-together appearance. What's even better? The soothing formula is enriched with Aloe Vera and Panthenol to condition your brow hairs and deliver a natural, soft effect. Plus, it's Paraben-free and cruelty-free, so you can feel good about your beauty choices! 
---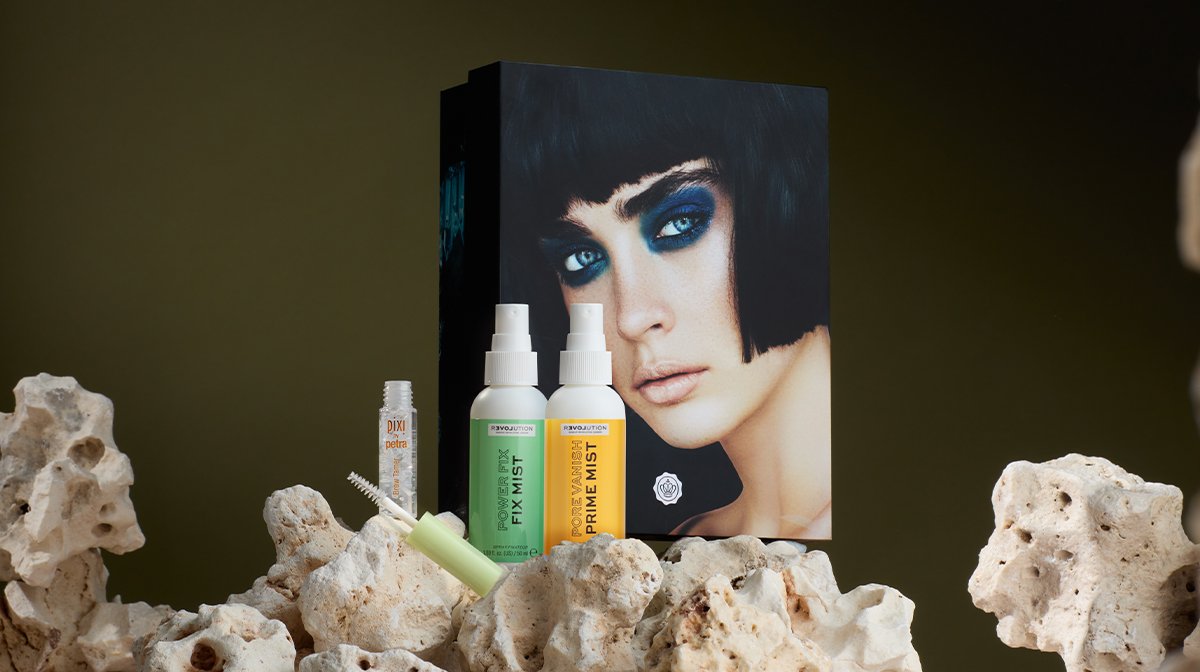 Revolution 
Revolution Beauty is on a mission to create incredible, cruelty-free beauty products that are accessible to everyone. They're dedicated to bringing you the latest ingredients, technology, and formulations, breaking down barriers that may have held you back from enjoying beauty to the fullest. 
Which will you receive? 
Revolution ReLove Power Fix Mist 
Achieve makeup that lasts all day with Revolution's ReLove Power Fix Mist. This weightless fixing mist is your secret weapon for long-lasting beauty. Infused with hydrating hyaluronic acid, it keeps your skin refreshed and moisturised throughout the day. The light finish and delightful fragrance will have you feeling like an autumn goddess. To use it like a pro, simply hold the mist about 10-15cm away from your face and spray in an X and T formation for optimal application. Get ready to turn heads and make a lasting impression! 
Revolution ReLove Pore Vanish Prime Mist 
For a flawlessly smooth finish, Revolution's ReLove fixing mist is a game-changer. This weightless spray will not only set your makeup in place all day but also create a seamless, pore-free canvas. The delicious scent and ultra-lightweight feel on your skin make it a must-have addition to your makeup bag. To use it like a pro, hold the fixing spray approximately 10-15cm away from your face and spray in an X and T formation. Get ready to blur those pores and shine all day! 
---
Subscribe To GLOSSYBOX!     
Subscribe now to get your very own October 'Hidden Places' GLOSSYBOX.          
Once signed up, you'll not only start receiving our monthly boxes, but you'll also get plenty of other benefits too. Glossy Credit, discounts on our Limited Editions and the GLOSSYBOX Skincare range… there's so much to take advantage of!    
---