When we think of an iconic look that'll forever stand the test of time, we think of nothing other than a stunning winged eye.  
From Elizabeth Taylor in Cleopatra to Amy Winehouse singing her heart out on stage, this much-loved eye look is something we want all Glossies to enjoy too – which is where our second sneak peek from Illamasqua comes to hand! 
Have All Eyes On You Thanks To Illamasqua!
Bold, eye-catching looks that'll never go out of style could not be easier with the Illamasqua Mini Liquid Eyeliner. 
Creating sharp, colour-intense lines with ease, the unique formula of this liner is seriously smudge-proof. Meaning whether you've mastered an intricate eye look or fabulously feline flicks, your liner is staying put!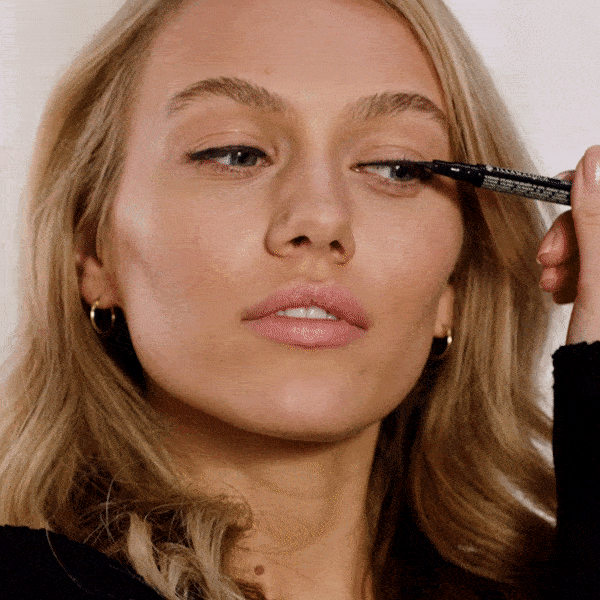 Winged Eyeliner How To…
Perfecting your eyeliner look might take practice, but we promise with these simple steps it won't be long until you're applying your wings like a pro! It's as easy as:
Create your outline with shadow

 

Apply your liquid liner

 

Add shadow to vamp up your look

 

Finish with your favourite mascara

 
Step 1: Create your outline
Whether you're a beginner or you've done this a million times, we suggest starting your look by creating a subtle outline you can follow with your liner. Using an angled brush, apply a dark shadow (we say brown or grey) across your top lash line, extending it out to create your desired length and flick. 
Step 2: Apply your liquid liner
Next, with your Mini Liquid Eyeliner, follow this outline. Draw over your shadow with a steady hand until you've perfected the look you're after. And when one eye is done, do the same on your other!
Top tip: To make your wings crisp and graphic, use a cotton bud to sweep up from under the wing to sharpen the point.   
Step 3: Add more shadow
Want to add more depth to your look? Taking the same eyeshadow you used in step one, apply it along your lower lash line with a small brush. Focus more on the outer corner for an intense finish, adding definition to your overall makeup look.
Step 4: Finish with mascara
Finally, your eye look wouldn't be complete without a coat (or few!) of mascara. Lengthen, volumise and curl your lashes and your look is good to go!
Shop And Save With Illamasqua!
Want to treat yourself to more Illamasqua bestsellers and save when you do so? From February 1st to February 28th 2022, you can get 20% off* across illamasqua.com, simply by using code GLOSSYBOX20 at checkout! (*exclusions may apply).
Or, if you're a subscriber and want to save 20% off, plus get an extra treat with your purchase too, head to the Glossy Lounge now to find out how!
Another February Sneak Peek!
So, you now know all about our Illamasqua sneak peek, but are you clued up on the other? We've also got the fabulous The Ritual of Mehr Sparkling Hair & Body Mist from Rituals Cosmetics in this month's box! 
Want to know more? Have a read of our first sneak peek blog immediately! 
And, whilst you're at it, be sure to read our 'Timeless Treats' Story Behind The Box blog too! 
Subscribe Now!
Want to get your hands on our two 'Timeless Treats' sneak peeks as well as the three other (currently) secret products inside this edit? Subscribe to GLOSSYBOX right now! 
As a Glossy, you'll get loads of benefits. On top of receiving our monthly boxes, you'll also get the chance to earn Glossy Credit, access to the Glossy Lounge and discounts on our Limited Editions and the GLOSSYBOX Skincare range. 
Don't forget, as an avid blog reader, if you become a Glossy today you can get your first box for only £11, including delivery! Just use code 'GLOSSYBLOG' at checkout!