Let's celebrate spring Glossies! Featuring two special design boxes, our vibrant 'Fruity or Floral' edit is bursting with fruit-inspired formulas and blooming with flowery fragrances. Which will you receive?
This April, we've lovingly selected 5 lusciously-scented products, including revitalising botanical skincare, nourishing fruity lip care and an exclusively-packaged perfume. Plus, we're also treating you to an extra gift!
What's In Our 'Fruity or Floral' Edit?
Wake Up To Great Skin
The first sneak peek from your 'Fruity or Floral' edit is an energising and regenerating sleeping mask by Dr. Botanicals. Boasting an all-natural and vegan formula, it deeply nourishes and hydrates your skin, leaving you with a refreshed complexion. Better yet, all you need to do is apply it before bed and let the face mask work its magic while you sleep.
Find out more about this product here.
Your Second Sneak Peek: A Tinted Lip Balm
Forget boring, colourless lip balms! Your April box will include a tinted lip balm that moisturises and nourishes your lips, while also adding a touch of colour to your pout. Best of all, it's multipurpose! You can use it to give your lips a glossy finish, or apply it to your cheeks for a fresh and rosy look. Keep on eye on the blog for the full reveal.
Fruity Or Floral Fragrances
We'll also be treating you to a fresh and feminine perfume this month! You'll either receive a woody and floral scent, or an exotic and fruity fragrance. Either way, the bottle will have been specially designed to match the design of your box. We can't wait for you to try them!
An Extra Treat!
We've also included an extra treat inside our April 'Fruity or Floral' edition! You'll have to wait until your box arrives to discover what it is. In the meantime, …
Big News: GLOSSYBOX's April's Fool
For April Fool's we tried to convince you that we had come up with a new delivery service to bring you your GLOSSYBOX even faster. Did we fool you?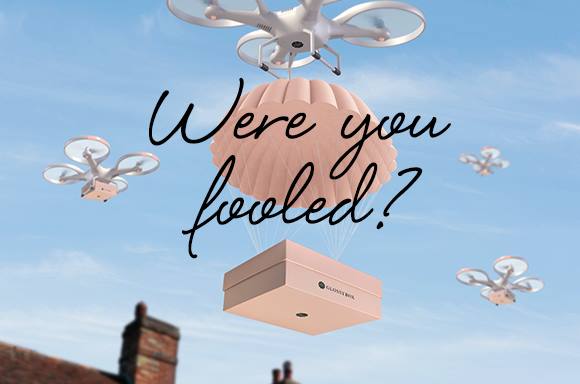 Here 6 Other Exciting Things Happening This Month
1. Our Limited Edition Easter Egg Is Coming Soon
If you haven't already heard, we're launching our first ever Easter Egg! Filled with some of your favourite brands, including Pixi, Benefit and St Tropez, this beauty egg is not to be missed! It will go on sale on Tuesday 9th of April. I've already revealed the first three products (click here to find out more), or you can read The Story Behind The Easter Egg for more information.
We'll also be hosting an Easter Egg edition of our Facebook Live Tuesday, 9th of April at 7pm. Lois and our professional makeup artist Lucinka will be unboxing all the products inside our special Limited Edition.
2. Win Over A £100 of Guylian Chocolate Treats!
On Friday, 19th of April, we'll be hosting a competition on our social channels and giving you the chance to win our Limited Edition Easter Egg and £100 worth of Guylian chocolate! Keep an eye out for the competition!
3. I've Found The Best Outfits For The Races
For those of you who'll soon be on the hunt for a gorgeous outfit to wear to the races, don't worry, I've got you covered! I've found this season's hottest dresses and fascinators that will make you the star of the show!
4. The GLOSSY Lounge Is Here
We've got some incredible offers for you in the GLOSSY Lounge this month from top brands like Remington, Ray Ban, NastyGal, Boost and more!
On the 15th of April, we'll be introducing a brand new selection of amazing deals from must-have beauty, fashion and lifestyle brands. Stay tuned!
To enjoy the VIP experience, simply log into your subscriber account and shop the offers.
5. Our Facebook Live
It's such a pleasure interacting with you Glossies during our Facebook Lives each month. We love being able to answer your product-related questions and share all our insider tips and tricks. In March, over 160,000 thousand beauty lovers joined us!
This month, Lois and the Glossy Team will be hosting our live unboxing on Monday, 15th of April. They'll give you the lowdown on all the products in our 'Fruity or Floral' edit. Plus, they'll be giving you the chance to win an amazing bundle of prizes. Don't forget to tune in!
6. Download This Gorgeous Phone Wallpaper
If you're on a mobile phone, just press down on the images until the options menu pops-up and select 'download image'. If you're on a computer, simply right-click on the image and select 'save image as' to download this gorgeous calendar.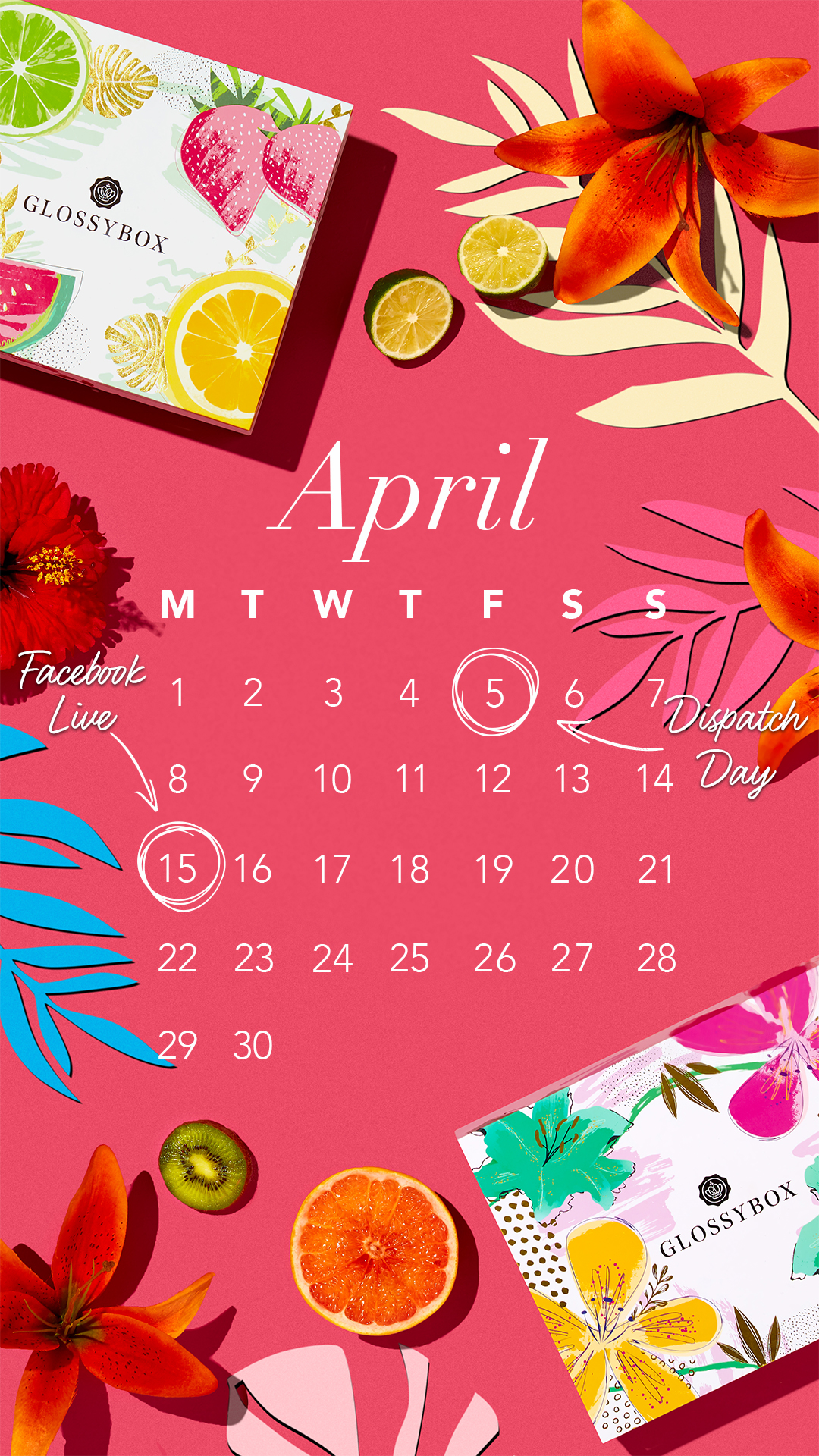 Elle's Good Vibes: Feel Good Inside And Out
Hi Glossies! This month your GLOSSYBOX will be filled with all the products you need to look and feel good on the outside, so I'll be sharing delicious smoothies and milkshake recipes to help you feel good on the inside too! From exotic tropical fruit flavours, to classic strawberries and banana blends, keep an eye on the Beauty Unboxed blog for my favourite refreshing drinks. #stayGLOSSY
Join The Glossy Family
Our 'Fruity or Floral' edit is filled with 5 lusciously-scented products bursting with fruit-inspired formulas and blooming with flowery fragrances. Don't miss out. Subscribe now!