I come bearing fantastic news, Glossies… Naked Lush has come to Britain! On Friday, January 18th, the UK's first plastic packaging-free cosmetics shop opened its doors on Market Street in Manchester. A revamping of the old Lush store, it sells innovative and plastic packaging-free skincare, haircare and makeup products– so of course, I had to go along to check it out!
What Is Naked Lush?
You've probably heard of solid shampoo bars before, but Lush have taken no-packaging cosmetics to a whole new level. Their Naked Lush collection is a range of solid and biodegradable alternatives to your favourite beauty products. From makeup to facial oils, and cleansers to shower gels, they've got all your basics covered. Here are a few of my favourite products…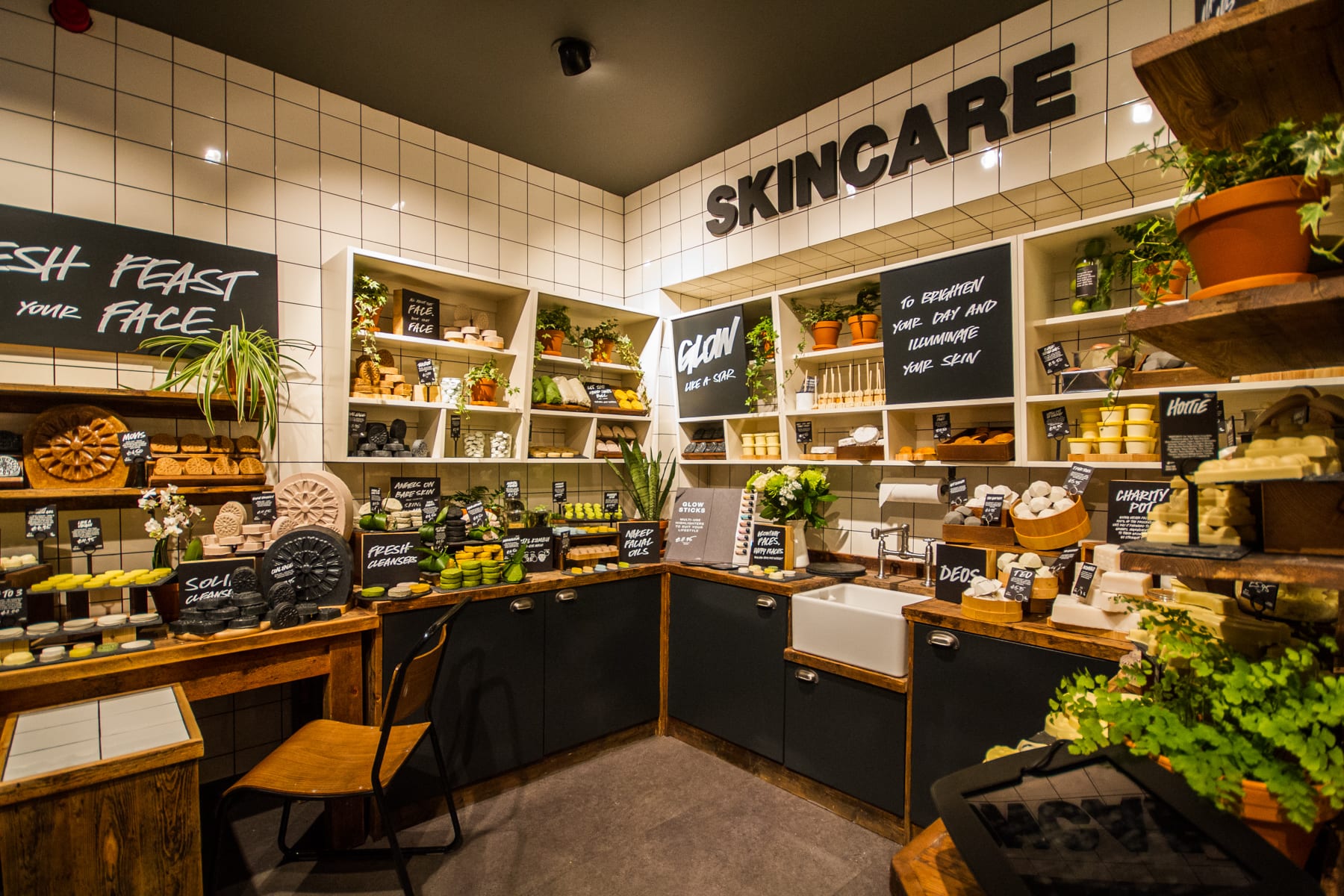 Discover Lush Makeup
Yes, you did read that right, Glossies. Lush have a Naked makeup range and it is amazing!
The Glow Stick Solid Highlighter
It's safe to say that highlighter is a makeup essential. Luckily, Lush have launched a new naked highlighter that is good for your skin and great for the planet.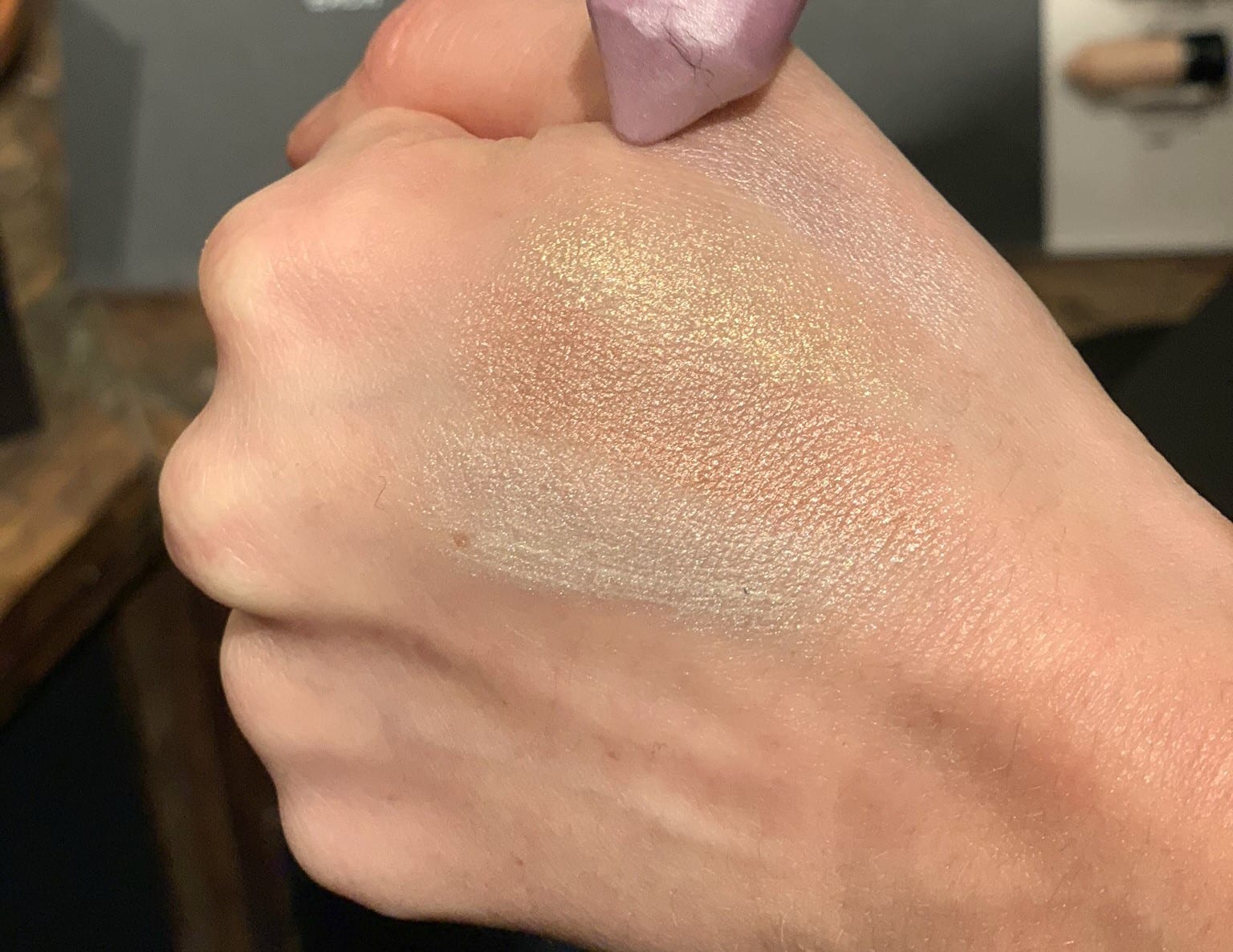 Wrapped in a recyclable cardboard box and a biodegradable wax seal, the Glow Stick is available in 10 different icy hues. Just glide it across your skin, then blend for a smooth finish. The colour payoff is truly amazing!
Combining brown and bronze pigments, this moisturising cocoa and shea butter Body Tint bar gives you a shimmering radiance. Apply it straight to your legs and arms to even out your tan, or use it as a contour and bronzer to accentuate your facial features and to get an extra golden glow.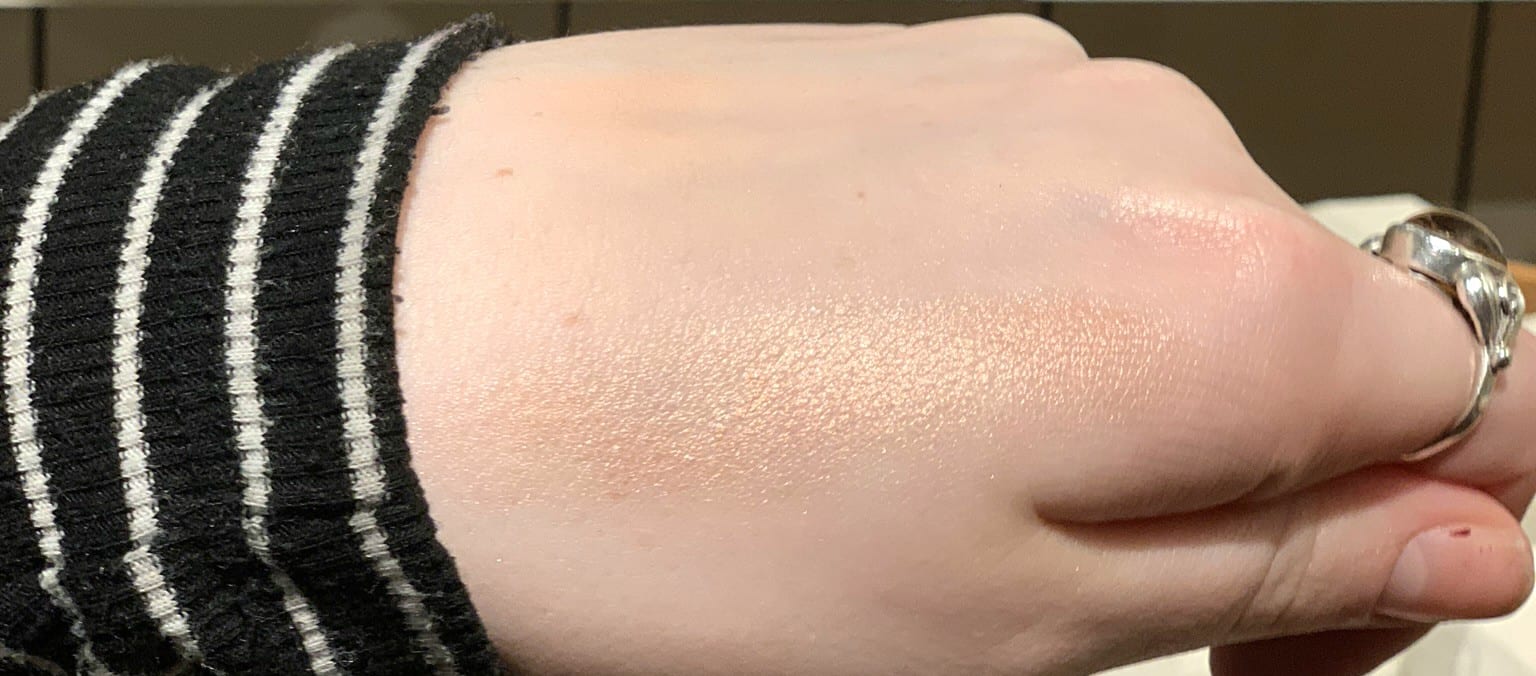 Insider Tip: While these two makeup products are available in Naked Lush stores, there's also a selection of naked foundations and refillable lipsticks made from recycled packaging available on their website.
My Favourite Skincare Products
I'm obsessed with skincare, so it's no surprise I spent ages testing out their cleansers, toners, primers and oils to pick my top three products…
Forget facial wipes and cotton pads, Lush have created a reusable and biodegradable makeup removing equivalent!
Made from ground cannelloni beans, fresh dove orchid infusion and balancing ylang-ylang, the 7 To 3 Cleansing Wipe is the solid version of the Lush 9 to 5 cream cleanser. It works just like a normal wet wipe. Simply splash your face with water, wet one corner of the pad and glide it across your face and eyelids to remove makeup and cleanse your skin. Wash away with warm water, then tone and moisturise.
Insider Tip: I spoke to Lush inventor Gary who said it was his favourite skincare product. Though this cleansing wipe usually lasts up to 5 uses, he claims to have used his a dozen times and it's still going strong!
Sleepy Face Cleansing Balm
I just love this Sleepy Face Cleansing Balm. It's a luscious blend of Fair Trade organic coca butter, balancing jojoba oil and gentle almond oil that soothes and softens my skin. I tried it on one of my hands in the shop… I'll let you guess which one.*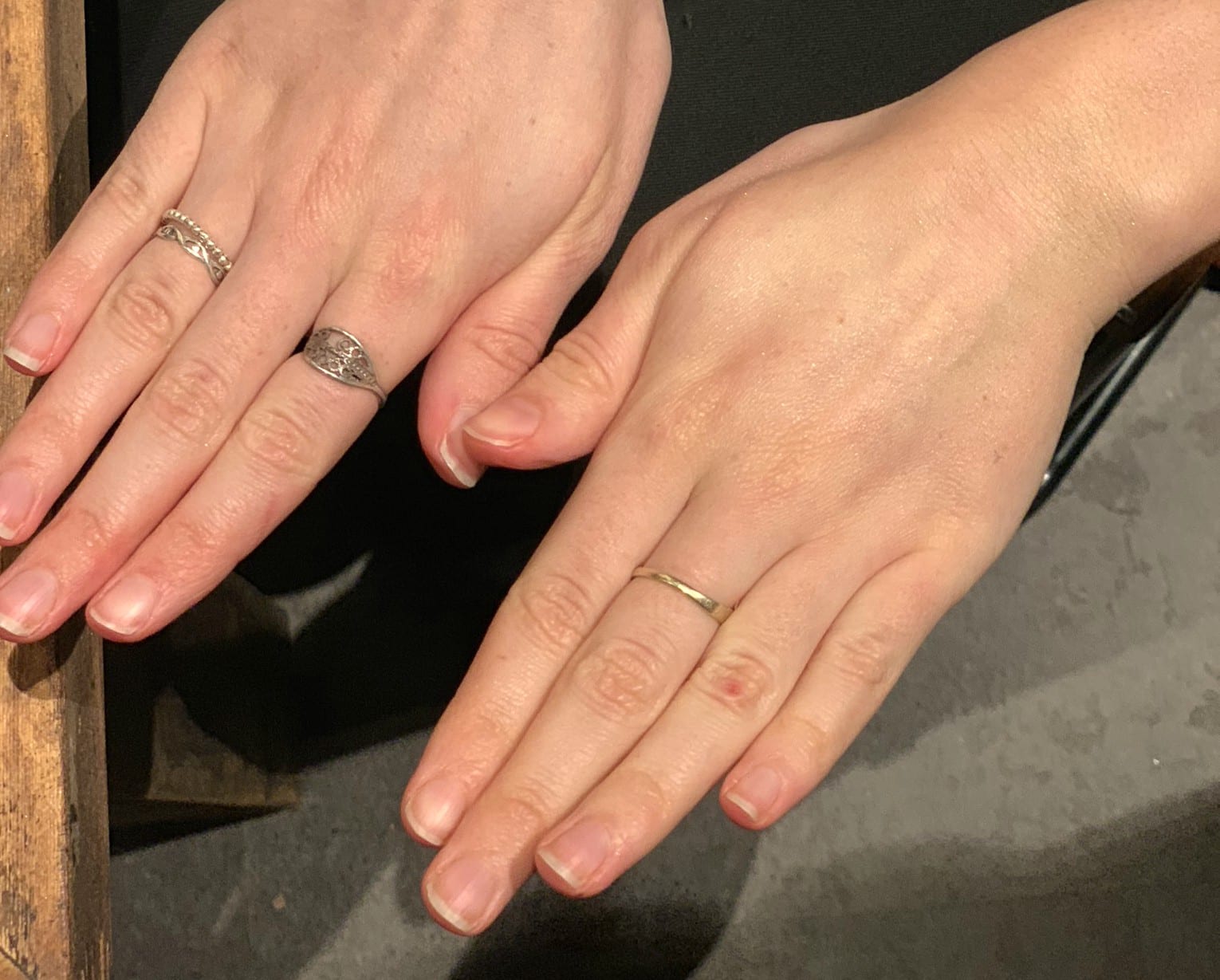 I always end the day by cleansing and massaging my complexion. Simply apply the balm straight to your face, massage gently into your skin, then wipe the lather away using a damp face cloth.
*hint: it's the glowing one on the right!
I still can't get over how effective this Banana Skin Facial Oil is! Boasting a creamy formula filled with fresh banana, hydrating mango and tapioca flour, it genuinely melts like butter onto your skin. I rub it between my hands to create a shiny and golden oil, then sweep my fingers across my face and gently massage it in.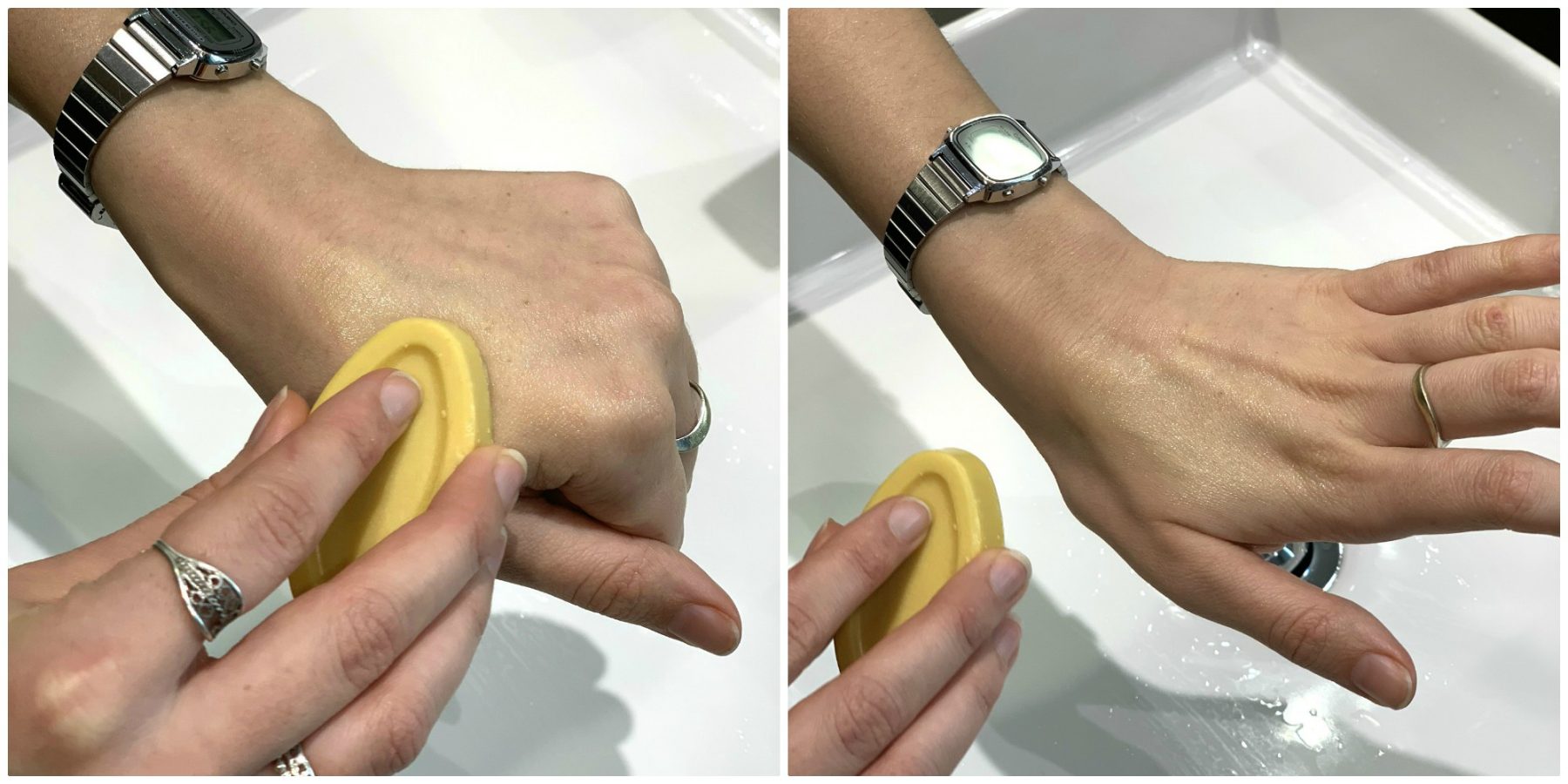 My skin is in serious need of some TLC and this facial oil never fails to hydrate and moisturise it. I've been using it after I cleanse in the evening, giving my skin time to soak in all the goodness overnight. I've been waking up with a lovely, healthy complexion.
Introducing The Lush Labs App
I also spoke to digital developer Adam, who showed me Lush's latest technological innovation. He's currently working on Lush Labs. Similar to facial recognition, this app uses your phone's camera and a Machine Learning system to recognise a product and provide relevant information, including ingredients and how-to demonstrations. Still a work in progress, it should be widely available soon.
Join The Glossy Family 
We love sharing the latest beauty news with you. Don't forget to subscribe to stay up-to-date with all the trends and receive our amazing monthly boxes! Our February edit includes a luscious HUDA Beauty Lip Contour!