It's the month to rejuvenate and refresh your mind, skin and body, so we just had to try out a fantastic new skincare range for this week's #TeamTries. Here is our Glossy verdict on the Bio-Extracts Skincare Range, which was featured in our Beauty Case (now sold out)! The range consists of 10 ultra-strength boosters that target our specific skin concerns. You mix your booster with one of the three moisturisers – light, rich and normal.
The Science Behind The Range
This vegan and cruelty-free range was founded by Russian mother and daughter duo, Marina and Irina, who come from generations of award winning scientists. They were inspired by the all-natural skincare used by remote tribes during their travels to remote parts of Sub-Saharan Africa, South America and Asia. So, they decided to develop their own range using the best of what plants have to offer!
How It Works: The Glossy Test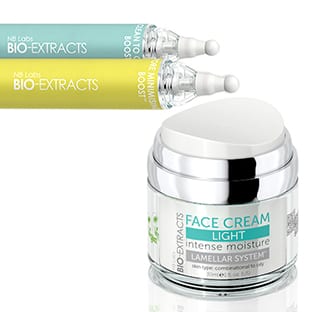 I tried the Problem Skin Set, which includes the oil absorbing light moisturiser, the pore minimising booster and the clean to clear booster, £59.
I was delighted that this strikes the perfect balance between being non-greasy and deeply hydrating as it's rich in sunflower oil that's rich in antioxidants and vitamins A, C, D and E.
The moisturiser alone is gorgeous as it sinks into your skin so quickly and smells so premium, not to mention the packaging and the cream dispenser, which I have never seen in another moisturiser – ticks all round! I loved that the moisturiser pumps out onto the lid which makes it easy to mix with the boosters.
Using this alone was a great experience as it controls shine and has a mattifying effect, making it perfect for a base under your makeup.
The Booster Serums:
I mixed 2 shots of this with one pump of the moisturiser. This booster works as a gentle exfoliating treatment, which helps to shed dead skin cells and prevent new breakouts. Plus, it contains salicylic acid, which also helps to combat acne and clear pores.
I was amazed that a cream could exfoliate as well as my usual scrub.
My face looked so fresh and I loved that I could moisturise with this and know it would be combatting any pimples at the same time. I used this in the morning under my makeup and before bed too.
I was so excited to try this as it claims to limit shininess (which I suffer from, especially on a night out) and reduce pore size – the dream! So, after using the clean to clear booster for a few days morning and night, I switched to mixing in this pore minimising booster.
This was a perfect base for my makeup because it's mattifying. But what you all probably want to know is was it really pore minimising?
It definitely gave me a flawless matte veil over my skin and the pores on my nose looked smaller.
I've got to say I was seriously impressed so what's not to like?
The Glossy Verdict
We love that you can swap and change the boosters as little or as often as you like to suit you, whatever your age, whatever your skin type.
This range ticks all the boxes – you can personalise every aspect, it smells so luxurious and the packaging is so 21st century.
Why don't you try the range for yourself? We've secured a special discount code so you can try the range for yourselves with 25% discount!
Just use the code glossy25 on their website!
Not a GLOSSY? What are you waiting for? Subscribe from just £10 a month.