When it comes to makeup secrets, how to get everything from your foundation to your contour and eyeshadow to last not just the day, but all night too, might be the ultimate hack.
We've come across a new trick for longer lasting makeup, we just have to share! This time it's a new breed of makeup setting spray that we've discovered.
If you've tried dipping your toe into the world of setting sprays before, only to be a tad disappointed by the drying effects on your skin, the potential for breakouts and that slightly strange 'chemical' smell, forget what you thought you knew. The new breed is here to change all of that.
But before we tell you all about our awesome new fave, we thought this might be the perfect time to try some of the wackiest makeup setting tips!
Face Dunking
Jamsu, which means 'diving' or 'submerging', comes all the way from Korea. You may think we've all gone mad, but people are actually dunking their faces in water to set their makeup in the hope of achieving smooth and matte foundation all day long.
Makeup mogul Huda Beauty tried this trend after it was recommended to her by Bella Hadid, who apparently swears by it for flawless skin.
First you apply primer, concealer and foundation as usual, followed by loads of loose powder or baby powder (yes we do mean Johnson's Baby Powder, which is a lot cheaper than face powder at £1.29 for 200g).
You then dunk your face in cold water for 30 seconds.
Dab off excess water.
You then apply your eye makeup and lips as usual.
You supposedly have matte skin for the whole day but we are definitely sceptical. When we tried this it did NOT give the desired effect at all – it just left patchy powder marks everywhere!
Hair Spray
The age-old trick of using hairspray on your face as a setting spray is not a good idea. The alcohol in hairspray can cause your skin to become dehydrated, dry, irritated and can cause breakouts.
The Layering Effect 
It is so temping to apply layers and layers of foundation in the hope of it lasting longer. Plus, we then try to do Kim K style contouring and then finish off with a setting powder and highlighter. We miraculously think that after all this effort, our cheekbones will be popping, our jawline's will look like a supermodel's and we'll also have that dewy glow that everyone wants. But this only leads to one thing…the dreaded cakey look.
Looking for a safer way to help your makeup stay put? Well, we don't blame you.
Hydrating Makeup Mist
Introducing your 'Galentine's Day' box sneak peek.
Ever since we discovered the new Studio 10 Makeup Mist Glow-Plexion (£17.65 for 20ml), hydrating makeup mists have become our favourite thing. A skin nourishing blend of vitamin C-rich pomegranate and Arctic root, this spray acts as a primer to moisturise and plump the skin before makeup, a lightweight setting spray to help everything stay put, as well as a brightening hydrating mist to refresh your complexion whenever you need a little pick-me-up.
Who doesn't love a multi-tasker?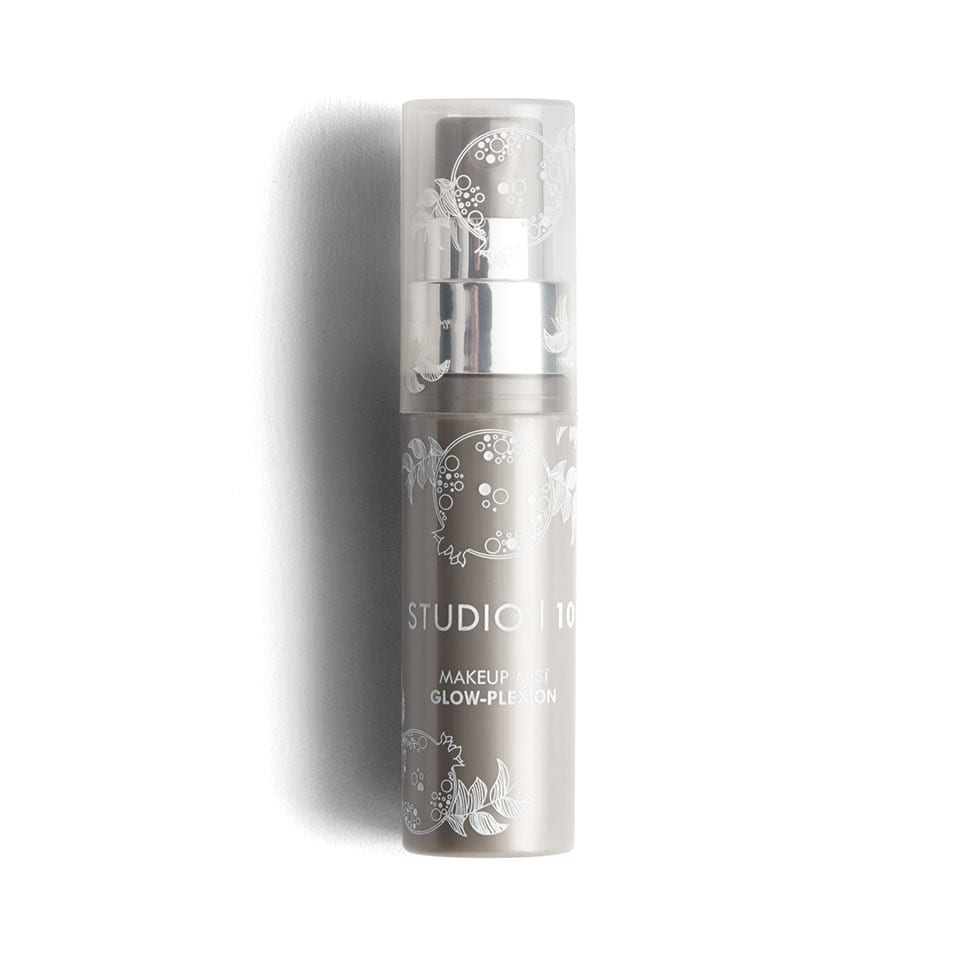 Love this? For more beauty tips, news and tutorials see what's new on Beauty Unboxed today.