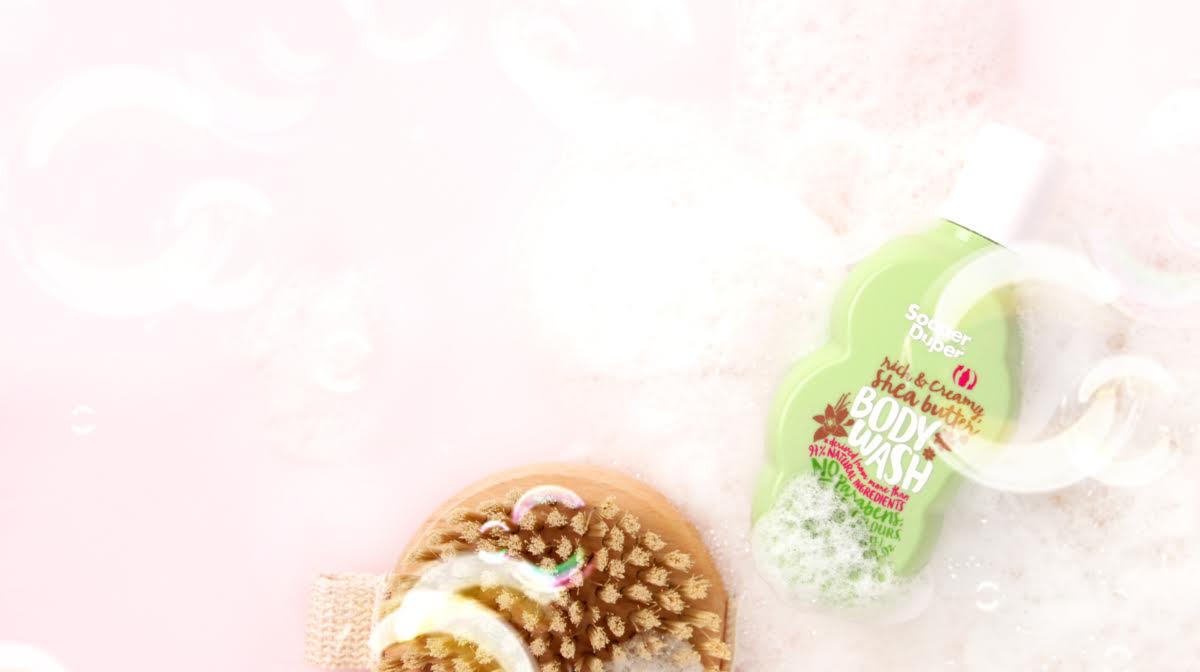 When it comes to the best beauty products for sensitive skin, it all comes down to what's inside the bottle. And we're not talking textures here—whether it's a rich and creamy body butter, a light gel cleanser or a gloriously soapy body wash, the ingredients that have gone into the formulation are what will ultimately decide if your skin keeps its cool or not.
If you happen to suffer from eczema, rosacea, dermatitis or psoriasis, you'll know just how important it is to check the ingredients list on any new beauty buy before slathering it on. Which is exactly why we're always happy to discover new brands that put transparency front and centre—enter Souper Duper. From scrubs and butters to lotions and body washes, the brand has all your bathroom basics covered, with naturally-derived formulas that are easy to translate (no chemistry degrees needed here).
So who better to help us build the ultimate sensitive skin checklist? Keep reading for the go-to list of skin-friendly ingredients you'll want to look out for if your skin is prone to angry outbursts, plus a few of the most common skin irritants Sopaer Duper make it their business to avoid.
1. Soap Bark
Often it's the soapy, foaming agents in body washes, shampoos and bubble baths that can cause skin irritation for sensitive types. So to avoid showertime dramas, Soaper Duper have swapped popular synthetic soap suds like Sodium Laureth Sulfate (SLS/SLES) and Cocamide DEA, for more gentle, plant-derived ingredients including soap bark and shea butter. They still get the job done and just so happen to smell utterly delicious.
2. Shea Butter
An incredible natural moisturiser, shea butter is a wonder ingredient for helping to replenish dry, chapped and sensitive skin. The folks at Soaper Duper use plant-based skin hydrators like shea and cupuacu butters plus macadamia, coconut and sweet almond oils, instead of potential irritants like mineral oil, which is petroleum-based, and palm oil—the farming of which is a huge factor in deforestation. They smell incredible and leave skin super soft.
3 Vitamin E
Vitamin E is always a star ingredient in sensitive skin formulations, because as well as helping to combat dryness, it also works to repair the skin's barrier: the top layer of your skin, crucial for protecting against bacteria that can cause irritation. If that wasn't enough, Vitamin E, which is often listed at Tocopheryl Acetate on ingredients labels, is also a natural antioxidant which can act as a gentle preservative—meaning you can say goodbye to harsher parabens, phthalates and MIT (methylisothiazolinone).
Love this? For more beauty tips, news and tutorials see what's new on Beauty Unboxed today.