November is the month for every GLOSSY to have a celebratory moment. In November we want everybody to celebrate their 2023 journey so far, celebrating and anticipating. IN November, GlOSSYBOX encourages you to cherish the year so far while also looking ahead, from Rodial to Bubble T, we have everything to give you a month to remember. So take a minute for you and celebrate with the 'CHEERS TO US' November edit!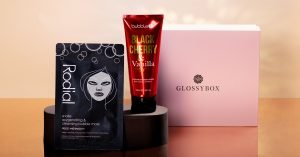 ---
Bubble T 
Inspired by the bubble tea phenomenon and the benefits of using tea-based properties in bath and beauty, Bubble T offers a range of innovative products accessible to all, regardless of age, location or budget.
Bubble T – Black Cherry & Vanilla Body Scrub
Celebrate this month by upgrading your shower routine to this cherished and cozy body scrub, leaving you with a silky finish and feeling. With a bold note of black cherry and a warm scent of vanilla, this body scrub is the perfect way to upgrade your winter shower routine. With the added help of using tea-based properties, you will achieve a natural glow! This body scrub will leave you having the silkiest soft skin.
---
Rodial 
Rodial is a hi-tech, innovative skincare and complexion brand. With a focus on product innovation and ingredient education, their products are designed to make you look and feel like the best version of yourself.
Rodial – Snake Oxygenating & Cleansing Bubble Sheet Mask 
Freeze and smooth your skin with this Snake Oxygenating & Cleansing Bubble Sheet Mask. With the added benefit of O2 bubbles, you will see the dead skin cells, excess oil and dirt are drawn out, leaving you with that GLOSSY finish. This face mask has all the celebratory ingredients; purifying bamboo, charcoal, vitamins a & e will applause your cleansing routine. Unclogging pores while leaving a layer of collagen & ceramide to seep into your skin adds the extra moisture you need in November, keeping you looking Glossy. This face mask will leave you feeling and looking flawless, so you can have that everlasting party glow.
---
Subscribe To GLOSSYBOX!     
Subscribe now to get your very own November 'Cheers to Us' GLOSSYBOX.          
Once signed up, you'll not only start receiving our monthly boxes, but you'll also get plenty of other benefits too. Glossy Credit, discounts on our Limited Editions and the GLOSSYBOX Skincare range… there's so much to take advantage of!    
---