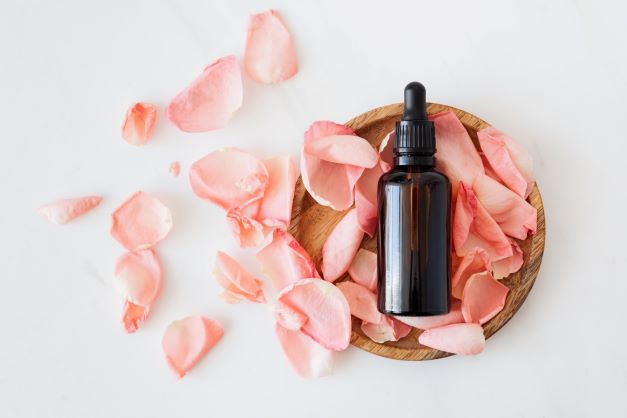 Has anyone else been intrigued by French skincare? There's so many posts on Instagram and TikTok and it's finally time we explore the tips & tricks from France! Skincare rituals are vastly different from culture to culture, but the French seem to be doing something particularly right. Unlike me, the French don't have a bathroom cabinet filled with hundreds of skincare products; they choose quality over quantity and they don't get distracted by all the new trends!
One of the main differences is the fact that the French don't generally wear a lot of makeup that can clog up pores and dry their skin out, so in regards to skincare,they don't need to use such a high volume of products. A good skincare routine fora French girl will involve cleansing, moisturising, putting on an SPF – so simple! But what is it about the French skincare routine that we want to know? Everything!
Let's discuss some of the skincare tips & tricks from France
---
1. Micellar Water is a must have
It's no secret that we all love Micellar water and this has actually been nicknamed 'France's best kept secret!' It originated in Paris in the 90s and it has since been the key skincare ingredient for many French residents. Micellar water contains tiny micelles which dissolved impurities on the skin like dirt, oil and makeup. The Brits love it just as much as the French do – it's an absolute skincare must have!
2. Red wine is GOOD for your skin
French residents love red wine and they have amazing skin! Is it a coincidence that they go hand in hand? Red wine is full of antioxidants which are anti-inflammatory, they restore cells and help your skin produce collagen. We're not saying to drink bottles of red wine everyday (sorry to be the bearer of bad news!!) However, the ingredients in red wine are known to improve your skin, so surely a glass of wine every now and again won't hurt, right?
3. Less is more
While we're over here loving the idea of layering up our skincare, the French actually prefer the opposite; less is more. The less you overwhelm your skin, the better it will be. We all have a handful of products we want to use daily, but the point is, not to pile them on your face at the same time – simple is key!
4. Reduce the exfoliation
The French tent to exfoliate a lot less than we do; they recommend twice a week MAXIMUM. They also use a more gentle exfoliator, such as an exfoliating cream with smaller beads in it so it's less harsh. This is because they would prefer to keep the skin's microbiome balanced without stripping it of it's healthy bacteria – again, this is why cleansing milk and micellar water is favoured!
5. Let the skin heal
Let's be honest, when we get a breakout, we immediately run to our skincare products to try and do whatever we can to get rid of it – it's fair to say, the French have a slightly different approach! They believe that it's better to let the skin heal on it's own rather than aggravating it with several different products that contains harsh chemicals. Maybe in the future, this is the approach we will take?
6. Be consistent
Does anyone else chop and change their skin routine? It's so easy to think that a product isn't working so you immediately change and try something else. Perhaps we should be more consistent like the French and stick to our skincare routine. It's a ritual in figuring out what works best and sticking with it. If they find a good skincare routine that works for them, that's it, they won't change it.
French Skincare Products
---
The French skincare routine is all about embracing the flaws, keeping the skin more natural while enjoying being able to look after your skin. France had produced some of the most well-known skincare brands out there such as La Roche-Posay, Caudaile, Avene and Vichy (plus many more!)
Now you know some of the best French beauty secrets, it's time to shop! We have put together a list of French skincare products for you to browse through!
Avène Les Essentiels Radiance Serum
Restore luminosity to a lacklustre complexion with Avène Les Essentiels Radiance Serum for Dull, Sensitive Skin. The revitalising fluid is infused with the brand's signature Thermal Spring Water to help soothe and soften sensitive skin types.
Caudalie Vinosource Overnight Recovery Oil
A 100% natural oil that works to repair the delicate skin on your face, the Vinosource Overnight Recovery Oil (30ml) by Caudalie is a botanical elixir that calms dry and sensitive skin. Formulated with jojoba oils, rosemary, grape, palmarosa, sesame and rose, this soothing oil comes complete with a dropper mechanism to dispense just the right amount of product every time
VICHY Purete Thermale Perfecting Toner
This gentle yet effective toner removes leftover impurities, reduces the size of pores, and leaves skin feeling cleansed and refreshed. Formulated without alcohol, this gentle formula contains antioxidant Vitamin E and hydrating glycerin. Leaves skin feeling comfortable.
La Roshe-Posay Micellar Solution Cleanser
Gently refresh your complexion with the Micellar Solution Cleanser from La Roche-Posay. Enriched with the brand's soothing Thermal Spring Water, its delicate formula eliminates dirt, make-up and impurities from the face, eyes and lips, without over-drying or uncomfortable tightness.
Lancôme Confort Hydrating Gentle Sugar Scrub 
Soften and refine your complexion with Lancôme Confort Hydrating Gentle Sugar Scrub, a delicate exfoliating scrub enriched with real sugar grains to gently buff away dead skin cells.
Embryolisse's Complete Serum offers comprehensive hydration and nourishment for everyday care. Highly concentrated in hyaluronic acid, the serum draws moisture to the skin, while lychee extract supports firmness and elasticity.
Caudalie Grape Water Pink Limited Edition
Soothe and refresh tired complexions with the Caudalie Grape Water Pink Limited Edition. Boasting 100% organic ingredients, this rejuvenating face mist helps to tone and moisturise the skin for a thoroughly hydrated, balanced and healthy-looking visage.
La Roche-Posay Effaclar Clay Mask 
Experience a deep and thorough cleanse with the La Roche-Posay Effaclar Clay Mask; a purifying formula that glides onto the face and is able to visibly unclog pores within just five minutes. The mask is suitable for all skin types but is ideal for those with oily and acne-prone skin.
Subscribe to GLOSSYBOX
You can buy any of these cleansing products and more by using your well-earned Glossy Credit. And how do you earn this? By being a Glossy and referring your friends, reviewing products and filling out our surveys. Want to start earning Glossy Credit? Subscribe to GLOSSYBOX today. Not only will you earn credit, but you'll also receive our beauty boxes straight to your door every month full of surprises!