We know many Glossies are mums. And we know, when pregnant (and when your baby is young), you're going to feel all the emotions. Excited, anxious, exhausted… However, you're feeling, we're here to remind all mums that the most important person to their baby, is them! 
Which means taking care of yourself is an essential part of taking care of your baby!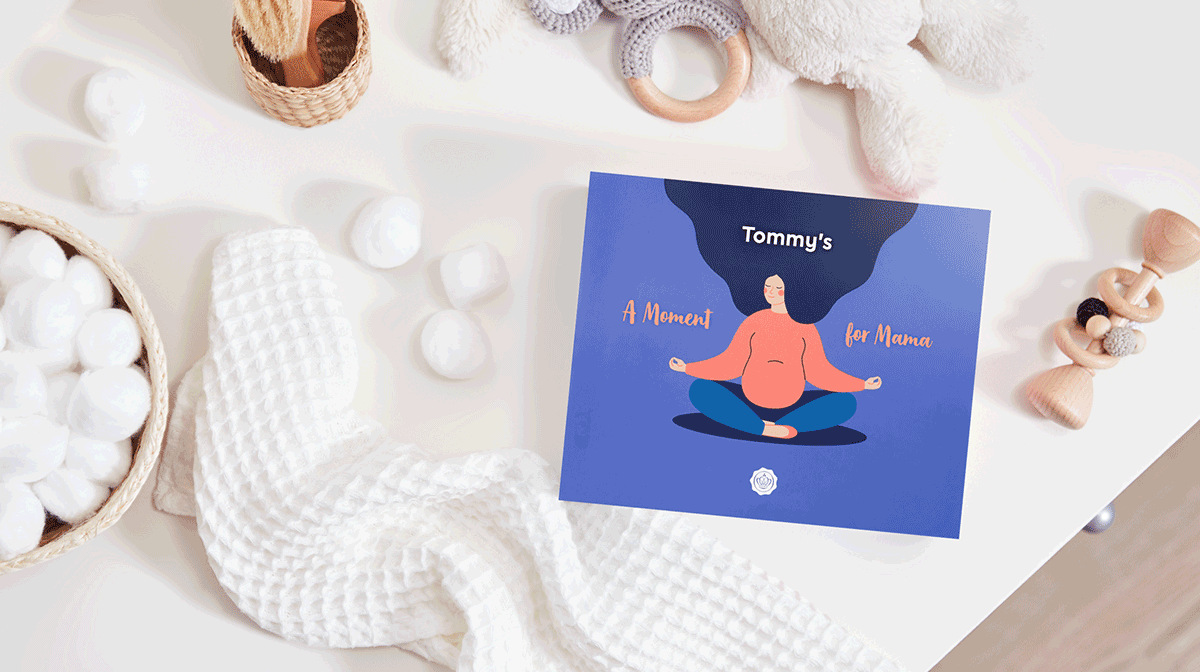 The Story Behind Our Moment For Mama Limited Edition!
With this in mind – and our mission to always help Glossies feel their very best – we've partnered with Tommy's and Mama Mio, to create the Moment for Mama Limited Edition.  
Inside this edit, you'll find five full-sized products you'll love, from Mama Mio and Mini Mio. This whole collection of products, worth over £80,  has been cleverly curated to give you and your little one some pamper time – that we believe is well deserved! 
What Is Tommy's And What Does The Charity Do?
Tommy's Charity is the largest charity in the UK carrying out research into the causes of miscarriage, stillbirth and premature birth.  
Its mission? To save babies' lives and make pregnancy safer for all, no matter who they are or where they live. Because, did you know, one in four families in the UK will lose a baby during pregnancy or birth through miscarriage, stillbirth, or premature birth? And we know, no matter when a loss happens, it can be absolutely devastating. 
To help the charity with its aim of raising over £2million, 18% of all profit from our Moment For Mama Limited Edition will go to Tommy's Charity.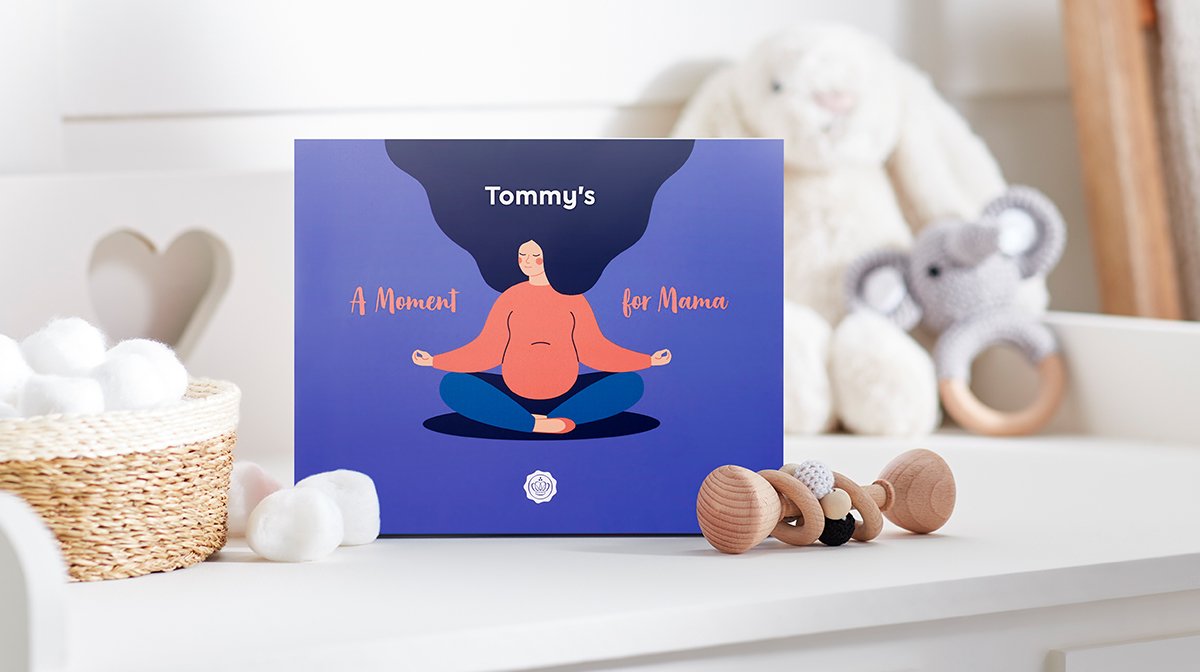 Tommy's PregnancyHub
PregnancyHub is Tommy's midwife-led information hub that's a leading support system and community for all mums and mums to be.  
Covering all you need to know about having a safe and healthy pregnancy, as well as tips for after giving birth, it features a pregnancy symptom checker, wellbeing plans, a whole host of free resources amongst more, and also gives you the access to speak to a midwife whenever you may need to. 
Do you think this could be beneficial to you? Head to Tommy's PregnancyHub now. 
Welcome to Mamahood with Mio Skincare
So, you now know all about Tommy's, but what about the brand the products are all from…?
Mama Mio provides pregnant women with the support they need for strong, healthy skin. Mio Skincare has over 15 years of pregnancy skincare experience and creates effective, unique and nourishing formulas to protect and support stretching skin throughout pregnancy and beyond.
Trusted Proven Results: Products are dermatologically tested and include Omega Rich Skin Stretch complex that deeply nourishes, hydrates, elasticise skin and is clinically proven to help stretch marks.
Powered by Mama Nature: Products use the highest quality ingredients packed with natural plant-based actives and specifically developed for pregnancy, post-partum and breastfeeding. All products are also vegan, cruelty-free and use 100% natural fragrance.
What's Inside The GLOSSYBOX x Tommy's Limited Edition Edit?
These are the five gorgeous Mama Mio and Mini Mio products inside this Limited Edition – guaranteed to be loved by all mums!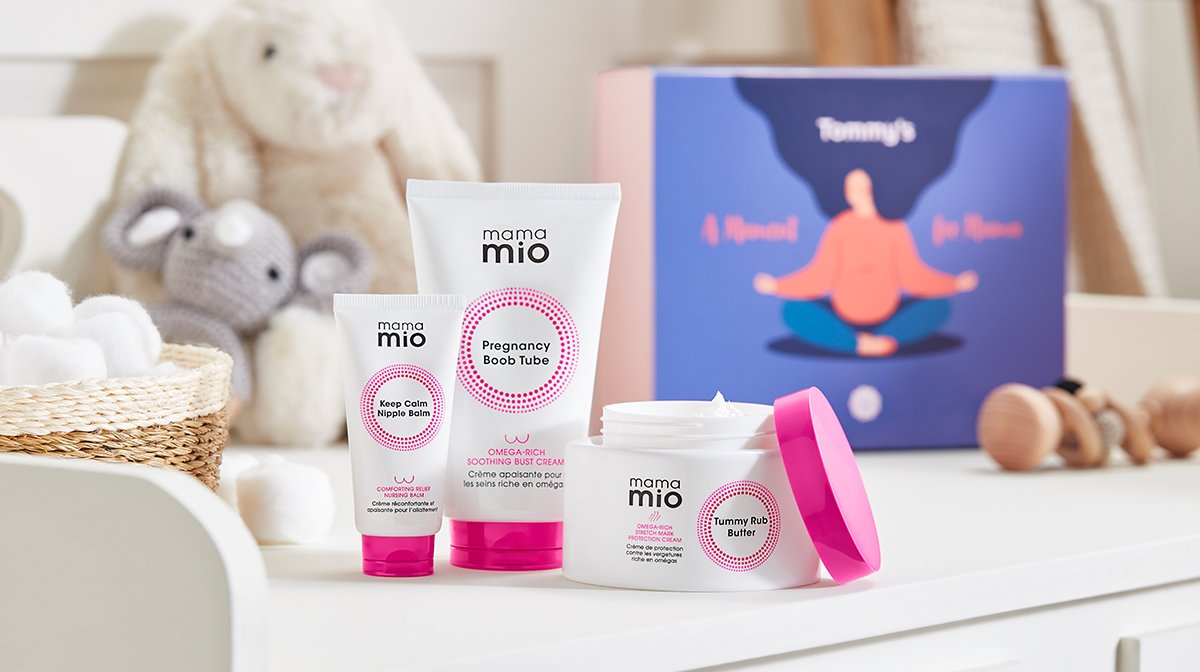 Mama Mio Tummy Rub Butter 
Want to look after the skin over your growing bump? This Tummy Rub Butter is an omega-rich stretch mark protection cream that aids in increasing skin elasticity. It also works to lock in moisture to keep your skin feeling hydrated and full of life. 
RRP £24* 
Mama Mio Pregnancy Boob Tube 
Cleverly created to soothe growing boobs, this deeply hydrating cream not only leaves skin feeling soft it's also proven to increase skin elasticity and moisture, helping to protect growing boobs against stretch marks! 
RRP £25* 
Mama Mio Keep Calm Nipple Balm 
Formulated for instant comfort and relief for dry, and sensitive nipples. This 100% natural nourishing oil and butter blend is designed to soothe nipples throughout pregnancy and breastfeeding. It's completely safe for your baby too… There is no need to remove this calming balm before your baby latches on! 
RRP £12*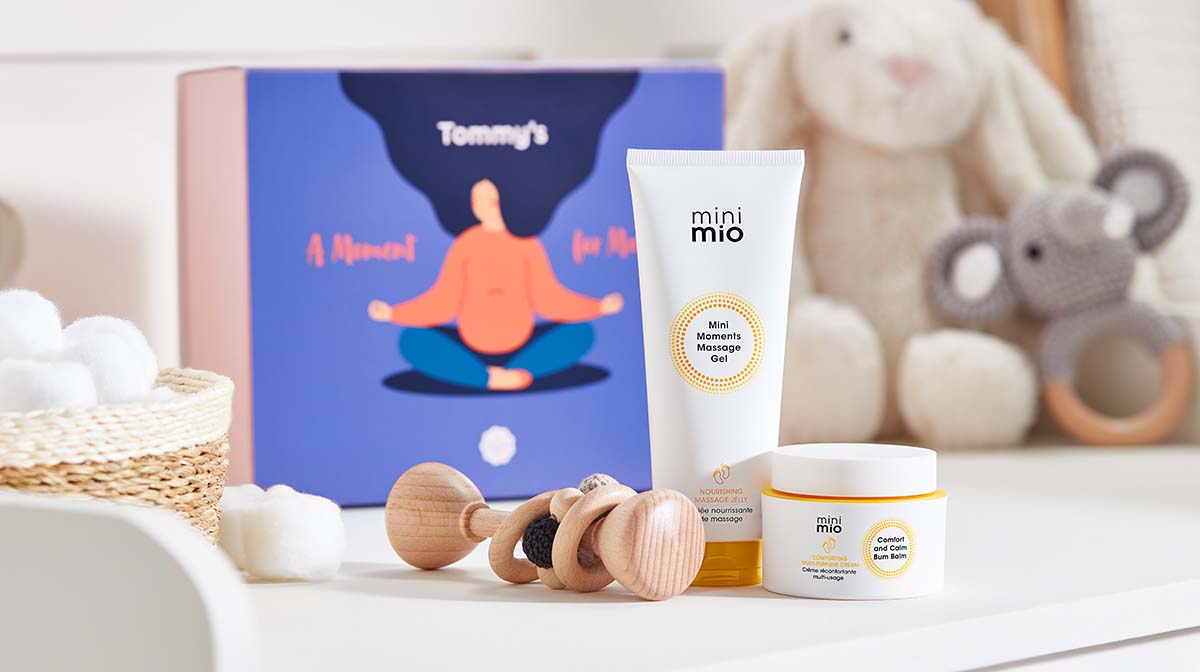 Mini Mio Mini Moments Massage Gel 
Create those special moments of connection between you and baba with this gel baby massage oil. Expertly formulated by dermatologists, this easy to apply massage gel has been created to enhance those precious skin to skin moments you both love so much, whilst also leaving your baby's skin looking and feeling silky soft and comforted. 
RRP £12* 
Mini Mio Comfort & Calm Bum Balm 
The ultimate baby bum cream for happy nappies! This comforting cream creates a protective layer on your baby's skin leaving it looking and feeling calm, super soft and instantly moisturised at every nappy change. Packed with plant-based actives, this nappy barrier cream is also fragrance-free, making it ideal for your baby's delicate skin. 
RRP £10*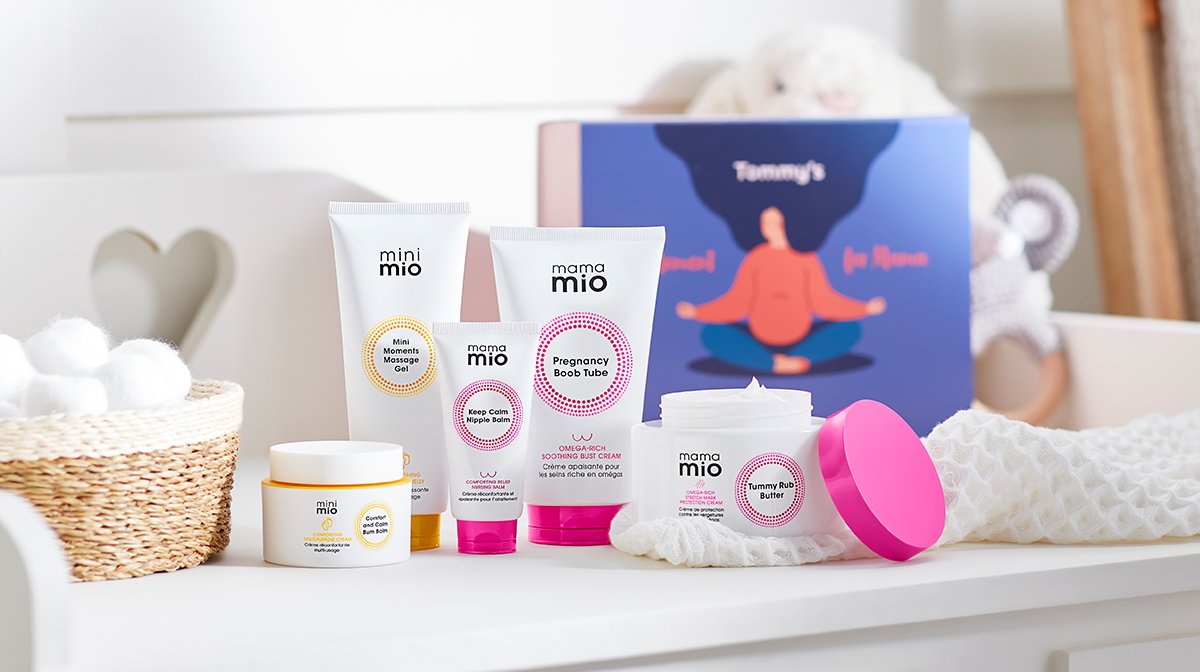 When Does The Moment For Mama Tommy's Limited Edition Go On Sale?
The GLOSSYBOX x Tommy's Limited Edition goes on sale to subscribers on Friday 28th January at 9am. For those who are not subscribers, general sale begins at 12pm the same day. 
How Much Does Our Moment For Mama Limited Edition Cost?
This latest Limited Edition will cost £25 to both subscribers and non-subscribers. Don't forget though, if you've been saving up your Glossy Credit, you can use this to purchase and save! 
Subscribe Today!
To get priority access to this Limited Edition, and to of course benefit from all other things Glossy, become a subscriber today! You'll start receiving our monthly boxes immediately… Always worth over £50 and packed with five beauty treats, you won't want to miss out!