So, you've read all about our incredible 'Moonlight Glow' GLOSSYBOX in our Story Behind Our December Box blog, and now you're after a little more about our first sneak peek product? If so, listen up… 
Bursting at its seams with five products to help you to achieve a lit from within glow, this month's box is ending the year with a bang. Forget our usual pink box too. This December, a stunning special design, multi-use tin has been designed in our gorgeous 'Moonlight Glow' theme (which you can keep pride of place in your room and use time and time again!).  
But what's inside? Here's our first reveal…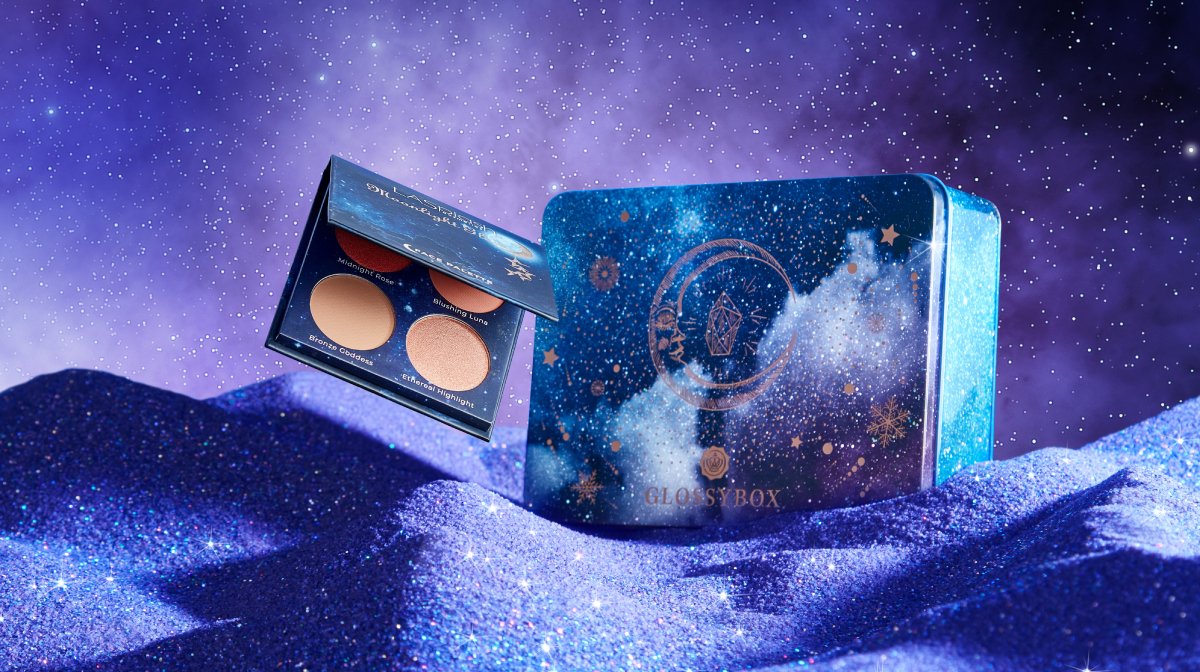 Dazzle With The LASplash
 Moonlight Glow Face Palette
As you know, our December tin has been designed in our gorgeous monthly 'Moonlight Glow' theme – and so has our first sneak peek, the LASplash Moonlight Glow Face Palette. 
Worth an amazing £25, this full-size, four-piece palette will leave you glowing all night long! Transforming your complexion, your skin will go from dull and lack lustre to bright and luminous. Offering four shades of blush, bronzer and highlighter (that are each highly pigmented and gorgeously glistening), your face will truly benefit from some lunar love. 
Perfect for all skin tones and super easy to apply and blend, your cheekbones are not the only places you should give these shades a try! Give these powders a whirl on your eyelids, cupid's bow and any other high points of your face too for the ultimate illumination. 
How To Create A Makeup Look Using The LASplash Moonlight Glow Face Palette
With four stunning shades inside, this palette is super easy to use to create a warm, glowy tone to your complexion. Follow our step by step guide to find out how…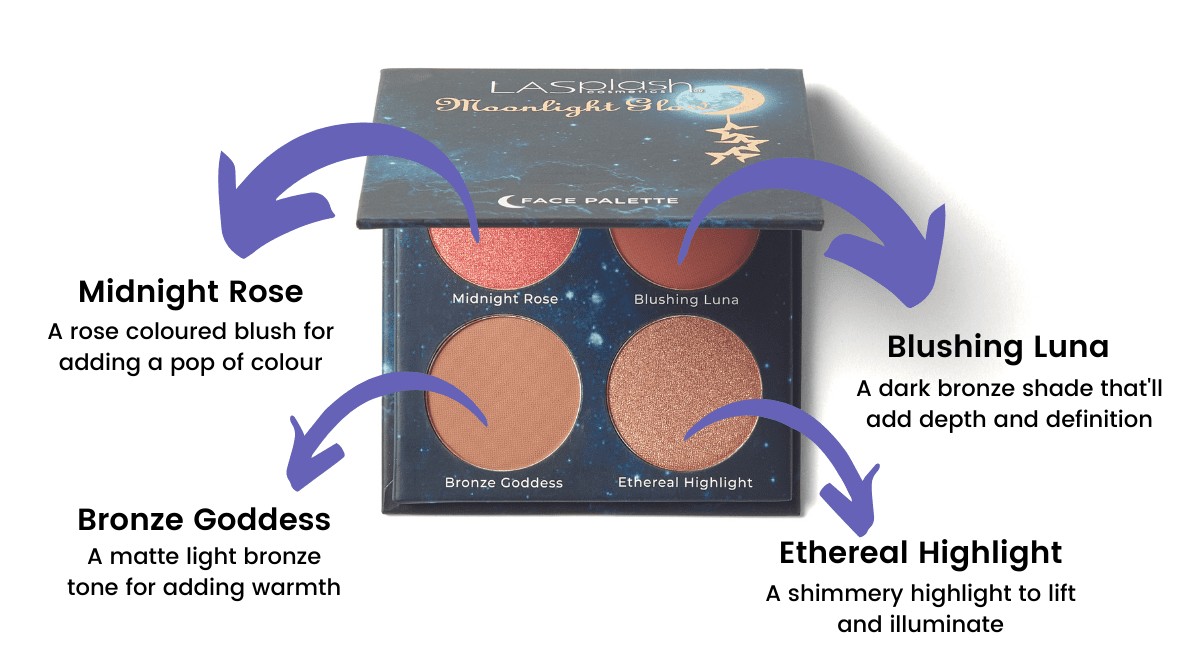 Step By Step: How To Use The LASplash Moonlight Glow Palette
Start by applying your base (skincare, foundation, concealer, whatever's your go-to). For the most gorgeous look, you want to start strong!
After your base is complete, you're going to want to add depth, definition and a pop of colour – and this is where this palette comes in. Grab a contour brush, and begin with either of the bronze tones in this palette. Apply to your cheekbones, under your jawline and along your hairline. (Top tip: Imagine you're drawing in the shape of a '3' – the centre of your hairline, around the side of your face, down your cheekbone, back out and underneath your jaw).
Next, take an angled blush brush and use to apply the blush to the apples of your cheeks and up towards your temples. This will add a subtle pop of colour to your complexion.
Finally, finish by lifting and illuminating. Using a smaller brush, add the ethereal highlight shade to the tops of your cheekbones, your brow bones and to the inner corners of your eyes.
Why We Love LASplash!
You may recognise the LASplash name… Because we've had the brand create a gorgeous, special design palette for us before! Do you remember the Magic Palette in our 'Makeup & Magic' edit in November 2020? 
Designing and producing a wide range of high-quality, cruelty-free products in the beauty market, LASplash is one of our favourite brands to work with! (And we know you love them too).
Product performance, innovative colours and prestigious packaging are what the brand is known for – and as a result, it seriously stands out from the crowd!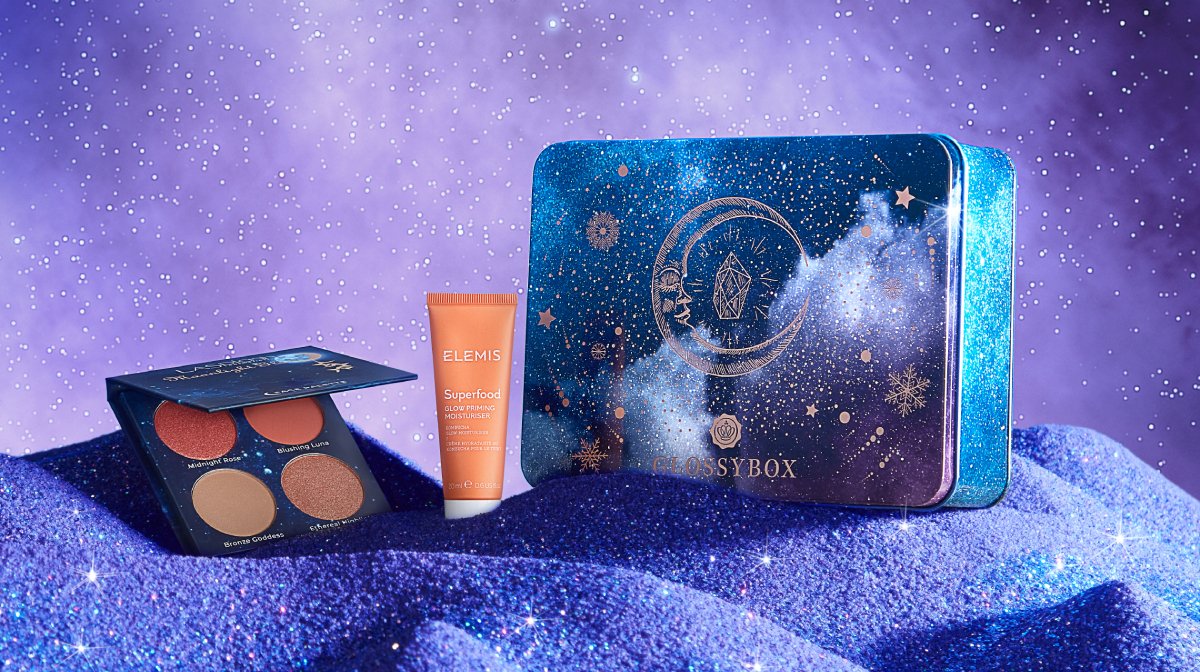 Want Another Sneak Peek?
As you know, you get TWO sneak peeks at the beginning of every month! We've already teased our second slightly in our Story Behind Our December GLOSSYBOX blog… Missed it? Have a read now. Spoiler: it's the incredible ELEMIS Superfood Glow Priming Moisturiser!
Want to know more about this product, its benefits and exactly how to get the most out of it? Take a look at our second December sneak peek blog!
Subscribe To GLOSSYBOX!
Sign up to GLOSSYBOX today to get your very own 'Moonlight Glow' edit. Featuring five must-tries for 2021, you won't be able to contain your excitement when your box lands on your doorstep! 
As a Glossy, you'll also get plenty of other benefits too. Glossy Credit, access to the Glossy Lounge and discounts on our Limited Editions and the GLOSSYBOX Skincare range… there's so much to take advantage of! 
Don't forget, as an avid blog reader, if you become a Glossy today you can get your first box for only £11, including delivery! Just use code 'GLOSSYBLOG' at checkout!