Our November GLOSSYBOX is all about 'Makeup & Magic' and is guaranteed to bring some sparkle to your life this winter. Made up of five products that'll provide you all the glitter, shimmer and glow you could ever want, this box will prepare you perfectly for any up-coming celebrations. 
The Magic Palette
You've likely already read it in our Story Behind The November Box blog post, but our first sneak peek for this month is a magical one! 
Providing just the right balance of caramel and chocolate tones, the eight spellbinding shades in this LASplash Magic Palette will complement all complexions! Highly pigmented, these press powder shadows also allow for easy application with minimum fallout.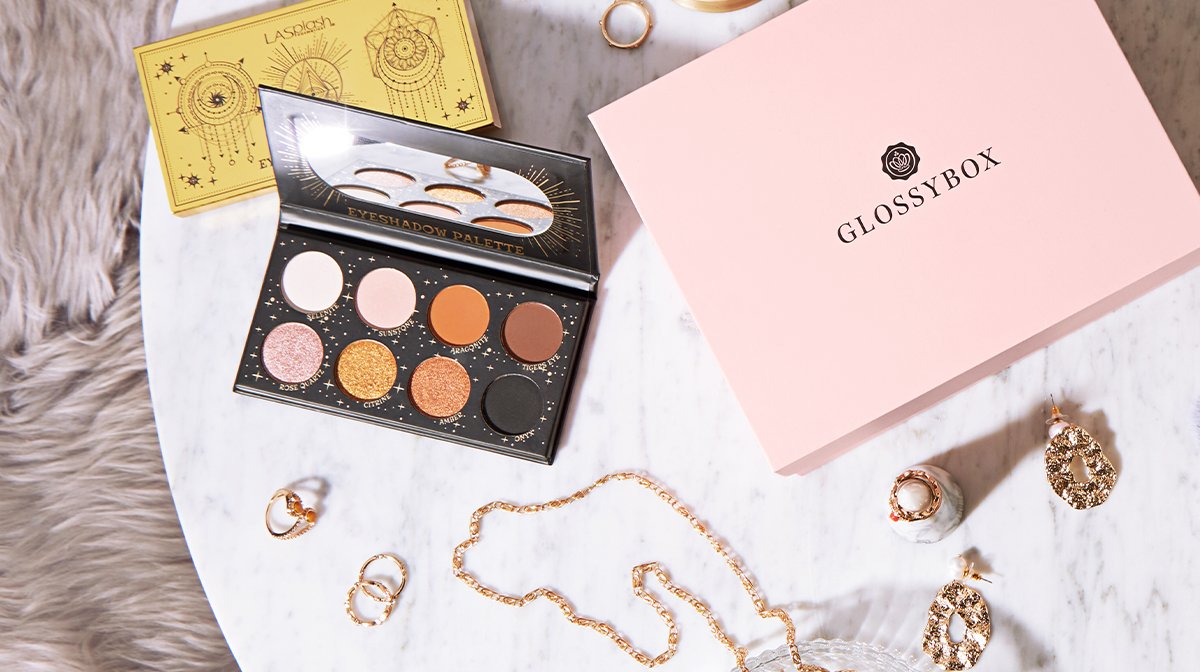 About 
LASplash
American beauty brand LASplash has been creating and developing its product offering since it began in 1996. Focusing on high-quality cruelty-free beauty, it's best known for its innovative colours and prestigious packaging.
Which is exactly why, when you visit the LASplash website, you'll be greeted with some of the most creative makeup products and palettes you'll ever see! Great Gatsby lipstick, Halloween inspired eyeshadows and even Hunger Games branded lashes – the limited editions LASplash creates just keep on coming!
Create A Gorgeous Chocolatey Brown Eye Look
Made up of warm caramel tones and shimmery chocolate shades, the LASplash Magic Palette has been created to help you create a softer alternative to the usual black smoky eye look.
Whether for day or night, create a simple yet stunning look by starting with a lighter shade all over your lid, and then add a darker shade out to your outer crease and blend. 
Step By Step: How To Create A Brown Smoky Eye
To start your brown smoky eye, take the first shade in your palette '

Selenite

' 

or, for a slightly warmer look 'Sunstone', 

and with a clean brush, blend 

it 

across your whole lid.  

 

Next, take the shade '

Aragonite

' – this will be your transition shade. In sweeping motions, apply this colour into your eye crease and then gently blend out onto your brow bone. 

 

In circular motions, apply the 

Tiger's Eye

' shade to the outer third of your eye lid. Once you have built up a strong colour in this outer corner, blend any excess pigment across to the inner corner of your eye. 

 

Again,

 in the outer third of your eye, use a smaller brush to apply 

the 

darke

st

 

shade in the palette 'Onyx' 

to the very outer area

, which will 

create a sense of depth. 

 

To add an extra element of glam, take a little of one of the palette's gorgeous glittery shades onto a clean brush and apply to the inner third of the eye. For a golden glow, opt for the '

Citrine

' shade or, for a more 

subtle

 tone why not choose the '

Rose Quartz

' shade. 

 

Finally, add a soft layer of '

Tiger's Eye

' across your bottom lash line and then finish off your look with mascara and eyeliner!

 
Subscribe To GLOSSYBOX
To get your hands on this must-have palette, as well as the four other beauty treats that you'll find in this box, subscribe to become a Glossy today! On top of receiving our incredible monthly boxes straight to your door, you'll also benefit from priority access and exclusive discounts on all of our Limited Edition boxes, and the GLOSSYBOX Skincare range!