Whether you're heading out or staying in this St Patrick's Day, it's time to get adventurious with your choice of drink. So we've gathered some of our favourite alcoholic (and non-alcoholic) drinks recipes perfect for your party prep or your day of chilling. Try something new!
Green Guinness!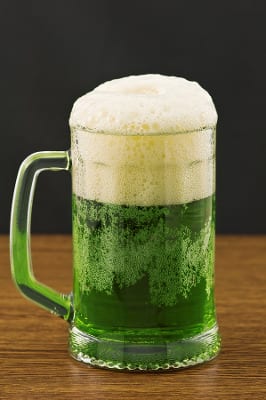 Green Guinness has become quite the fan favourite for St Patrick's Day drinks! Want to know how easy it is to make it? First get yourself a beer that is light in colour and some green food colouring.
1. Make sure you have a light coloured beer (we recommend Fosters)
A light coloured beer means the food colouring will easily mix. Using Guinness requires a lot of food colouring, may change the flavour of the beer and may not actually change the colour at all!
2. Add green food colouring
Add three drops of green food colouring to the bottom of an empty glass so it mixes well: then pour in the beer. You can adjust the colour by adding more dye if you like.
Homemade Irish Cream
We saw this recipe on Instagram and were so intrigued! Julie from the Bunsen Burner Bakery shared her homemade Irish cream recipe, starring Irish Whiskey and it's SO easy to make! The ingredients you need are…
One and a half cups of Irish whiskey
2 tsp Cocoa powder, unsweetened
1 tsp Vanilla extract
400ml milk, sweetened
1 cup heavy cream
She says if you find Baileys Irish Cream too sweet simply add more cream. If it's not sweet enough add more sweetened milk. Too boozy? Use less whiskey and if it's not boozy enough…well you know what to do!
Julie says "there are lots of homemade Irish cream recipes out there, and almost all of them contain coffee granules. But if you like coffee, add it! If you like almond? Add some almond extract. Mint? Chocolate? Customise to your heart's content!"
All you need to do is pour everything in a blender, puree for 30 seconds, and you're ready to party!
Guinness Black Magic Cocktail
Guinness, bourbon, grenadine, blackberries and lime.  That's all you need for this delicious concoction created by Lucy Parissi from supergoldenbakes.com!
Add the blackberries, bourbon, grenadine and lime juice into a cocktail shaker.
Muddle the blackberries with a muddling spoon or the back of a rolling pin.
Half fill the shaker with ice and shake hard for 30 seconds.
Pour into a rocks glass filled with ice.
Stir in the Guinness and garnish with a lime wedge and a couple of blackberries threaded on a toothpick.
And there you have it – a delicious cocktail inspired by the famous Irish bitter!
Green Bloody Mary
Bloody Mary's are quite an acquired taste but they're the perfect liquid lunch treat or great to assist a hangover the morning after a heavy night! We love Platings and Pairings  green twist on the classic Bloody Mary, making it perfect for St Patrick's Day!
What you need…
5

 

tomatillos

 

husks removed

3

 

medium

 

yellow tomatoes

2

 

stalks

 

celery

1

 

jalapeno

3

 

tablespoons

 

chopped cilantro

1 1/2

 

cups

 

water

1 1/2

 

teaspoons

 

horseradish

1/4

 

teaspoon

 

cumin

1/2

 

teaspoon

 

salt

1/4

 

teaspoon

 

pepper

6

 

ounces

 

vodka
For the garnish…
Celery

Golden tomatoes

Serrano peppers

Salt & Chilli Powder
Method
Cut the tomatoes, tomatillos, celery and jalapeno into large chunks.
Add to your blender along with chopped cilantro, horseradish, water and spices. Process until smooth. If you prefer a thinner bloody mary, strain the mixture through a fine mesh strainer. For a thicker cocktail, serve as processed.
Chill before serving.
To serve, rim your glass by combine a mixture of half salt and half chilli powder in a small rimmed dish. Run a lemon around the lip of your glass and then dip it into the salt to coat.
Add 1 and a half ounces vodka to your glass and top with the Bloody Mary mix.
Garnish with a celery stick and skewered tomatoes.
Not drinking this St Patrick's Day?
Creamy Green Smoothie with Matcha
If you don't fancy an alcoholic beverage this St Patrick's Day, it doesn't mean you can't join in on the green concoctions like this smoothie! You'll need…
3 Frozen Bananas
1 Avocado
3 Pears
3 Dates
1-2 tsp Almond Butter
Handful of Kale
1/2-1 tsp Matcha Powder
2 cups of Water
1/2 cup Coconut Yogurt
Add all ingredients apart from the coconut yoghurt to a blender. Process until smooth, add water if needed! Put a dollop of coconut yoghurt in the bottom of glasses and pour the smoothie over it.
Kiwi Smoothie
How Instagrammable is this amazing Irish green smoothie?! If you you're having a quiet one this St Patrick's Day what you need for this concoction is…
1 cup of frozen kale
2 kiwis
1 cored green apple
The juice of 1 lime
4 mint leaves
1 banana
1/2 cup frozen pineapple
1 Tbsp of hemp hearts
Blend together, pour into a mason jar and decorate however you wish! We love the garnish of frozen blueberries, lime & sliced kiwi!
We'd love to see if you tried out any of these recipes! Tag us in your attempts on Facebook, Twitter or Instagram using #glossyboxuk. We loving to seeing our gorgeous Glossies.

Not a subscriber yet? Join us to receive our latest beauty edit of five must-have products delivered directly to your door.