Back by popular demand – and perfectly timed for the upcoming festive period – is the GLOSSYBOX Grooming Kit Limited Edition! 
The perfect present for your partner, brother, dad or friend, this Limited Edition features 10 hair, body and skincare products, plus one extra special treat, he's going to be so eager to unwrap.  
Specially curated to help him up his grooming game and discover new brands (as well as indulge in iconic products he'll already adore), this edit is worth over £175!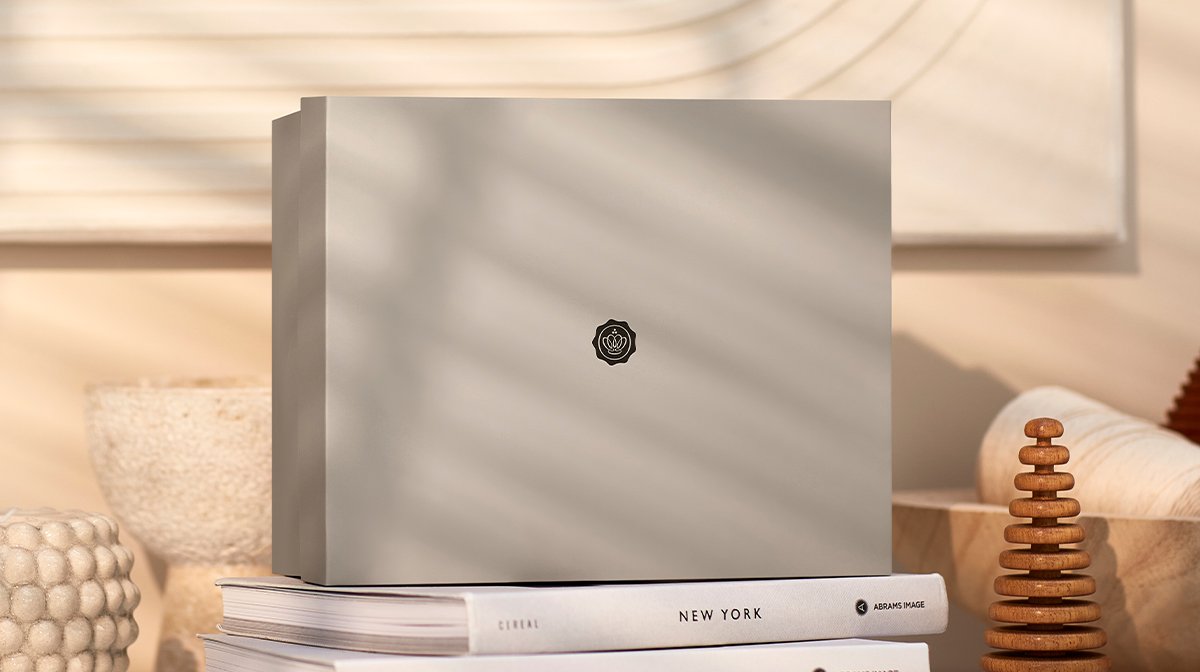 The Full October GLOSSYBOX Grooming Kit Limited Edition Line Up
We've already sneak peeked three brand names in our Story Behind Our October Grooming Kit Box blog, but if you want to know exactly what he'll find beneath the lid of this male beauty box, keep reading. We have so much to share…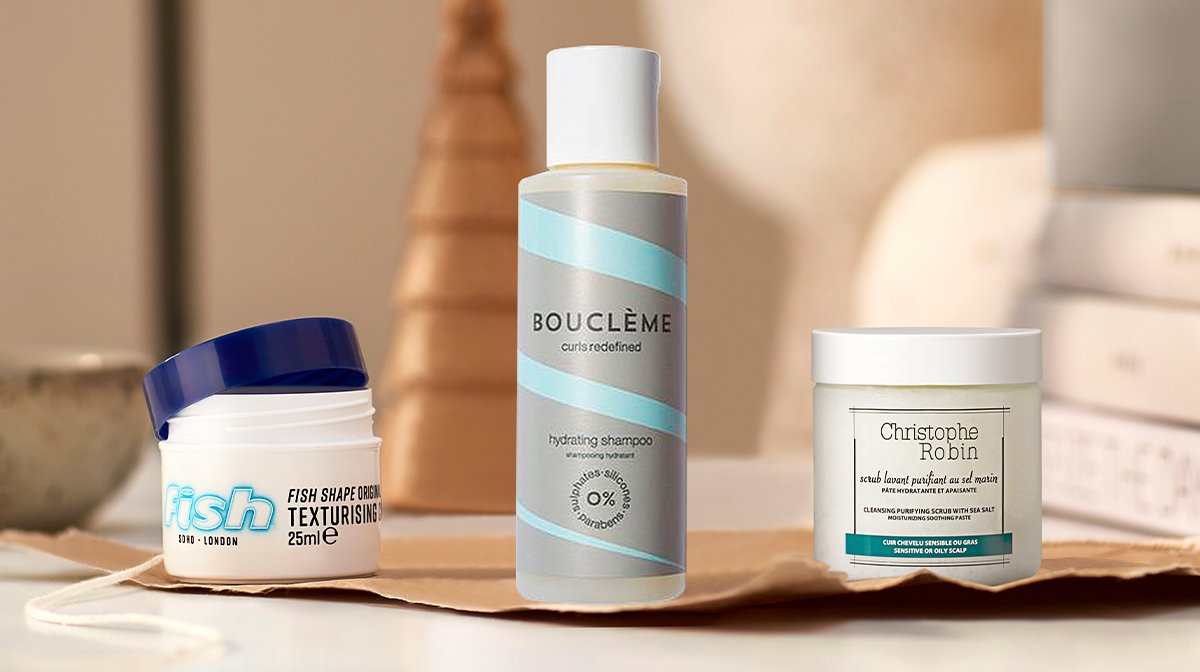 Fish Soho London – Fish Shape Texturising Cream
Combining the benefits of a hair gel and a wax, the Fish Shape Texturising Cream holds your style strong, yet still natural! As the ultimate lightweight versatile texturiser, it's perfect for creating choppy and chunky styles! 
Deluxe mini 25ml worth £2. Full size 100ml RRP £5.99* 
Boucleme – Unisex Hydrating Shampoo
Refresh and revitalise your scalp for fuller, healthier and happier hair. This low-foam shampoo is perfect for frequent use, never stripping your scalp and hair of their natural oils. This goodness, paired with a sophisticated scent makes this haircare hero a winner in your bathroom, gym bag or on-the-go! 
Deluxe mini 110ml worth £8. Full size 300ml RRP £17* 
Christophe Robin – Cleansing Purifying Scrub With Sea Salt
Detox your hair with this cleansing, purifying and soothing shampoo treatment. Within 24 hours of using, the scalp is restored to optimal hydration levels, and hair will be left shiny and clean! 
Deluxe mini 40ml worth £6.40. Full size 250ml RRP £40*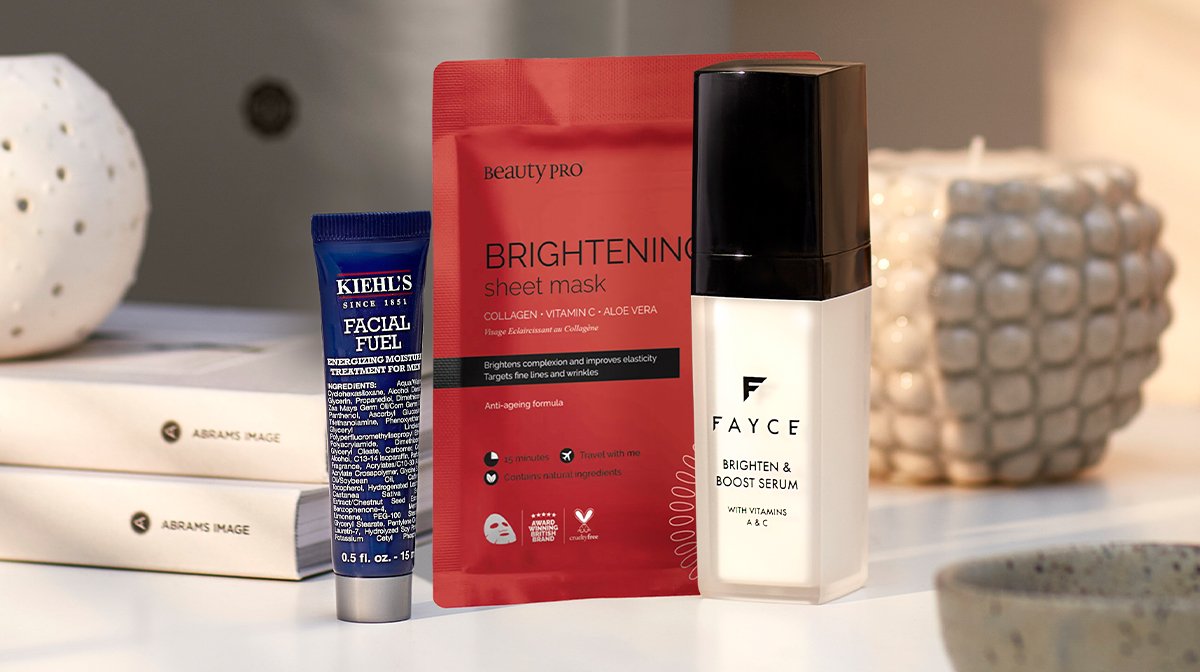 Kiehl's Since 1851 – Facial Fuel Energizing Moisture Treatment for Men
Beloved by men everywhere, this caffeine and vitamin-enriched moisturiser re-awakens and uplifts dull, fatigued skin. Helping to energise and moisturise the skin, it also aids in controlling shine for a healthy appearance and protects skin against the effects of environmental aggressors. 
Deluxe mini 15ml worth £4.90. Full size 125ml RRP £33* 
BeautyPro Brightening Sheet Mask
One of BeautyPro's best-selling sheet masks and the perfect addition to his skincare routine! This mask works to rebalance uneven skin tone and diminish pigmentation while also improving and brightening your complexion – all thanks to key ingredients collagen and vitamin C.
RRP £4.95*
Fayce Cosmetics – Brighten & Boost Serum
Allow your skin to feel rejuvenated with this natural face serum, which supercharges your skin with a serious superfood blend. Infused with avocado oil and papaya extracts, as well as vitamins A and C, this serum is a perfect addition to your daily skincare routine – guaranteed to help brighten and boost your complexion! 
RRP £32*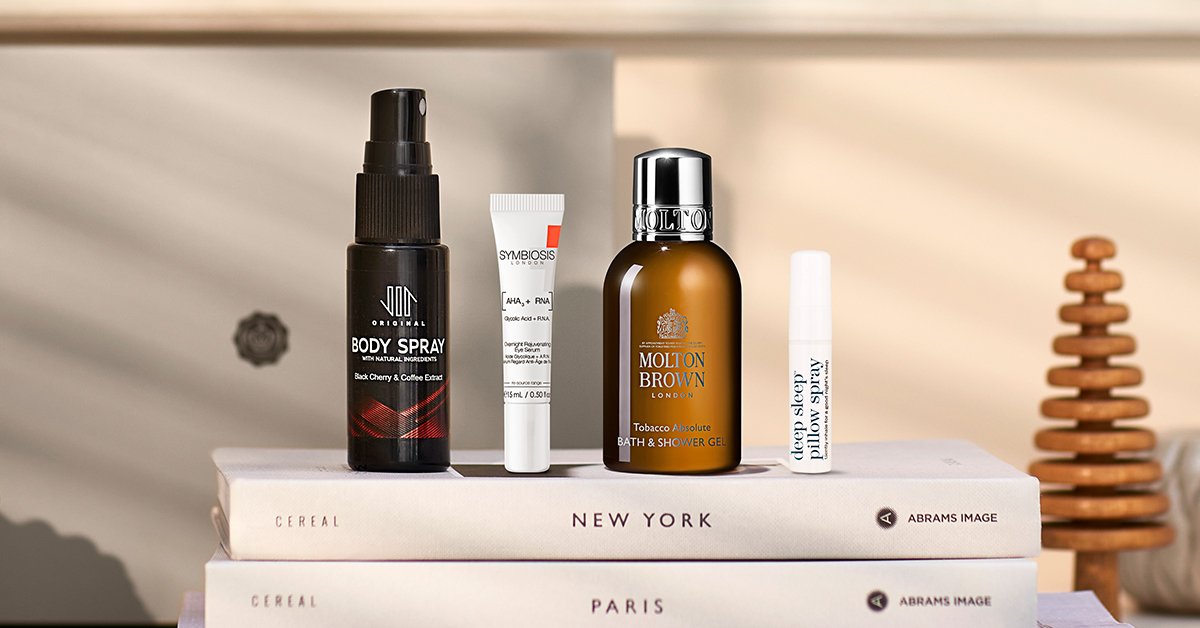 Vir Original – Body Spray
After your shower, during the day as a top-up, after the gym, whenever you use this body spray, you're sure to feel fresh! Featuring natural ingredients like black cherry and coffee extract and with a unique fragrance, you'll always smell great and feel confident when it matters.  
Deluxe mini 30ml worth £5.99. Full size 250ml RRP £18.99* 
SYMBIOSIS – Glycolic Acid + R.N.A Overnight Rejuvenating Eye Serum
This overnight serum is the ideal treatment for puffy, tired eyes in need of relief. Glycolic acid boosts skin's firmness and addresses blackheads, dullness, and excess oils, while R.N.A. helps skin combat the signs of ageing, including fine lines, wrinkles and brown spots! 
RRP £102* 
Molton Brown – Tobacco Absolute Bath & Shower Gel
Turbo-charge your bathing regime with this body wash. Made with a warm combination of cedarwood, leather accord and tobacco absolute, lifted by a hint of grapefruit, your morning showers are about to be met with a mature and seasoned depth! 
Deluxe mini 50ml worth £5. Full size 300ml RRP £22* 
This Works – Deep Sleep Pillow Spray
Proven to help you fall asleep faster and wake feeling more refreshed, your beauty sleep is about to get even more blissful! This award-winning, aromatherapeutic super blend of lavender, camomile and vetivert will calm both your mind and body, soothing you into a deep, restful sleep. 
Deluxe mini 5ml worth £6. Full size 75ml RRP £19.50* 
Extra Treat: Banana Republic – Fragrance Lucky Dip!
Enjoy one of two mini fragrance extra treats from Banana Republic. You'll either receive… 
Grassland – A deliciously fresh and uplifting spicy green aromatic scent. Grassland fuses together elements of tart-sweet citrus, aromatic herbs, peppery florals and clean woods.

 

Metal Rain – A fresh and airy green aromatic scent. Metal Rain combines harmonising elements of green herbs, bright fruit, aromatic woods and undertones of warm, animalic amber.

 
Full size 75ml RRP £55*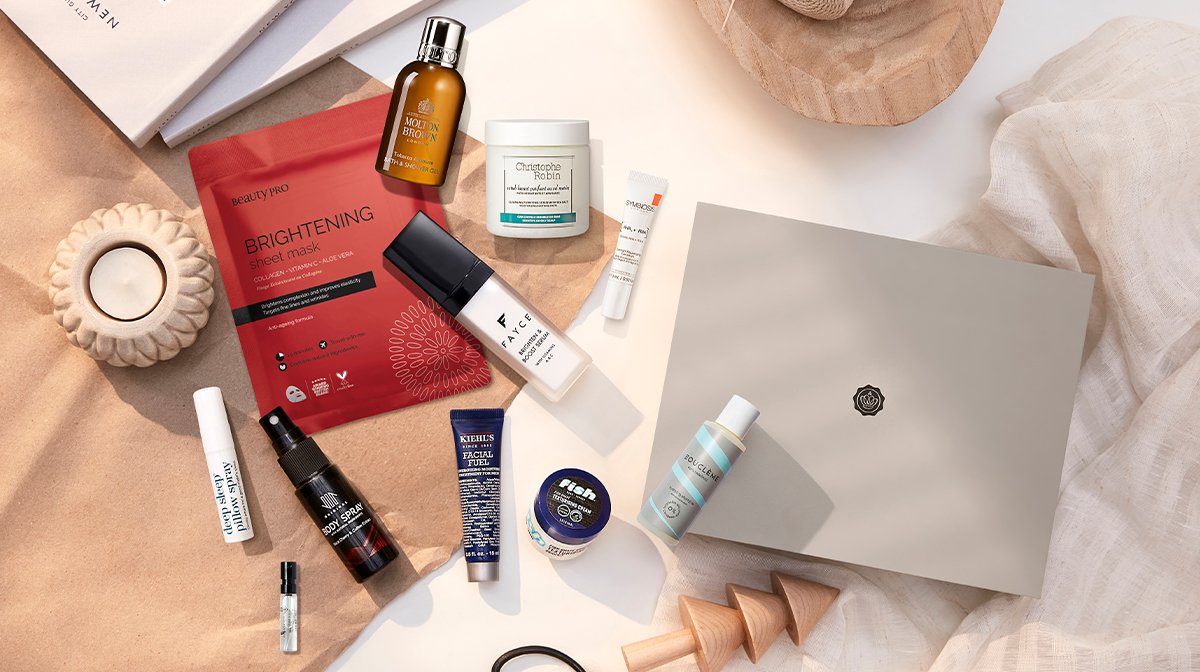 When Does The Grooming Kit Limited Edition Go On Sale?
Our October 2021 GLOSSYBOX Grooming Kit Limited Edition goes on sale on Friday 29th October. Subscribers can get theirs at 9am for only £25. While non-subscribers can buy theirs for £30 from 12pm!  
Subscribe To GLOSSYBOX!
Don't forget, you can get £5 off this Limited Edition box as well as the opportunity to purchase yours with priority access at 9am, if you're a GLOSSYBOX subscriber! 
Of course, you'll also start receiving our monthly boxes immediately, which means there's also a treat coming for you, as well as him! Always jam-packed with five beauty must-haves, it's a no-brainer!