Whatever you're doing this summer, finding your new favourite beauty products is sure to be on your to-do list… and our GLOSSYBOX x Closer Summer Essentials Limited Edition can help you achieve just that! 
It's got everything you could want beneath its lid, whether you're off on a mini break, enjoying a staycation or getting glammed up for a garden party at home…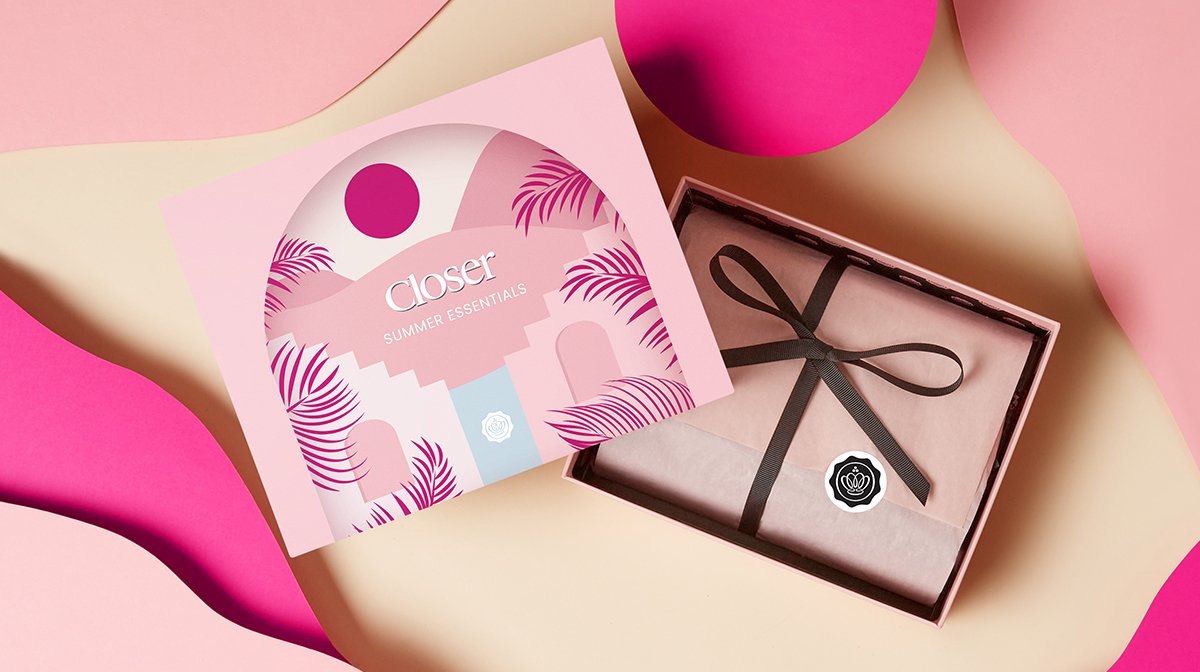 The Story Behind The GLOSSYBOX x Closer Summer Essentials Limited Edition
This latest Limited Edition is a treasure trove of summer beauty buys! From gradual tans and skin illuminators to SPF and lash boosters, we're not sure what more you could ever need… 
Worth over £130, this Limited Edition is made up of 11 get-summer-ready essentials. There are ultimate glow-getters, fresh fragrances and must-have skin refreshers… as well as so much more! And with big name brands including Ghost and Percy & Reed inside too, you won't want to miss out on purchasing one for yourself! 
What's Inside The GLOSSYBOX x Closer Limited Edition?
This incredible Limited Edition line up features seven full size products as well as four deluxe mini must-haves…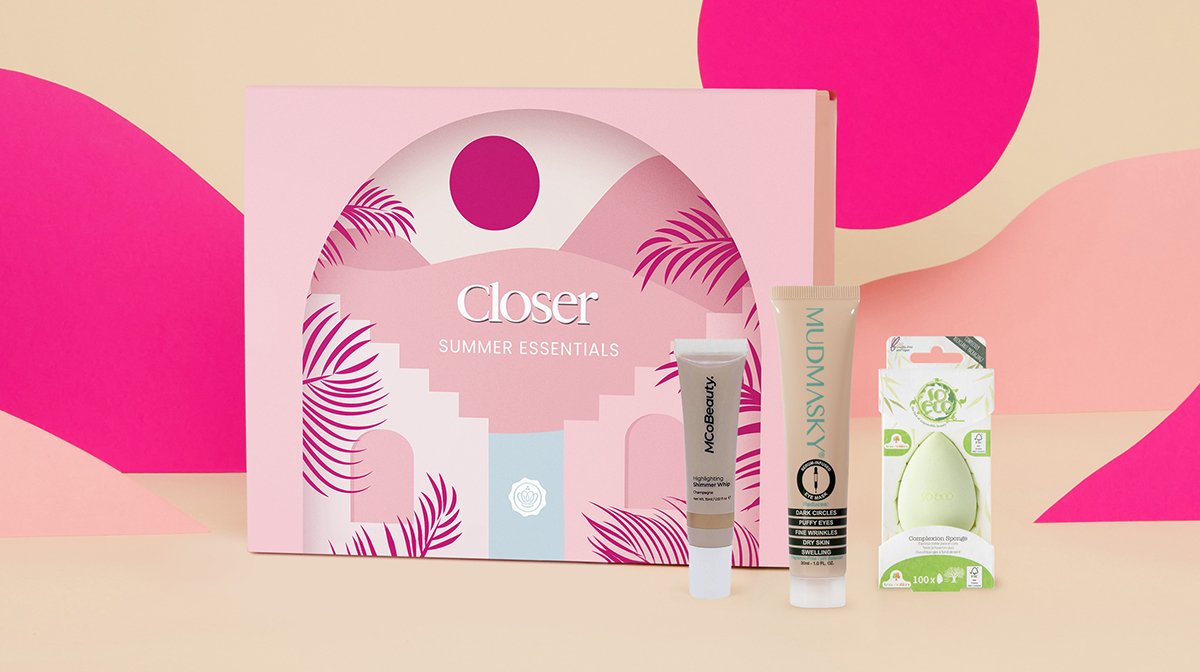 MCoBeauty – Highlighting Shimmer Whip 
This product is sure to be your secret weapon for highlighting and adding lustre to your skin. In shade 'Champagne' and with an RRP of £14.99, this lightweight liquid illuminator glides onto skin effortlessly creating a subtle strobing effect. Your skin will look gloriously radiant and healthy! 
Mudmasky – Serum Infused Eye Mask
A specifically formulated mud mask for the eyes. Enriched with natural antioxidants, this serum-infused eye mask works to improve the look and texture of your delicate under eye area. Improving the elasticity under your eyes, as well as brightening the skin and reducing the appearance of fine lines, this product will have noticeable effects in four to 12 weeks! And is worth an incredible £42!
So Eco – Complexion Sponge
This beauty blender is ideal for creating a base that's flawless and that has a gorgeously enhanced finish. Ultra-soft, flake resistant and long lasting, this sponge is worth £6 and works both damp and dry, expanding with water to make blending effortless. Perfect for all face makeup, the pointed tip is ideal for concealer and smaller area around the eye, whilst the sides are designed for applying foundation and blush! Fun fact: So Eco also does its bit for the environment – planting one tree for every 100 products sold!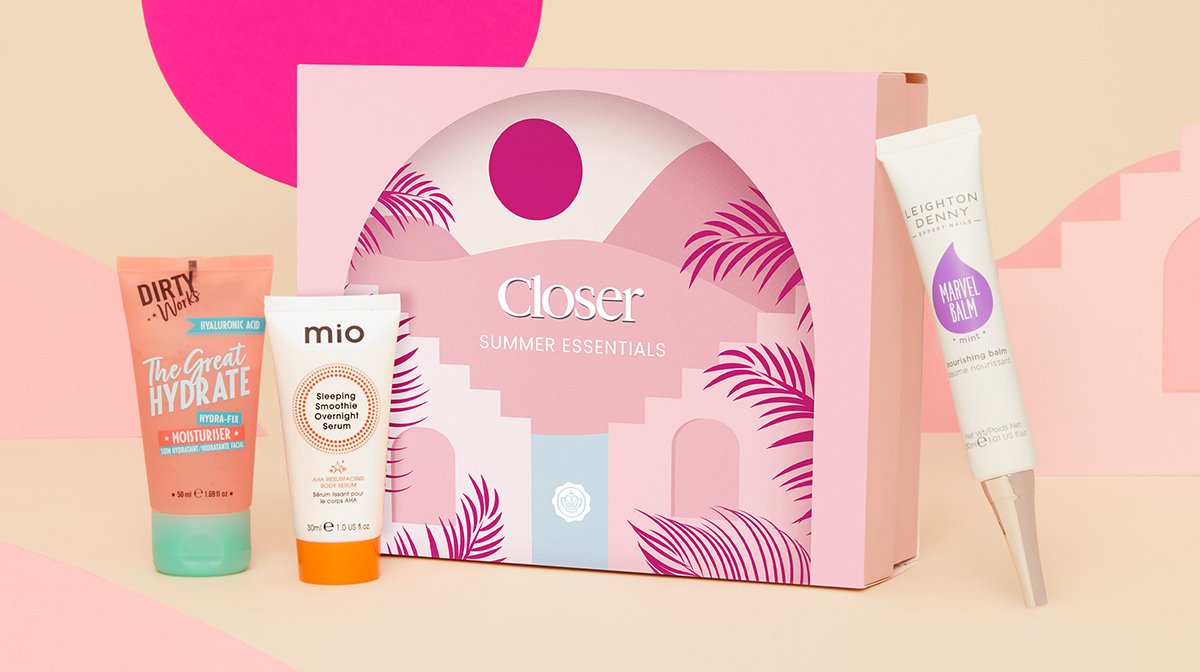 Dirty Works – The Great Hydrate Hydra-Fix Moisturiser 
Suffering with dry, dull skin that's in need of a new lease of life? Well, this must-have moisturiser has been designed to hydrate, renew and comfort your skin! This perfect energy booster and youth-protector in one is worth £8 and, even after just one use, your skin will look fabulously dewy, super charged and radiant!
Mio – Sleeping Smoothie Overnight Body Serum 
Revitalise and re-energise your skin whilst you sleep. Whilst you slumber, this AHA lotion gets to work to resurface your skin cells and give you noticeably glowier skin. Packed with brightening and moisturising actives, your complexion will feel instantly hydrated and refreshed as soon as you wake! 
Inside this box you'll discover a deluxe mini Sleeping Smoothie Overnight Body Serum from Mio (30ml) which is worth £5. A full size version of this product (200ml) has an RRP of £34*.
Leighton Denny – Marvel Balm Mint 
We know how much you love multi-taskers and this miracle product is exactly that! This hydrating formula is perfect for gently soothing and moisturising both lips and cuticles! Its luxury blend of naturally rich vitamins and minerals absorb effortlessly into the skin, to provide nourishment and promote elasticity. Worth £12, it's a beauty steal!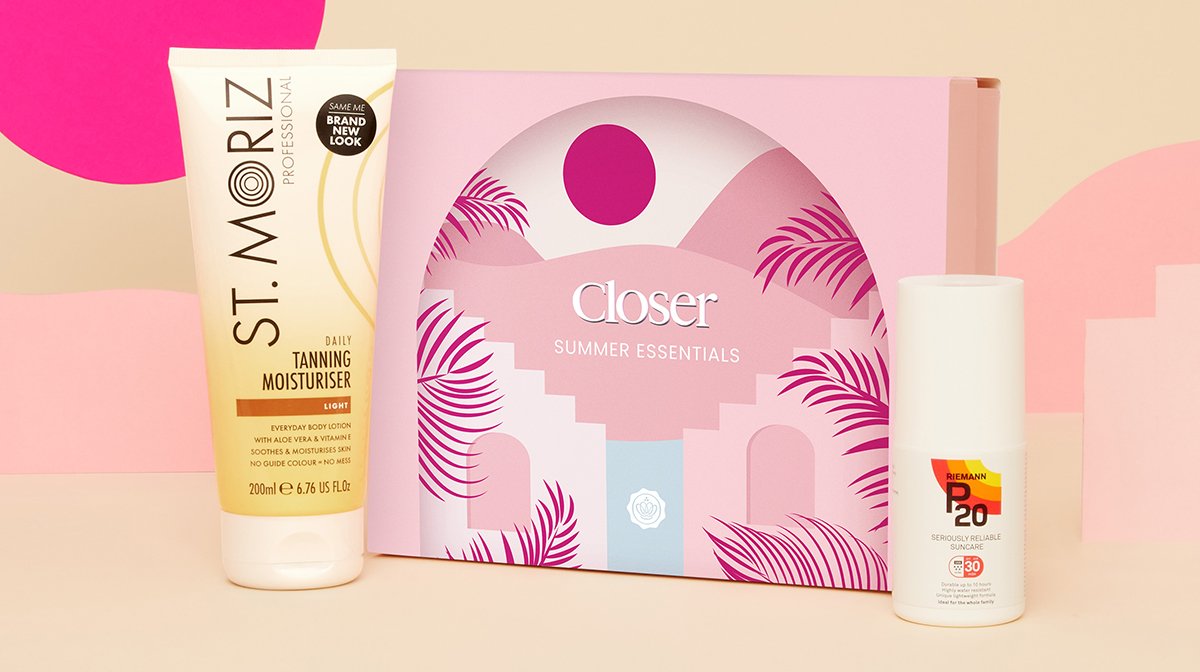 St. Moriz – Golden Glow Tanning Moisturiser  
After a soft and natural golden glow to your skin? Who isn't during the summer months! We all want to be boasting a gorgeous tan! If you're not able to get yourself a natural one this summer though, this tanning moisturiser (worth £4.99) is for you! Specially formulated with aloe vera and vitamin E, not only will your skin look beautifully bronzed, it'll be left feeling super soft too!
Riemann P20 – SPF30 
If you are lucky enough to be out in the sun though, you'll need to stay safe! This triple protection sun cream provides 10 hours of protection from just one application – even if you're dipping in and out of a pool! With long‐lasting UVA and UVB filters, it helps protect against burning and the premature signs of ageing! 
Inside this Limited Edition you'll find a deluxe mini Riemann P20 SPF30 (40ml) worth £5.99. A full size version of this SPF (200ml) retails at £24.99*.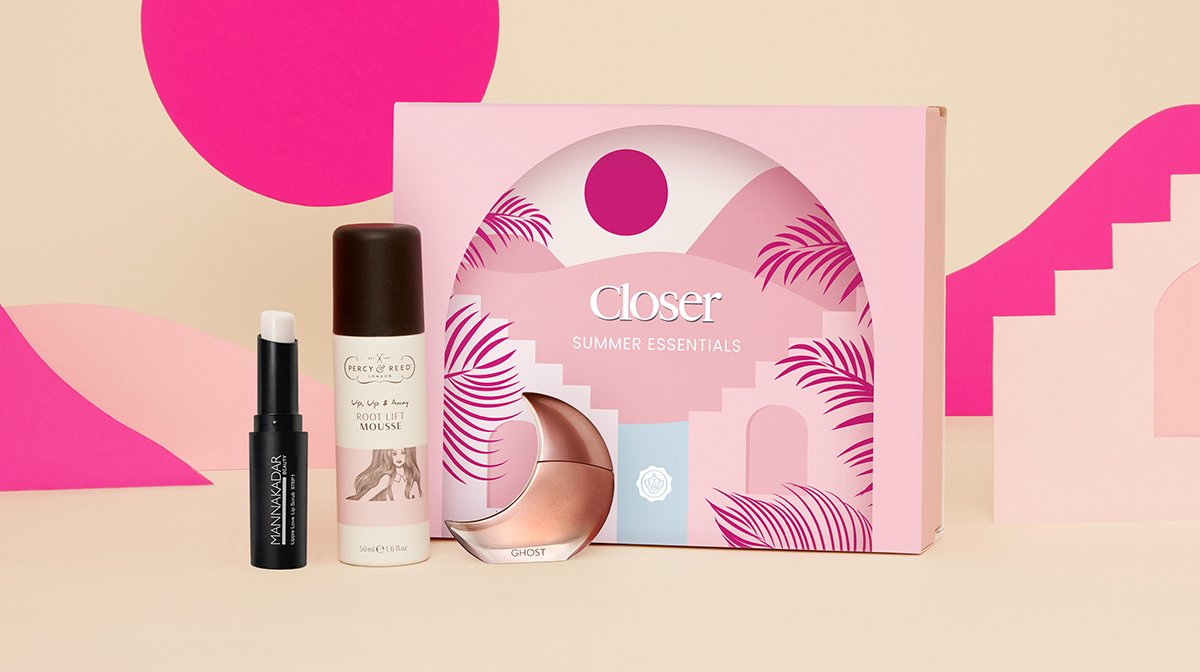 Manna Kadar – Lippie Love Lip Scrub 
Don't let dry lips ruin your perfect pout this June! Worth £17, this lip essential contains a gentle sugar scrub to remove dry skin, to leave you with softer, smoother looking lips all summer – and even long afterwards. Formulated with emollients, it'll keep your lips hydrated for hours after use too!
Percy & Reed – Up, Up & Away Root Lift Mousse 
Humid weather got you needing a hair lift? The deliver dramatic volume directly to your roots with this mousse! We guarantee your locks will feel light, free and full of movement almost instantly. And, thanks to its clever nozzle, you can target the exact areas where fine, limp, lacklustre hair needs the most help, meaning a little goes a long way. 
Inside this box you'll discover a deluxe mini Percy & Reed Up, Up & Away Root Lift Mousse (50ml) worth £7. A full size version of this product (200ml) has an RRP of £15*.
Ghost – Ghost Orb Of The Night 
Illuminate like the night's sky with this Ghost fragrance! Alluring cherry-almond flirts with a beating heart of treasured ethereal floral, while caramel melts upon a base of warm sandalwood signalling nocturnal riches. You'll also enjoy the scent of intriguing orange blossom which gently layers delicate white musk. 
Inside this box you'll find a deluxe mini version of this Ghost fragrance (10ml) which is worth £9. A full size bottle of this perfume (50ml) retails at £38*. 
*RRP relates to the full size product available for purchase as advised by the brand. Prices may vary due to exchange rates. All prices are correct at time of publishing.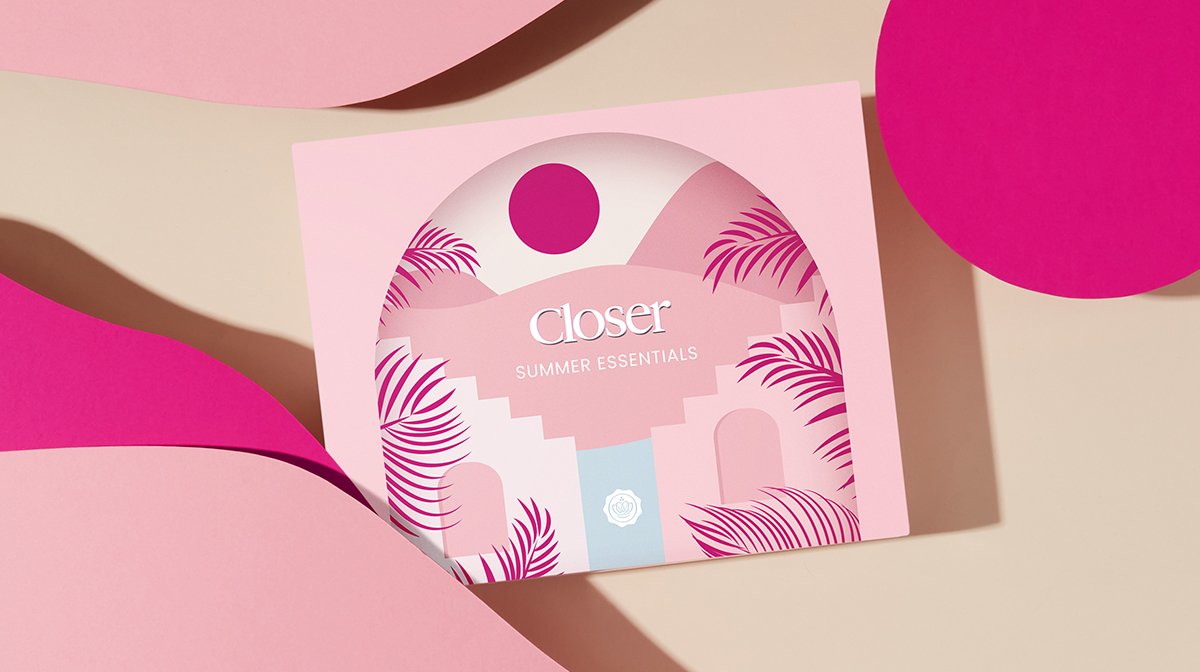 How To Purchase Your Very Own Closer Summer Essentials Limited Edition!
The GLOSSYBOX x Closer Summer Essentials Limited Edition goes on sale on Friday 25th June for only £35! Subscribers will be able to get theirs from 9am, whilst non-subscribers will be able to purchase their Limited Edition box from 12pm-noon.  
Subscribe To GLOSSYBOX
As always, subscribers will get priority access to this Limited Edition box! So, to make sure you don't miss out, sign up to become a Glossy today! You'll also start receiving our monthly boxes straight away, featuring five of the best beauty products, delivered straight to your door!