Struggling to find time to truly sit back, relax and have a pamper? We know how important 'me-time' really is at Glossy HQ, which is why we're bringing you the perfect Limited Edition so you've got no excuses!
Introducing the GLOSSYBOX x Yours Beauty Treats Limited Edition…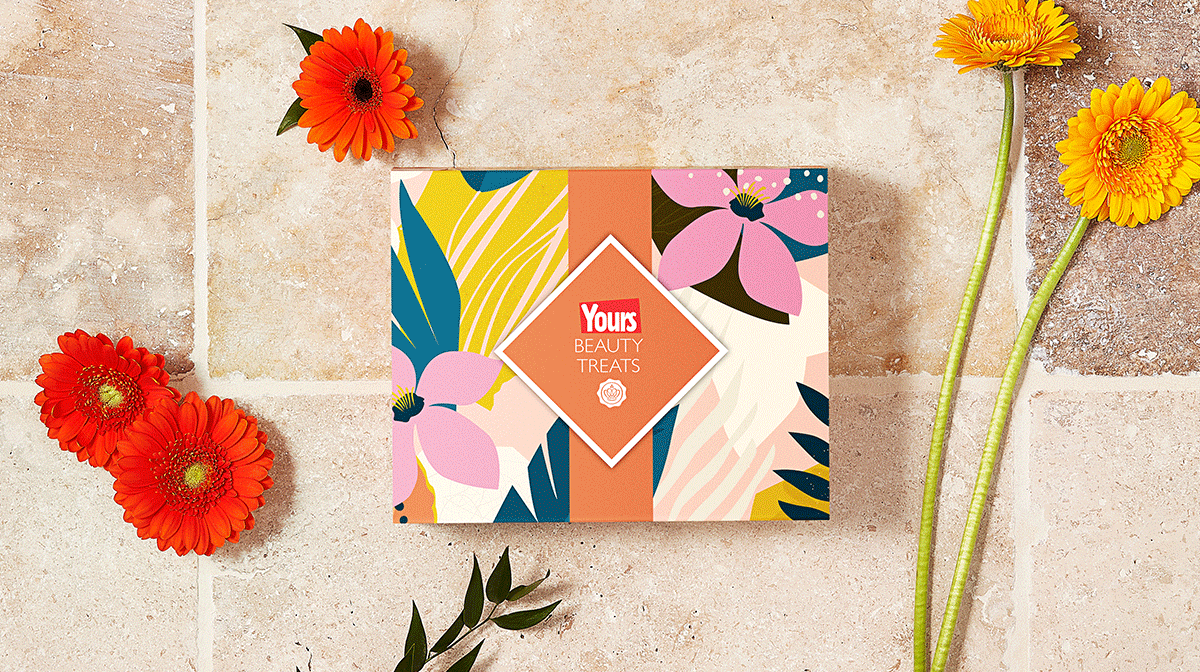 The Story Behind The 
Yours 
Beauty Treats 
Limited Edition
Worth over £175, the GLOSSYBOX x Yours Beauty Treats Limited Edition features 11 huge beauty buys. Including must-have products from ESPA, Avant and Illamasqua, there's sure to be something inside you'll love! 
From supercharged skincare, to haircare heroes and makeup marvels, this box is packed full of goodies that will give you the perfect excuse to treat yourself to some well-deserved pamper time! 
Make sure you sign up to our Yours Beauty Treats waitlist too, to ensure you don't miss out!  
What's Inside 
The
Yours
Beauty Treats 
Limited Edition?
We've covered every base possible with this box! Open the lid and you'll find six full size products, three deluxe minis AND two extra special treats! Want to know exactly what these are? Read on…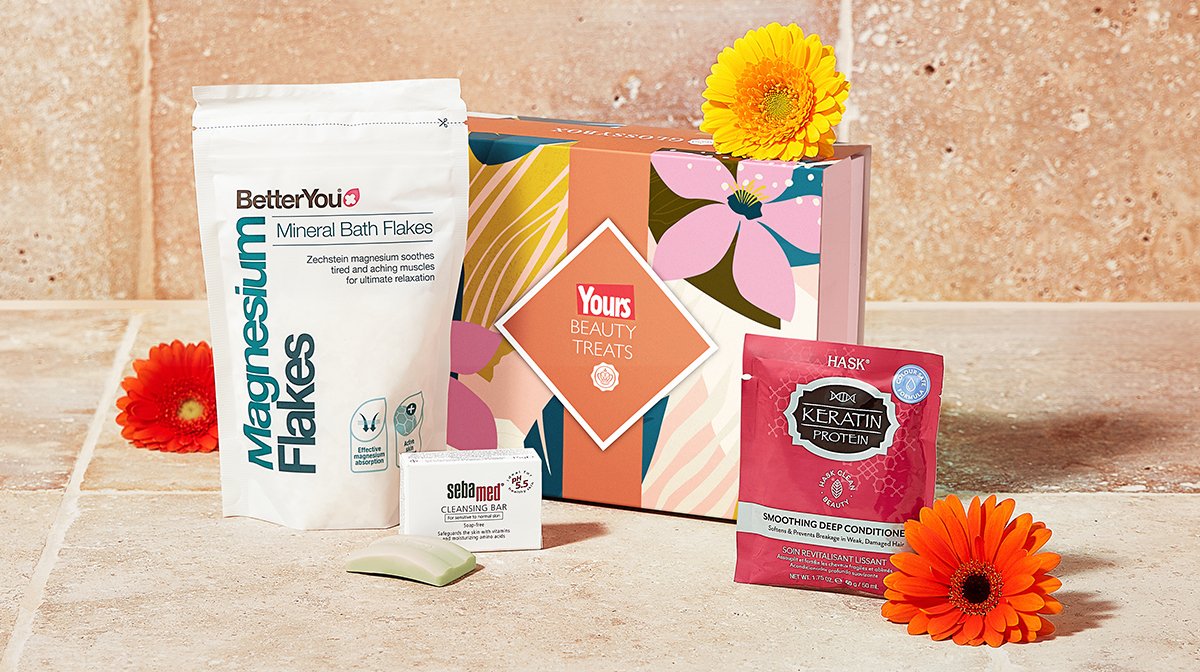 BetterYou – Pure Magnesium Bath Flakes
Run yourself a bath and jump in with these Pure Magnesium Bath Flakes from BetterYou. Highly concentrated, these flakes have been specially designed to promote relaxation and soothe tired and aching muscles – and boy do they do just that! A half an hour soak in these is the ultimate way to relax both your mind and body! 
Deluxe mini 250g worth £3.95, full size 1kg RRP £9.95* 
Sebamed
 – Cleansing Bar
Want to feel cleansed and clean before kickstarting your pampering routine? Start with the Sebamed Cleansing Bar! Offering mild and thorough pore-deep skin cleansing, this bar has been created with the same pH 5.5 value of healthy skin. What's the importance of this you ask? Well this pH helps the bar support and protect the natural barrier function of your skin – meaning your skin is cleansed but not stripped of much-needed moisture.
Extra treat 20g. Full size 100g RRP £2.99* 
HASK – Keratin Protein Smoothing Deep Conditioner
Hair in need of some serious attention? This ultra-restorative smoothing treatment will leave your hair feeling moisturised and looking shiny and frizz-free! Has your hair taken all it can from your hairdryer, straighteners and curling wand? Perfect for over-processed hair, the keratin in this conditioner helps to repair damage and reduce further breakage – meaning dry, broken locks are soon to be a thing of the past!
RRP £3*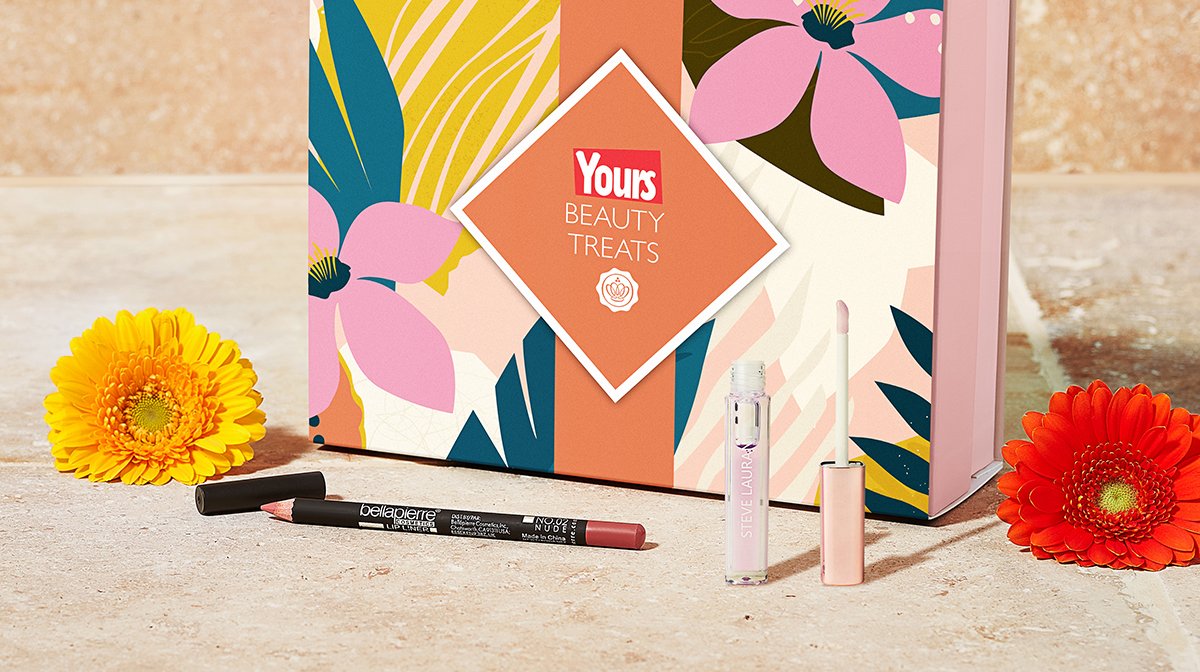 Bellapierre
 – Nude Lip Liner
Creating a perfectly defined pout that lasts all day has never been easier. Formulated with pure minerals, natural waxes and antioxidants, this creamy liner has a whole host of benefits! It'll glide on effortlessly AND stay put from dawn to dusk. And its nude colour? We can't get enough! It's the ideal shade for creating a look that's both subtle and timeless, and gorgeous for day and night!
RRP £17* 
Steve Laurant
 – 
Orchid Lip Oil
This lip oil has been designed to soften and hydrate the lips no matter the season! Comfortable and non-sticky, this Steve Laurant Lip Oil will give your pout a glass-like natural shine and a healthy look. Just one swipe will leave lips smooth, hydrated, and glowing! 
RRP £14.39*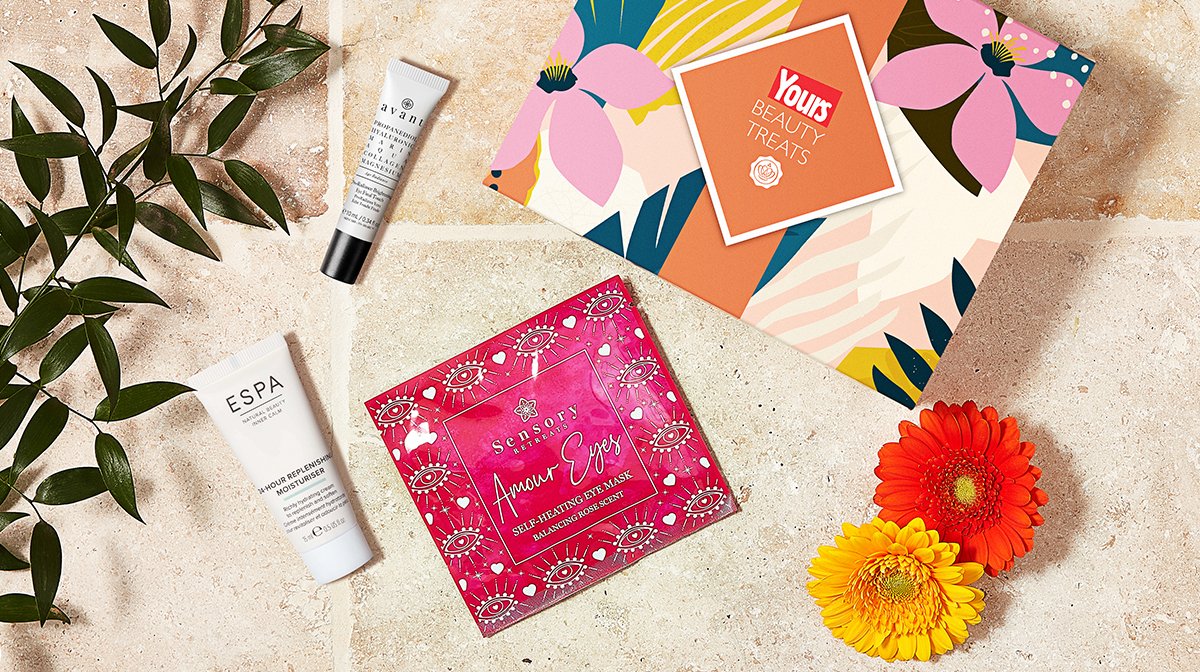 Avant – Pro-Radiance Brightening Final Touch
Harbouring powerful shimmering properties, the formula of Avant's Pro-Radiance Brightening Final Touch is made up of key ingredients that aim to reflect light from the skin. Meaning the results are a smoother, softer and more radiant complexion! This skincare saviour also promotes better penetration of ingredients – within itself and any other products you use afterward – to help improve hydration and boost your glow.
RRP £98* 
ESPA – 24-Hour Replenishing Moisturiser
Skin feeling a little dry and dull? This richly hydrating face cream leaves skin feeling replenished and soft. This product is packed – and we mean packed! – with ingredients that'll work wonders before your very eyes… Myrrh and Frankincense (yes, those gifts you thought only existed in your Christmas nativity) are key ingredients in this moisturising miracle and, alongside third powerhouse ingredient Neroli, work together to replenish the skin. While more commonly known vitamin E helps to protect your skin's natural barrier. Nourishing Evening Primrose and Jojoba also work to deeply moisturise, leaving skin silky smooth!
Deluxe mini 15ml worth £12.27, full size 55ml RRP £48* 
Sensory Retreats
 –
 Amour Eyes Individual Self-Heating Eye Mask
No pamper evening is complete without an eye mask. So, of course, this Limited Edition includes one! This luxurious and pampering vegan-friendly eye mask from Sensory Retreats promotes deep relaxation and comfort. 'Me-time' appropriate? We think so! It provides soothing heat for approximately 25 minutes, while its restorative rose scent, combined with the gentle warmth of the mask, helps balance and calm your mind. 
RRP £3.95*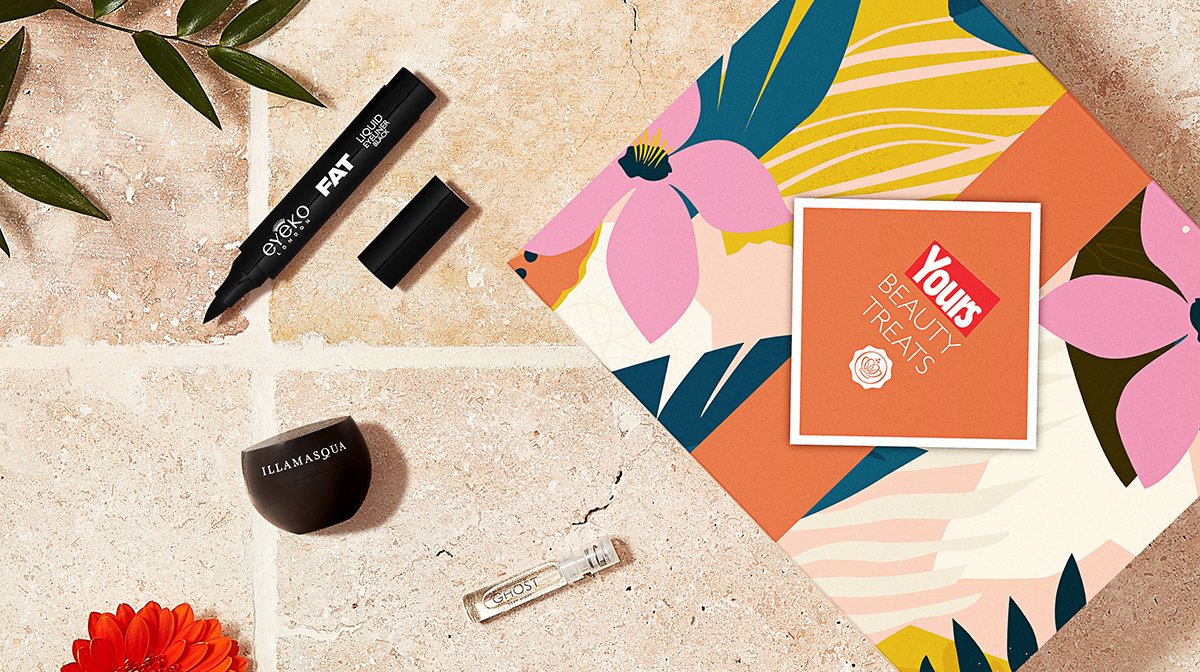 Eyeko
 – Fat Liquid Eyeliner
Make your mark with makeup! This easy-to-use felt tip liner is an essential product in your beauty bag, perfect for creating a whole host of attention grabbing eye looks. This chubby pen from Eyeko can deliver big, bold, long-lasting lines of intense colour, time and time again. Smudge-proof, budge-proof and utterly fool-proof, why not use it to draw on wings that will last around 10 hours, no matter what you're up to!
RRP £16* 
Illamasqua
 –
 Hydra Veil Primer
Part hydrator, part primer, Hydra Veil instantly hydrates and smooths skin through a self-levelling, futuristic clear gel. Microalgae, Vitamin C and B3 work together to help maintain your skin's hydration levels, creating a healthy looking, balanced finish. Plant extracts also provide a calming and refreshing feeling, leaving skin fully prepped to apply your chosen foundation. 
Deluxe mini 7ml worth £10, Full-size 30ml RRP £34* 
Ghost
 –
 Ghost Deep Night 
Eau
 De Toilette
Looking for a new summer scent? You'll love this extra little treat in the Yours Beauty Treats Limited Edition! An oriental vanilla fragrance, the Ghost Deep Night Eau De Toilette is sensual and passionate. Created for the woman who is not only strong, self-confident and clever, but also sentimental and romantic. We can't wait to spritz this over our skin and soak in its indulgent scent.
Extra Treat 1.5ml. Full size 50ml RRP £34*
*RRP relates to the full size product available for purchase as advised by the brand. Prices may vary due to exchange rates. All prices are correct at time of print. Please check all ingredients and read instructions before using any of these products.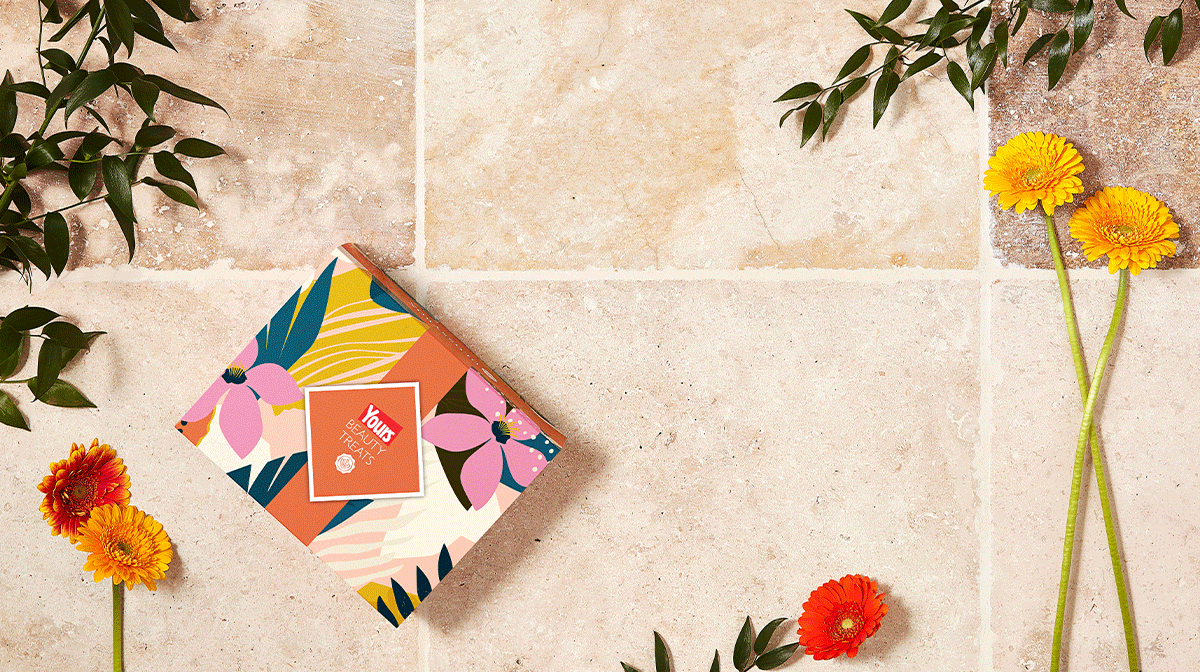 How To Purchase Your 
GLOSSYBOX x Yours 
Beauty Treats 
Limited Edition!
The GLOSSYBOX x Yours Beauty Treats Limited Edition will be on sale to all on Friday 14th May, and will cost £40 Subscribers will be able to get theirs with priority access at 9am, while non-subscribers can purchase theirs at 12pm.  
Subscribe To GLOSSYBOX To Get Yours First!
As always, subscribers get both priority access and an exclusive discount on this Limited Edition box. So, to make sure you don't miss out, sign up to become a Glossy today! You'll also start receiving our monthly boxes straight away, featuring five of the best beauty products, delivered straight to your door!