Are you ready for your first taste of food-inspired beauty? Our September 'Delicious Beauty' edit is filled with not 5 but 6 skincare, haircare and cosmetic products that smell good enough to eat. Your first sneak peek? A black tea body scrub!
About The Original Black Tea Body Scrub
Your September edit includes an incredible black tea body scrub. Brought to you by up-and-coming skincare brand Delhicious Body, it is filled with caffeine and antioxidants that buff away dry skin, fade marks and cleanse toxins. Better yet, it is 100% natural, vegan and cruelty-free.
What's The Secret Recipe?
This black tea body scrub is hands down one of the best body scrubs I've ever used. A cleanser, exfoliator, hydrator and protector all in one, it does wonders for your skin – but what's the secret recipe?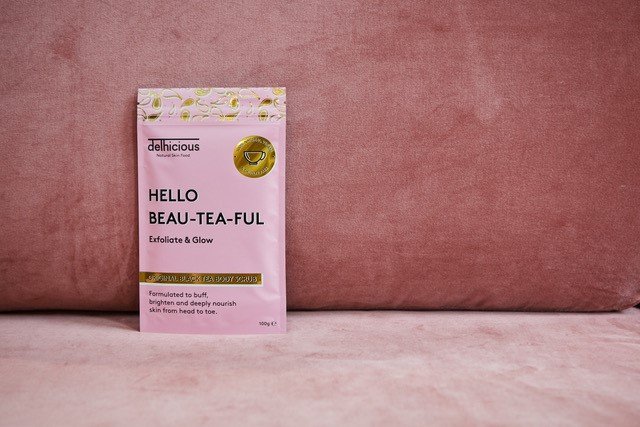 Himalayan Pink Salt Cleanses Your Skin: Rich in minerals, Himalayan pink salt acts as a powerful detoxifier

. It cleanses the toxins from your skin, making it look

refreshed and nourished

.

Brown Sugar Acts As An Exfoliator: Instead of relying on microbeads, this body scrub uses brown sugar

 as its exfoliator.

Natural and effective

, it buffs away dry and flaky cells, revealing the

fresh and healthy

skin beneath.

Black Assam Tea Reinvigorates Your Skin: This tea leaf has the highest concentration of caffeine

when it comes to teas. Filled with antioxidants, it

reinvigorates

your skin and

helps to reduce the appearance of cellulite

.

Sweet Almond Oil Hydrates Deeply: Founders Zak and Zara like to think of sweet almond oil as the equivalent of a cold and refreshing drink on a hot Indian summer's day. It not only deeply hydrates

and

quenches thirsty skin

, but it also

helps your skin to retain moisture

.

Essential Oils Protect Your Skin: The last ingredient? A blend of invigorating essential oils that protect your skin from free radical damag

e. As an added bonus, these oils also make your skin smell divine!
Making The Most Of Your Scrub
Use gentle circular motions to massage a handful of scrub into your wet skin. Focus on areas that are particularly dry or need a little extra TLC. You can then rinse off and admire your soft, smooth skin.
Feel free to use this scrub two to three times a week, though I'd recommend only doing it once a week if you have very sensitive skin.