I know lots of you like to buy your beauty products online (hello LookFantastic!), but I also realise you might be reluctant to purchase new shades of makeup or lipstick when you can't try them on and see what they look like. Well, listen up Glossies, because I've discovered the revolutionary virtual makeup app that is about to change the way you shop online!
A New App Helps You Find Your Perfect Lipstick
That's right Glossies! John Lewis & Partners has launched a new virtual makeup app feature which allows you to try on a range of lipsticks using the selfie camera on your phone.
The actual technological side of the app is a bit complicated, but essentially it uses Augmented Reality to superimpose a virtual lipstick shade onto your lips. The shade then stays on your lips, moving in real time with your pout.
When browsing the John Lewis app, simply click on the new 'Try On' feature and you'll be taken to a live selfie screen where you can choose the colour you'd like to try on. Your selected virtual shade will then be applied onto your lips so you can see what it looks like.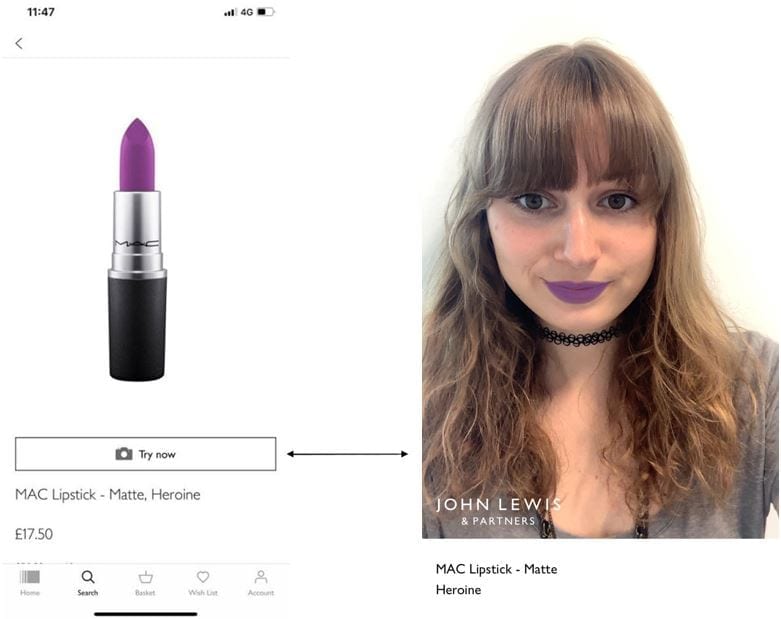 There are thousands of different shades to try on, from over 300 lipstick brands, including MAC, Bobbi Brown, Yves Saint Laurent and more!
Insider Tip: You can be a bit sneaky with this app, using it to try on your selected shade, then heading over to LookFantastic to buy it using your GLOSSYCredit. It's a win-win for you!
Is The Virtual Makeup App Realistic?
When I heard about this new app, I couldn't resist giving it a try – and I have to say I was impressed. For something so new, it works surprisingly well. It actually does follow your lips when you move and the colour is relatively accurate. The picture on the left was taken on the app, and the one on the right is what the lipstick looks like in real life.
I haven't edited any of the above images, they're all screenshots from my phone! I think you'll agree that, though perhaps a little brighter in reality, the Instigator (top) and Heroine (middle) shades are pretty similar. Rebel (bottom) hasn't worked as well though. All in all, while there's still work to be done, this app definitely gives you a sense of what each hue will look like on you.
Changing The Way You Shop
The 'Try On' feature of this virtual makeup app isn't just revolutionary because it takes the risk out of shopping online. It's actually a lot more practical than physically trying on lots of shades of lipstick:
You can test out several hues, without the mess of constantly putting them on and taking them off (plus, having so much lipstick residue on your lips eventually skews what the shade looks like).
You can experiment with new colours.
You won't waste money buying shades that don't suit you.
Who Can Use The App?
For the time being, you need to have an iPhone X, XS, XS Max or XR, or an iPad Pro 11-inch or 12.9inch that is running on iOS 11 or later for the feature to work (they are working on an Android version!). If you have one of these devices, simply download the latest version of the John Lewis & Partners app and start browsing! In the meantime, you might need to borrow a friend's phone (I'll be honest, I had to use Kit's!).
Join The Glossy Family
For the latest beauty news, check out our blog. You should also subscribe to GLOSSYBOX to receive our new 'Summer Soirée' edit now. It's filled with all the products you need to get ready for whatever special occasions you have lined up this June. Don't miss out!