Are you on the hunt for a new summer party outfit, but don't want to spend loads of money? Well, you're in luck! I've been scouring the high street for designer look-alike clothes so you can treat yourself to a new outfit without breaking the bank.
The 'Trendy Casual' Look
If you're heading to an informal summer party this June, say a barbecue or a garden party, then a cool poplin dress, a pair of sassy sandals and an on-trend circle bag will give you that 'I-just-threw-this-on-but-look-amazing' look you're after.
While the outfit on the left would cost you £925, you can recreate a similar look (right) for just £99.99.

Get the full 'save' look: ♥ Belted Poplin Playsuit from Zara (£29.99) ♥ FREYA Vegan Black Footbed Sandals from Topshop (£42) ♥ Black Croc Ring Handle Circle Cross Body Bag from River Island (£28).
The 'splurge' look includes an open-back belted cotton-poplin midi dress by Phillip Lim (£490), buckled polished-leather slides by Ganni (£260) and a Marmont circle quilted leather shoulder bag by Gucci (£875).
The 'Sexy And Elegant' Outfit
Looking for a slightly more formal and classy summer party outfit? White dresses are making their comeback! Pair a figure-hugging maxi dress with ankle strap stilettos and an on-trend pearl bag. Your whole outfit will just scream sophistication!
While the designer outfit on the left would cost you £2,825, you can achieve a similar effect for just £71.98.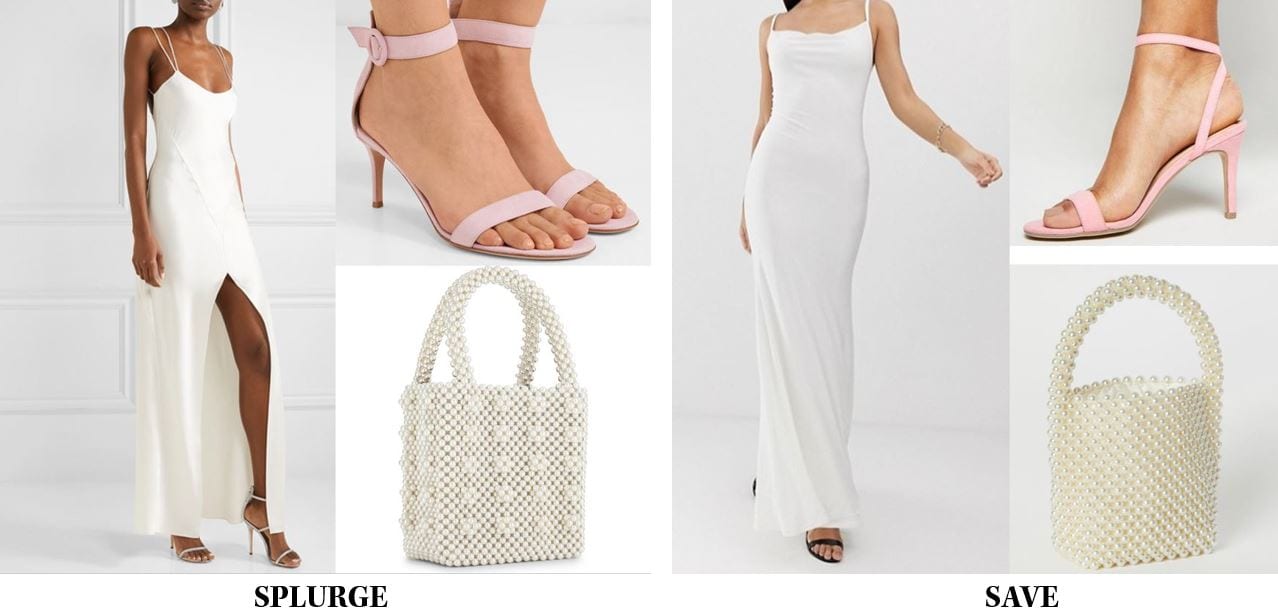 Get the full 'save' outfit: ♥ Slinky Cowl Front Maxi Dress by VS Club L London from Asos (£30) ♥ Pale Pink Suede Ankle Strap Stiletto Heels from New Look (£16.99) ♥ Beaded Handbag from H&M (£24.99).
The 'splurge' look includes a cage open-back silk-charmeuse gown by Kiki De Montparnasse (£1,815), suede sandals by Gianvito Rossi (£560), a faux-pearl beaded tote by Shrimps.
Your Fashionista Summer Party Outfit
If you're looking for a summer party outfit that screams fashion icon, then you need to get this look. Rock a cool polka dot jumpsuit, some wedge-heeled espadrilles and a bamboo clutch bag, and you'll feel comfortable yet stylish. You could wear this outfit to a friendly picnic, or glam it up with some bangles and hoop earrings to flaunt this look at the races.
While the outfit on the left comes to £395, the one on the right would cost you £123.99.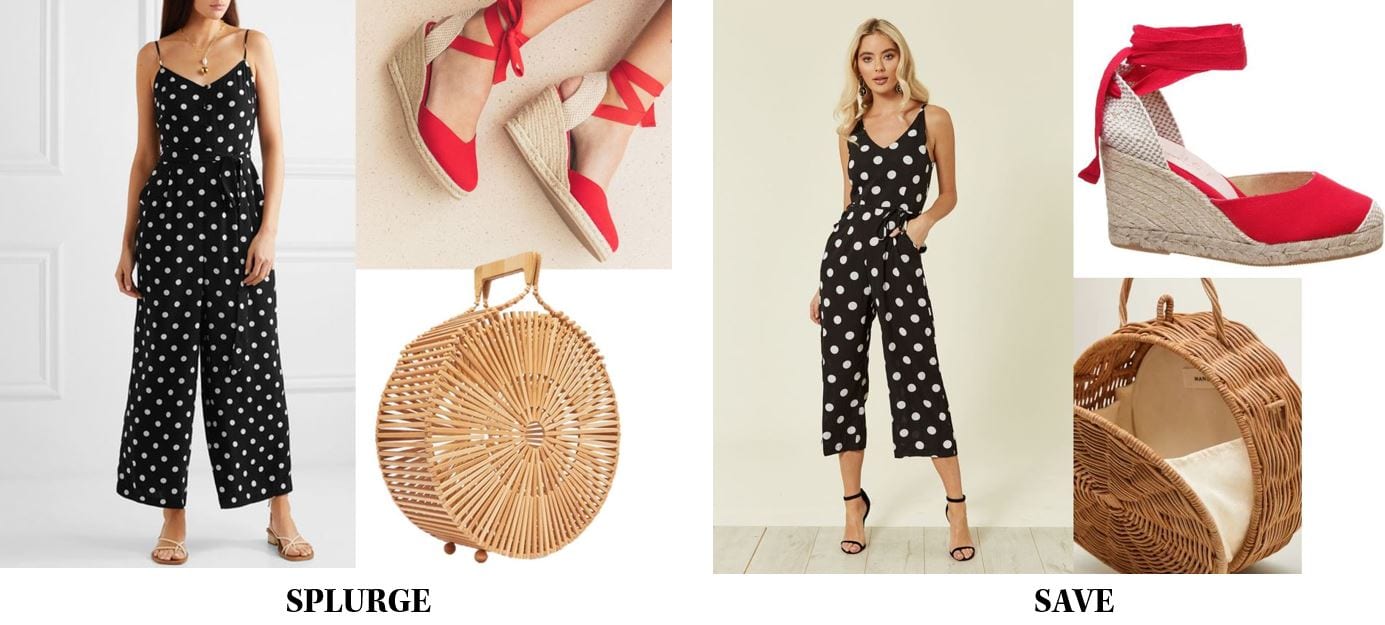 Get the full 'save' outfit: ♥ Black Polka Dot Tie Waist Jumpsuit from SilkFred (£35) ♥ Red Espadrilles from Office (£49) ♥ Bamboo Round Bag from Mango (£39.99).
The 'splurge' look includes a shirred polka-dot jersey jumpsuit by J.Crew (£100), red espadrilles by La Castillane (£120), a bamboo clutch by Cult Gaia (£175).
Release Your Wild Side
You don't need me to tell you that the satin skirt is the look of the season. Whatever event you have planned this June, you can't go wrong with this outfit! Choose a leopard print one, throw on an off-the-shoulder black top, add some gorgeous black mules and you've got yourself a stellar look!
The combo on the left costs £1,400, while the outfit on the right comes to £61.99.
Get the full 'save' outfit: ♥ Come Down Leopard On 'Em Midi Skirt from NastyGal (£30) ♥ Basic Black Bardot Crop Top from PrettyLittleThing (£6) ♥ Black Faux Croc Circular Block Heel Mules from New Look (£25.99).
The 'splurge' look includes a leopard-print stretch plissé-jersey midi skirt by Nanushka (£260), an off-the-shoulder stretch-knit top by Casasola (£545), and leather mules by Neous (£595).
And there you have it Glossies, four summer party outfit ideas that will make you look like a style icon, without costing you too much! For more money saving tips, find out which skincare is worth the splurge and whether high street makeup is as good as high-end makeup.
Join The Glossy Family
Our 'Summer Soirée' edit worth £130 is filled with three highly-pigmented makeup products, as well as essential skincare and haircare to help you get ready for whatever special occasions you have lined up this June. Don't miss out. Subscribe now!