Calling all hair-loving Glossies. Our Living Proof X GLOSSYBOX Limited Edition box is still available! If you suffer from dry and damaged hair, or struggle with split ends and frizz, you won't want to miss out. Here's why…
1. Living Proof. Products Deliver Results
Living Proof. have spent 30 years carrying out scientific research in order to develop patented technology that really delivers results. Their first discovery was their Healthy Hair Molecule (which they refer to as OFPMA).
While the science behind it is long and complicated, here's what you need to know. Thanks to all their research, the OFPMA:
Blocks humidity, eliminating frizz and helping your style last longer.
Creates a thin, invisible shield around your individual hair strands, protecting and polishing your locks.
Creates a lightweight formula, softening and smoothing your hair without weighing it down.
Basically, you can say goodbye to dry, damaged and frizzy locks. Living Proof. is proven to make your hair look healthier and feel stronger!
2. Their Products Are Sulphate And Silicone Free
Living Proof. products don't rely on heavy silicones and stiff resins like most high street hair treatments do. Instead, their formulas are lightweight and go beyond an instant quick fix.
Because sulphates strip the moisture from your hair and your scalp, leaving them feeling and looking dry, Living Proof. stay far away from them!
Silicones Don't Treat Dryness
While silicones create the illusion of glossy and healthy hair, they don't actually treat the underlining damage. Your hair will look dry again by the end of the day.
Living Proof. Haircare Is Sulphate And Silicone Free
For all the above reasons, Living Proof. have avoided silicones and sulphates. Instead, their formulas rely on their patented Healthy Hair Molecule, which is gentle on both the hair and the scalp.
Living Proof. is the way to go if you want to protect, restore and maintain healthy-looking hair!
In the same way that you wouldn't wash an expensive cashmere jumper with harsh detergent because it does more harm than good, you shouldn't be washing your hair with harsh sulphate shampoos.
3. Living Proof.'s Healthy Hair Molecule Heals Your Tresses Over Time
Thanks to their OFPMA, Living Proof's haircare range creates a protective film around your hair that actually prevents damage and improves the quality of your hair over time.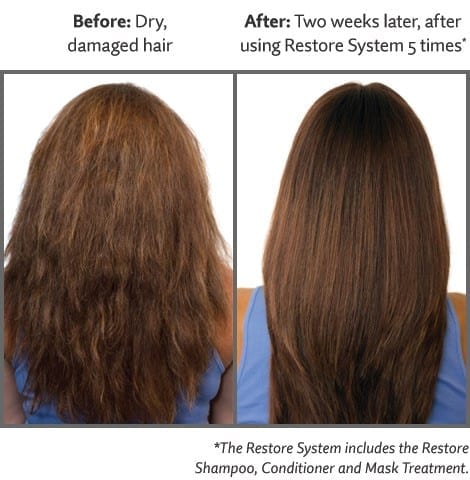 Don't believe me? In a study of 670 women, 97% of them said that their hair looked and felt significantly healthier, shinier, smoother, stronger, thicker and more manageable after six months. They saw an instant improvement in the quality of their hair too!
4. Their Products Save You Time
Have I mentioned that their patented Healthy Hair Molecule also repels dirt and oil, keeping your hair cleaner for longer? Essentially, this means:
You can wash your hair less often – which is always a massive time-saver in the morning!
If you're washing your hair less, you won't need to style your hair as often either!
Living proof saves you time so you can focus on more important things.
5. The 'Living Proof X GLOSSYBOX' Limited Edition Is Great Value For Money
It's not often that you can get five top of the range haircare products for just £20 (or £25 for non-subscribers)! Did you know that the Repair Leave-In Conditioner costs £26, while the Restore Mask Treatment is worth £37?
With this box, you not only get these two full-size products for a third of their combined price, but you'll also receive three deluxe minis! You're saving yourself a whopping £55 Glossies!
6. It's An Opportunity To Try Award-Winning Haircare For Less!
Did you know that Living Proof. and their amazing haircare products have won over 130 awards?
Their Restore Mask Treatment was voted Best Mask For Chemically Treated Hair by Harper's Bazaar in 2014 and was selected as the Best Antiaging Breakthrough by The Dr.Oz Show in 2011. Better yet, the Restore Shampoo, which is also featured in our Limited Edition, was awarded Best Hair Product at the Star Beauty Awards in 2012.
Trust me Glossies, you don't want to miss out on this Limited Edition!
Our Living Proof. Limited Edition Is Sold Out!
We've now sold out of our Living Proof X GLOSSYBOX Limited Edition. Thanks for your support Glossies!